Animated video intros are great for building a consistent brand for your videos, levelling up their professionalism, and helping you stand out from the crowd.  You have a few options when it comes to creating yours.
If you've got design and editing skills then you could use an advanced tool like Adobe After Effects to create your own. Doing this gives you the most control and flexibility.
Or maybe you want to get a freelancer to create one for you via a site like Fiverr?  You give up some of the control over the design but it gets designed by a professional (usually).
The third option is to create one for yourself (quickly and affordably) using an online video intro maker, such as the one that is part of the Placeit's toolkit.
In this article, we're going to review Placeit's video intro maker to see if it's a tool that's worth your time.
---
If you want to jump to a specific section of the article click the relevant link below:
---
#1: Overview
The beauty of Placeit's tool is its simplicity. You don't need any expert skills like you would when editing an intro template in Adobe After Effects.
What is Placeit?
For the uninitiated, Placeit is a fully online design tool. With their product, you simply choose one of the many thousands of templates they have, customize it to your liking, and download. It's incredibly easy!
You can quickly create a whole bunch of things including mockups, thumbnails, t-shirt designs, twitch panels, logos, videos, and a lot more.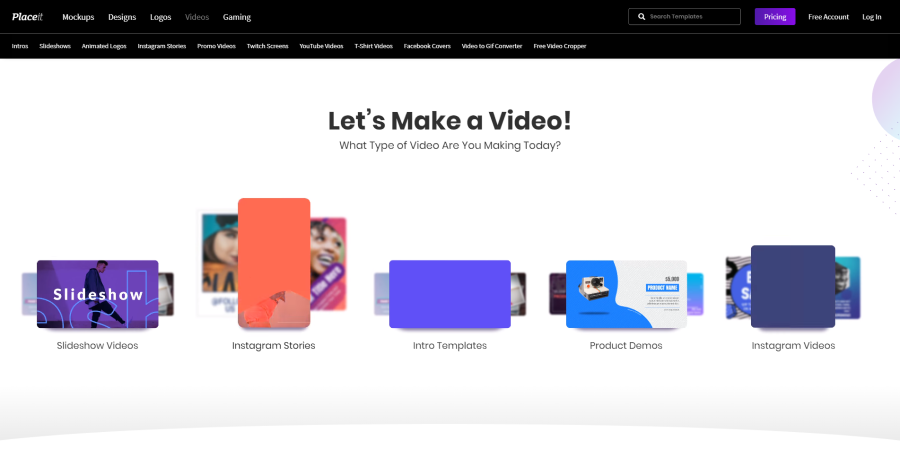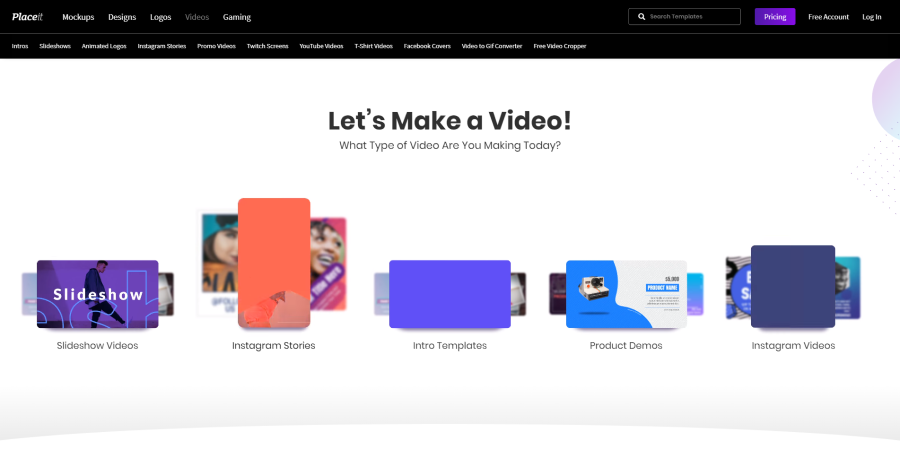 If you want to know how to create an intro with Placeit read our guide (We cover the steps briefly in this article too).
Who is this tool for?
In a word, anyone. However, the users who will get the most benefit are those who want to quickly create their own intro (and make it look good) but don't want to spend a lot of money or a lot of time learning complicated editing software.
Regardless of what niche you're in, you're likely to find some templates on Placeit that will work for you.
If you're looking for a 100% free intro then Placeit isn't the tool for you. It does have some free templates (but not lots) but it is very affordable though – whether you buy a template individually or subscribe (more on the pricing further down).
---
#2: Features
As mentioned the tool is super easy to use and there's not much of a learning curve to it at all.  This is mainly due to the simplistic features that Placeit has to offer.
Templates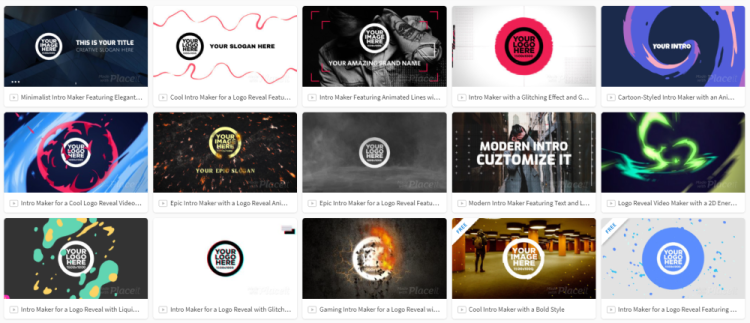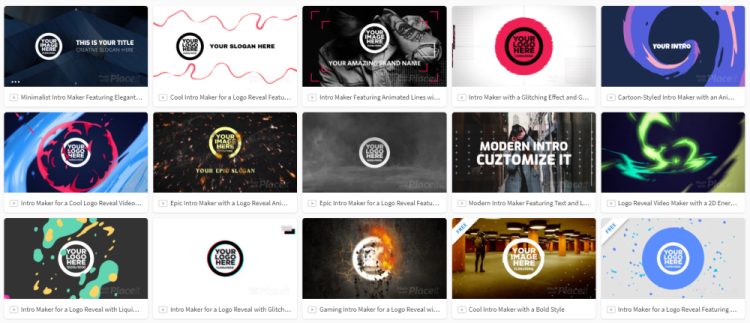 Placeit has tonnes of high-quality templates for you to choose from, and the best part is that they are broken down into categories for easy discovery.
Not all the categories have a huge amount of templates but some of the best-stocked niches include gaming, clothing, beauty, sports and YouTube.  You can also choose between logo and text animation if you have a preference.
They even offer some free intro templates from time to time.
Customization Options
Once you've chosen a template (which is probably what you'll spend the most time on as there are quite a few options).  You get to the template editor, where there are a few customization options.
On the left side you have a few options to choose from:
Edit the text (or leave blank if you don't need any) including the text colour and font type
Upload your own image and crop it if you need to (in some templates you get the option to upload multiple images)
Choose the playback speed – which allows to slow down or speed up the video animation to your liking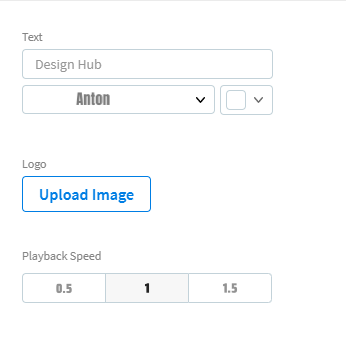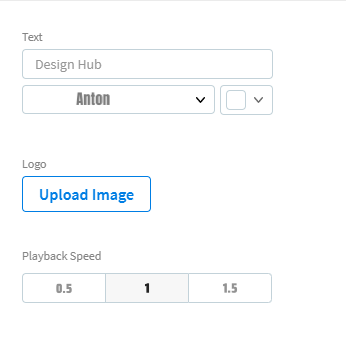 On the right side of the editor there are some more options:
Choose the audio track for your intro (there are lots and lots of tracks to choose from) or uncheck the box to not use any tracks from the library
Select the video background colour
Choose the colours of the animations in the video – usually colours that go with your brand (the number of options here will depend on the template you choose)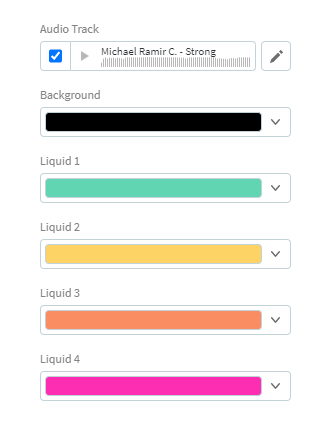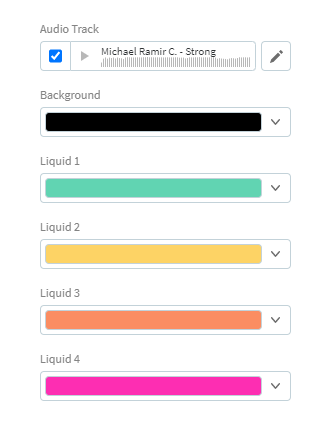 The last area which you can customize is at the bottom of the interface.  Here you can add more slides to your video.  However, if you're making an intro we recommend not doing this as you'll want to keep it short and sweet!


Overall, the customization options are great.  Obviously they are not endless but because of the quality of the templates, there isn't a whole lot you have to do.  You simply choose the colours that fit your brand, upload your logo, edit the text if needed, choose the audio track you like, and you're good to go.
The only downside is that you can't upload your own audio tracks to the tool.  So, if you have an audio track that you want to use for your intro you'll have to add it to your video using a different tool.
Saving and Previewing
If you want to save your edits and come back to them later you can do so, but you'll need to create a Placeit account (free signup) if you want to do this.
You just click on the save icon (floppy disc) at the top right of the template editor and this will saved to your account for your to come back to later.

To preview your changes to the templates, you simply click on the 'Play All' button at the bottom of the editor which starts the video render.
Once rendered the video preview will appear on your screen and play automatically (along with the audio track if you've selected one).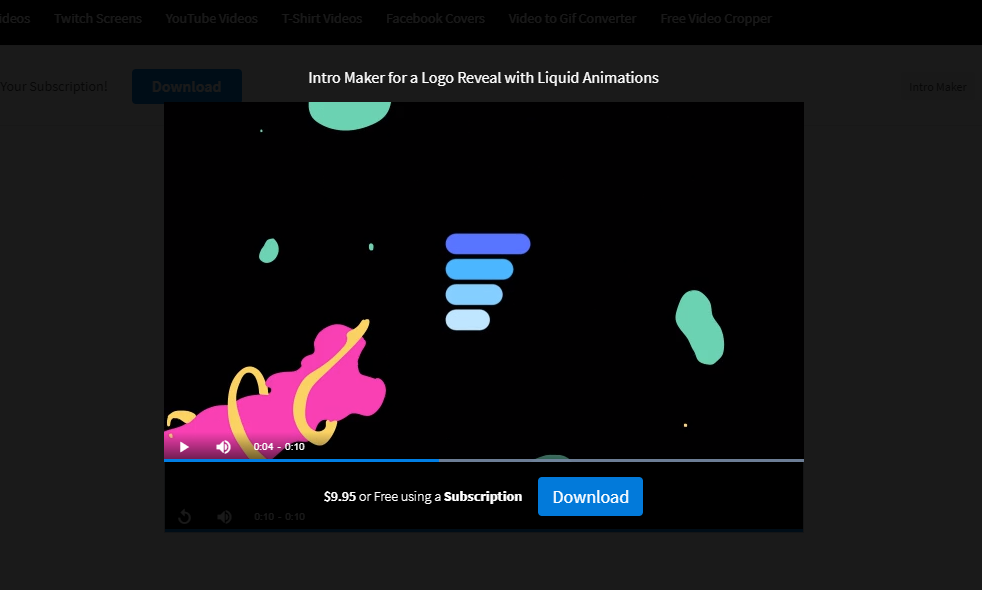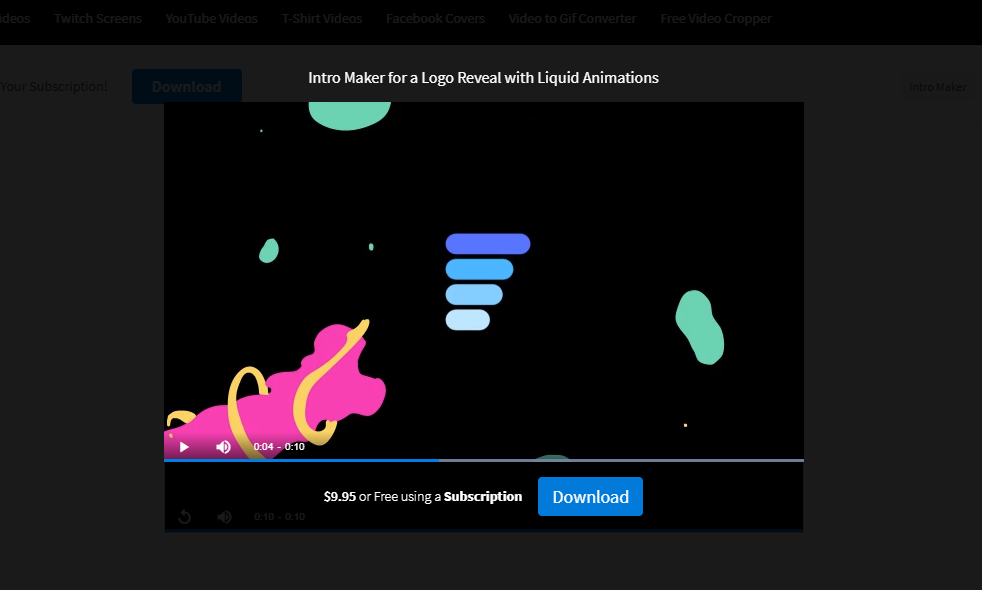 Licensing:
You can use everything you create on Placeit for commercial purposes.  Check out the full details of the Placeit license here.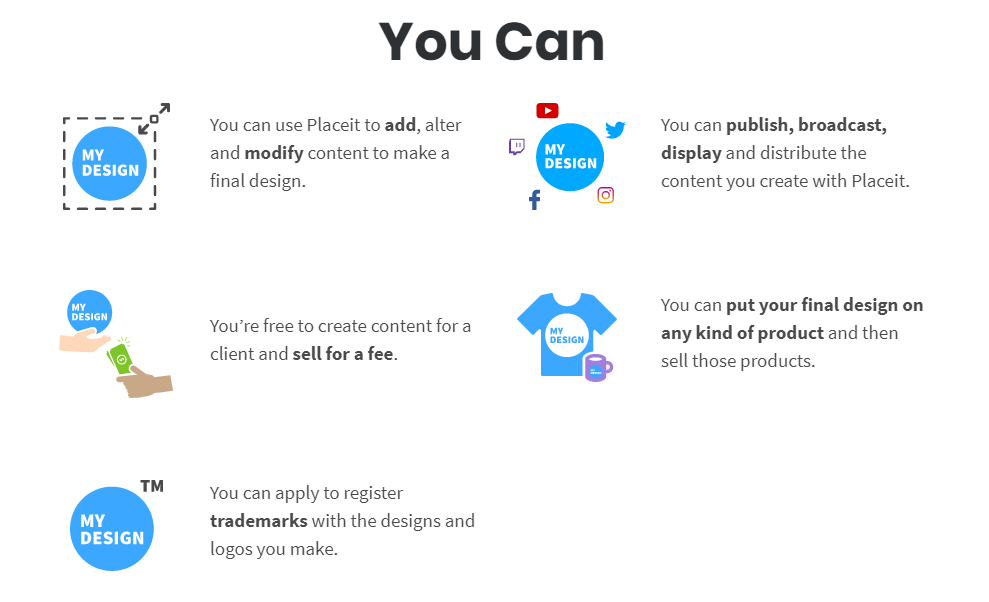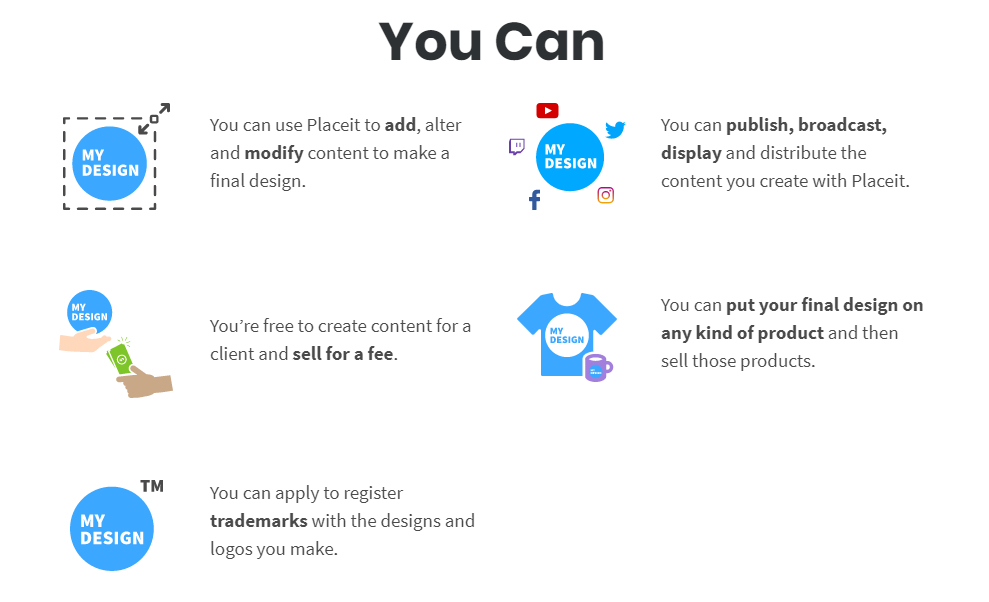 ---
#3: Ease of Use
As we've mentioned a few times already Placeit's intro maker is incredibly easy to use.  Anyone (and we mean anyone) can use it and have a quality intro ready to go in no time at all.
It took us a grand total of around 3 minutes to create a really cool looking intro.  That's partly down to the fact that there isn't an abundance of customization options but is also a testament to how quickly and easy you can change the various elements in their templates.
How to create an intro with Placeit (the super quick version):
Before you get started on your intro, you're going to need a few things:
A logo in a PNG file format with a transparent background (you can create one of these on Placeit too)
The text/message you want to put in your intro (if appropriate)
A rough idea of how you want your intro to look and feel (so you can choose a relevant template)
Once you have those things sorted, you simply follow these steps:
Find an intro template you like
Add your logo file (if it applies to your chosen template)
Change the text (if it applies to your chosen template)
Customize to your liking (e.g. colours, music, add more slides, etc.)
Render the video file
Download it!
And that is it, it really couldn't be easier.
If you want a more detailed run-through of how to create a video intro with Placeit, check out our full guide.
Intro we made with Placeit:
---
#4: What we did & didn't like
I think you can gather we really like this most features with this tool but that said, there are a few areas in which we think the tool could improve.
What we like:
The fact that anyone could use this tool and create something awesome (no design, technical or editing skills needed)
That you can use these videos (and everything else on Placeit) for commercial purposes
Fantastic quality of the intro templates
Easily find intros in specific categories (e.g. gaming, clothing, etc.)
You really can create something that looks professional in a few minutes
Very intuitive and easy to learn interface
The fair prices for an intro template (or subscription)
Placeit always seem to be adding new templates
Free intro templates!
What could be improved:
More intro templates for some categories (there are some categories that only have 1 or 2 template options)
If the audio track played alongside the video in the editor (without you having to render the video to preview all of it together)
If you could add your own audio tracks to your Placeit account and add them to your videos
If you could change the text size and also upload your own fonts
Overall, this is an awesome intro maker!
---
#5: Pricing
As with all the templates on Placeit, you can either buy them individually or get them for 'free' if you get a Placeit subscription (which offers unlimited downloads of all templates on the site).
We think the prices are very reasonable.  Here are the pricing options:
Some 100% free intro templates available!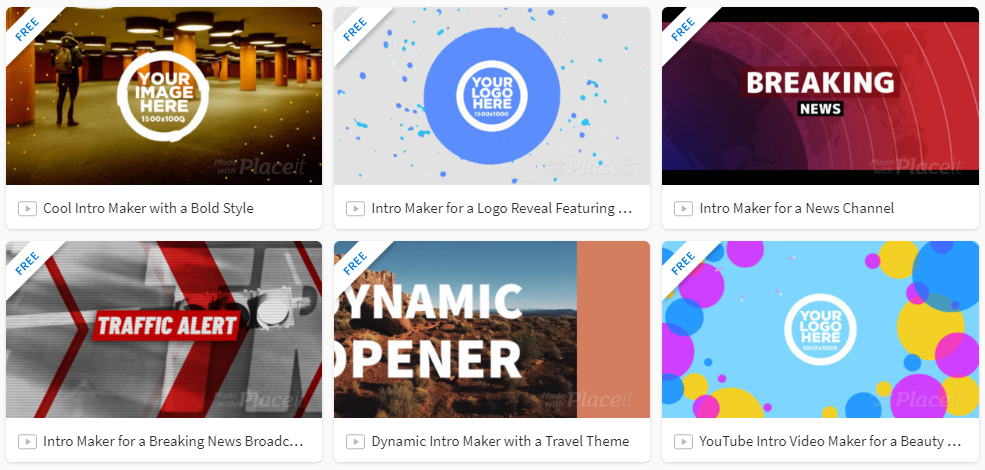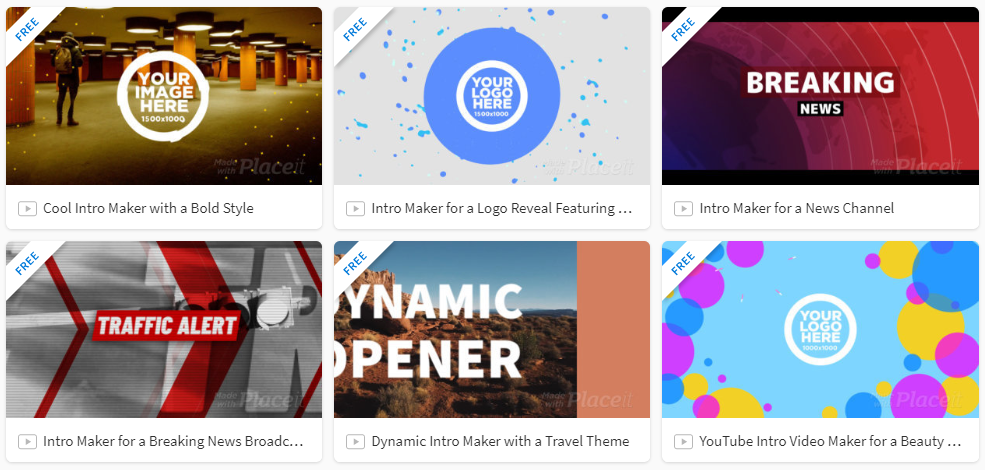 Individual intro template: $9.95


'Free' with a Placeit subscription

Monthly plan: $14.95
Annual plan: $99.95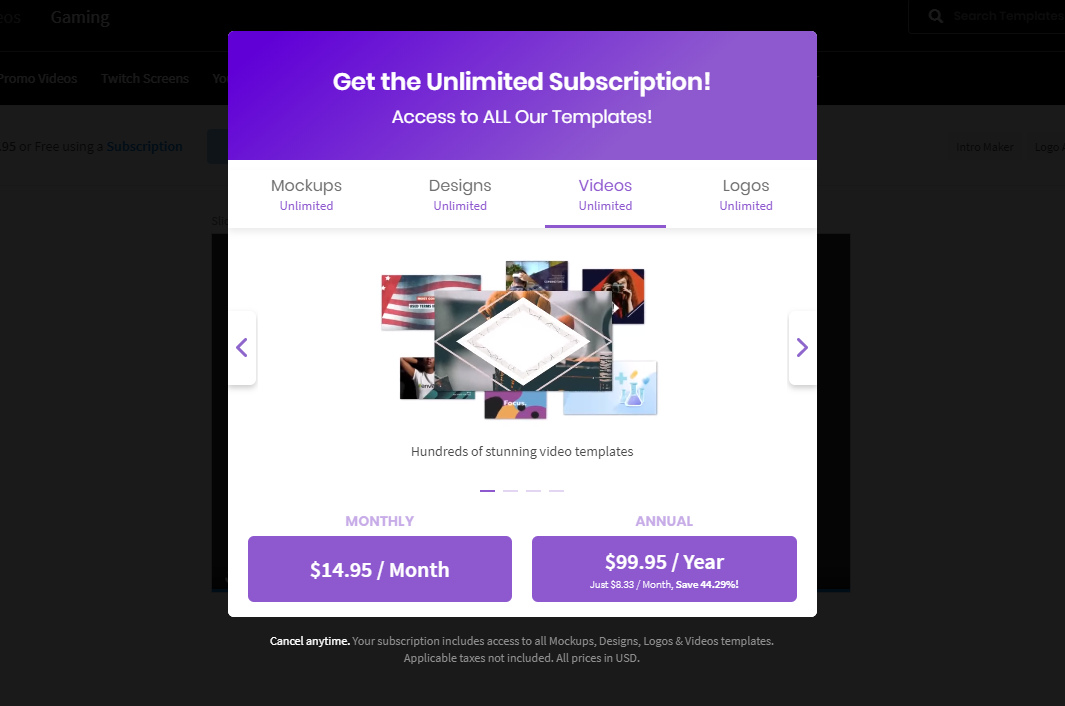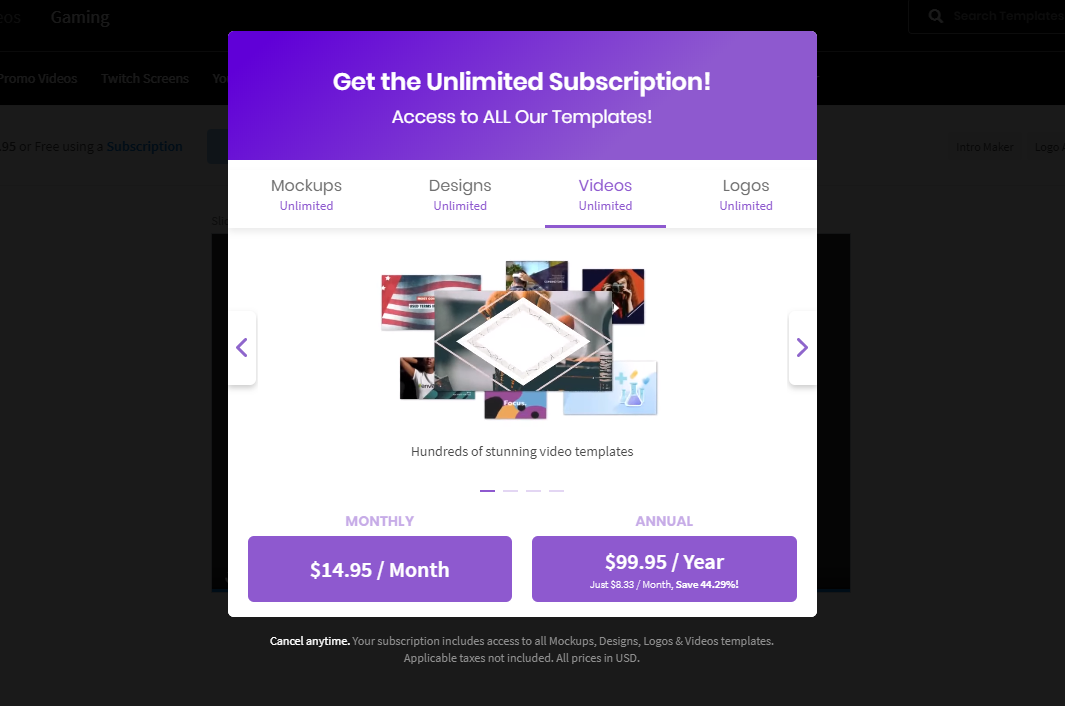 ---
#6: Alternative Tools (We Recommend)
If you check out Placeit and it's not quite what you're after there are a few alternatives that we also recommend.
We tested out a lot of tools when we created our 'Best YouTube Intro Makers' article and there are a few other intro makers that really stood out above the rest:
---
#7: Verdict
Overall, we love Placeit's intro maker.  It's simple, sleek and lets you create some quality intros incredibly quickly.
Here are our scores for the different elements of the tool:
Templates: 9/10
Ease of use: 9/10
Customization options: 8/10
Pricing: 8.5/10
Overall: 8.6/10
---
To conclude…
If you're looking to create a high-quality intro template for your brand, YouTube channel, social media videos, etc. then Placeit's intro maker is a great option.
No matter what your skill level you can create something like that looks great, and you'll be hard pushed to find a tool that lets you do it much faster and to such a high (and professional looking) standard (Renderforest might be the only one).
So, if you want to avoid the traditional work (and headaches) of having to create your own intro from scratch or the cost of hiring a freelancer to do one for you then an online intro maker tool like Placeit is where you should go.
Enjoy creating! Oh, and if you have any questions, comments about Placeit's intro maker tool or have suggestions for other awesome intro makers, leave a comment below!