If you've been searching for the best logo maker to help you create a great-looking logo for your brand there's a good chance you've come across Placeit.
The company ranks well in Google for various logo maker-related searches so we figured it was time to check it out and give it a full review.
In this article, we'll take you through the ins and outs of Placeit's logo maker to see if it's worth your time and money, and also show you how to use it as well.
Let's go.
---
Jump to a specific section:
---
Section 1: Overview
For anyone who isn't aware of Placeit, here's a quick breakdown for you:
What is Placeit?
Placeit is one of a growing number of online tools like Canva that allows almost anyone to create a huge range of designs without needing any real design knowledge or background.
Placeit has a massive library of templates that you can quickly customize to make your own in a few clicks.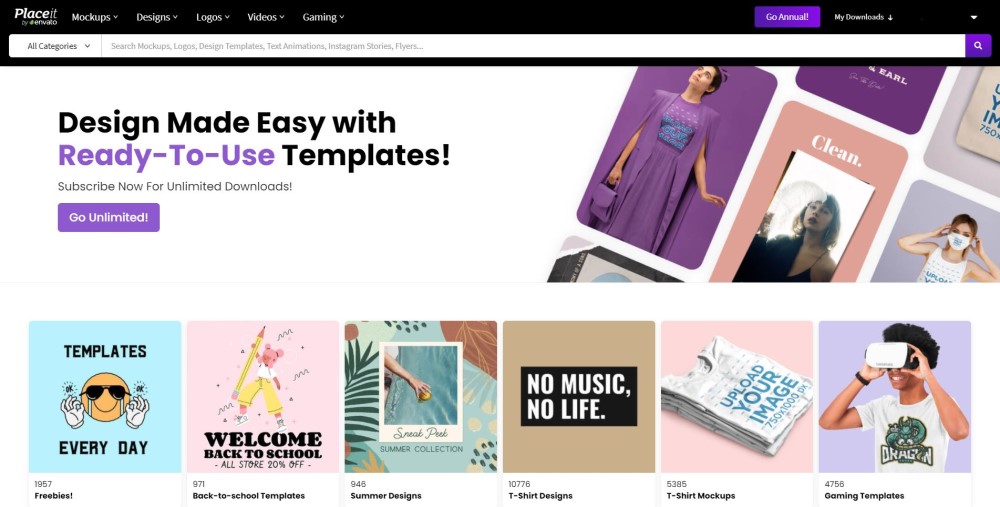 With Placeit you get access to the following categories of design templates:
Logos
YouTube templates
Twitch and streaming templates
Instagram templates
T-shirt designs
Mockups
And much more
Section 2: How to make a logo with Placeit
Here are the steps you need to take to create your logo using Placeit:
Step 1: Enter your brand name and select and industry (or go directly to a logo category)
The process of creating a logo on Placeit is incredibly easy. To start the journey you can either go to the main logo maker page, input your brand name, and then select your niche: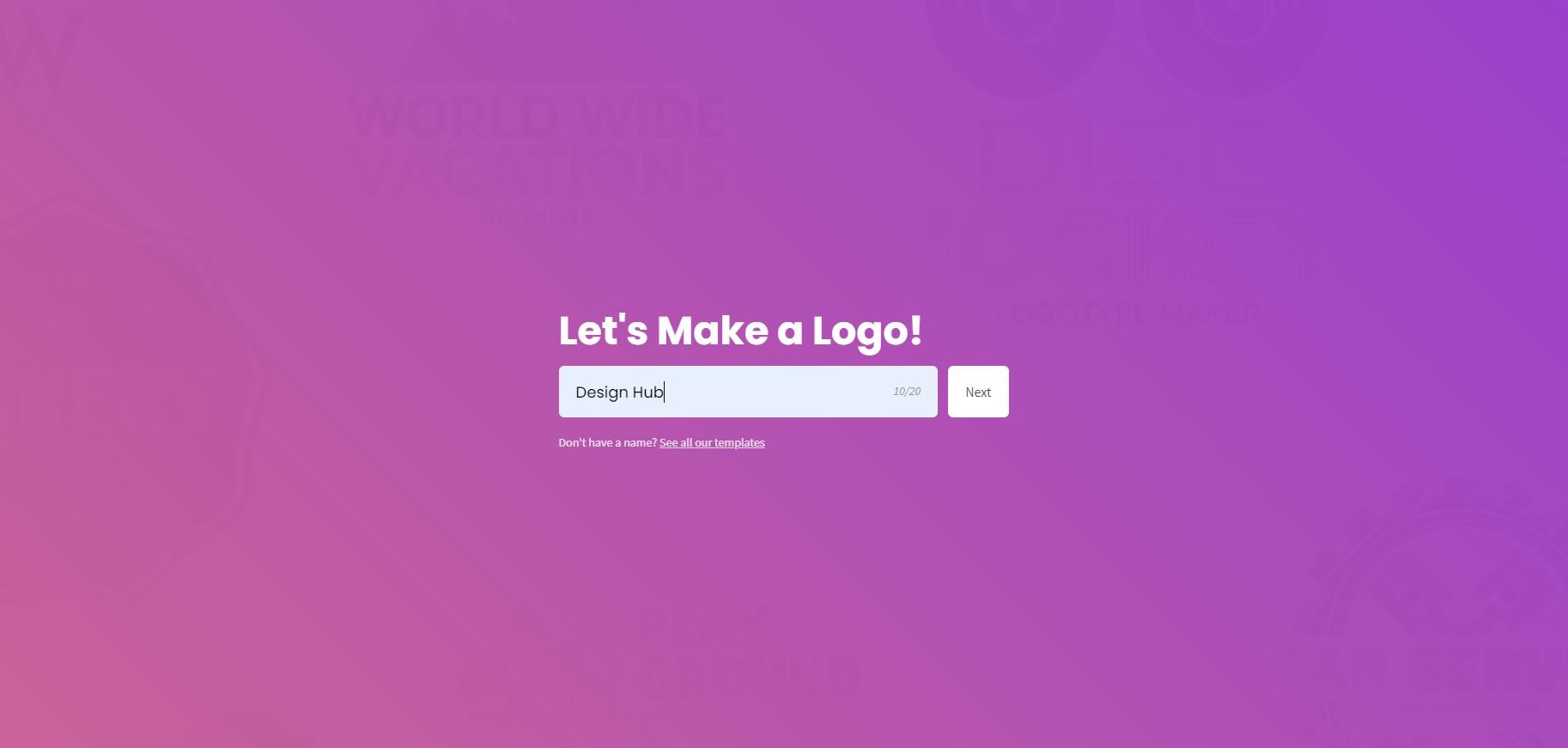 Or you can simply hover over the logo section in the main menu and select your preferred niche e.g. 'Clothing brand':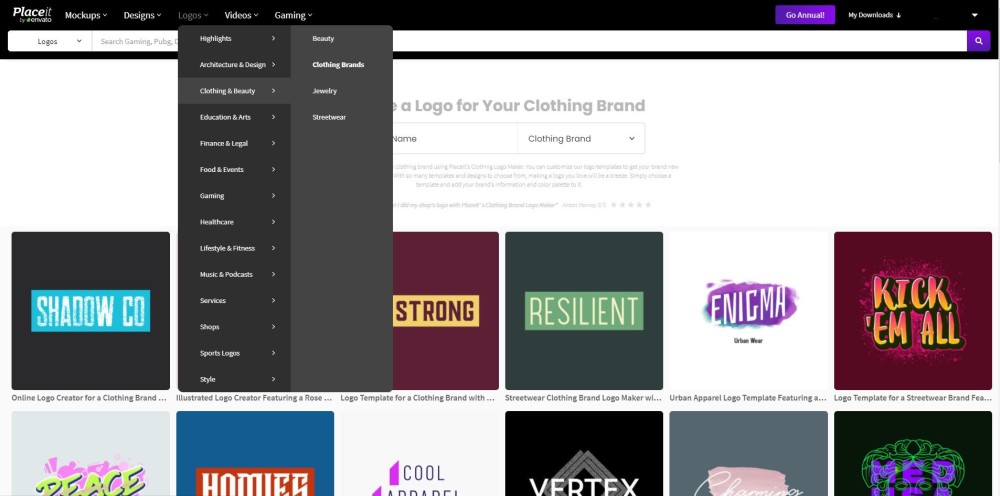 If you're on a very tight budget and you're looking for a completely free logo maker then Placeit is a good choice for you too.
In the 'Highlights' category under the Logos dropdown menu in the main navigation, you'll see there's an option to select 'Free logos'.
At the time of writing, there are 99 free logo templates that can be customized and downloaded completely for free.
They have free logo templates for a variety of niches so check those out if you're after a bargain!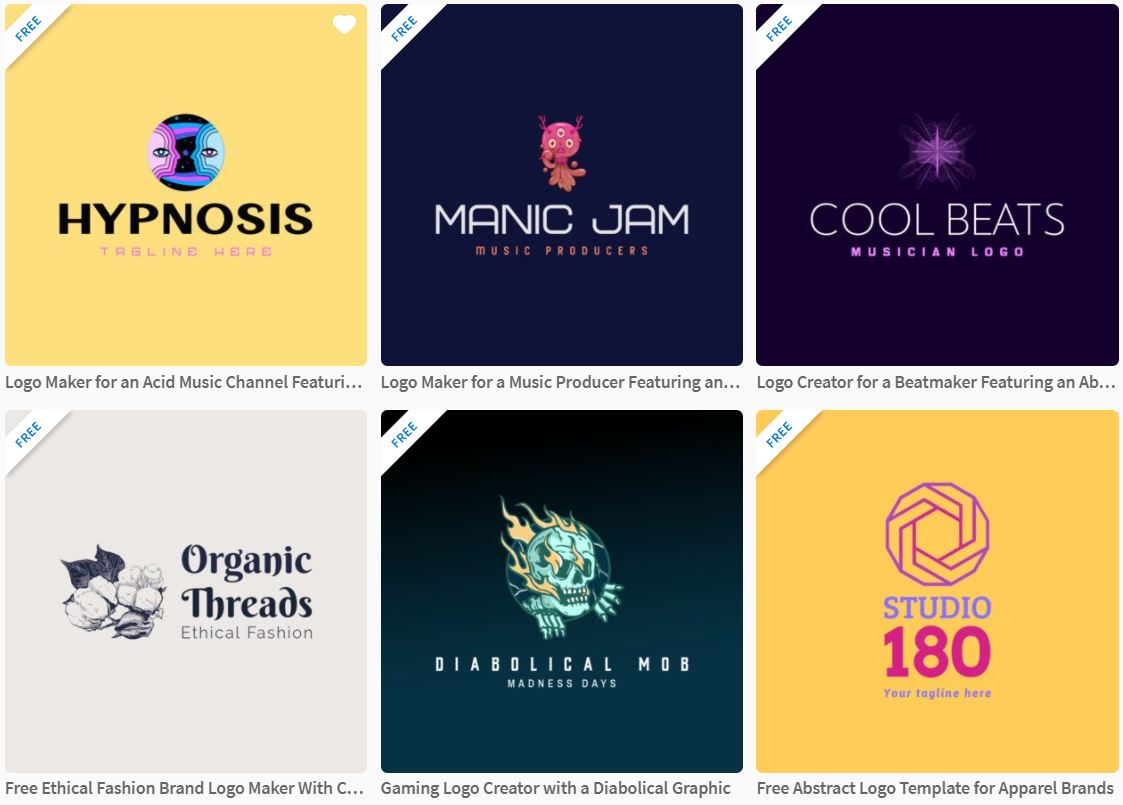 Step 2: Choose your template(s)
The next step is to choose a logo template you like. If you want to browse through several pages you can make your search a bit more organized and easier by saving templates to your 'favorites' list to come back to later.
To do that you simply hover over a template and click the heart icon: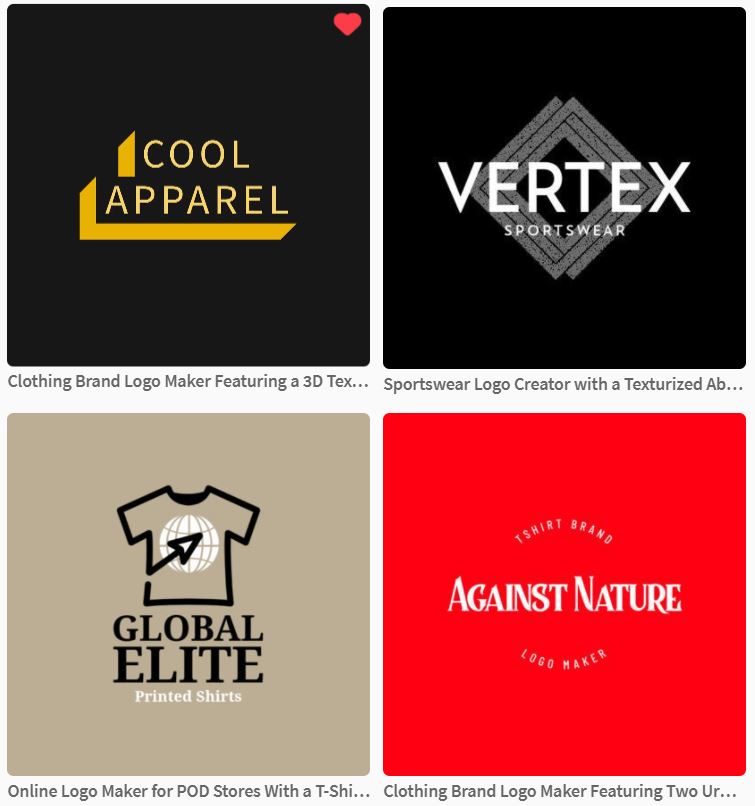 To access your saved templates you need to hover over your username at the top right of the screen and then click on 'My Favorites' (You'll need to be logged into a Placeit account to do this):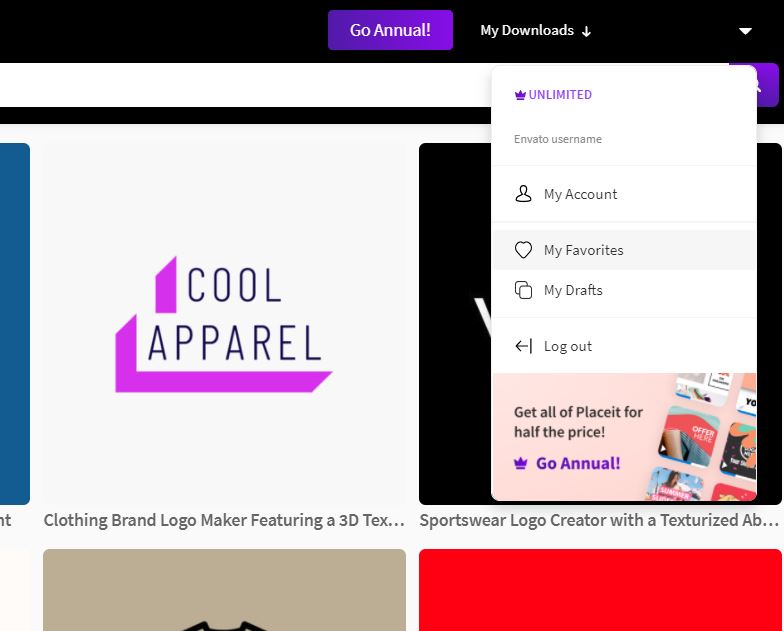 Once you've narrowed down your search and chosen your favorite template click on it to go to the logo editor.
Step 3: Customize your logo
Customizing the logo template is as easy as finding one. When you arrive in the editor you'll see a screen similar to this: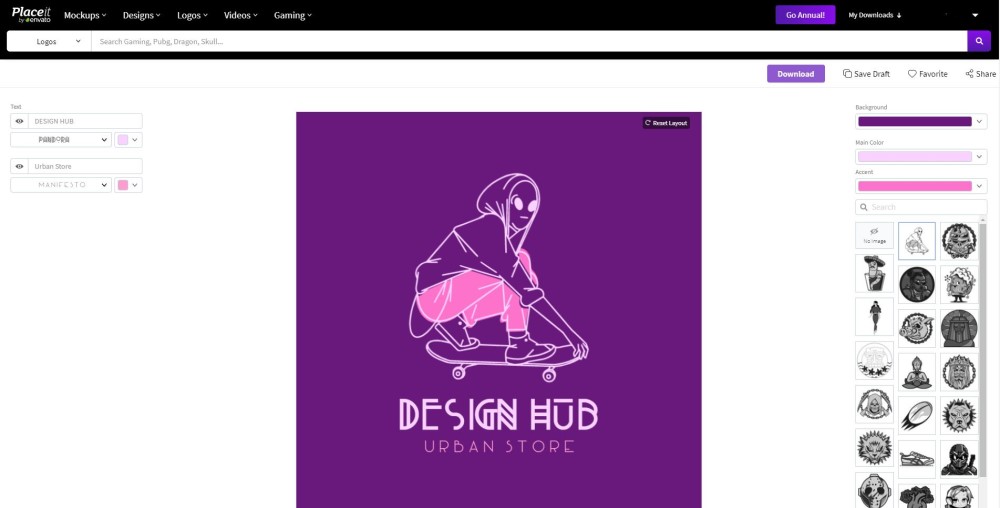 On the left side, you can customize the logo text. This includes the text content, font, and text color: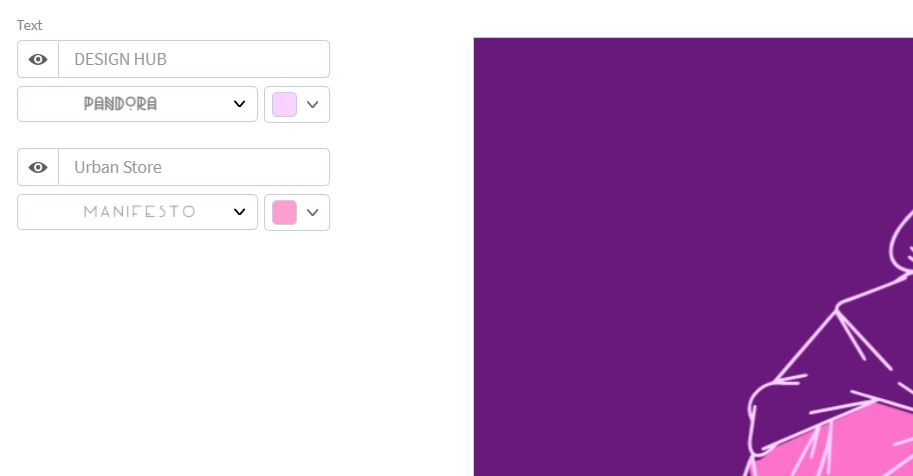 Changing the text elements only takes a couple of clicks. You can also search through Placeit's huge library of fonts, and like with the templates you can save your favorite fonts to make it easy to come back and compare them: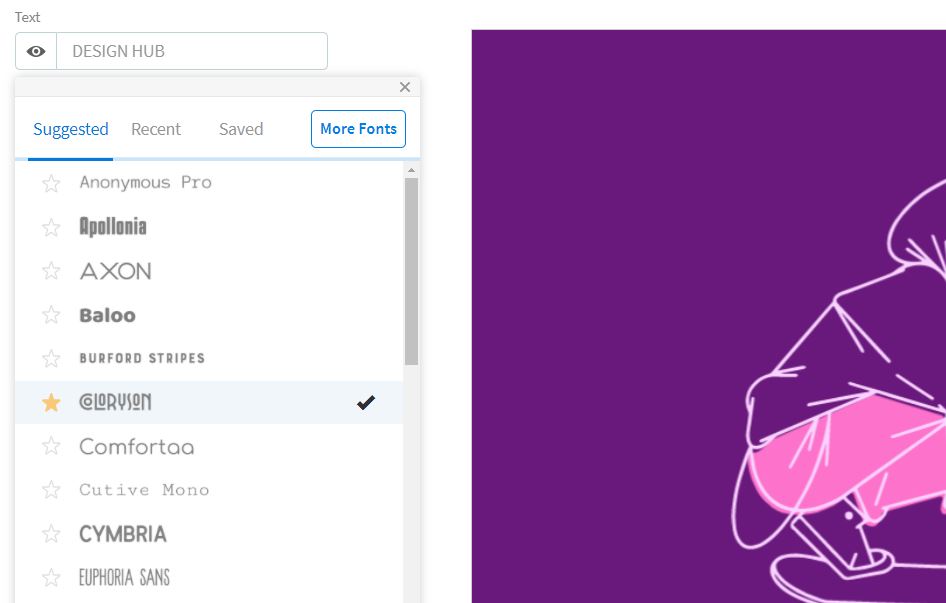 On the right side of the editor, you can customize the background color, the main color of your logo icon, icon accent color, and you can also change the icon itself too.
For example, we wanted to keep the main icon of our logo as a skateboarder, so we searched 'skate' in the search field and found another one that we liked: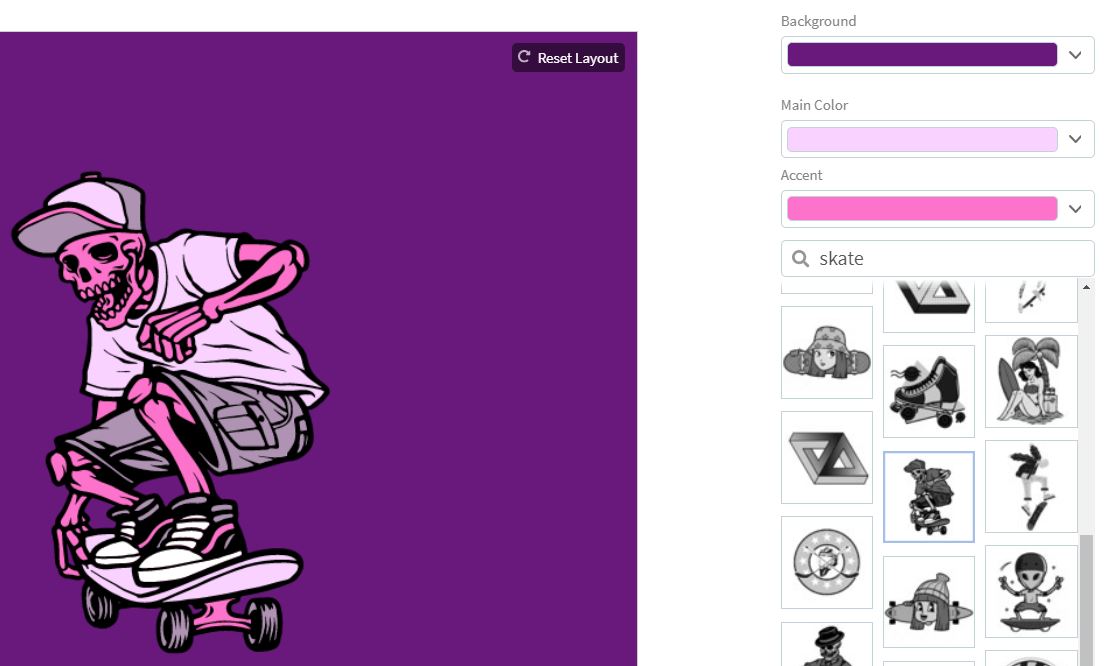 The last area of logo customization is resizing and repositioning the logo elements to how you want them (Note: these customization options don't appear to be available on most of the free logo templates).
All you have to do is click on a logo element and you will be able to drag it around the canvas, resize it, rotate and position it where you want it to be: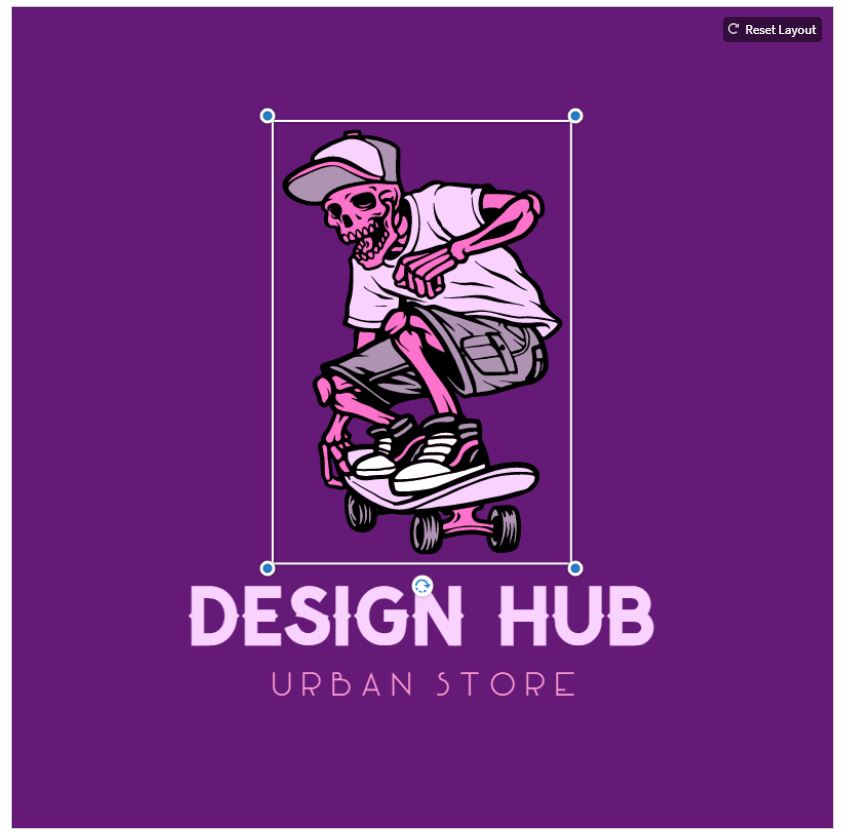 When you've got your logo setup how you want it, it's time to download your design.
We recommend downloading several versions of your logo to make sure you have different versions for the different platforms you'll need them for e.g. your website, social media profiles, merch, etc.
With a Placeit subscription, you can download an unlimited number of designs (more information on pricing further down) so we recommend getting a subscription (at least for one month) and downloading all the designs you need.
When you download your logo design, Placeit automatically gives you a version with your background and also a version with a transparent background.
You should also create a version of the logo that has your icon only (perfect for your social media profiles). To get this, simply drag the text off the canvas, and reposition the icon how you want it: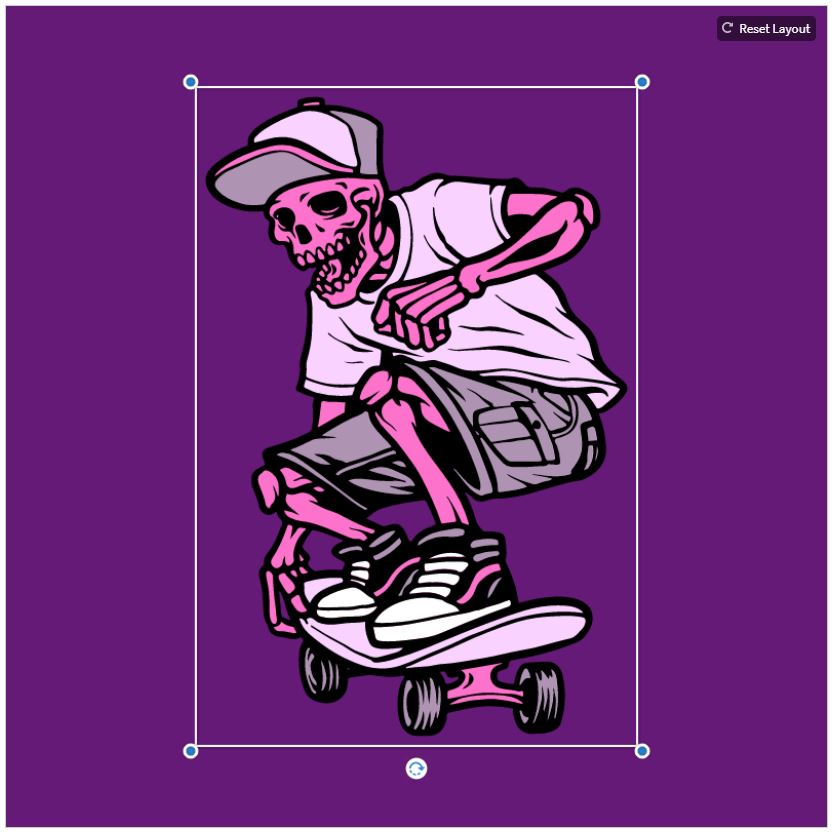 And that's it, you've created a logo with Placeit, and you're ready to hit the download button!
Here are the three versions of the logo we created: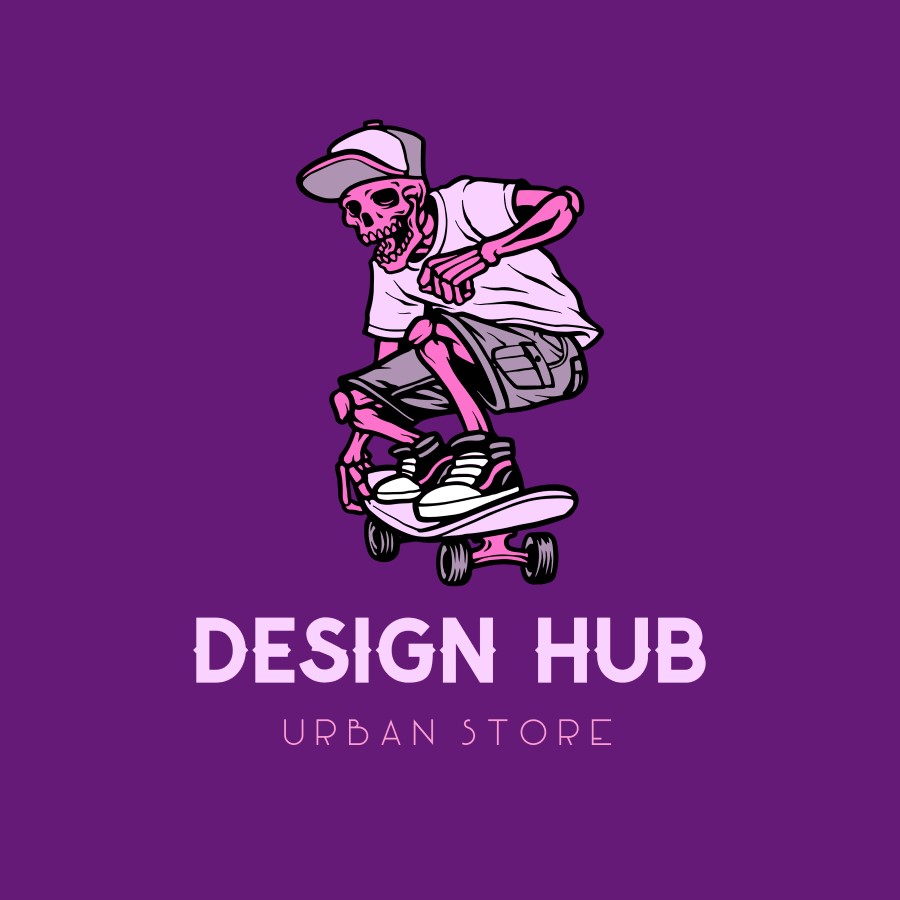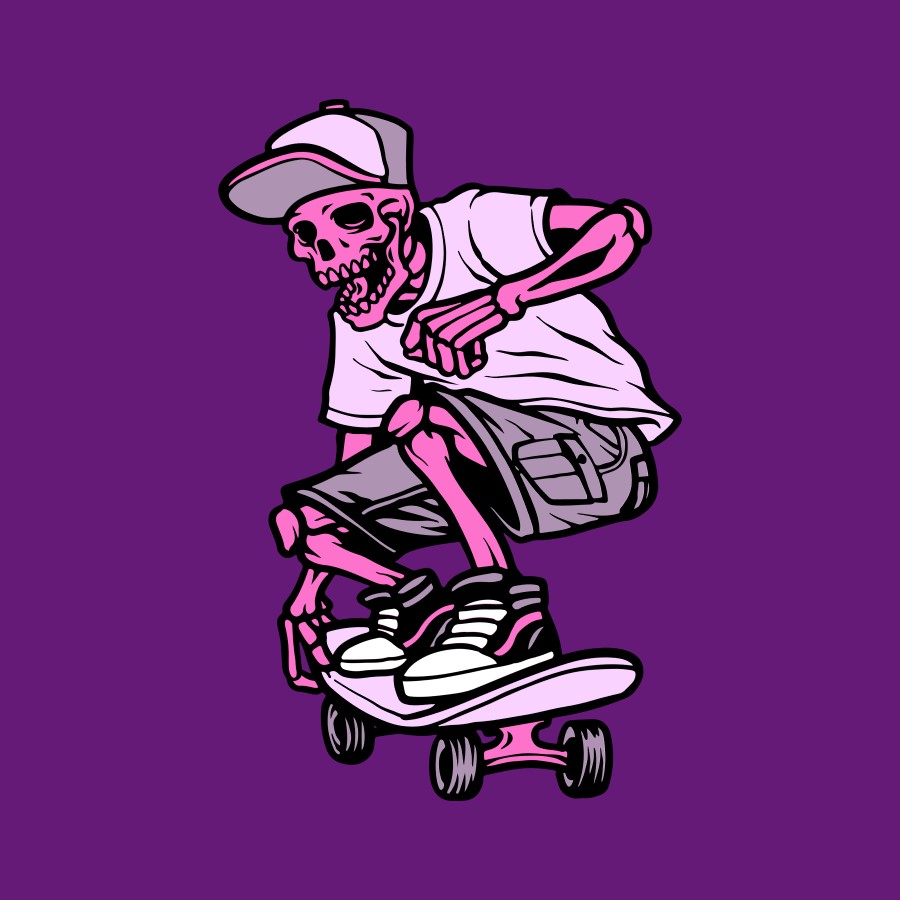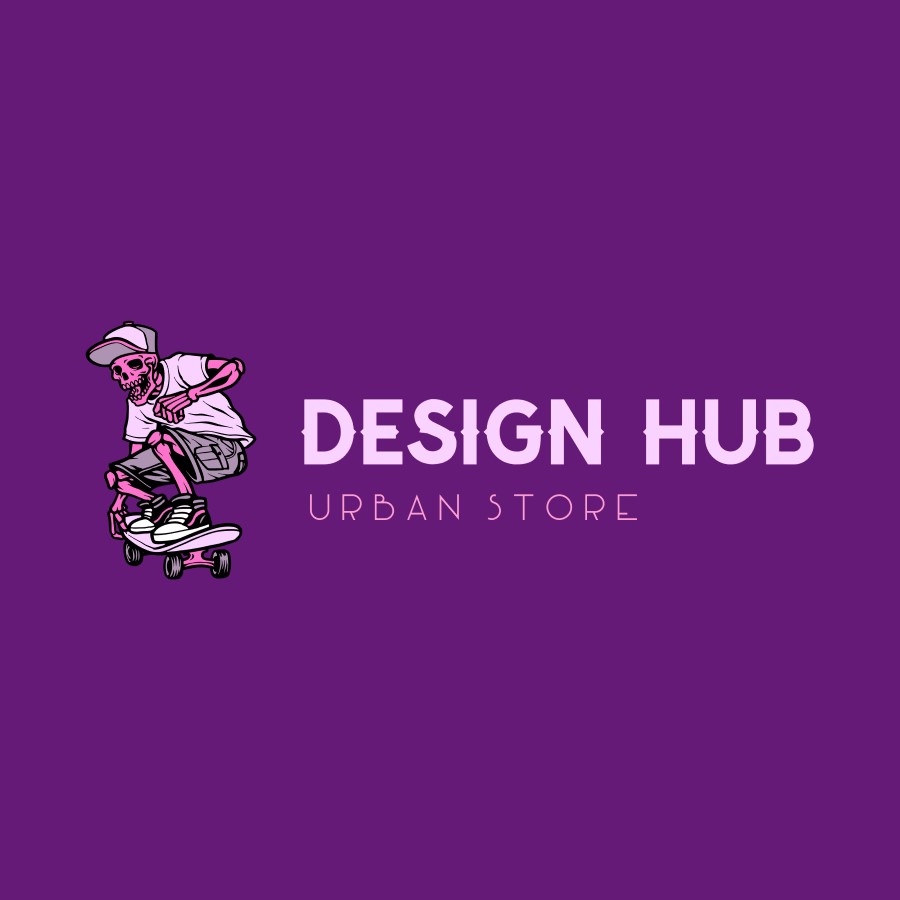 Section 3: Logo maker review
To review the logo maker we looked at a few different areas:
Let's dive right in.
3.1 Templates
Placeit has a substantial range of pre-designed logo templates that you can use as the base of your design.
Unlike with a tool like Canva, it's currently not possible to create a logo design from scratch with Placeit. You have to use one of their templates as your starting point.
At the time of writing, there are over 15,000 logo templates, and these span various categories from gaming to fitness, musician logos to sports logos, and so much more.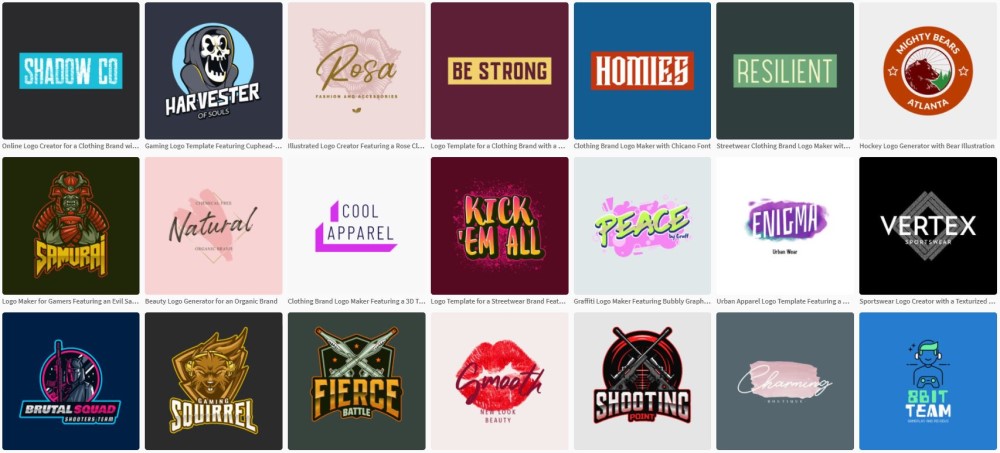 Most of the logo design categories on Placeit have a good number of templates that you can use as the starting point of your design – particularly the Gaming category.
So whatever your niche you should be able to find a good number of templates that work well for your industry.
Here are some of the best categories for logos on Placeit:
Gaming logos (4,700+ templates):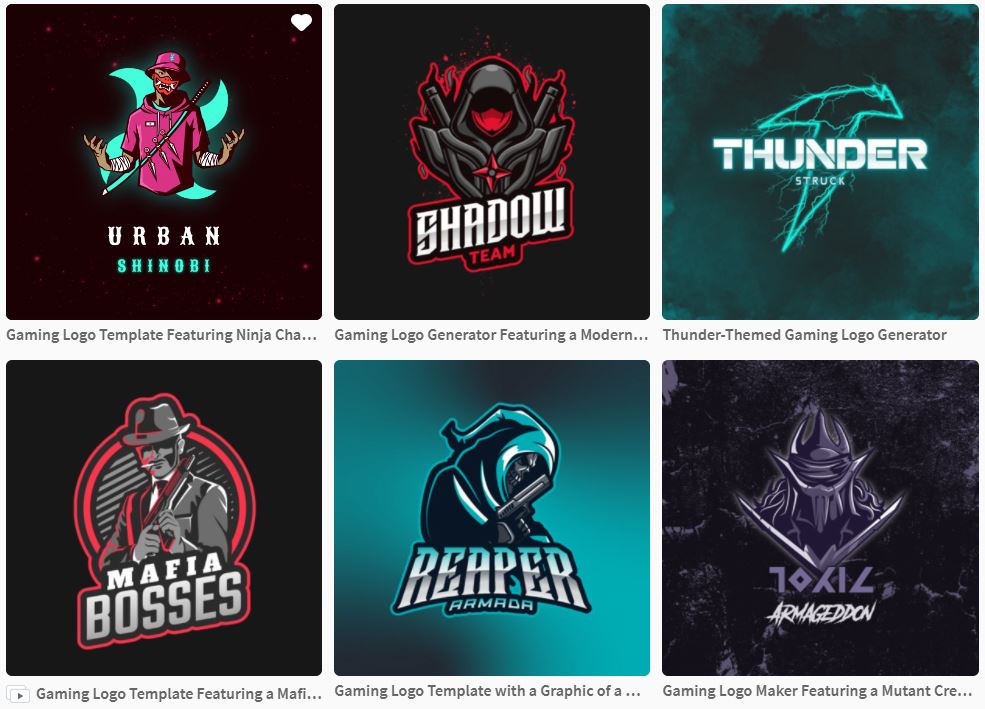 Print on Demand brand logos (2,300+ templates):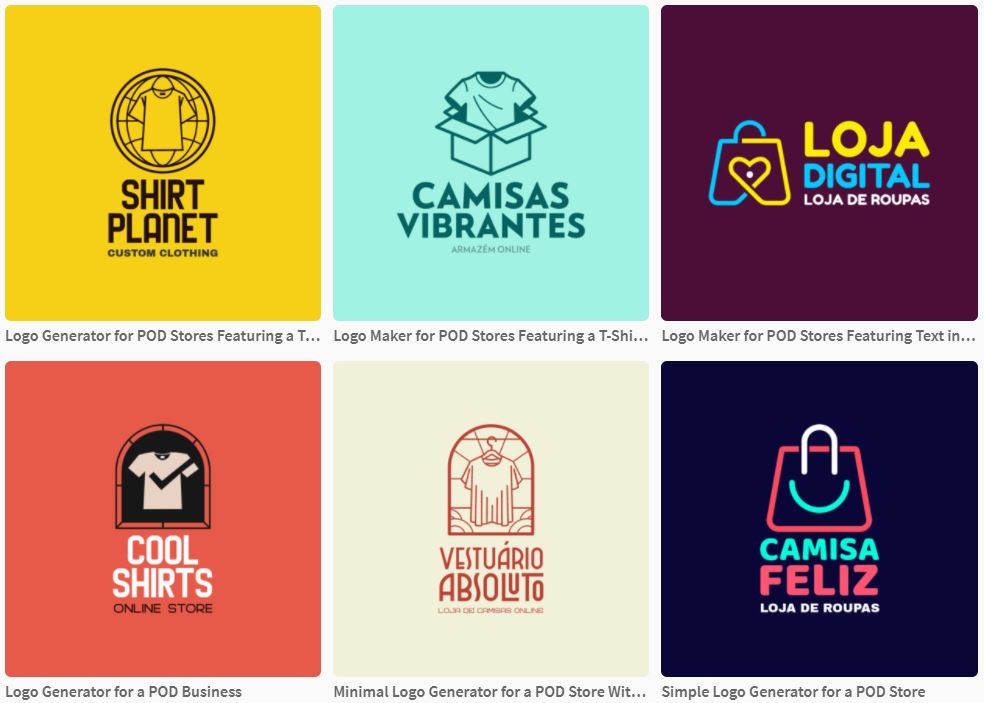 Clothing brand logos (2,300+ templates):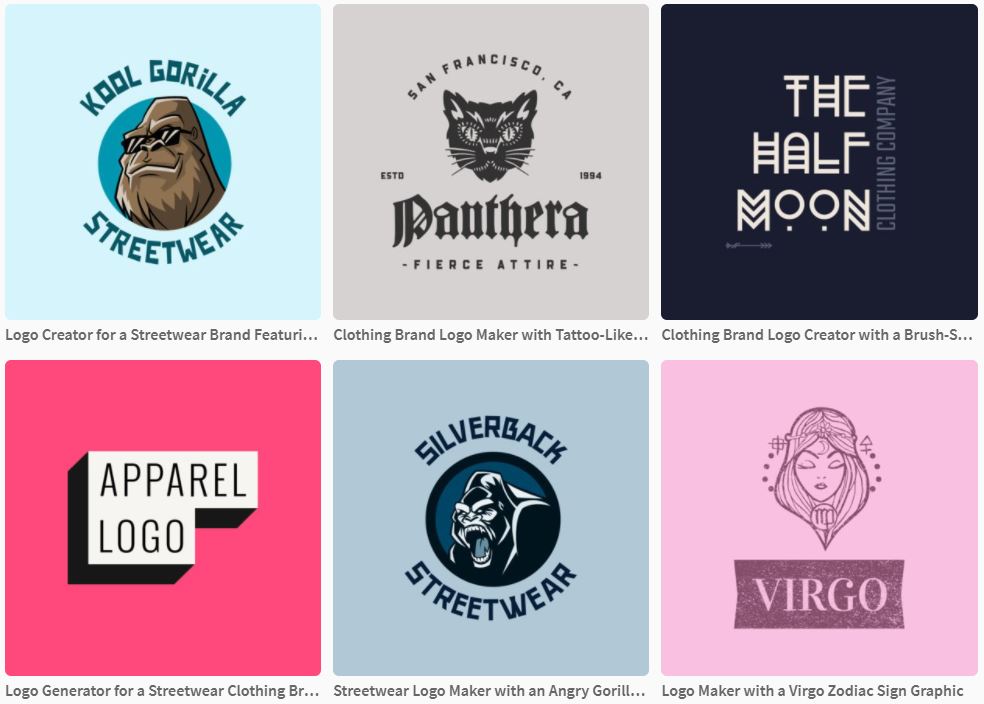 Sports logos (1,600+ templates):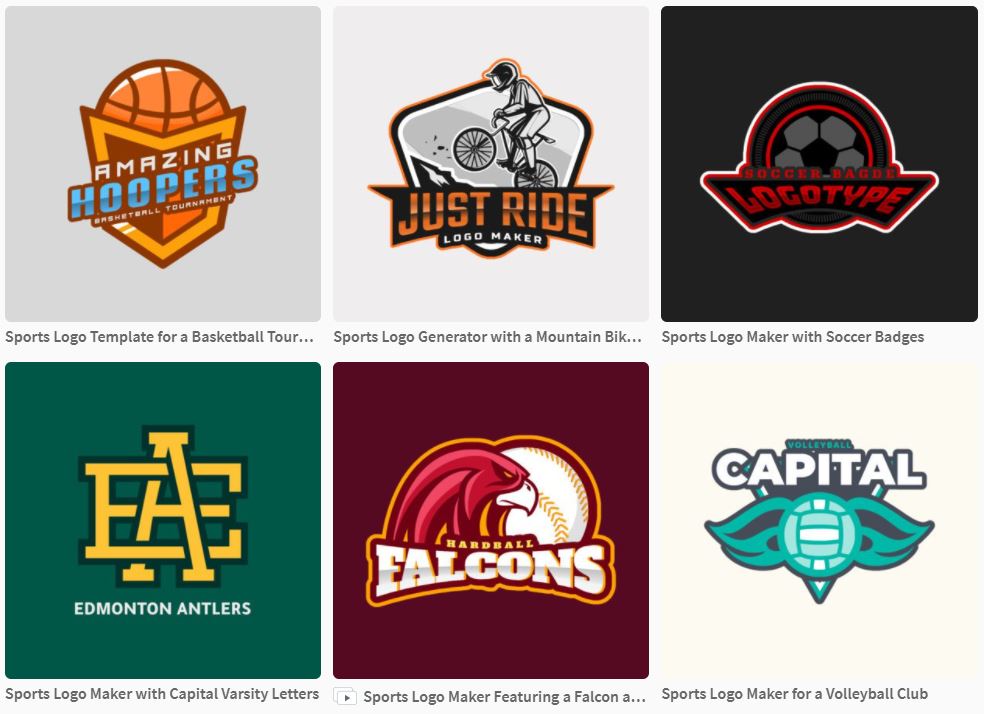 Musician logos (1,200+ templates):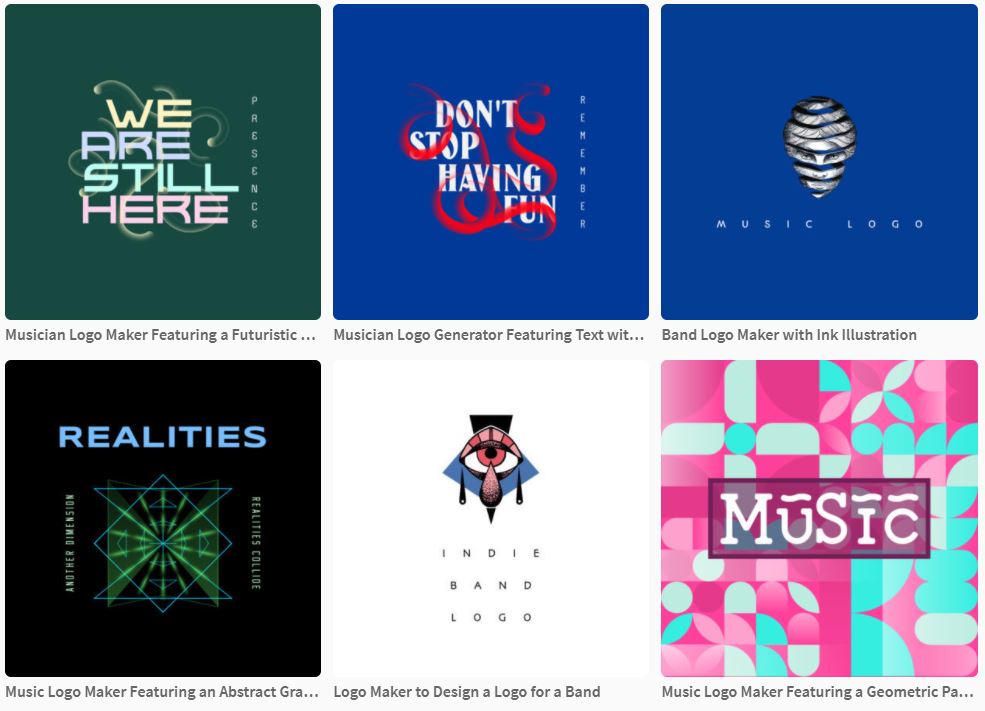 When it comes to the design quality of the logo templates on Placeit, we have to say that it's very high. With quite a few of the other online logo makers the templates and design elements look a bit generic but Placeit has a good range of unique and high-quality templates.
They also offer a good mix of icon-based logo designs and text-based designs. You have plenty of choices no matter what your preference.
Here are a few more logo template examples: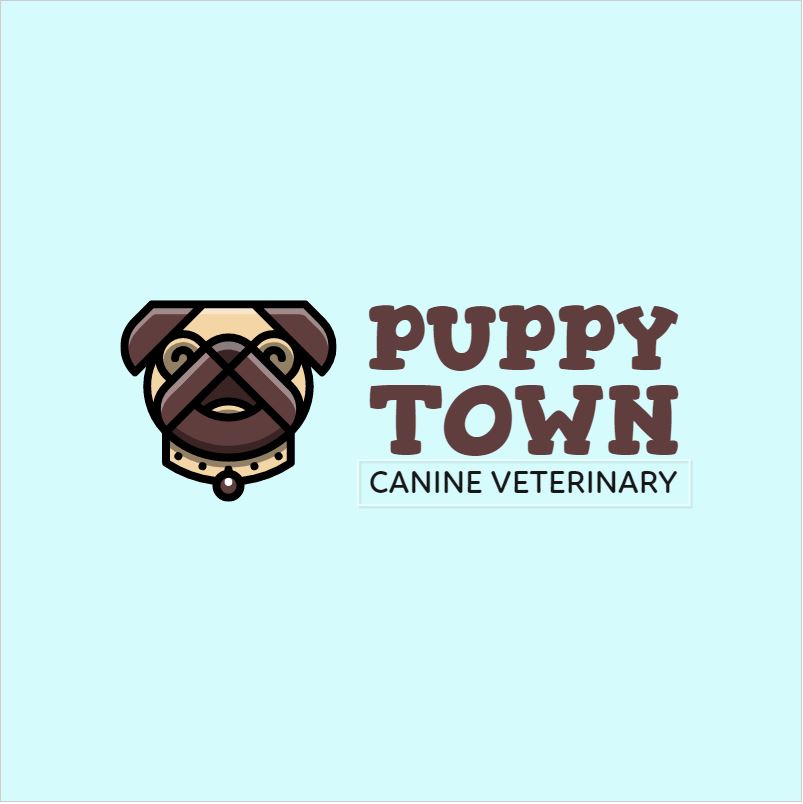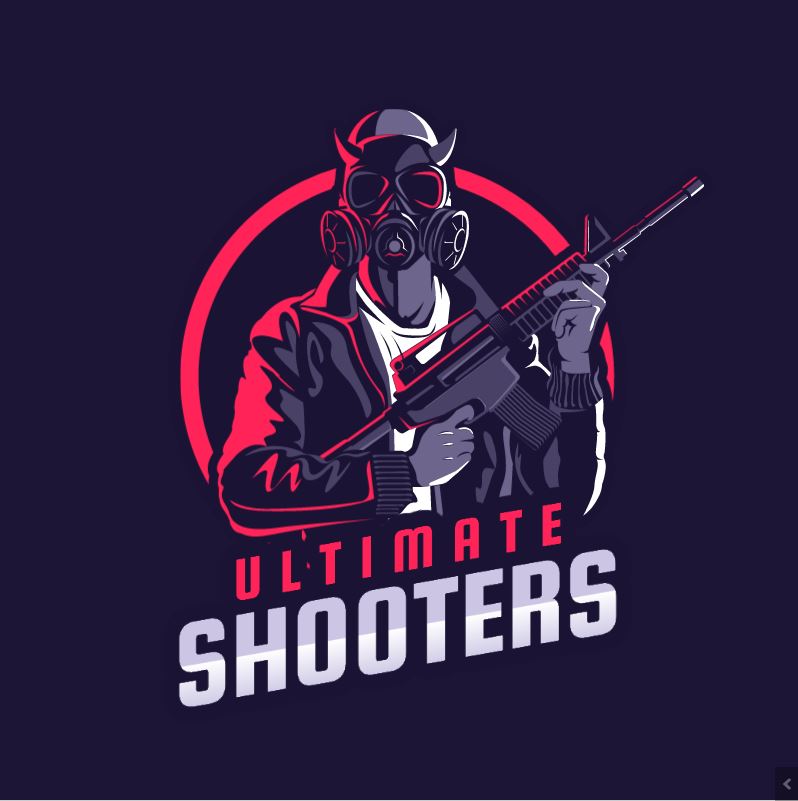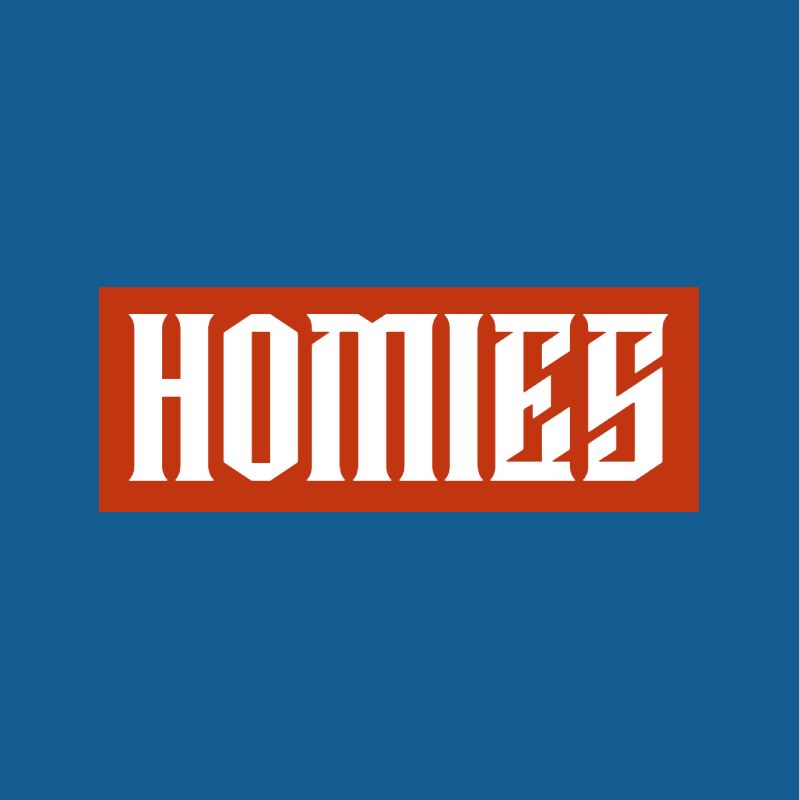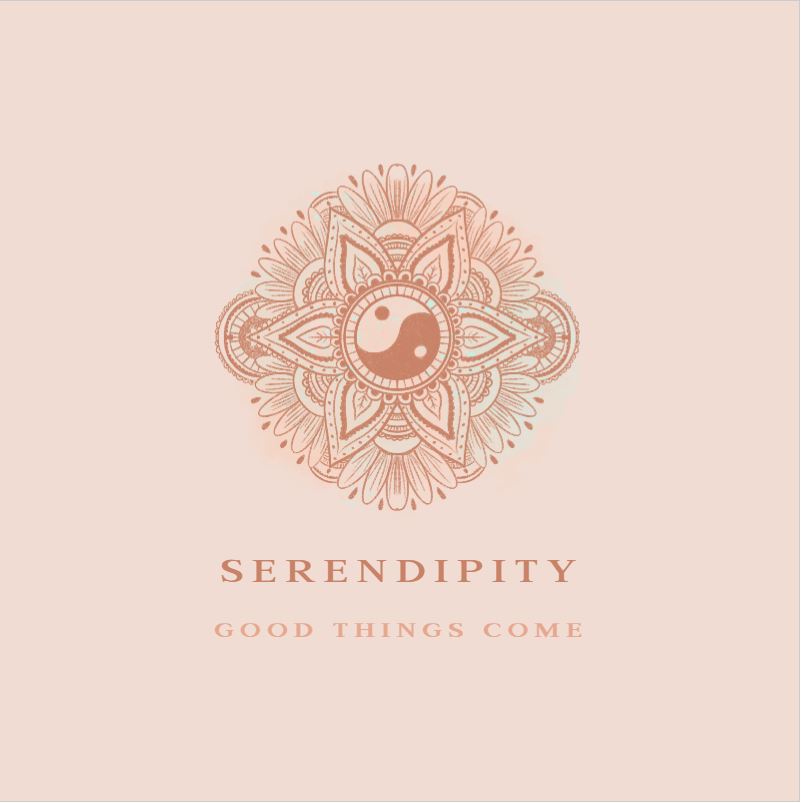 3.2 Ease of use & functionality
If you read through the steps on how to create a logo with Placeit above then you would have seen how easy and user-friendly the process of creating a logo on Placeit is.
Anyone can jump on to Placeit and customize their logo templates in no time at all. There's virtually no learning curve.
That being said, there are a few areas where Placeit could improve.
One obvious feature that's missing (in our opinion) is that there's no undo or redo buttons within the Placeit editor which would be a very handy addition.
That being said if you click the back button in your browser window it has the same effect as an undo button.
We cover more good elements and improvements areas below, including:
Resizing & repositioning
Altering the colors
Text & font options
Download options
Collaborations options
Additional features
Resizing & repositioning
Resizing and repositioning the logo design elements on Placeit is simple. You just click on an element and the customization options are very obvious and apparent.
The editor shows you where a selected element is in relation to the canvas (e.g. if it's centered) and also where it sits in relation to the other design elements
All really helpful features to ensure your design is lined up correctly: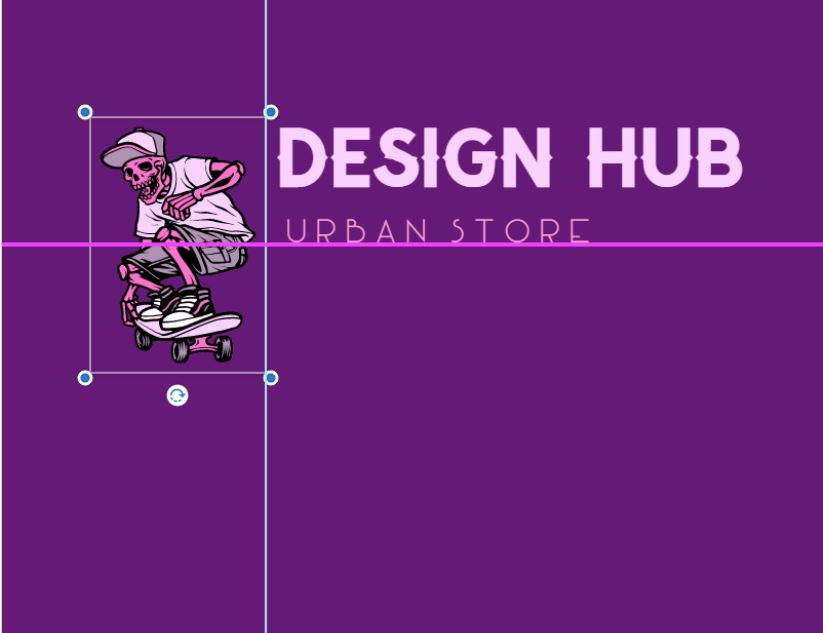 There are a few areas where they could improve though.
For example, it would be great if it was possible to group elements together or be able to select multiple elements at the same time to resize or reposition them on the canvas.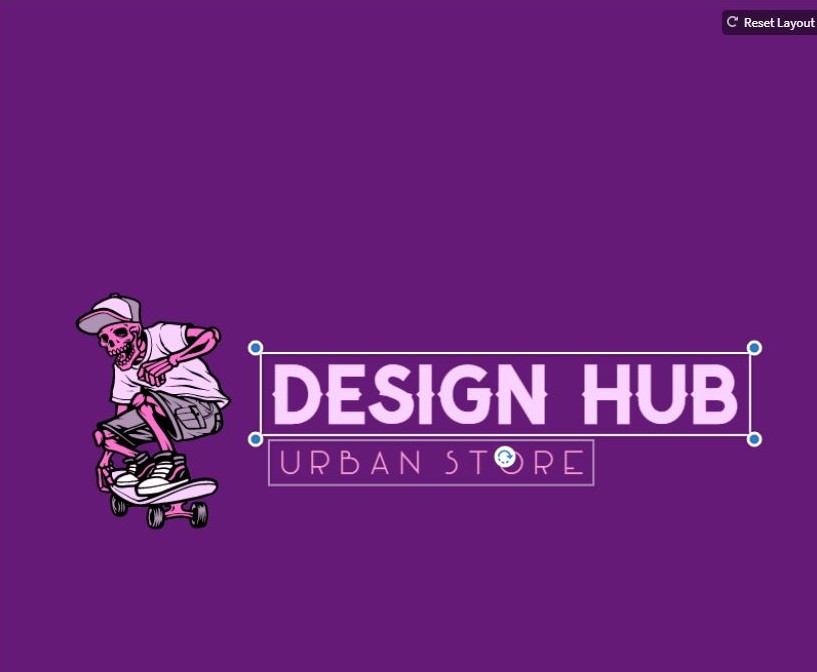 Altering the colors
Things are also super easy when it comes to customizing the colors. All you have to do is select the color palette for the element you want to customize – text or graphic element – and select your color from the options.
If you have a custom color in mind for your logo design, you can also input the hex code to make sure it's exactly the color palette you want: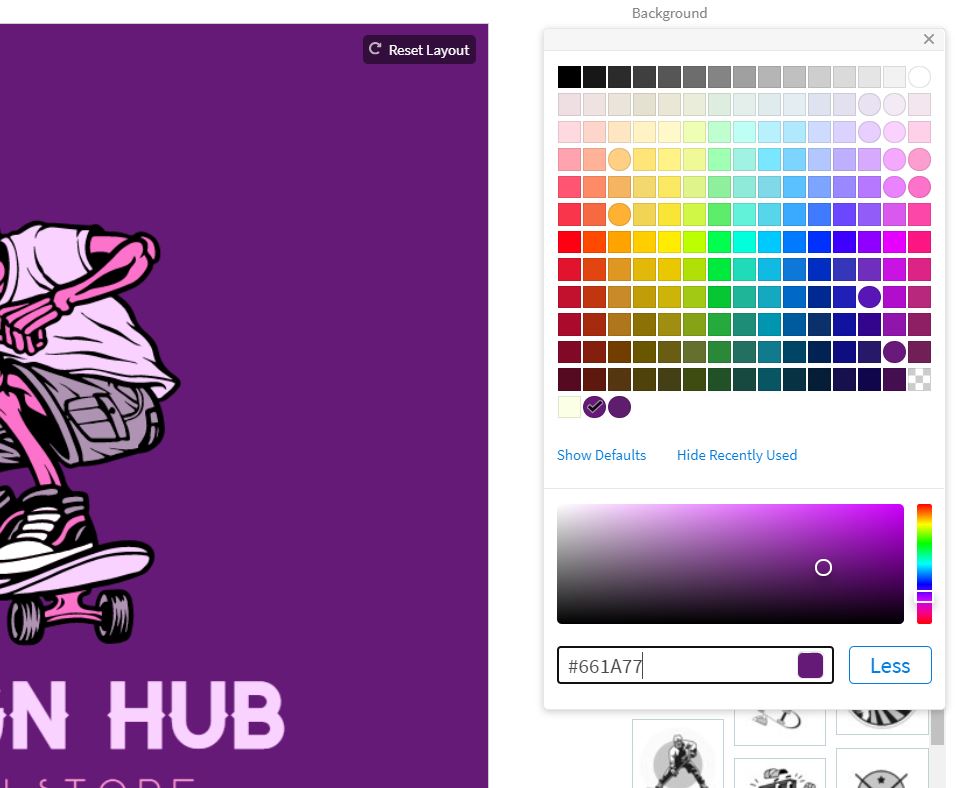 Text & font options
The font options on Placeit are great. As mentioned previously it's simple to browse the font options and save your favorites you can easily test what works best with your logo design.
They even suggest fonts that will likely work well with the style of the logo template that you've selected: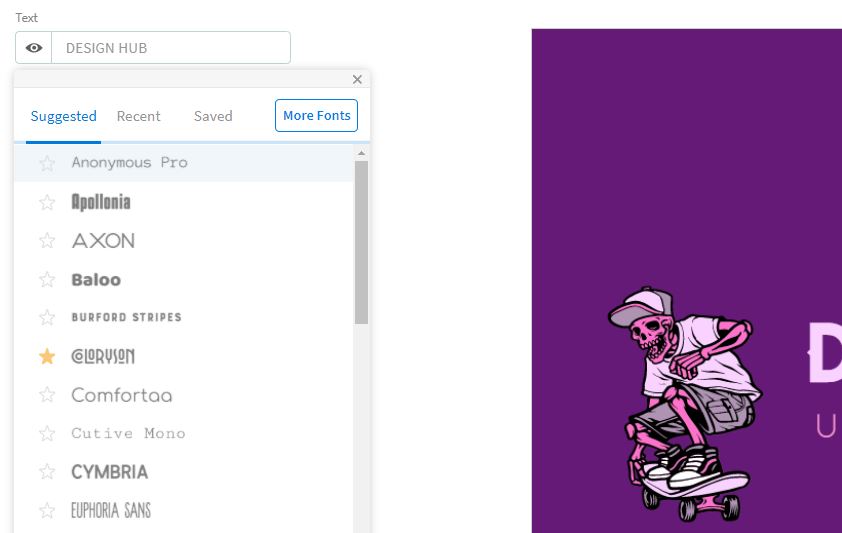 If you click into 'More Fonts' you get a huge selection of additional fonts, broken down into descriptive categories and all of them previewed so you can easily select or favorite ones you think might work well with your logo design: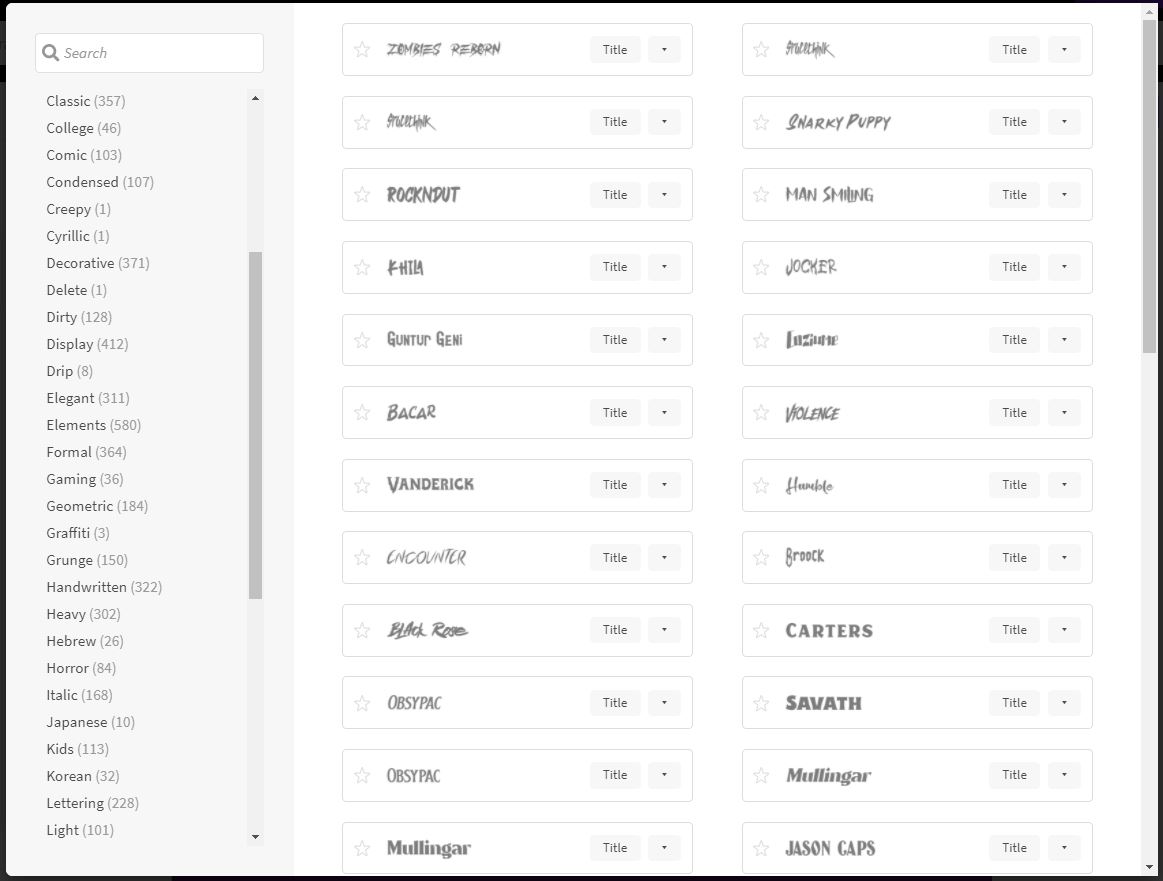 Here's what we feel is missing from the Placeit toolkit in regards to font and text options:
You can't curve text unless that's an existing feature of your chosen template
You can't change the color of individual letter or words within the same text field so they have to be all the same color
You can't add additional text fields to your design, you can only use the presets of your template
You can't change the spacing between letters or words in the same text field
You can't upload your own fonts (this is due to licensing reasons presumably)
Download options
When it comes to the logo design download options on Placeit, things are fairly limited. You can only download your logo as a PNG file (you two versions, one with a transparent background.
The file size is great (4000x4000px) but it would be awesome if Placeit offered users the ability to download the files in other formats such as a JPG, or even as a PSD.
Collaboration options
When it comes to sharing and collaborating on your designs with our people, there aren't too many collaboration options on Placeit. All you can do is generate a share link for your design and send that to someone you want to share it with.
They can comment on the existing design, but they can click on the shared image and then go to Placeit to edit the exact same design if they want to, but that's as far as it goes in terms of 'collaboration'.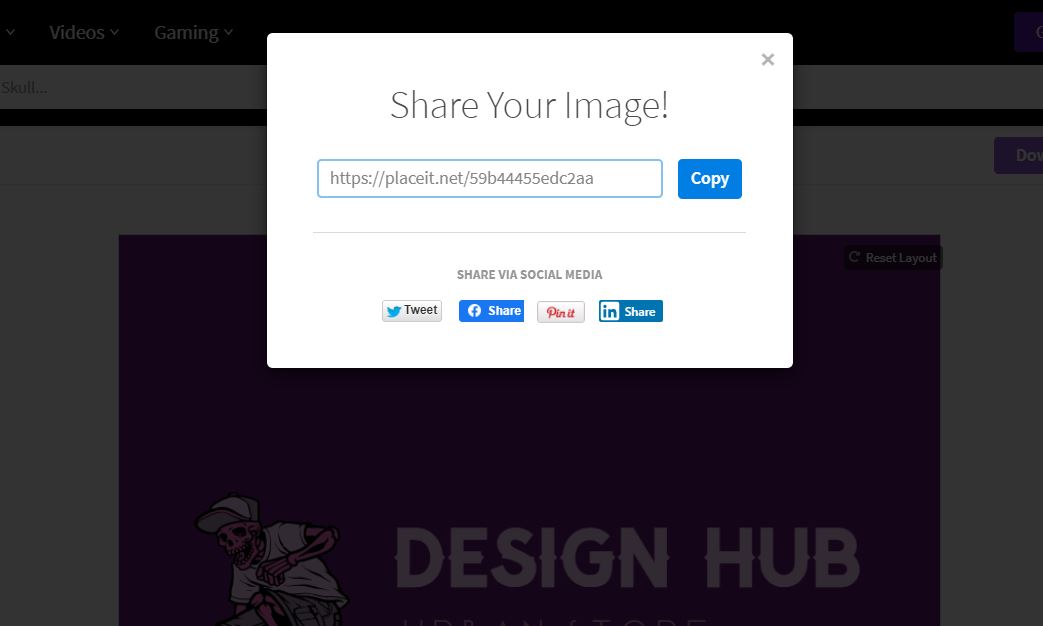 It would be great if Placeit introduced a feature where multiple users could comment on the same design.
Additional features
The first additional feature we thought was worth noting is the fact that you can save your designs as a draft, and come back to them later on.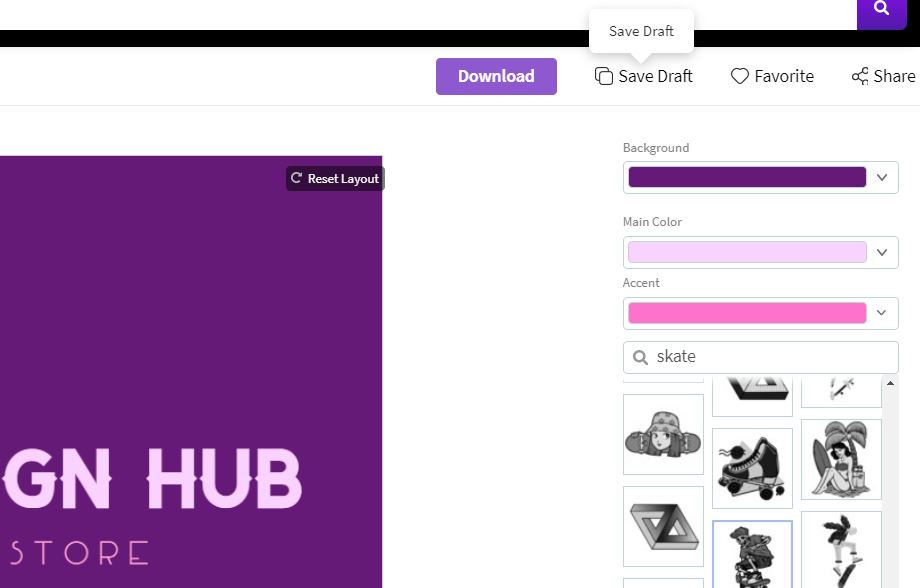 We also thought was worth highlighting is that it is incredibly easy to create animated logos on Placeit too!
Placeit currently has over 1,200 animated logo templates, most of them seem to be geared towards the gaming niche but the vast majority of them are of good quality.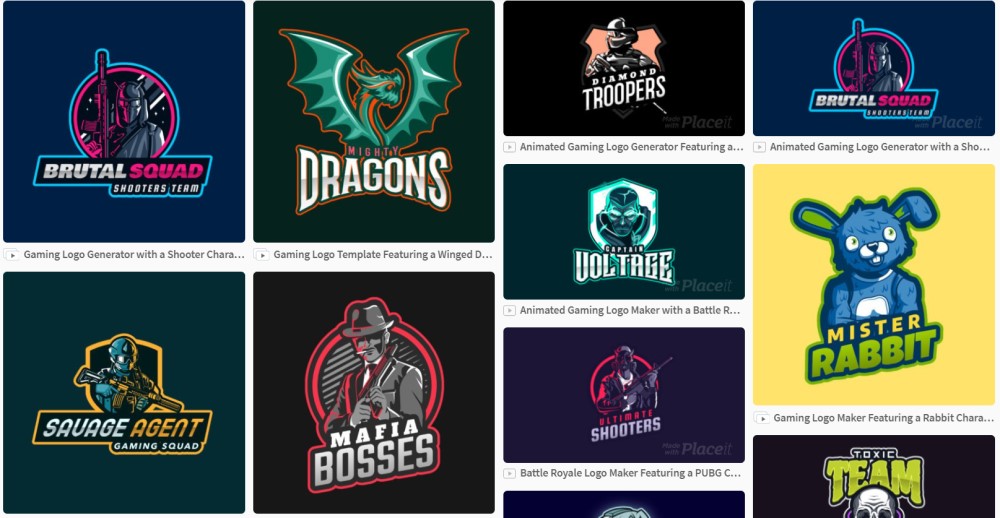 Here's an example of one in action which took us about one minute to customize:
We've not seen too many other online tools offer the ability to create animated logos (Canva does) so this feature is incredible!
3.3 Customer Support
If you need any customer support there's only a couple of areas you can go on Placeit:
FAQ & contact us section – Placeit answers many frequently asked questions here and you can also find their support email address and contact form on this page
Twitter – They're also fairly responsive on Twitter, so if you have any problems you can try to reach them there
3.4 Our Verdict
After reviewing Placeit's logo maker we still feel that it is definitely one of the best logo makers around, maybe even the best.
We'd highly recommend it to anyone looking to create their own logo using an online logo maker.
The main benefit to using Placeit is the sheer number of templates they have on offer which dwarfs the offering of most of the other logo makers available. Most of the templates are of great quality too.
It's also ridiculously easy to use as well. Within a few clicks, you can have a fantastic-looking logo ready to go.
You can even create great-looking logos for free which is great for people on a tight budget.
Below we've summarized the main pros and cons with Placeit's logo maker:
Pros
Cons

Can create great looking free logos!
Incredibly user-friendly interface
Easy logo customization
Huge logo template library
Templates covering many niches and industries
Great quality designs
All downloads come with a version with a transparent background
Plenty of great fonts
Easily make animated logos
Very affordable subscription with unlimited downloads
Easy to apply your brand colors

No real collaboration features
Only download files as a PNG
Limited text customization options
Can't upload your own fonts
Only one version of your logo per download (would be great to have multiple variations e.g. icon only)
Section 4: Pricing
You can create a logo on Placeit 100% for free but doing this means you will only get access to a fraction of their templates and design elements.
For that, you'd need to have a Placeit subscription, or you can buy an individual logo design for $39.95.
The more economical approach would be to get a Placeit subscription. If you get a month-long subscription for $14.95 you can download as many logo designs (and other designs) as you want, and there are no lock-in contracts.
You can also get an annual subscription which is also great value at $89.69 per year.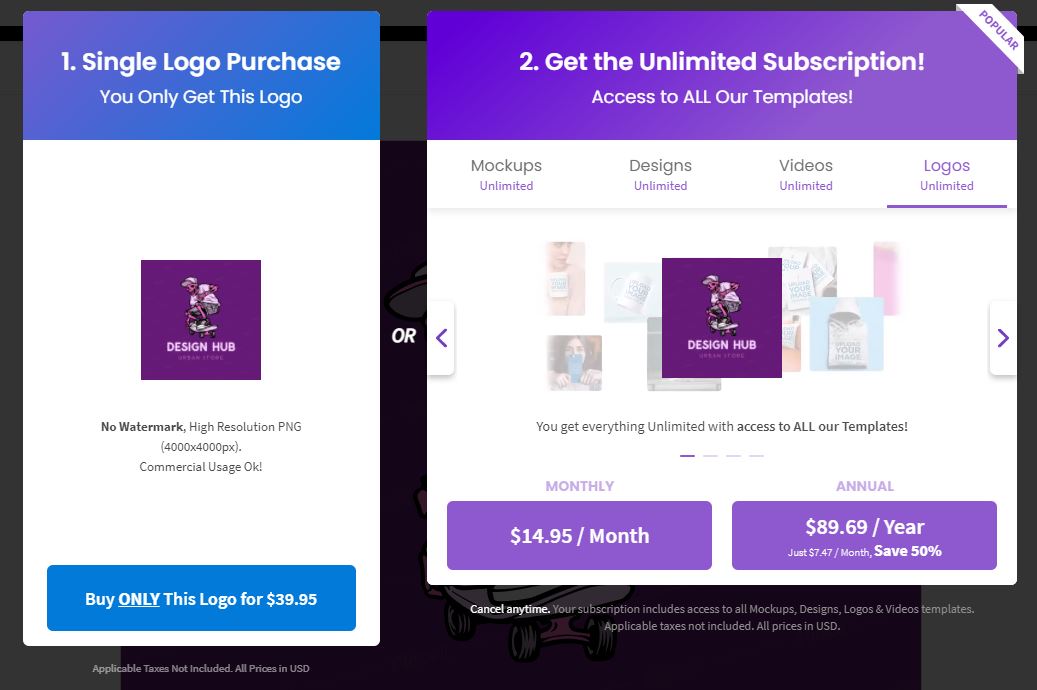 'Free trial' option
Placeit doesn't technically have a free trial option but as mentioned you can access 99 completely free logo templates via the site.
You also have a sizeable library of the other free templates that span all the different template categories that Placeit offers.
Section 5: Licensing
With any logos (and designs) you create in Placeit you get full commercial usage rights so you're free to use them on any platform you see fit.
You can check out the Placeit license for more details, but here's their human-readable version: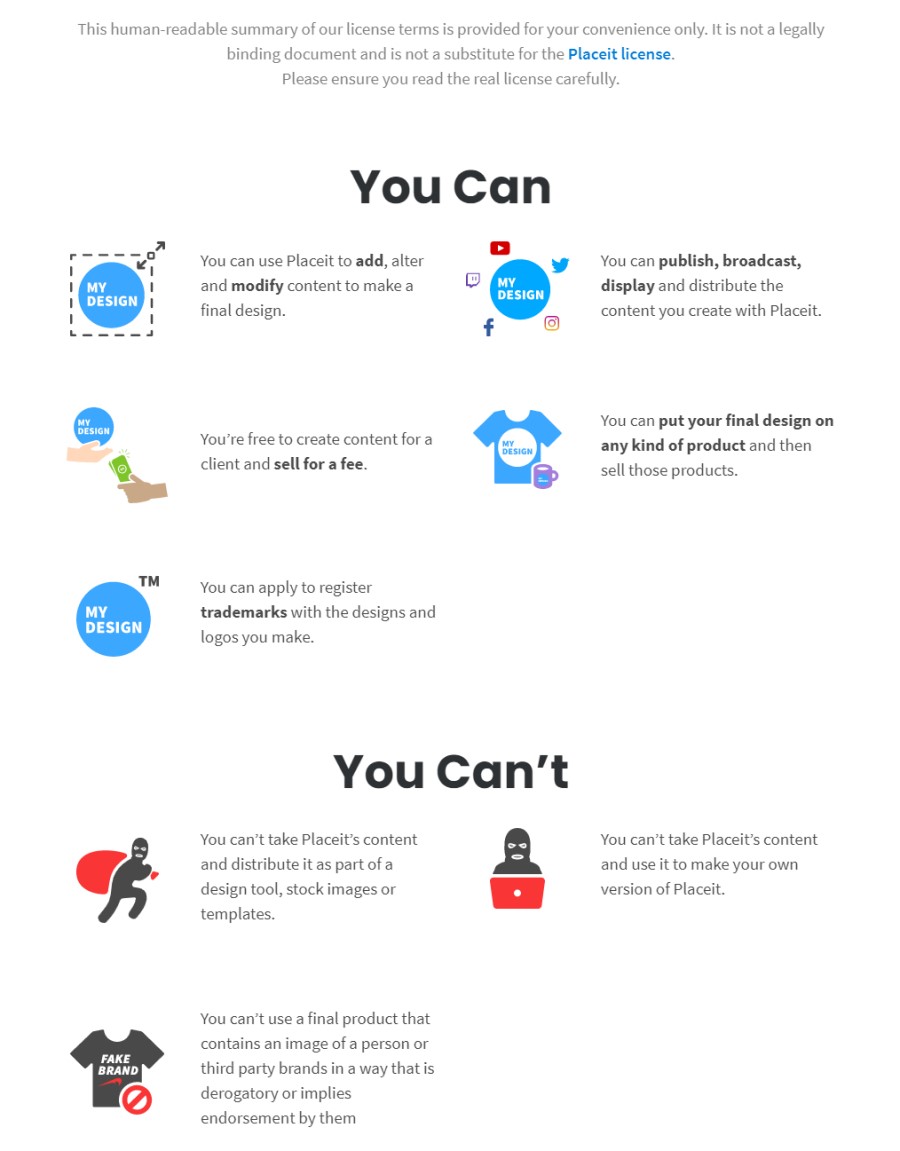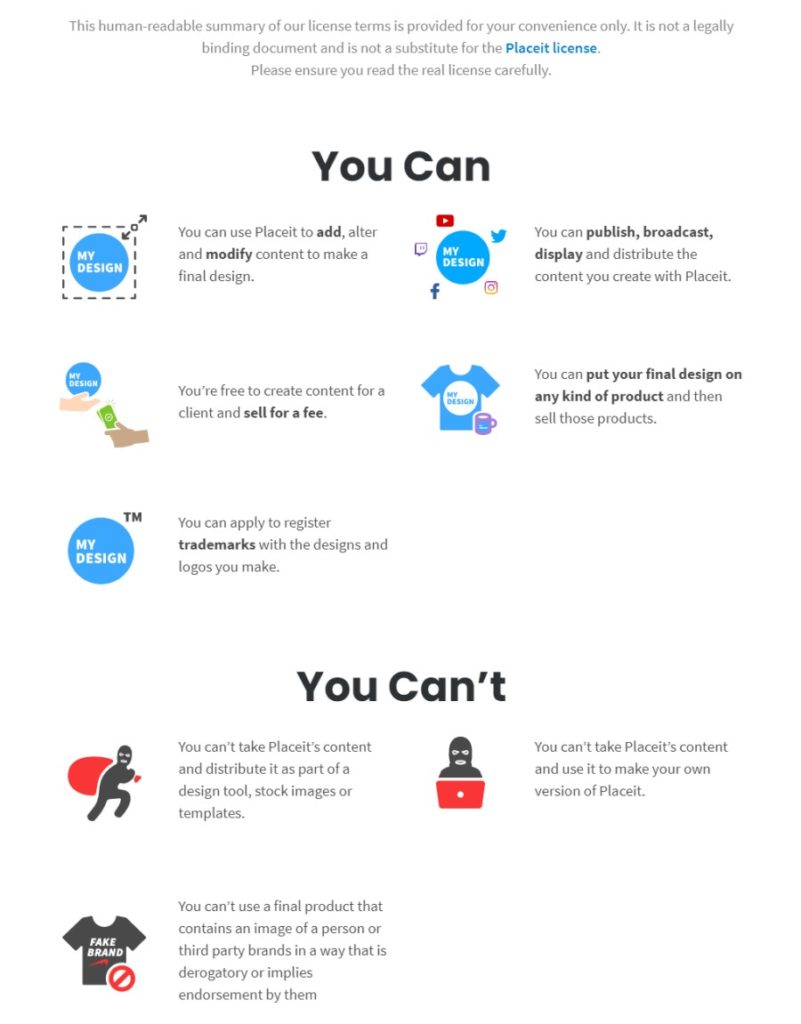 Section 6: Placeit logo maker FAQ
Here are some of the most common questions (and answers to them) that we've seen regarding Placeit's logo maker.
Who is Placeit's logo maker best for?
If you're a solopreneur, blogger, YouTuber, or someone who wants to get a great-looking logo without spending big bucks then Placeit's logo maker is a good fit for you.
If you need a more bespoke and unique logo for your brand we'd recommend working with a designer from a website like Fiverr, or a more premium marketplace like Twine.
Can you create a logo for free with Placeit?
Yeah, as mentioned, you have access to 99 free logo templates with Placeit. You can also search through the icon library when you're using a free logo template which gives you plenty of options too.
Can you make Pubg logos with Placeit?
You certainly can! Placeit has a decent library of Pubg inspired logos with just over 40 templates at the time of writing.
Can I upload my own designs to Placeit?
You can't upload any elements to add to your logo designs on Placeit. However, with Placeit's other templates such as mockups, Instagram posts, etc. you can upload your own designs.
Section 7: What else can you do with Placeit?
Placeit isn't just a logo maker. They have many other templates and tools to help you create awesome designs.
We've covered some other Placeit features in our guide on how to create all your twitch graphics with Placeit, and our Placeit intro maker review.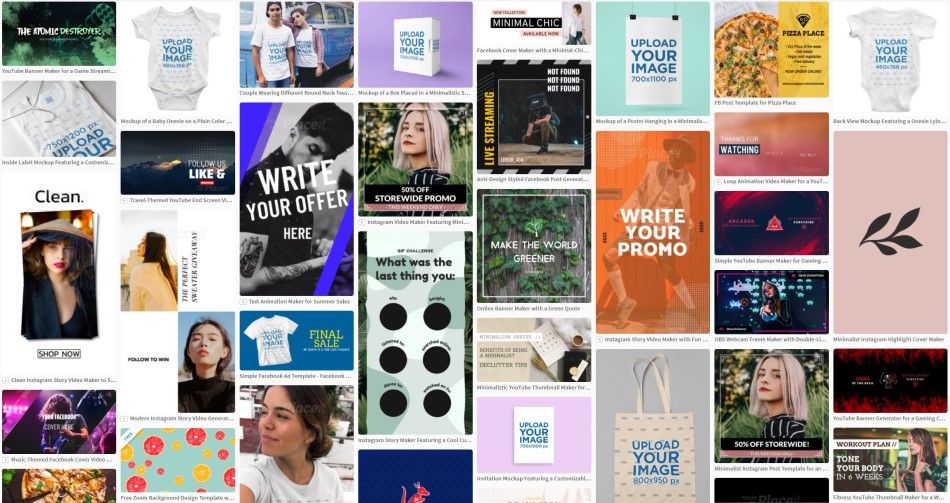 Here's a list of some of the other things you can create with Placeit:
Product mockups (apparel, devices, and much more)
Social media content (Instagram, Pinterest, Facebook, and more)
Videos (e.g. Intros, promo videos, etc.)
T-shirt designs
Streaming templates (Overlays, screens, panels, etc.)
And much more!
Section 8: Alternative logo makers & options
In our opinion, when it comes to online logo makers there aren't many tools better than Placeit.
However, there are a few other sites like Placeit we recommend when it comes to creating logos:
Canva is another fantastic logo maker that not only has a good range of predesigned templates but allows you to create a logo from a blank canvas. You can read our Canva logo maker review for more insights.
It really depends on how much freedom you want with your design and the levels of effort you want to put into it. If you want to simply find a great-looking template and quickly customize it for your brand then Placeit is your best option.
Alternatively, you could use a service like Fiverr and hire a designer to create a logo for you at a low cost. We did this for our logo and had a great experience.
Final thoughts
Placeit is an extremely user-friendly and simple online design tool, and its logo maker is one of the best around at the moment.
If you need an affordable and high-quality logo for your brand you should have a good look through their logo template library.
So, do you agree? What do you think of Placeit's logo maker?
Let us know in the comments, we'd love to hear about your experience.