Fiverr is probably the largest online gig marketplace. A huge number of freelancers sell their services on the platform, and with a few clicks, they can be hired to help you out with your projects.
It's possible to find freelancers for almost any task on the platform, and one of the most popular services is logo design.
We needed a new logo for our brand, so we decided to hire some freelancers on Fiverr to create one for us.
In this article, we'll take you through the process of getting a logo design via Fiverr, how we found the experience, and if we'd recommend it to others.
---
Jump to a specific section:
---
Section 1: Overview
Before we get started, for those of you who aren't aware of Fiverr, here's a quick run-through.
Fiverr is a 'gig' marketplace that allows you to work with freelancers one on one to get them to tackle a project for your business.
As mentioned you can find freelancers for almost any task on Fiverr, for example if you search for "YouTube SEO" you'll see that there's almost 4000 gigs on offer: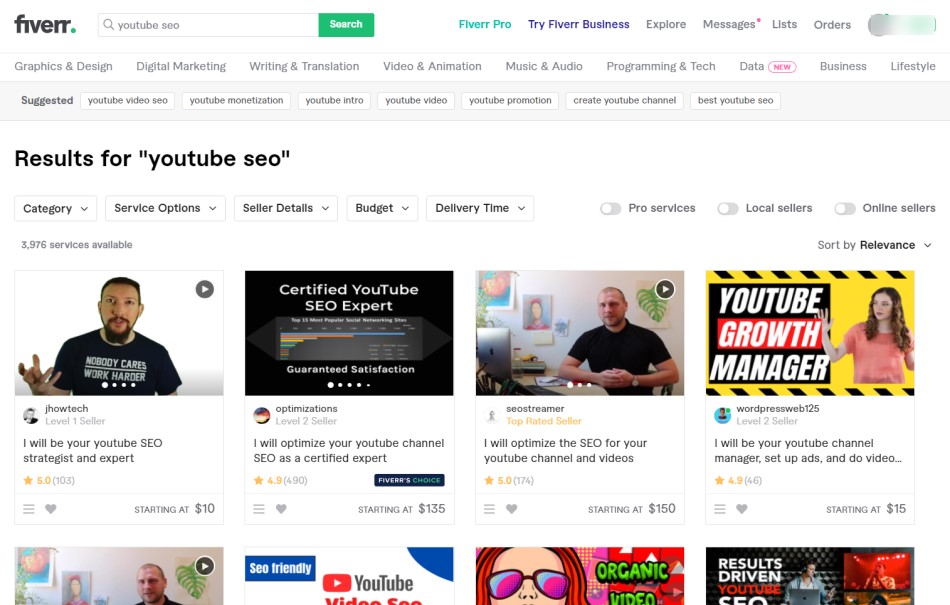 There are gigs catering to all budgets on Fiverr. If you have a limited budget there's a good chance you'll still be able to find some good quality freelancers to do work for you within your price range.
When it comes to logo design there are plenty of quality logo designers on Fiverr, with prices starting from $5 going all the way up to $10,000!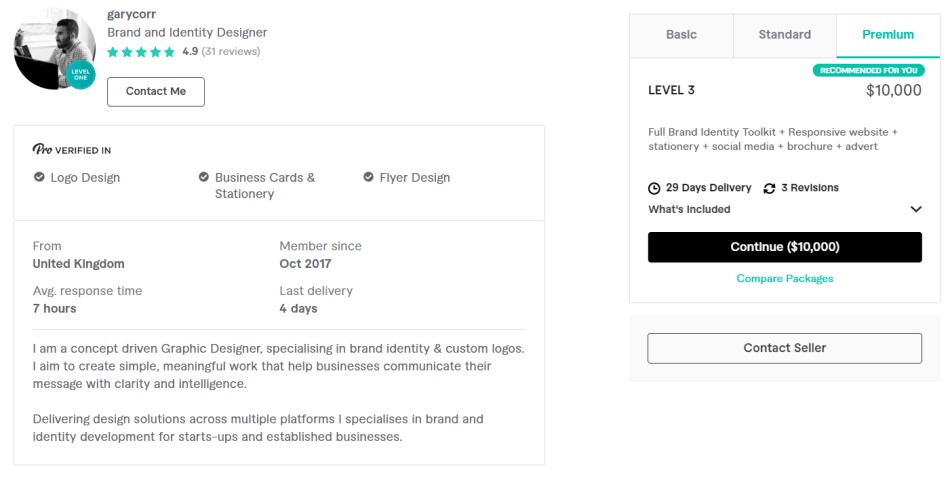 Section 2: Why did we do it?
We decided to use some designers from Fiverr to create a new logo for our brand for a few reasons.
First of all, we felt like we needed an upgrade on our old logo. It was fine but we knew we wanted something that represented us in a clearer way. Here was the old logo:

We're not the best designers in the world, and although there are some quality logo makers (including the Fiverr logo maker), we were more than happy to outsource the job to a quality designer, and we thought Fiverr would be a great place to find that person.
We love using Fiverr because there are times when you need a task done but you just can't find the time (or the skills) to do it yourself.
We can jump on to Fiverr, search through the huge amount of vetted talent that's there and find someone to help us at a reasonable price. So, it was the perfect place to find logo designers.
Section 3: How we found and chose the designers
When it comes to finding and choosing the designer (or designers) you want to work with, the hardest part is narrowing down your candidate list as there are so many designers to choose from.
The first step is to use the search filters on Fiverr: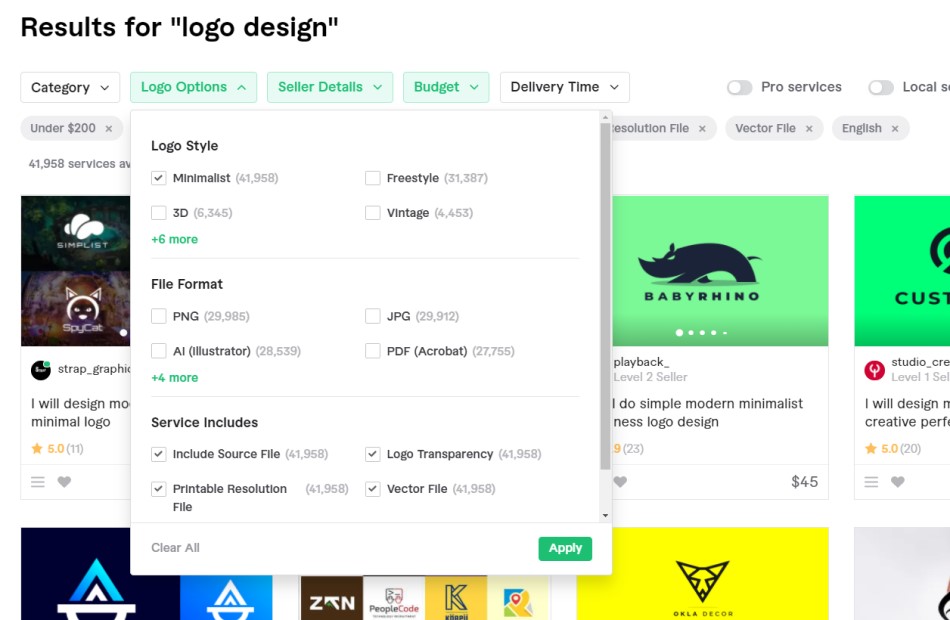 Initially when we searched for "logo design" gigs on Fiverr we got back 143,392 results. After putting in filters for the logo style, max cost, and a few seller details filters we the number down to 11,396 results. Still a lot but much more refined.
Here are the filters we put in:
Minimalist logo style
Max cost of $200
Service includes: source file, transparent logo, printable resolution file, vector file
Seller speaks English
Seller level is one or above
If you know what kind of logo style you're after (e.g. "Minimalist" or "Vintage") then make sure to select that. Go through all the filter options and choose what makes sense for your project. Trust us, it makes the search much easier!
The next thing to do is find gigs that look appealing. The way we did was to look at the main image of the gig (looking for images of their previous work that caught our eye), their seller rating, how many reviews they'd received, and the gig price: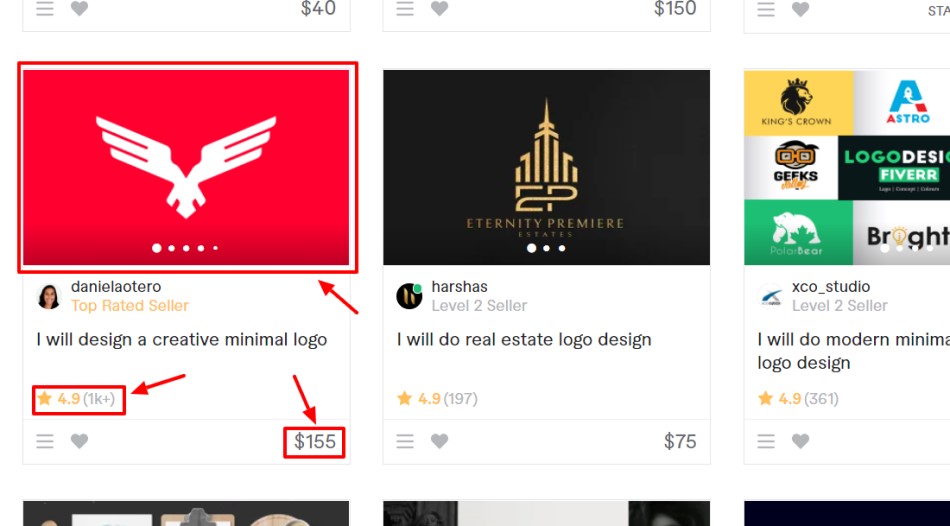 We'd highly recommend creating a 'favorite list' to aid your search. You can click the heart icon on the gig listing to add it your list, and then come back to your list later on to go through all your favorites: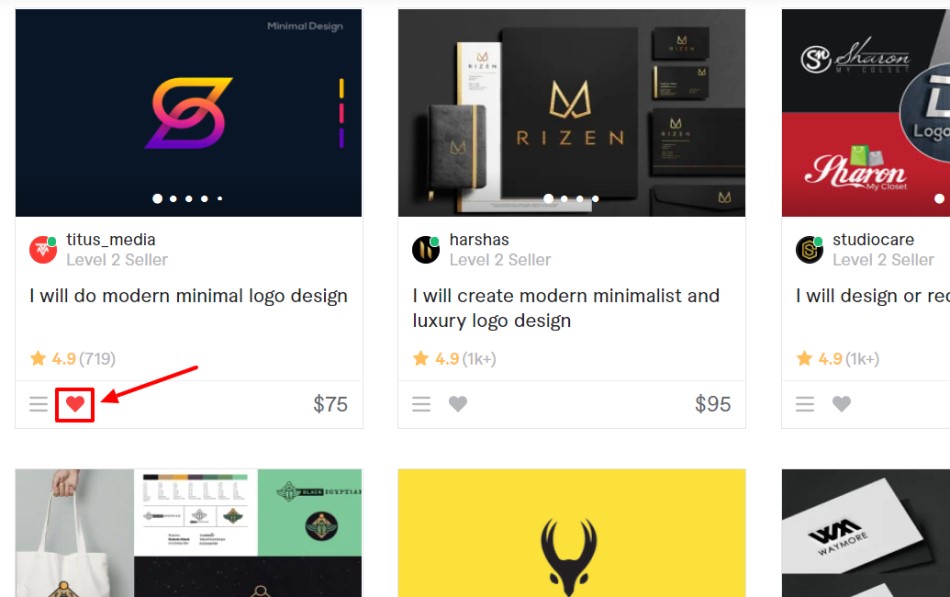 To access your list of favorites you just click on 'Lists' in the main navigation menu and this takes you to any lists you've created: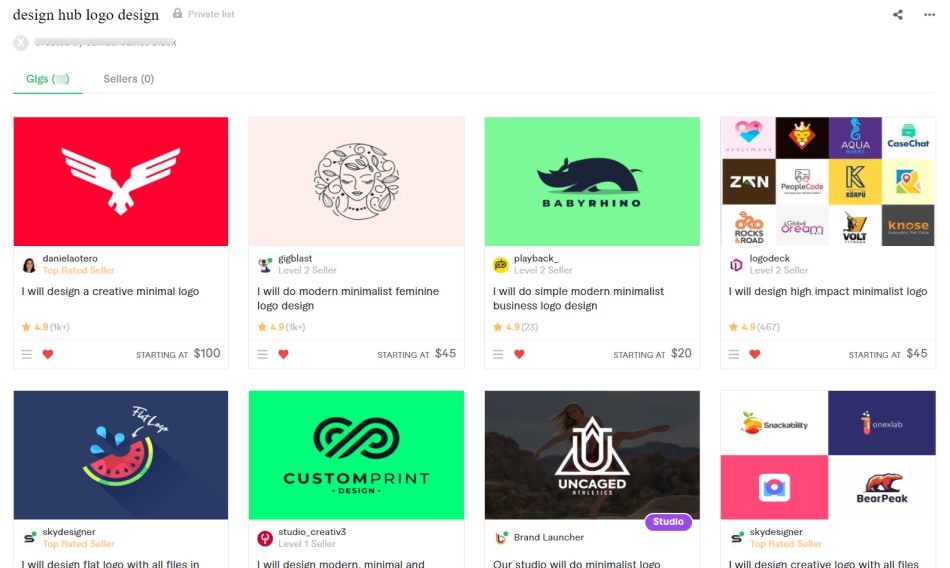 When you're actually look at a gig listing page there a few things you should look out for.
The first being the images of their past work and their portfolio – do they have the look and feel you're going for? Also check out their reviews and feedback.
Look at how many concepts the designer offers as part of the gig. We'd recommend using designers that off more than one concept as they don't always quite capture what you had in mind in their first concept (we made that mistake).
You should also ensure that you're going to get a good number of revisions with your order as it's very likely you'll need them, and if you're going to be using your design on print check that you'll get the high-resolution design files.
A lot of these details can be seen in the packages breakdown on the gig page: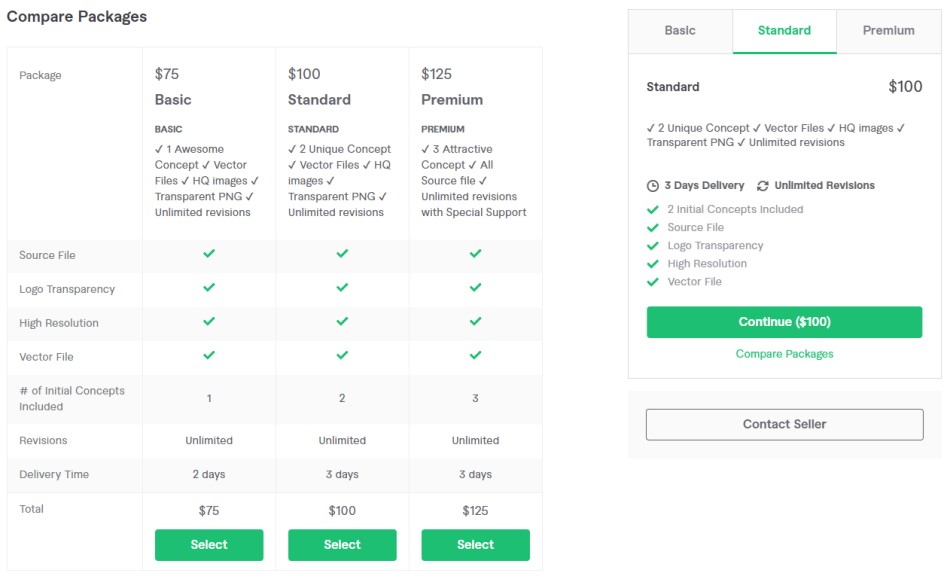 We wanted to give ourselves the best chance of getting a design we loved, so we decided to test out five designers. All at slightly different price points with the most expensive being $150.
Here are the designers and gigs we chose: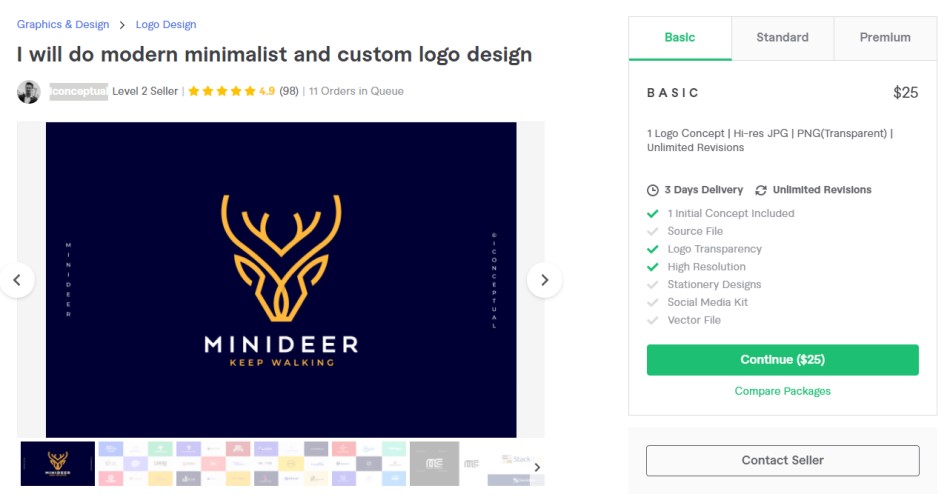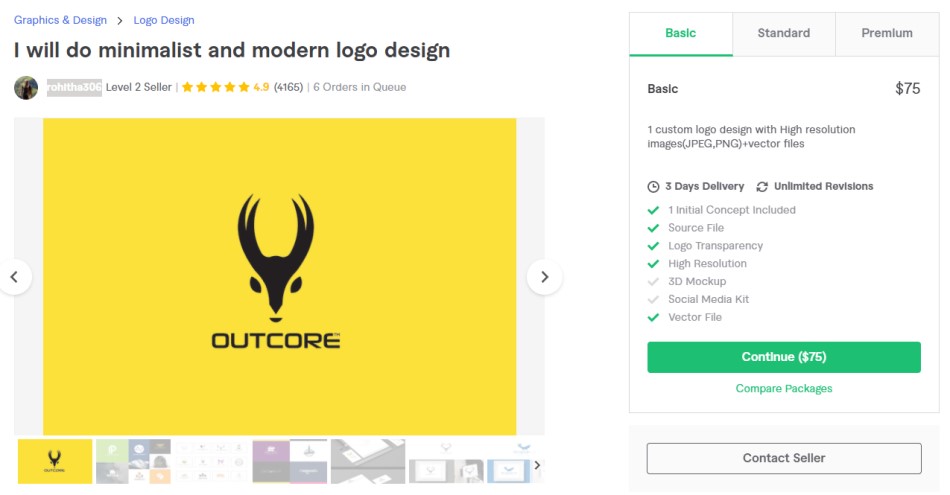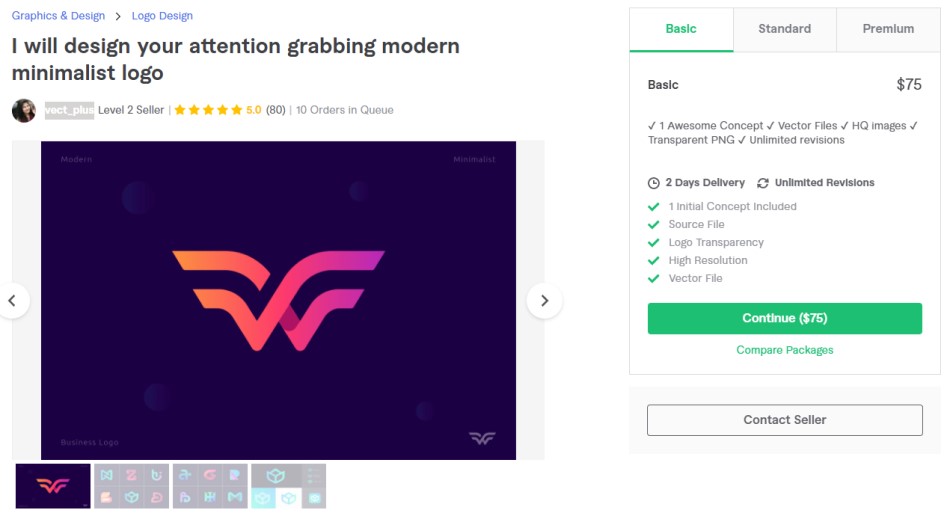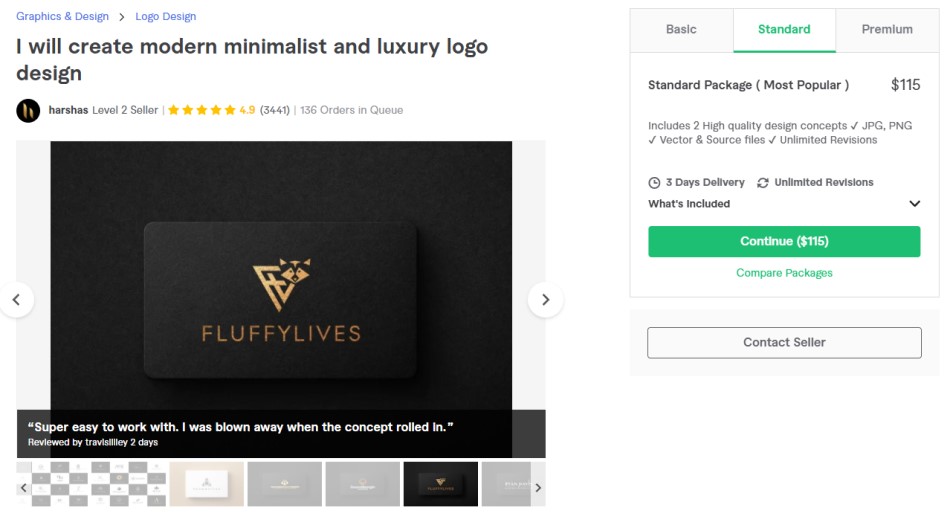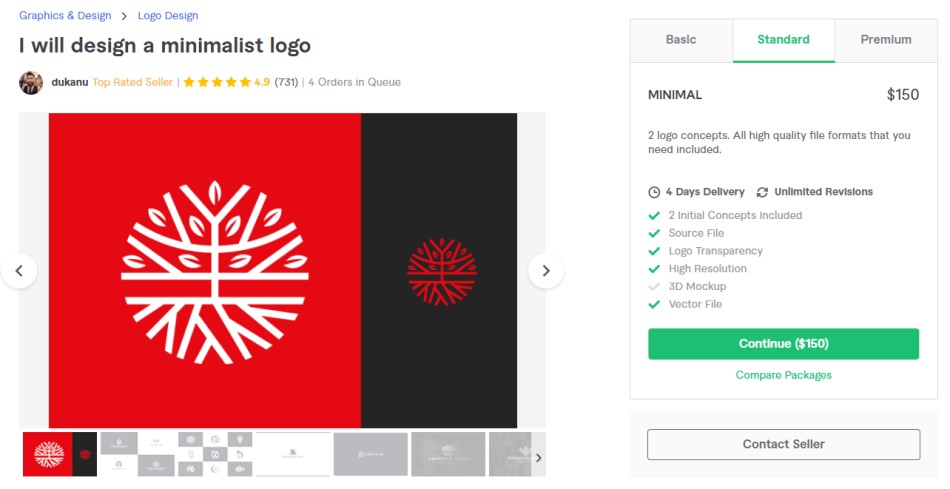 Section 4: Briefing the designers
When you confirm an order on Fiverr you need to put in the requirements for the job. This is a really important step.
If you give the designer a vague and limited brief then it's going to be tough for them to deliver exactly what you had in mind.
We gave each of the five designers a very similar brief that we felt gave them a clear direction for the project but also left a little bit of room for them to get creative. Here's the brief we used: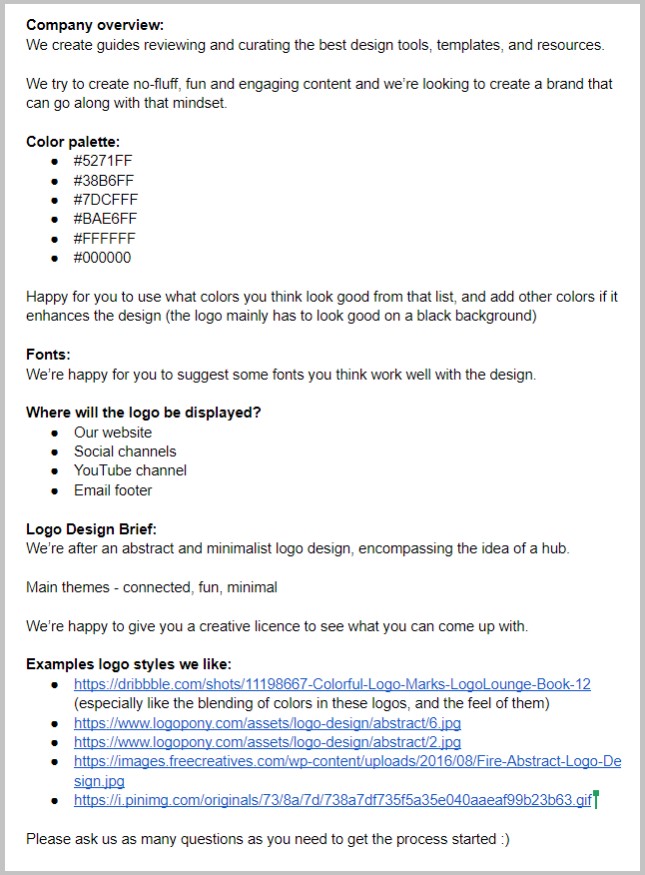 Some designers have a questionnaire for the brief whilst others just have a section for you to describe what you're after but you should essentially be able to give each the same brief.
Since we gave the designers the same direction we were very interested to see what each person came up with.
Section 5: Final logo designs
After a bit of back and forth with some of the designers (thank you for the revisions!) we finally got all five final logo designs.
Quick note: We found a font and text style that we liked and got most of the other designers to use it with their logo designs.
Here were the final results:





We thought the designers did a great job, particularly Vect_plus (Designer 3) and Dukanu (Designer 5).
We decided to go with Dukanu's design in the end.
We felt like it really captured what we're trying to convey with the website: simple, no-fluff, connected content, and also it portrays that we supply guides, recommend resources, and templates but we don't actually create the final products (design templates/tools) ourselves.
What do you think? Did we make the right choice?
Section 6: How we found it and would we recommend Fiverr?
We really enjoyed using Fiverr to get our new logo designed, and we're delighted with the end results.
There were very few downsides for us. The communication with all the designers was great, they were very open to feedback and quick to make the updates. The costs were very reasonable too.
We'd definitely recommend using Fiverr for your own logo design. We'll be returning to the platform for future projects. In the meantime we're going to enjoy our new logo:
Here are some tips to get the most out of the experience:
Spend a good amount of time browsing the relevant gigs and create a list of candidates
If your budget allows test out multiple designers to find your match (you might be surprised with the designs some of the designers produce)
Be very clear in your brief, and give solid examples
Don't be afraid to give feedback and ask for revisions (you'll likely need them)
Cheaper isn't always better. There are some really affordable and fantastic designers but if you can spend a little bit you can access some fantastic talent
We love Fiverr! It's effective, it's fast, it's affordable. We highly recommend you give it a go.
Final thoughts
So there you have it, that's our experience with working with logo designers on Fiverr. We hope this helps you out!
If you have important things on your to-do list that need to be done to move your business forward, then consider using a platform like Fiverr to find people to help you do that. Trust us, it's worth it.
If you want to get a fantastic logo for your brand we'd recommend checking out the logo designers on Fiverr. There's plenty of talent there.
Let us know your thoughts, we'd love to hear about your experience with getting your logo designed via Fiverr!