Recent years have seen dramatic growth in the number of online design tools that are making it increasingly easy to create professional-looking designs and content.
One such product is Placeit, primarily a mockup generator that has developed into fully-fledged design software.
In this article, we'll take you through our in-depth review of Placeit so you can see if it's worth your time and money and if it can deliver what you're looking for.
Let's dive right in.
---
Jump to a specific section:
---
Section 1: What is Placeit?
Placeit is one of many online design tools similar to Canva that allows users, regardless of their design skills and knowledge, to easily create designs in a matter of seconds.
Where Placeit differs from many of the other online graphic design software is that they focus on creating templates that require little modification from users. So, someone can log on to Placeit, choose a template that fits their needs, customize it in a couple of clicks, and they're done.
This is a bit different from other tools like Canva and VistaCreate, which offer a combination of pre-designed templates and also encourage users to create designs from a blank canvas.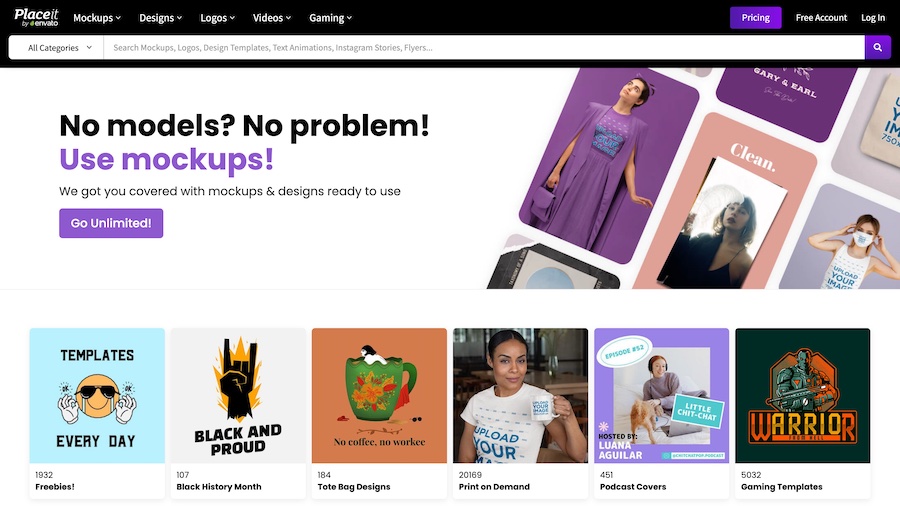 As mentioned, Placeit started life off solely as a mockup generator but has since continued to expand its offering on a regular basis. They now offer the following:
T-shirt design templates
Templates for YouTubers (thumbnails, banners, end screens, etc.)
Templates for Twitch (overlays, panels, banners, etc.)
Instagram templates
Video maker (intros, slideshows, etc.)
And even more
Mockups still seem to be the main focus on Placeit but the other features of the product are getting better all the time, and their range of templates is consistently growing.
Section 2: Main Product Features
To kick this Placeit review into gear, we're going to go through the main features of the product. Here's what Placeit has to offer:
Mockups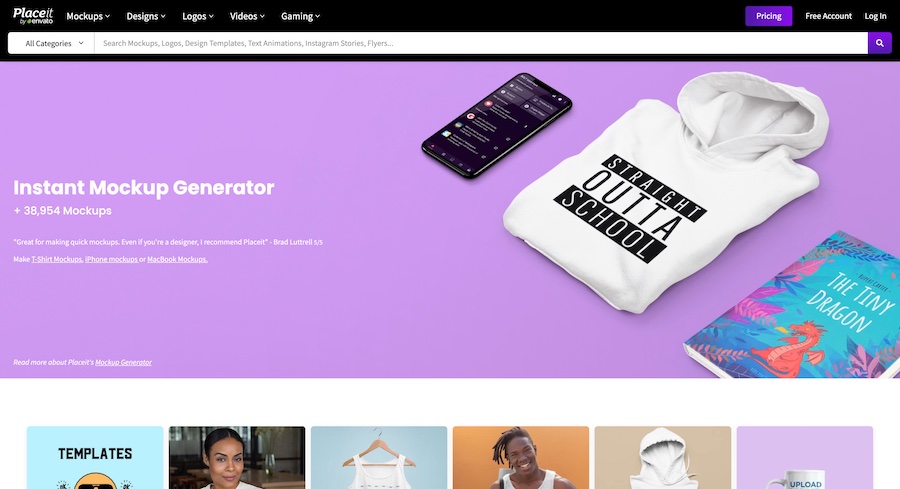 Placeit currently offers over 38,000 mockup templates. These cover a huge range of categories including t-shirt mockups, mug mockups, iPhone mockups, hoodie mockups, and so much more.
They even offer video mockups (they're one of the top video mockup generators in our opinion) which is a feature that makes their offering stronger than many other mockup generators, along with their varied range of templates.
Speaking of templates, generally, the quality of mockup templates on Placeit is very high. They look professional and are perfect for people looking to showcase their designs or create marketing material for their online store.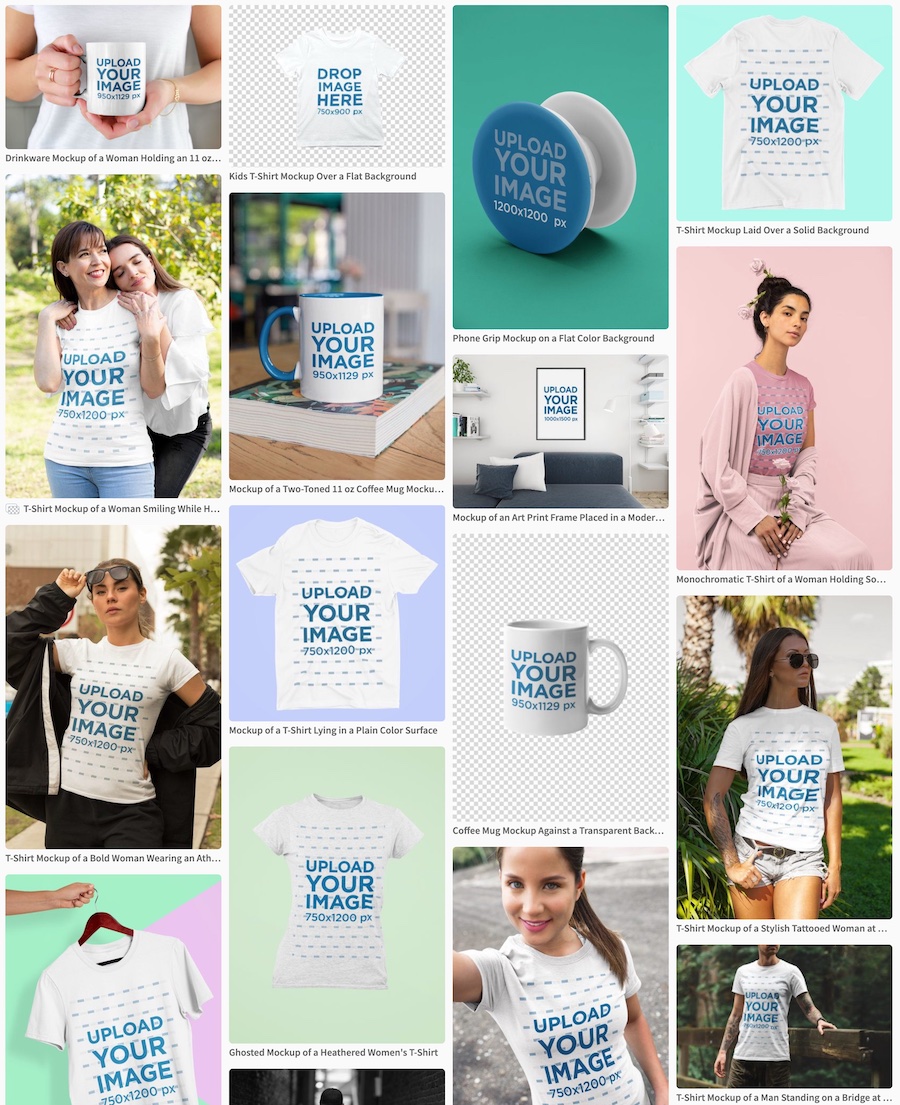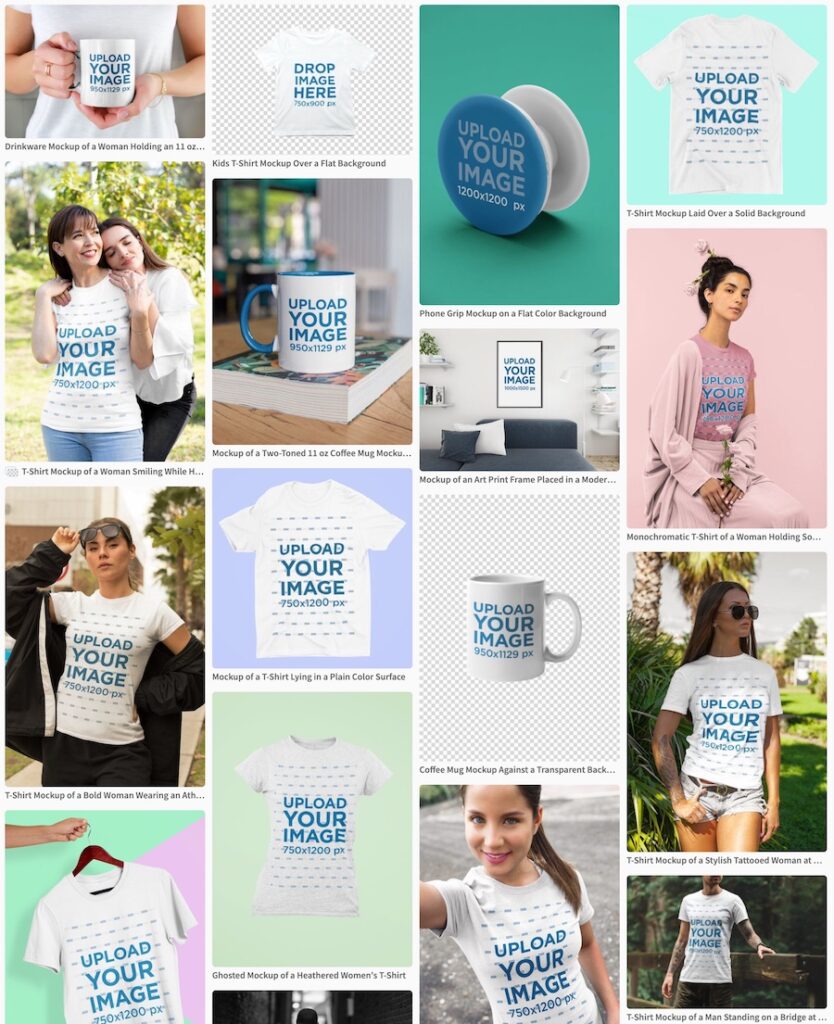 No matter what kind of mockup image you're after there's a good chance you'll find it on Placeit. They have product-only templates (e.g. a flat lay t-shirt or a mug by itself) and they also offer plenty of images focused on specific niches e.g. dog-lovers, sporty, outdoor/hiking, etc.
Similarly, you can easily find templates with models of specific genders, ethnicities, and ages using their search filters.
As mentioned earlier, Placeit's focus seems to be on making the process of creating your images or designs very quick and easy and their mockup templates are no different. Here are the steps needed to create a mockup with Placeit:
Search for mockup templates (go to a category that fits with what you're after)
Choose a template you like
Customize the colors (e.g. garment color or background color)
Upload the design you want to display in the mockup image
Download your image
It's incredibly quick and easy, but we'll go into more details later on about the experience of customizing templates on Placeit.
Related article: How to create and use mockups on Placeit
Logo maker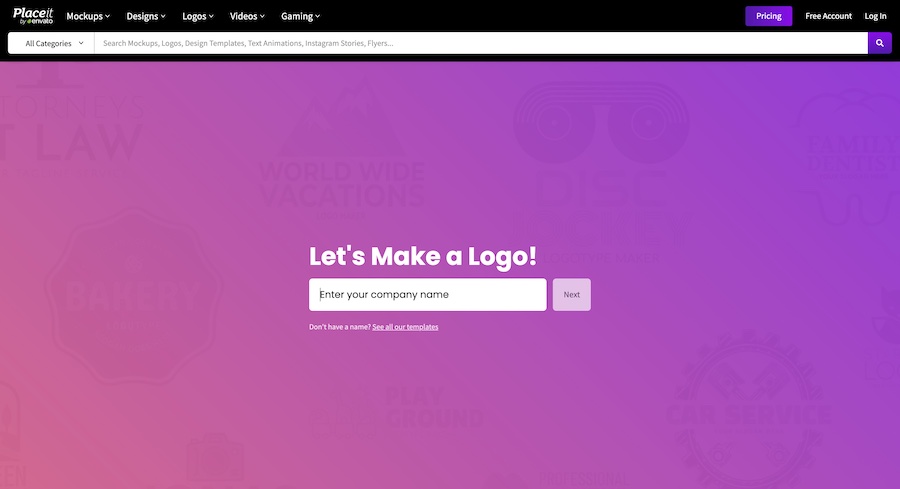 We featured Placeit as one of the best logo makers around at the moment, so we obviously think it's a good tool.
We also did an in-depth review of Placeit's logo maker which goes into a lot more detail but we'll cover the main points again here to show you what you can expect from their logo creator.
Similar to their mockup generator, Placeit has a huge range of pre-designed logo templates that users can quickly modify to make their own. At the time of writing, they have over 16,000 logo templates that span various categories and niches.
The design quality of the templates is fantastic, especially compared with a lot of other logo makers which tend to offer templates and design elements that are basic icons that are widely available online.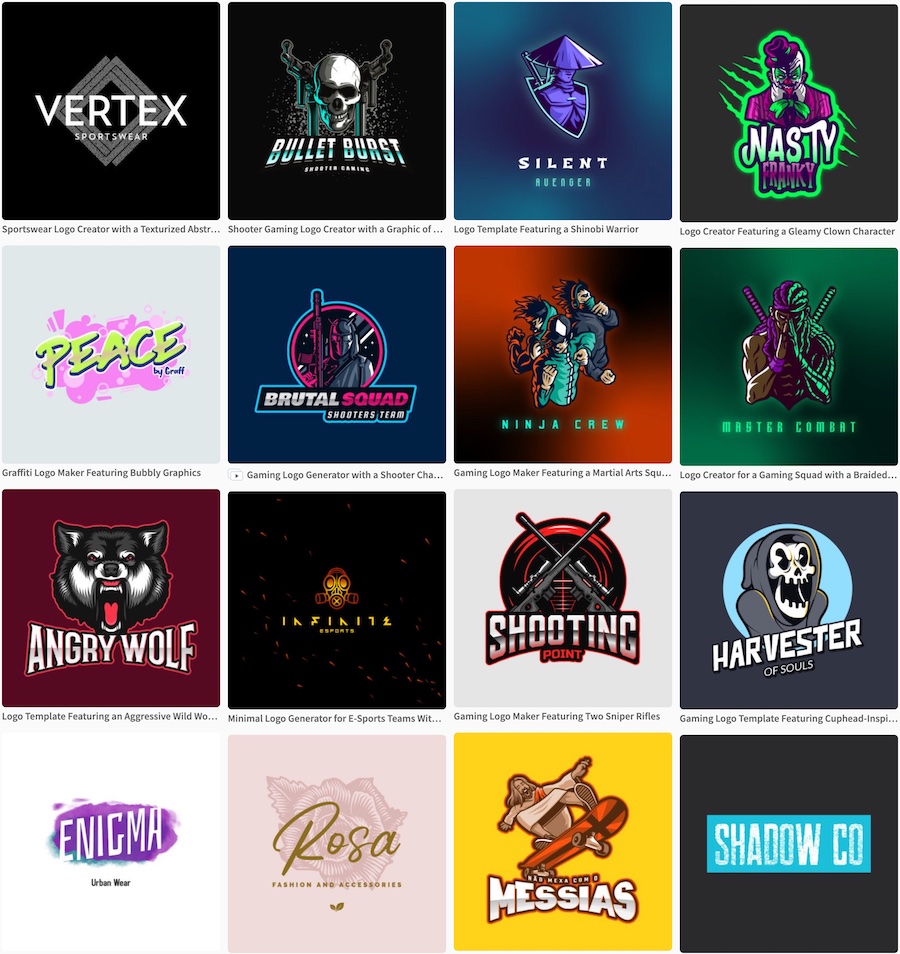 If you're looking for a completely bespoke and unique logo design for your brand, we wouldn't recommend using an online logo tool like Placeit (we used Fiverr for our logo and highly recommend it).
However, if you're happy with using predesigned logo templates, you won't find too many better options online than Placeit.
Customizing the logo templates is also a total breeze, here are the steps needed:
Go to Placeit's logo maker or go to a specific logo template category (e.g. gaming logos)
Choose a template that you like
Customize the text, colors, and positioning of the logo elements
Download your design
When it comes to online logo makers, there aren't too many better tools than Placeit in our opinion. They are particularly strong when it comes to gaming logo templates – so if that is your niche you should definitely check out their template library.
They also have a range of animated logo templates which are incredible.
Design Templates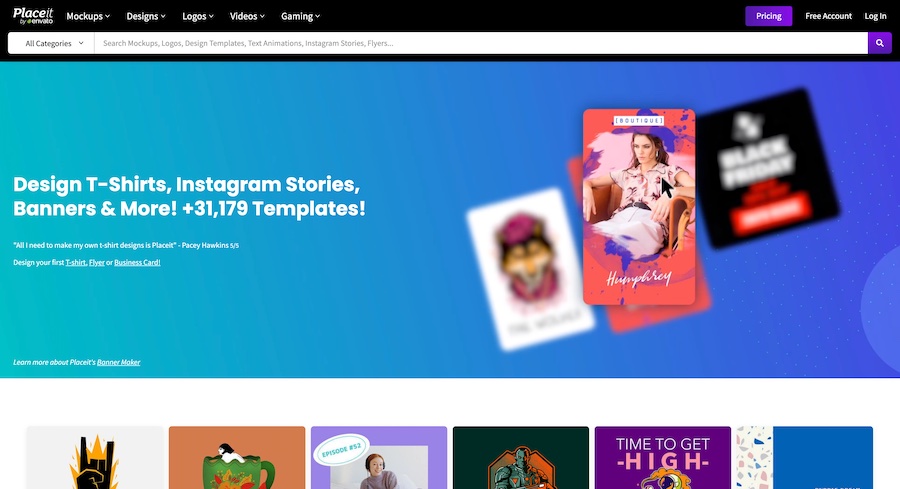 The 'Designs' section on Placeit is where you'll find a large variety of templates covering a few different areas including t-shirt designs, YouTube designs, Twitch designs, Instagram designs, and much more.
As an online t-shirt design software, it's one of the best in our opinion but there are probably a few better options if you're looking for unique t-shirt designs.
The quality of most of the design templates on Placeit are good-quality and look professional, they're library is particularly strong when it comes to YouTube assets and Twitch assets.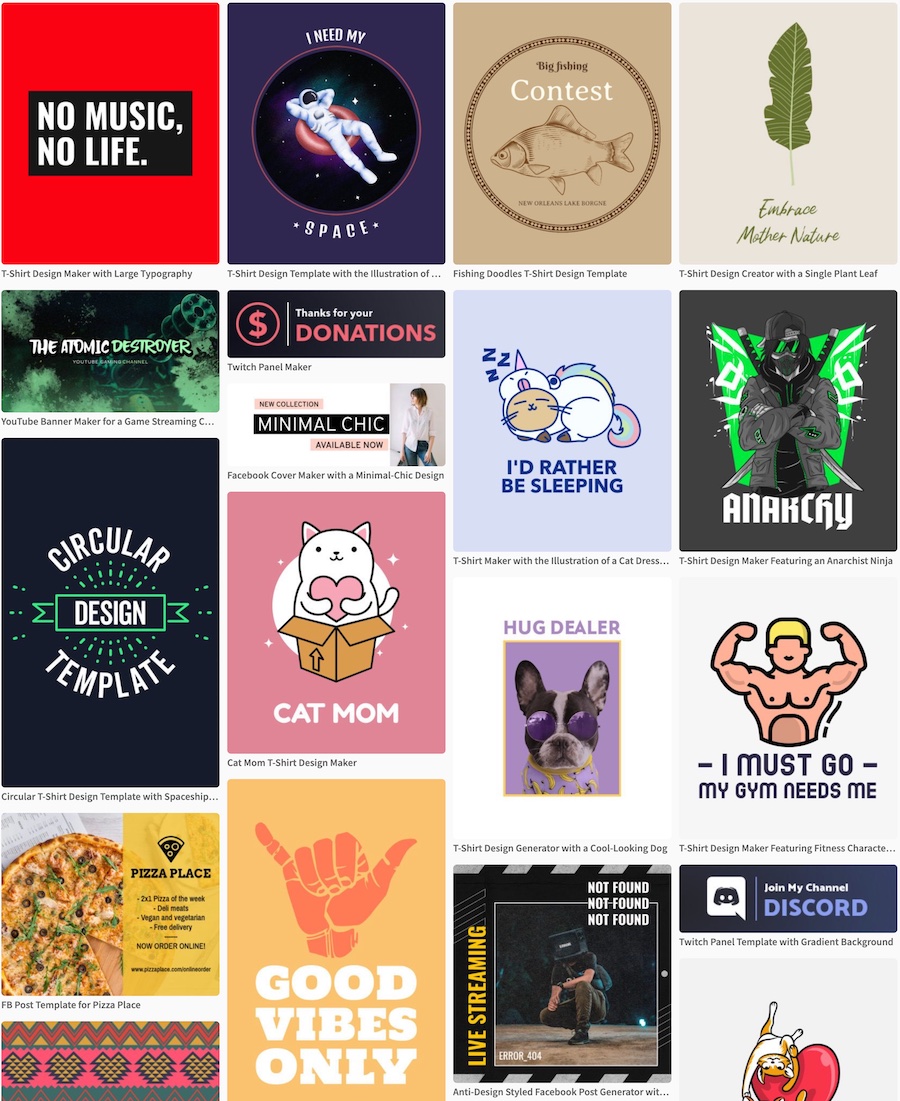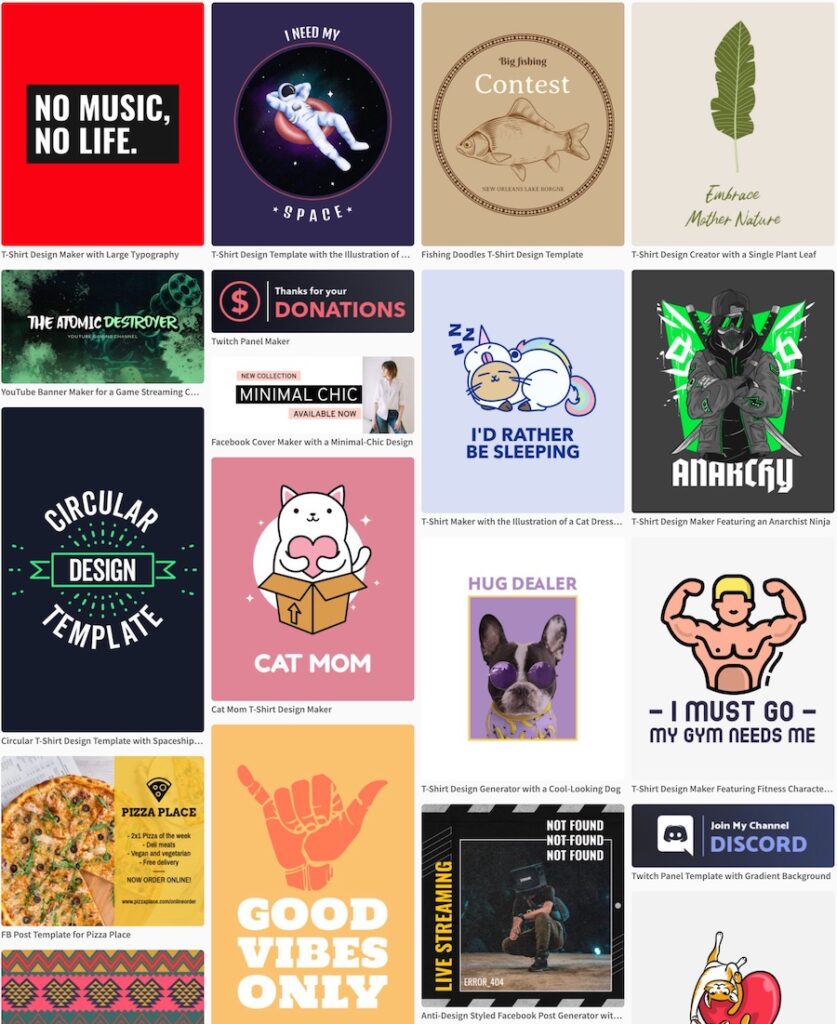 A cool feature that Placeit has is that it usually has matching templates (particularly for YouTube and Twitch designs).
For example, if you like the look of a YouTube thumbnail template, there's a good chance that there'll be matching channel banners, intros, and end screen templates. The problem is that they don't group these together so you have to find them individually!
When it comes to customizing the design templates, it's similar to logo templates:
Go to the relevant design template section (e.g. YouTube templates, book covers, etc.)
Choose a template that you like
Customize to your liking (text, colors, element positioning)
Download your design
If you're looking to build a print-on-demand business you can certainly utilize Placeit's t-shirt design templates along with their range of mockups and logo templates to help build your store. Plus their social media designs can be used to promote your print-on-demand business.
However, if you only need other designs such as social media content, YouTube assets, or Twitch channel designs then we'd recommend using Canva instead.
As an online design software, it's simply a better tool at the moment for those kinds of designs, and you can also create unique assets from a blank canvas much more easily.
Video maker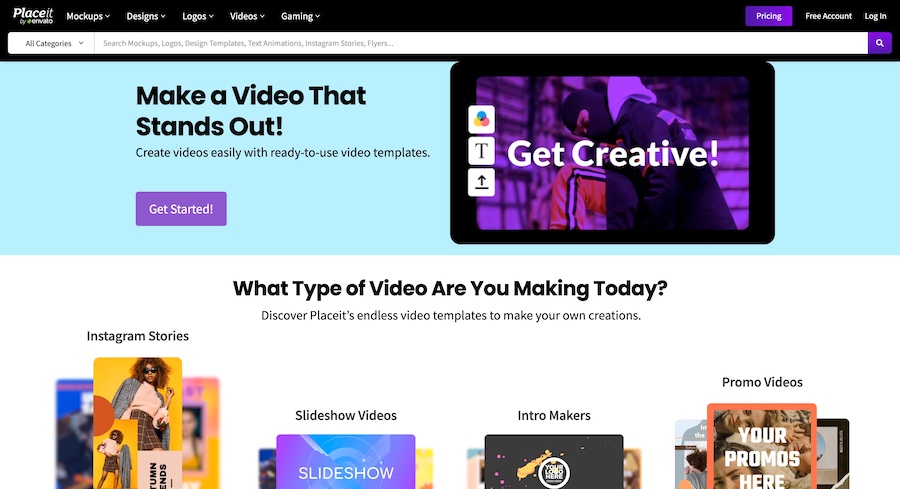 Video is becoming more and more vital for brands looking to promote their products and services, and there are plenty of tools now that let create video content all within your browser.
Placeit is one of those tools and has a solid library of templates for various video types including intros, outros, promo videos, Instagram stories, and more.
Their range of intro/outro templates is probably the standout part of their video maker. We did a full run-through of Placeit's intro maker that you check out for more details.
Like most of the sections of the product, the video templates are also good quality and very easy to customize.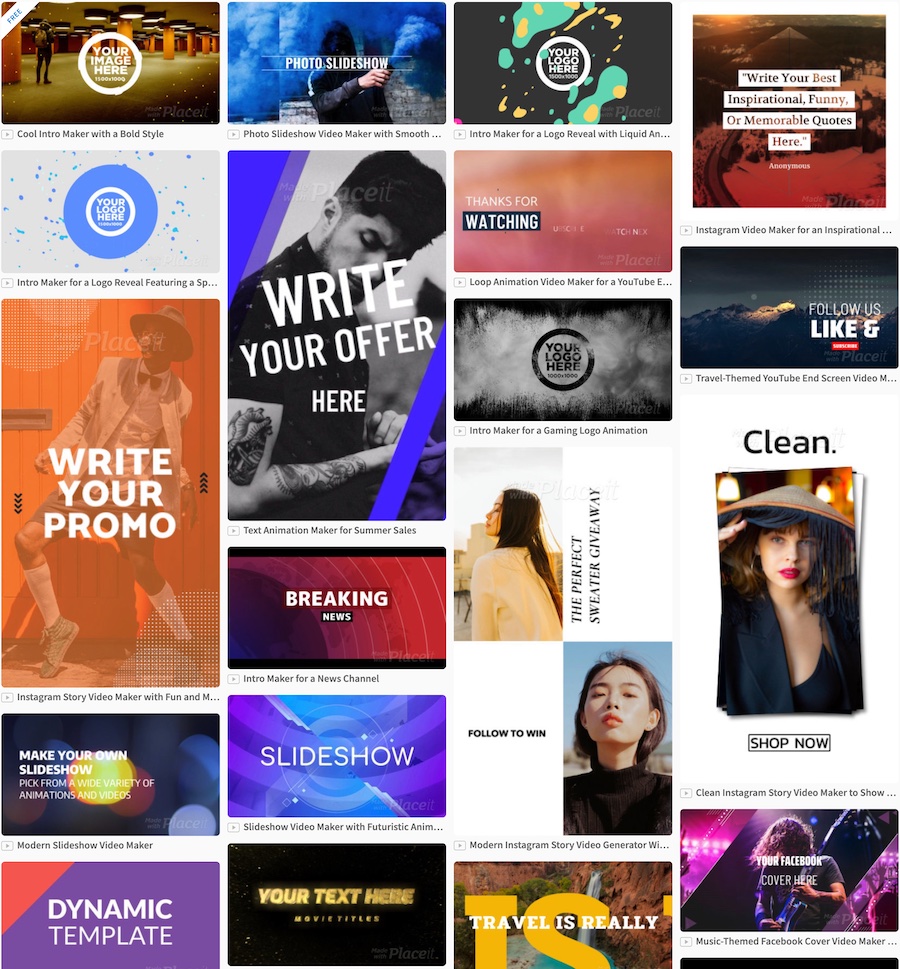 When it comes to creating videos online there are probably a few better options than Placeit (Canva and InVideo come to mind).
However, you can create some great video content on Placeit in particular video intros, end screens, and simple Instagram videos.
When it comes to customizing a video on Placeit, here's how it's done:
Navigate to the relevant video template section
Choose a template that you like
Customize to your liking:

Alter the colors
Change the text
Add or replace imagery
Add or remove slides (make the video longer or shorter)
Change the audio (over 1000 tracks to choose from)
Change the playback speed

Download your video (MP4 file format)
It's not the perfect video-making tool, but it is easy to use, and as mentioned you can create some great video content very quickly.
Section 3: Usability
Placeit was clearly designed with simplicity for the user in mind. The vast majority of users should be able to easily navigate their way around the site to find the designs and templates that they need.
Placeit has put its templates into relevant categories and sections to make things simple. For example, if you're searching for mockup templates that are perfect for a print-on-demand store you can quickly navigate to those: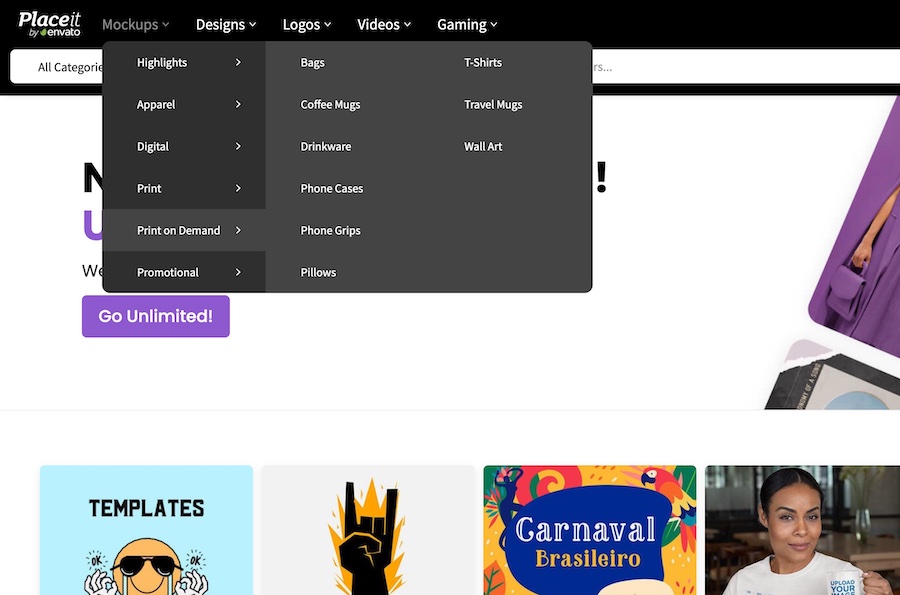 Or if you're looking for templates to spruce up your Twitch channel and streams you can find them very easily as well: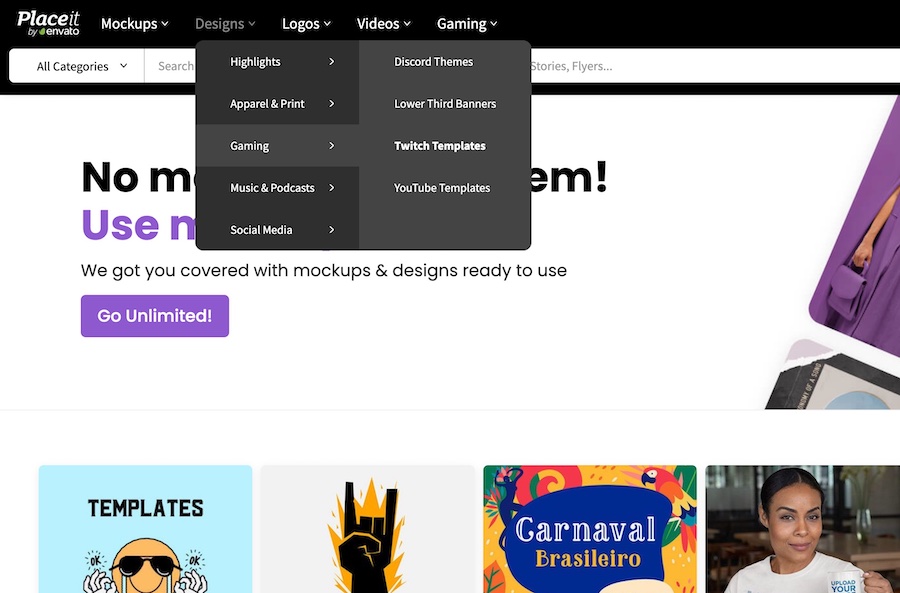 And to make finding the right template or templates easier, Placeit has a 'favorite' feature that allows you to save a range of templates that you like to come back to later on (rather than having to search for them all over again).
To favorite a template you need to be logged in to a Placeit account, and you can then click the heart icon on a template that you want to save.
All favorited templates can be accessed by hovering on your username and clicking on 'My favorites' in the dropdown menu: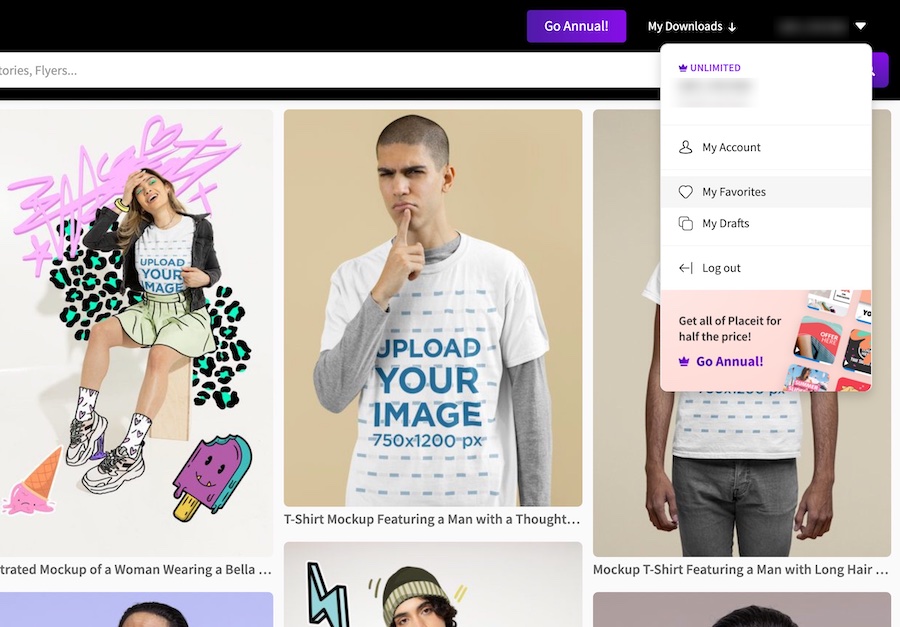 When it comes to customizing templates, things are very simple and minimalistic. You can see an example of the editing options for a logo template below: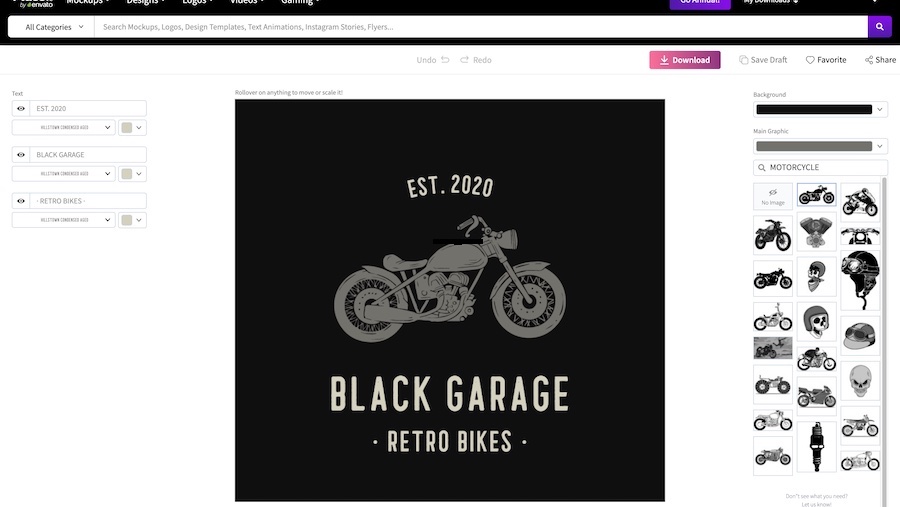 On the left side, you can access the text and font options, and on the right, you can change the main icon and color palette. It's all very clean and simple.
You can also click and drag the elements on the canvas to reposition them or resize them.
It doesn't offer you unlimited customization options by any means but there are enough options there to make the designs your own and also make them very quickly.
The video templates have a few additional customization options such as being able to alter the music, add additional sections (called 'Slides'), and change the playback speed. Everything is very straightforward and easy to follow: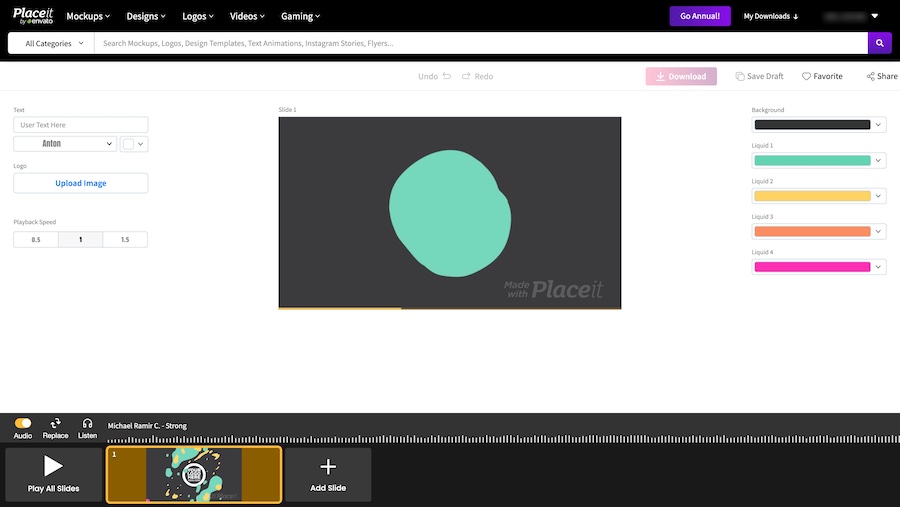 An additional usability feature we think is worth noting is the fact that you can save your designs as a draft, and come back to them later on. Something that wasn't previously possible on Placiet.
This gives users the freedom to start a design, save it, and come back to finish it later on which is obviously a good feature for peace of mind!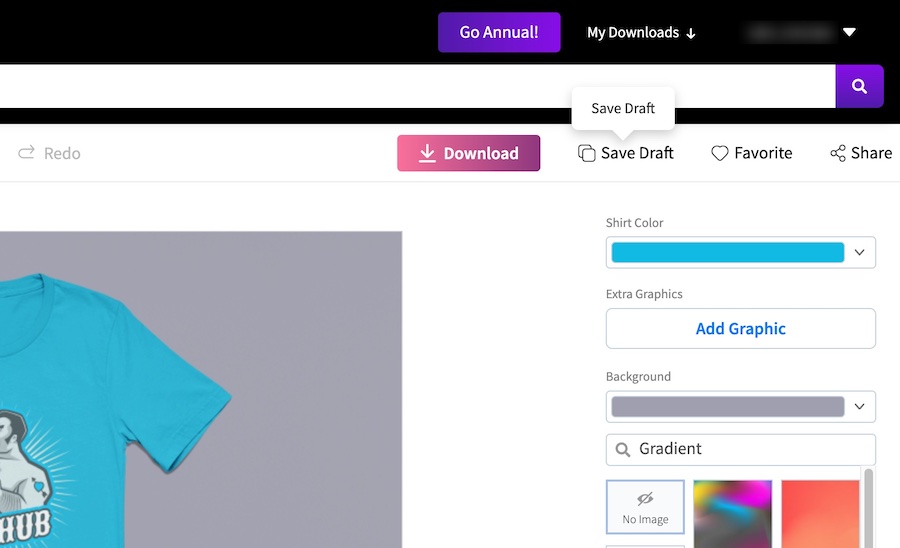 Download options
The file download options on Placeit are fairly limited at the moment. You can only download static designs as PNG files, and video files as MP4s.
It would be great if they added more download options, similar to Canva.
Section 4: Additional features
Placeit includes a few additional tools and features, most of which don't add too much value overall to the product but are nice and free features.
Blank Canvas
The first one, the blank canvas feature will hopefully become a significant product feature but at the moment is nowhere near as useful or user-friendly as other similar products – again Canva and VistaCreate come to mind here.
On those platforms, it's super quick and easy to create great-looking designs even when starting from scratch. Those tools seem very intuitive and have various elements that you can do the canvas to create your designs.
Placeit's blank canvas on the other hand is a bit clumsy and lacks the features to make it worth spending time on at the moment. Hopefully, they work on improving it as it is still a very new product addition.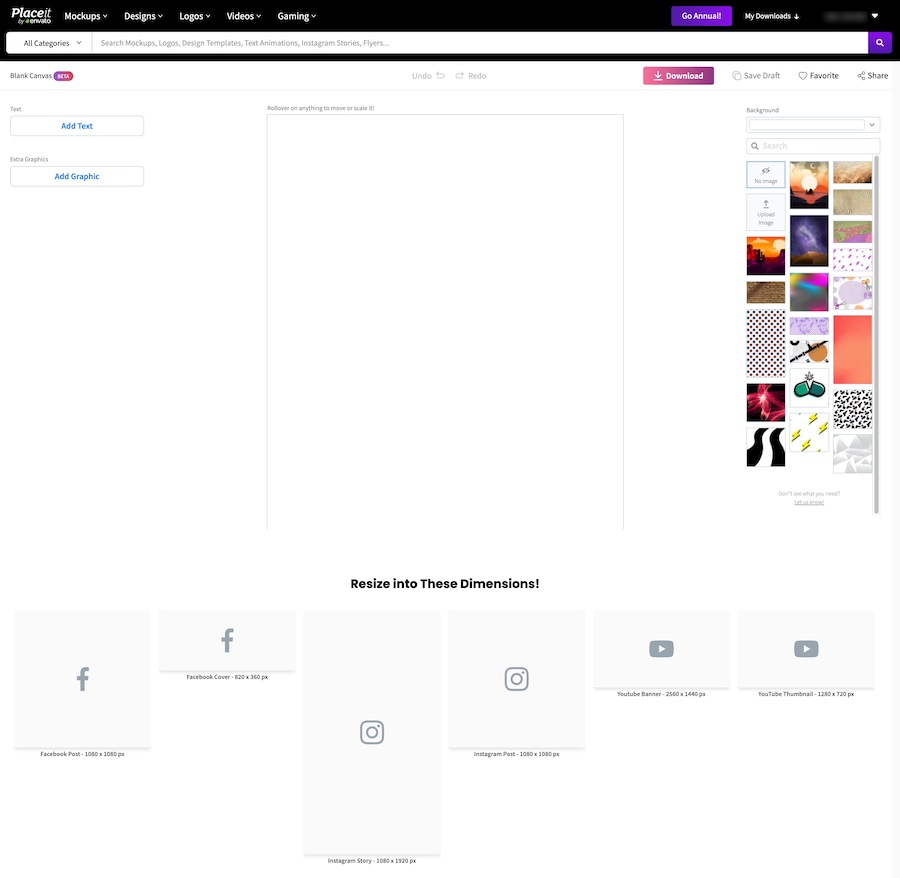 Image cropper
Placeit has a free image cropper, which you can access here. It's a simple tool that lets you crop images to make sure you have the right image size.
Useful, if you need a specific banner size for a social media profile, t-shirt design size for a particular print-on-demand site, etc.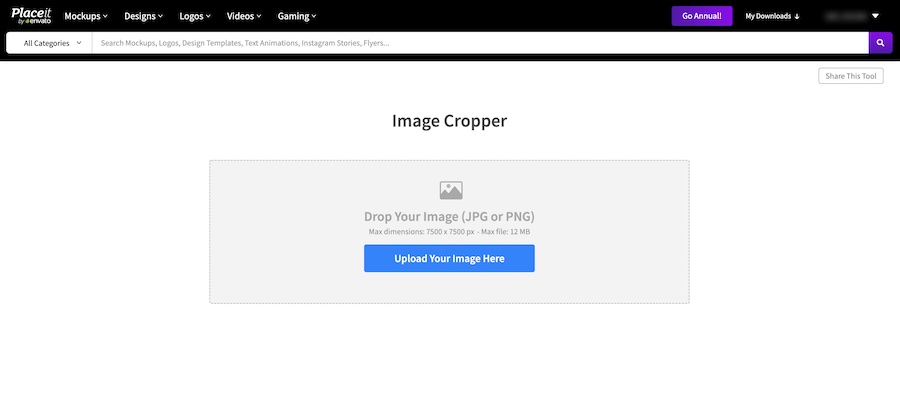 Video cropper
Placeit's free video cropper is another nice additional tool (you can access it here).
If you have a video clip that you want to upload to one of your video creations on Placeit you can use their video cropper to get the exact part of the video that you want to upload. Pretty useful!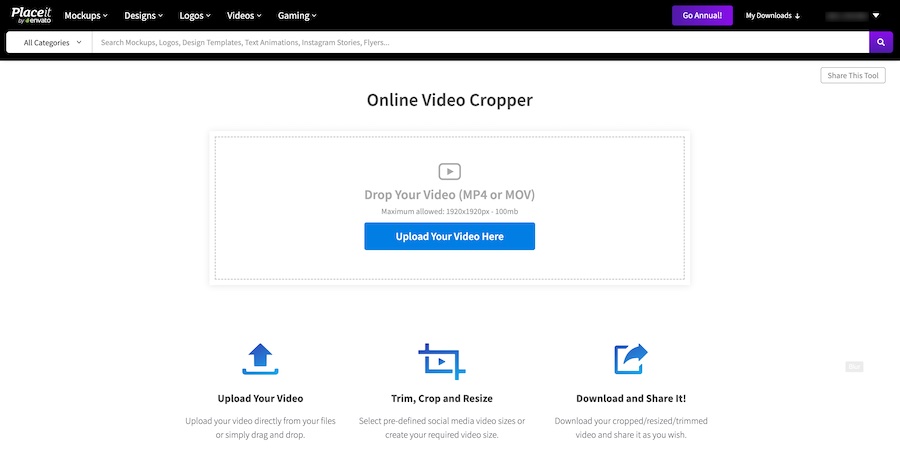 Video to GIF converter
Placeit's free video cropper is another nice additional tool (you can access it here).
If you have a video clip that you want to upload to one of your video creations on Placeit you can use their video cropper to get the exact part of the video that you want to upload. Pretty useful!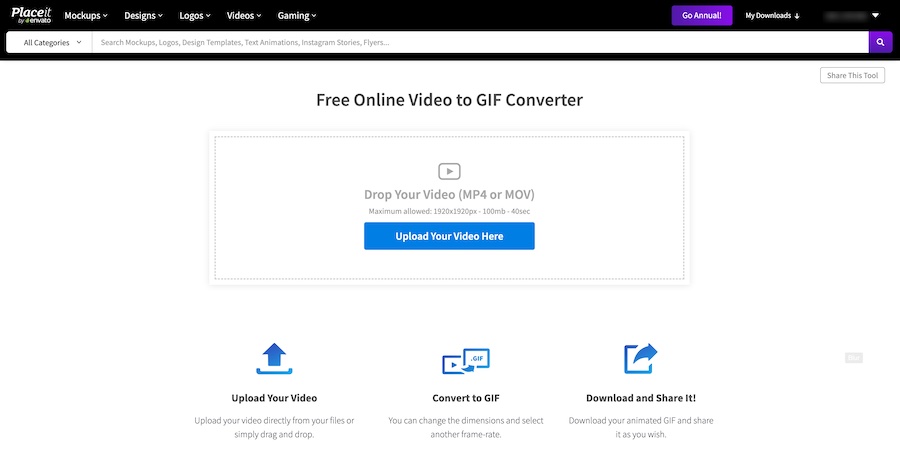 Customer Support
If you need any customer support there are a few areas you can go on Placeit:
FAQ & contact us section – Placeit answers many frequently asked questions here and you can also find their support email address and contact form on this page
Twitter – They're also fairly responsive on Twitter, so if you have any problems you can try to reach them there
Content & feature request – if you want more templates for a specific audience or have some feature suggestions you can send these to the Placeit team directly

Design commercial license
With any designs that you create on Placeit, you get full commercial usage rights so you're free to use them on any platform you see fit.
You can check out the Placeit license for more details, but here's their human-readable version: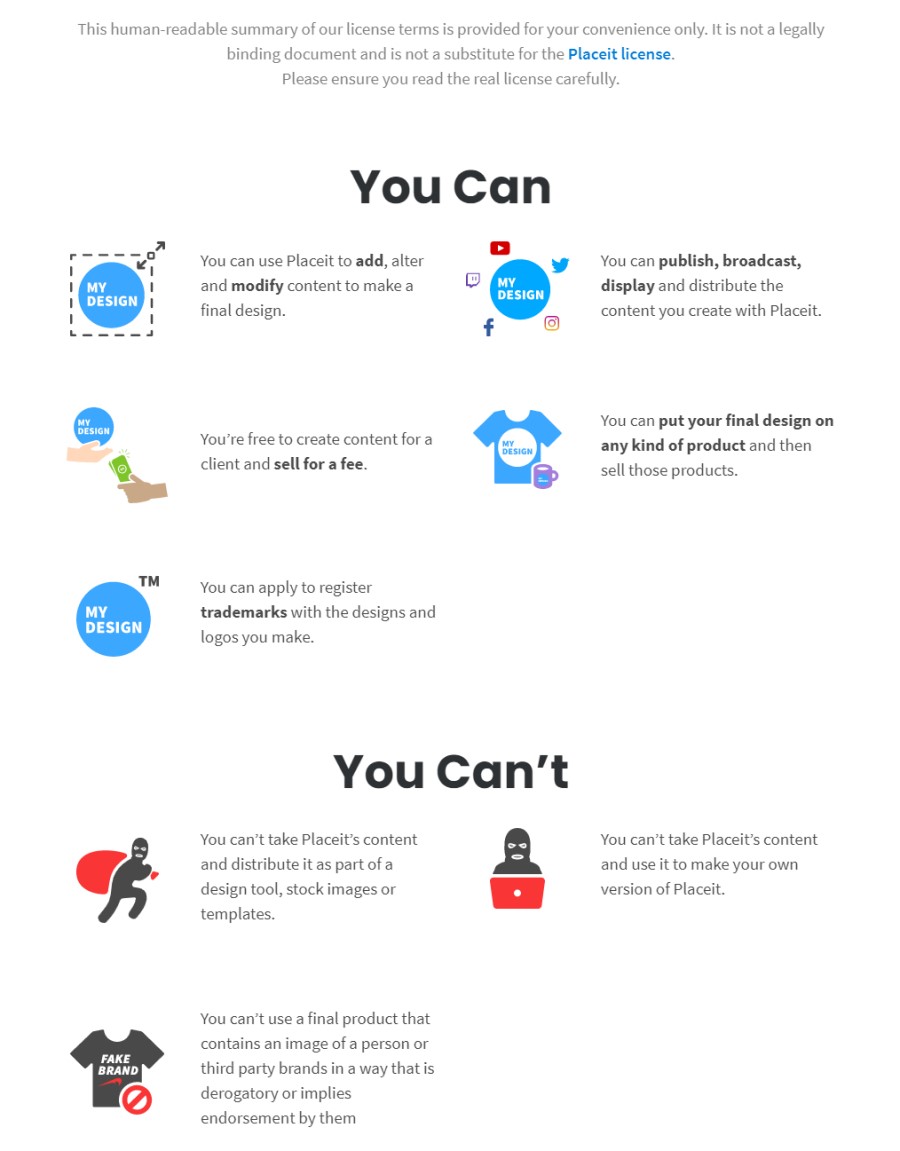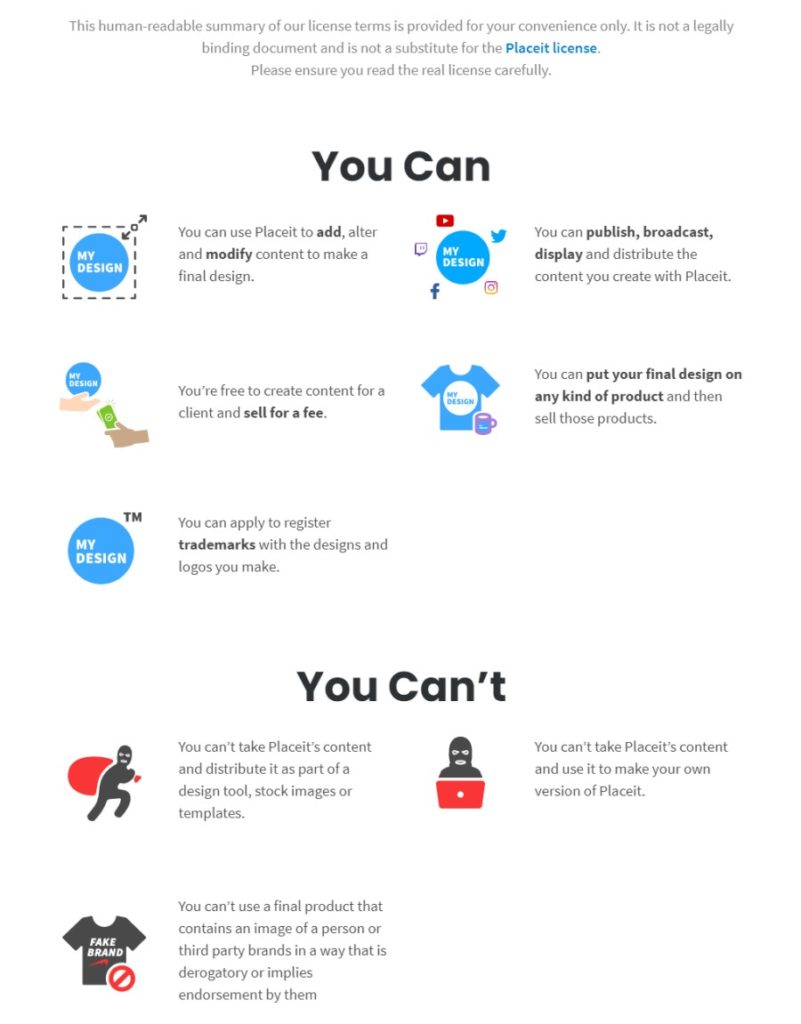 Section 5: Pricing
On Placeit you can purchase designs in a couple of different ways. You can either buy templates individually or get a Placeit subscription and download an unlimited amount of designs.
The latter option is a lot more economical!
So, if you were wondering how much a Placeit subscription costs, here's the breakdown (in USD):
Monthly plan: $14.95 p/month
Annual plan: $89.69 /year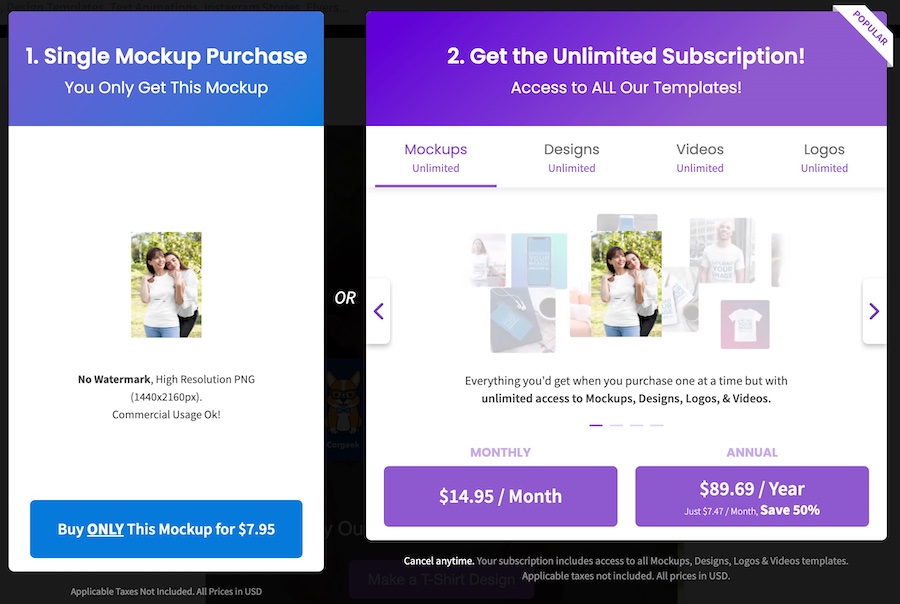 When it comes to the individual templates, the prices vary depending on what you want to purchase, here's a breakdown of those:
Mockup template: $7.95
Design template (e.g. T-shirt design or YouTube banner): $2.95
Video template: $9.95
Logo template: $39.95
If you plan to create several designs on Placeit, it's much cheaper overall to get a subscription even if you only keep it for a month or two!
Cancelling a Placeit subscription is also very simple, there's no lock-in contract so you can cancel your subscription at any point. You can read more about it in their terms of use.
'Free trial' option
Placeit's doesn't actually offer users a free trial per se but you can access a sizeable library of free templates that they seem to update from time to time.
They have free templates from most of the categories on the site including mockups, logos, videos, t-shirt designs, and much more: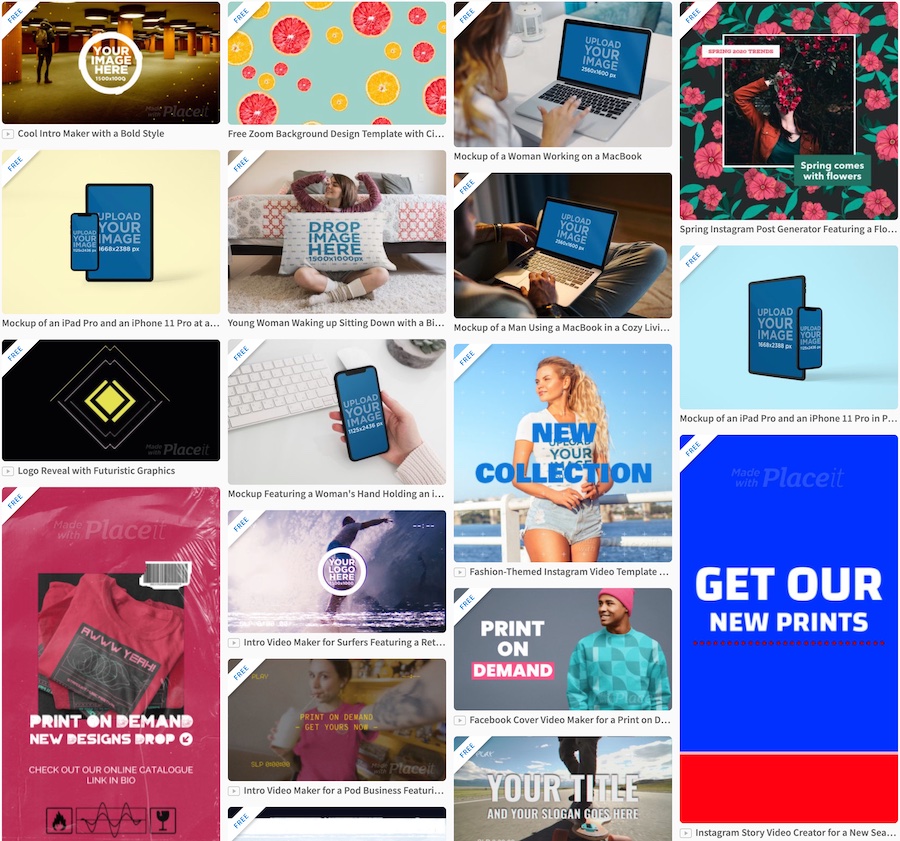 Section 6: Summary & Verdict
Here's the summary of our Placeit review. Overall, we think it's a great tool with many benefits for its users and various ways you can utilize the product.
That being said, there are some negative aspects too. So, we've outlined the main pros and cons below:
Pros
Create great looking designs super quick
User-friendly and simple interface
Design templates for many niches and industries
Quality logo maker (and templates)
Good font library (better than many other design tools)
Simple and effective video maker
Huge mockup library (biggest out of all the mockup generators – by far!)
Full branding templates for YouTube and Twitch
Good range of free templates (so you can try out the tool)
Good value subscription prices (with unlimited downloads)
Always adding new templates to their library
Cons
No real collaboration features
Only download static designs as PNGs
Only download videos as MP4s
Limited text customization options
Very limited design customization options overall
Can't upload your own fonts
Hard to create good designs from the blank canvas feature
Video maker is good but limited in customization options
What makes Placeit unique?
So why should you use Placeit? What makes it a unique design tool?
Those are great questions. The only things we see that make Placeit unique in comparison to other design tools are its huge library of mockup templates and logo templates.
Their mockup range is incredible, and they seem committed to continually adding and improving the library which is a great benefit for its users. It's also ridiculously quick to create mockups with Placeit.
Moreover, they are one of the few tools online that offer video mockups (including t-shirt video mockups)- which is a very powerful feature.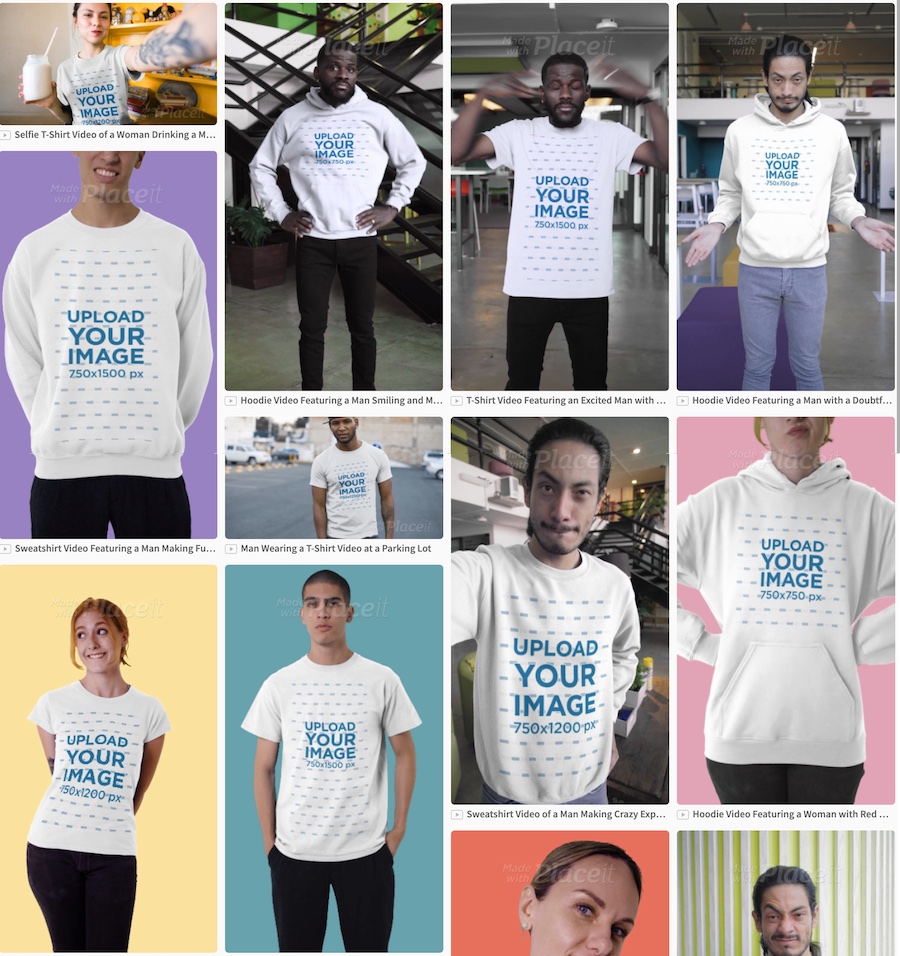 Similarly, their logo template range is fantastic (particularly when it comes to gaming logos). The only other online tool that has a similarly varied range of templates in regards to logos is BrandCrowd (Note: If you're interested you can read our full BrandCrowd logo maker review). Canva's logo maker also isn't too far behind.
Placeit does also have a great range of YouTube intro templates, making it one of the top YouTube intro makers in our humble opinion.
Who is Placeit best for?
When it comes to the groups that can get the most out of Placeit, there are a few but one in particular: print-on-demand store owners.
Print-on-Demand:
If you're just getting started in the world on print-on-demand you couldn't ask for a better design product than Placeit.
It has everything you need to get you going – logo templates, t-shirt designs, product mockups, social media content for promotion, etc.
Many print-on-demand sellers utilize Placeit to brand their stores and promote their products, and we suspect that a huge part of Placeit's userbase falls into this category.
YouTubers:
YouTubers can get a lot out of Placeit too. You can essentially fully brand your channel using the product. This includes a channel logo or icon, channel banner, thumbnails, intros, end cards, and lower thirds.
We've featured Placeit in several YouTube articles including thumbnail makers, channel banner makers, end screen makers, and a couple of others.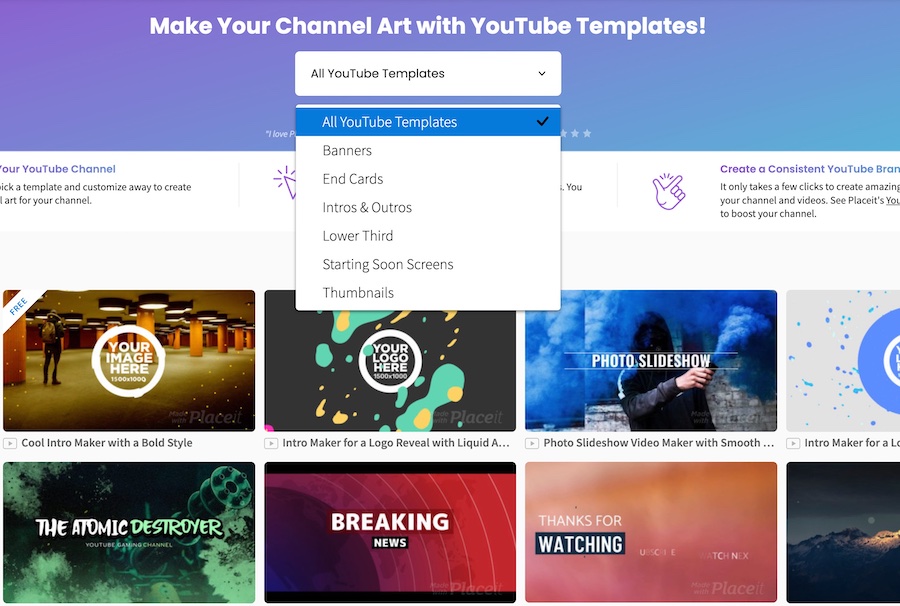 Twitch streamers:
Twitch streamers can brand their channel and stream with Placeit.
We've featured them in a few of our Twitch-related articles including Twitch emote makers, Twitch overlay makers, Twitch panel makers, a few others too.
SMBs:
If you're a small business owner and in need of an affordable and quality-looking logo then you could certainly do a lot worse than creating your first brand logo with Placeit.
You're not going to get the most unique and bespoke design but you can certainly find quality templates on the site to get your brand started.
People short on time:
If you're someone who wants to create quality-looking designs as quickly as possible then Placeit is a great option for you.
The minimalistic interface and huge predesigned template library make it the ideal tool for people who want to churn out designs as rapidly as they possibly can.
Section 7: Placeit FAQs
Here are some of the most common questions that we've seen regarding Placeit.
Is it Placeit legit?
Yes, Placeit is a genuinely useful and trustworthy product.
Can you create a logo for free with Placeit?
There are some 100% free logo templates on Placeit, as well as free templates in other categories too.
Can you sell your Placeit designs?
You certainly can! We covered this early, but Placeit's commercial license allows you to sell the designs you create on the platform.
How much does Placeit cost and is it worth the money?
We also covered this earlier on. $14.95 per month or $89.69 per year for a subscription, and individual templates have varying prices. We would say a Placeit subscription is absolutely worth the money as long as you use the tool frequently.
Related articles
Section 8: Alternative tools
There are plenty of tools that do similar things to Placeit, we've put together a full list in our Placeit alternatives article.
Below we've outlined the best alternatives for the main templates and tools on Placeit:
Mockup generator
As mentioned previously, Placeit has the best mockup library out of all the mockup generators around at the moment – particularly their t-shirt mockup generator.
That being said, there are a few good alternatives, chief among them would be Smartmockups which has a great range of templates too.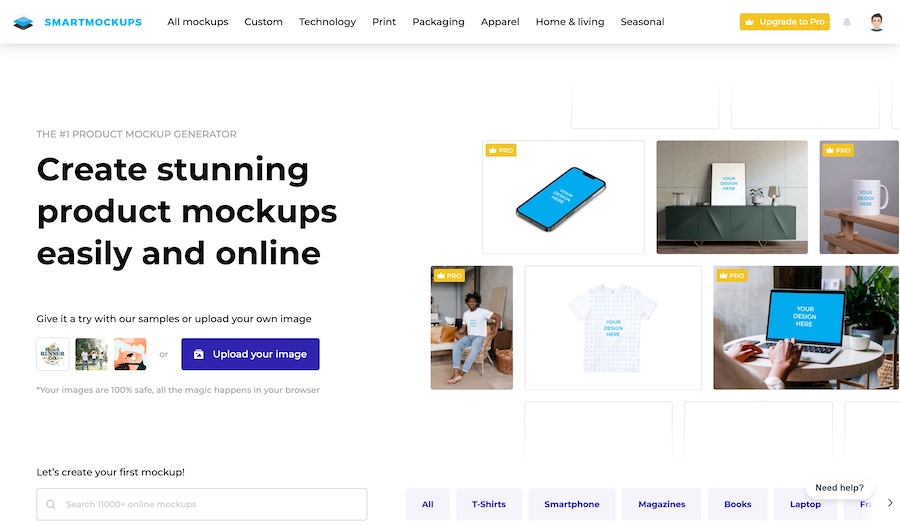 Logo maker
There are plenty of poor logo makers online that essentially only allow you to create very simple and generic-looking logos.
Placeit is one of the better options when it comes to online logo makers, and there are a couple of other online tools that we feel offer close to or the same quality when it comes to logos:
YouTube templates
Placeit is a great resource for creating YouTube designs but there are a few tools that we feel are just as good if not better:
When it comes to the range of templates on offer, Placeit is a match for most online design tools.
A good example of this is their YouTube into template library which currently sits at over 900, compared with just over 700 on Canva. Good range in other categories too e.g. Intros over 900 vs over 700 on Canva.
Twitch templates
If you want to create your own Twitch designs online, there aren't too many options better than Placeit but there are a few:
OWN3D.tv mainly sells predesigned templates (rather than offering online design tools) but we think their library is great which is why we included them here.
Online design software
As an overall online design tool, Placeit probably falls a bit short in comparison to Canva, VistaCreate, and a few other tools.
But it is a fantastic tool, particularly for people who are in the print-on-demand space, and those looking to create a logo or brand their Twitch or YouTube channel.
It really depends on how much freedom you want with your design and the levels of effort you want to put into it.
If you want to simply find a great-looking template and quickly customize it for your brand then Placeit is your best option.
Alternatively, you could use a service like Fiverr and hire a designer to create designs for you at a low cost. We had our logo designed on Fiverr and had a great experience.
Final thoughts
Placeit is an extremely user-friendly and simple online design tool and it is a great option for many particularly when it comes to creating mockups, logos, Twitch designs, and YouTube designs online.
If you need affordable and high-quality designs (quickly) you should have a good look through their template library.
So, do you agree? What do you think of Placeit?
Let us know in the comments, we'd love to hear about your experience.