A YouTube end screen (sometimes referred to as an outro or end card) is the final section of a YouTube video, between 5 and 20 seconds long, where creators can add different calls to action, links to videos or playlists, and encourage viewers to subscribe.
Creating a specific YouTube end card that's designed to make the most of all YouTube's end screen options can lead to increased watch time on your videos, which improves your standing with the YouTube algorithm and get your videos shown more in search. It can also improve subscriber numbers by giving viewers an option within the video to subscribe to your channel.
Quality end screen or YouTube outro makers that are designed to maximize all the end screen capabilities are hard to come by! We at Design Hub have done the leg work searching for the best out there and have assembled a list of five end screen maker options that fit the bill.
So jump on to one of these five makers and give viewers another way to subscribe, another reason to keep watching your content and make your videos better today!
---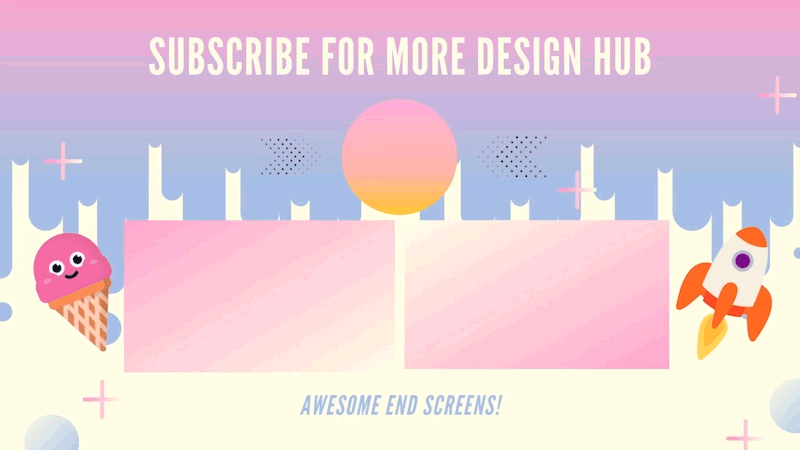 An excellent animated YouTube end screen maker… and so much of it is free! Canva has a few really good templates to work from. But it's awesome animated stickers option lets you really make your end screen pop!
From animated pointing arrows to dancing people, emojis, and hundreds of others; these free additions will help hold an audience's attention and might be the deciding factor that prompts them to watch another video or even subscribe! A large number of the stock images are watermarked though, so unless you upgrade to Canva premium, you should bring your own.
Best Features:
It's free to use and download!
The animated stickers are an eye-catching treat.
Pricing:
FREE – there's no reason not to give this one a try!
$8.99 USD per month (for a year subscription)
$10.99 USD per month (month to month)
---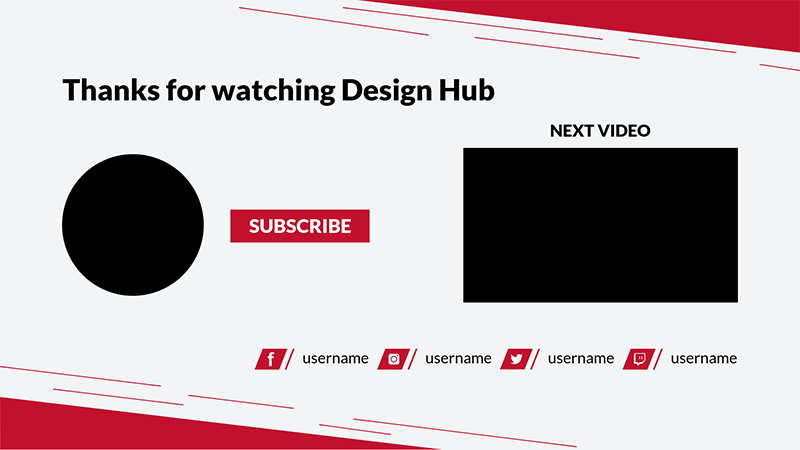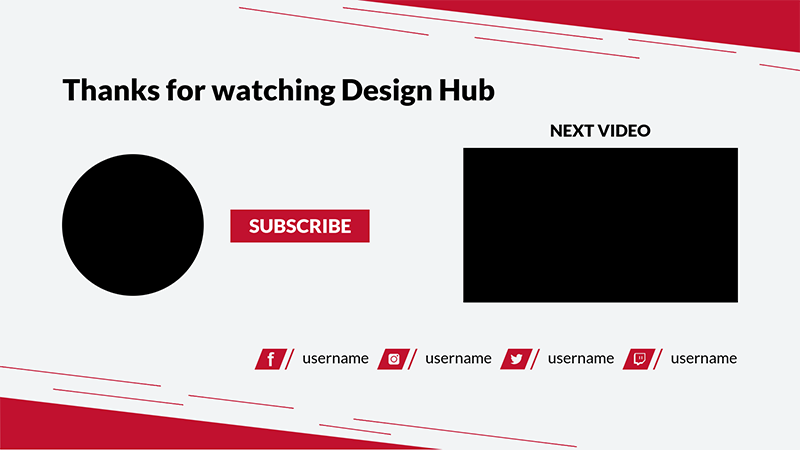 Placeit continues to provide one of the best varieties of different options with it's YouTube end screen maker. Well designed, with an extremely easy to use interface, this tool is perfect for quickly knocking together some really excellent designs.
You can upload your own images or screenshots to personalize your design, or even export your design with a transparent background, so you can use your own video playing behind the design.
Best Features:
Export with transparency to reveal video behind the design
Over 150 high quality designed templates to choose from.
Easy to use interface.
Pricing:
$2.95 for a single design.
$14.95 for a monthly subscription
$99.95 for a yearly subscription (save 44% buying yearly!)
---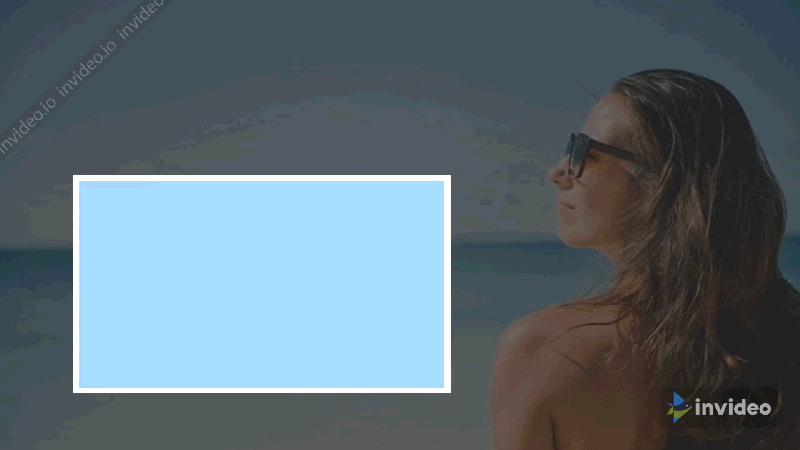 InVideo has a limited number of templates available but the editor does allow you to customize them in many different and interesting ways. It has a good range of animated backgrounds, and additional elements and an excellent and easy to use feature for animating the individual text, boxes, and frames in your design.
You can choose when and how these individual elements animate in or out and even how long each animation should take. The tool does take a little bit of getting used to and playing around with, but it's possible to end up with some really great results.
Best Features:
Find control the animation of every element in the end screen
Nice range of animated background and sticker elements
Pricing:
$4.99 USD per design
$20 USD per month
$120 USD per year (save 50% on monthly billing)
---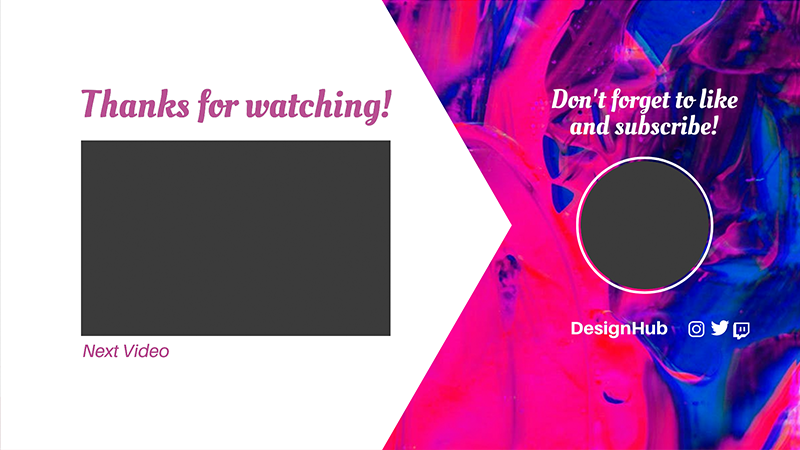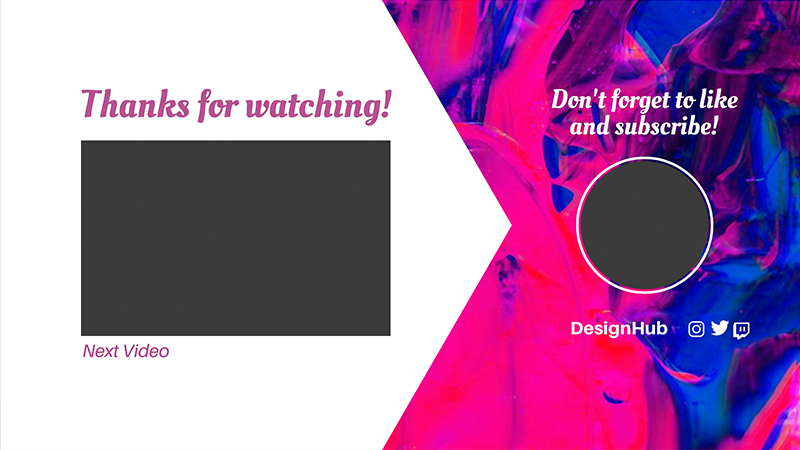 With a good range of different base templates to choose from, Snappa ads the versatility of it's thumbnail and banner making options to it's end screen maker. A huge variety of Stock images at your disposal as well as shapes and icons means you can go in whatever direction you want.
We recommend using one of their templates as a starting point rather than starting from a blank canvas, as they have the icon placement already worked out!
Best Features:
Excellent variety of templates to draw from.
Easily upload your own images to personalize your design.
Pricing:
FREE – up to 3 downloads per month.
$15 USD per month for a pro subscription with unlimited downloads plus extra features.
$120 USD per year for a pro subscription
---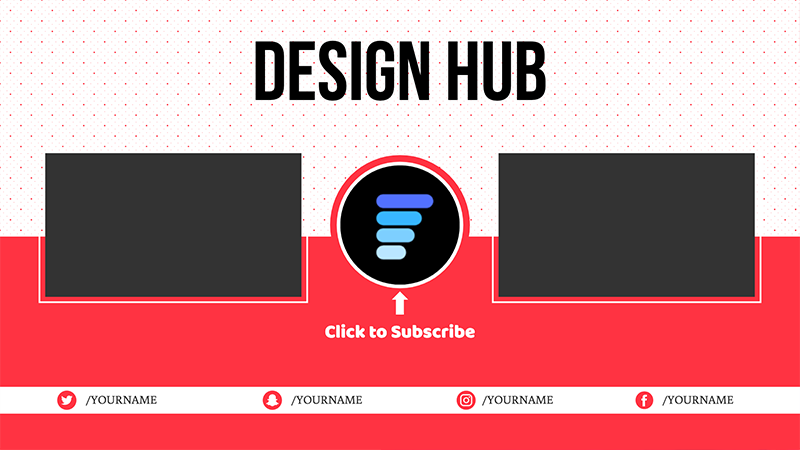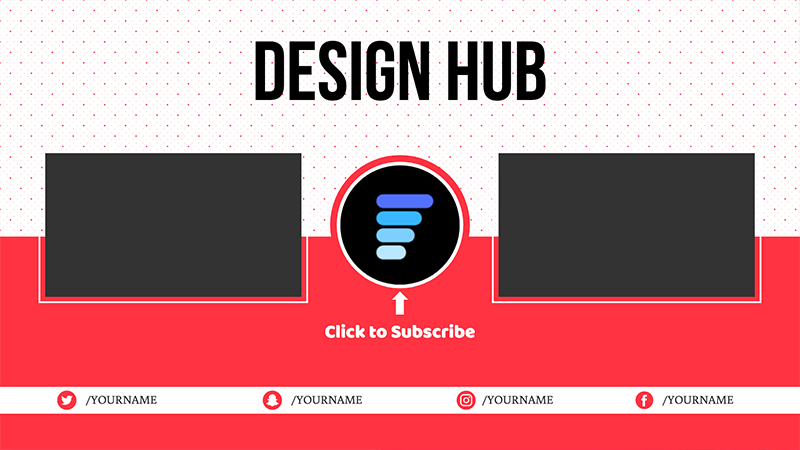 Plenty of great templates to choose from, Wofox both great design and a variety of templates available. It also has a handy border function that shows you when you've placed an item that will be outside of YouTube's endscreen elements area.
The editor is intuitive and easily navigated with excellent images, icons, and a cool photomask section all well organized and tagged by niche/genre. You do need to upgrade if you want to export your designs with transparent backgrounds and be aware that the editor only works on the google chrome browser.
Best Features:
Great range of base templates to work from.
Fun and unique photomask section with lots of different designs.
Pricing:
FREE – Will only store up to three designs for one day.
$10 per month – To access more features and templates.
---
To conclude…
These five YouTube end screen makers represent the best options online for creating and editing high-quality outro's/end cards that make full use of YouTube's end screen tools.
Enjoy creating! Oh, and if you have any questions, comments, or have suggestions for other awesome logo makers, leave a comment below!