If you've built up a good following for your stream you might be looking at ways you can monetize your audience.
One way to do this is by selling merchandise that loyal fans can purchase to support your channel and the content you're creating.
But how do you get great looking designs for your merch? What merch can (and should) you sell? And how do you create a store to sell your stream merch?
In this article, we're going to answer all those questions and more.
---
Jump to a specific section:
---
#1: Design ideas
It's all well and good deciding you want to start selling merch for your stream but should your designs be?
This may be different depending on what stage of development your stream is at currently but the ideas listed below should apply to most streams:
Quotes from you:  This could be sayings that regularly feature in your streams that are popular with your audience or maybe an inside joke that only your audience would get
Your logo:  A minimalistic merch design with your logo (if you need to create a cool logo check our article on the best logo makers). Vanoss Gaming is a great example of awesome clean designs with only the logo: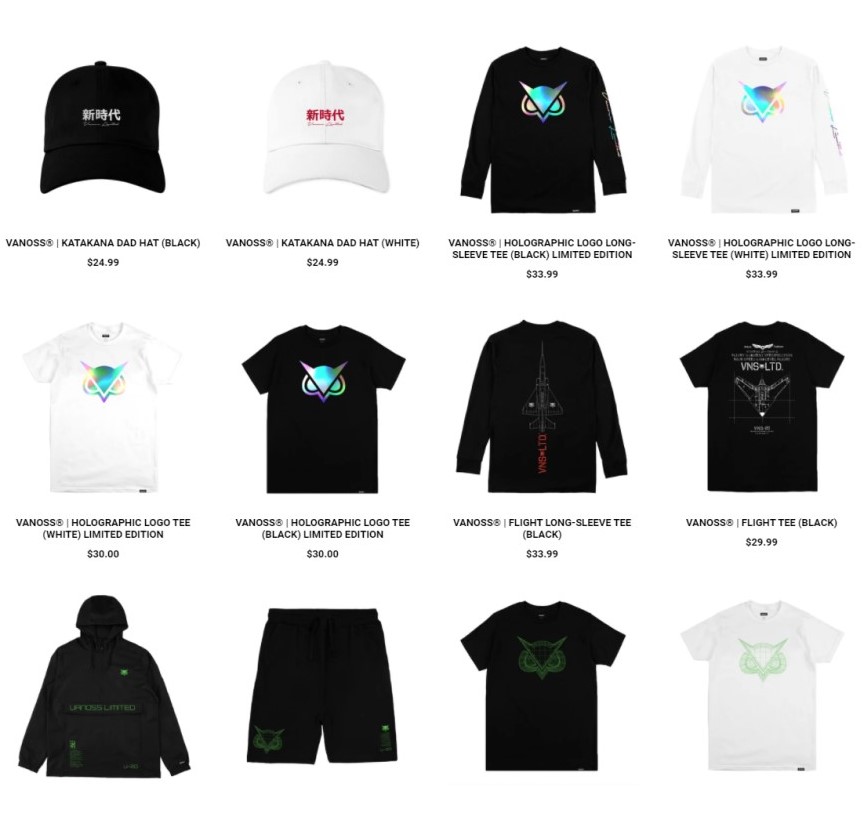 Your face:  If you've got a particular (or set of) facial expression that your fans can't get enough of then that could potentially make for a great merch design.  You could even create a cartoon depiction of your face with that expression.
Your channel name:  Similar to the logo design, having a simplistic merch design with just your channel name can still be popular with fans
Your most popular emojis:  If you have some custom emojis that your audience loves to use then these could be great ideas for merch designs (you could even combine them with other elements such as a quote, your channel name, logo, etc.)
Limited editions:  Creating limited-edition merch can be a great way to get people buying your merch as exclusivity is often a great motivator. Reasons to create limited edition merch could be to celebrate you hitting a particular milestone (e.g. 5,000 subs) or to support a cause you believe in and want to give some of the profits too, etc.
Seasonal:  Why not create special designs that are sold during specific times of the year such as a Christmas themed design or for other events throughout the year.
So, there are some ideas to get you started on what merch designs you could have for your stream's store.
If you want to see some examples of awesome merch you should check out this article by Printify. It looks at examples of merch for YouTubers but still has some great ideas to inspire your own designs.
---
#2: Where to find merch designs
You might be thinking "I know what designs I want now but how do I get those designs made?".
We've got you covered.
If you have the design skills then make your own! If not there are a few options:
You can hire someone to create the designs for you
Purchase pre-made designs
Create your own designs using online design tools.
We'll cover the first two options in this section.
Hire a designer
There are few places to hire designers to create merch designs for you, here are the best: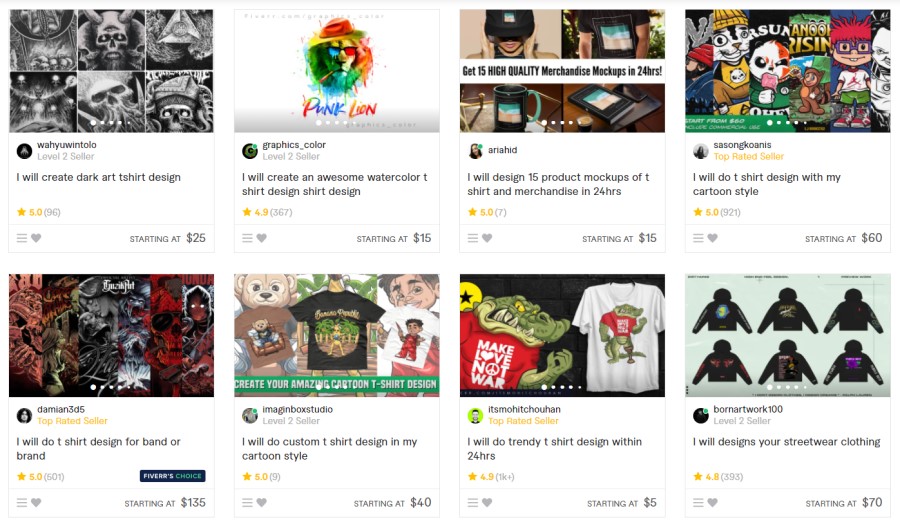 Visuals By Impulse: VBI is a stream design company that offers pre-made designs and also custom design work.  The custom design work includes merch designs.  They produce great work so are well worth checking out.
99 Designs: You can crowdsource your designs on a site like 99 Designs. Simply describe the designs you're after and set your budget and designers will submit versions of the design. You pick your favourite.
Purchase pre-made designs
You can also purchase pre-made designs and modify them slightly to get the design you're looking to get for your merch store.
Here are some of the best places to find pre-made designs:
---
#3: Create your own merch designs online
If you can't design your own merch, or you don't want to hire a designer or buy pre-made designs you could use an online design tool to create your own.
There are several good options when it comes to design tools for creating merch such as Canva and Crello, but we're going focus one tool in particular called Placeit.
With Placeit you can create a whole bunch of things including overlays, Twitch panels, offline banners, YouTube designs, and a whole lot more. When it comes to merch designs there are two main areas on the site:
Logo templates – if you haven't already got a logo for your stream, Placeit has some incredible logo templates that you can easily customize to create one for yourself. After you do, you can use that design for your merch store too.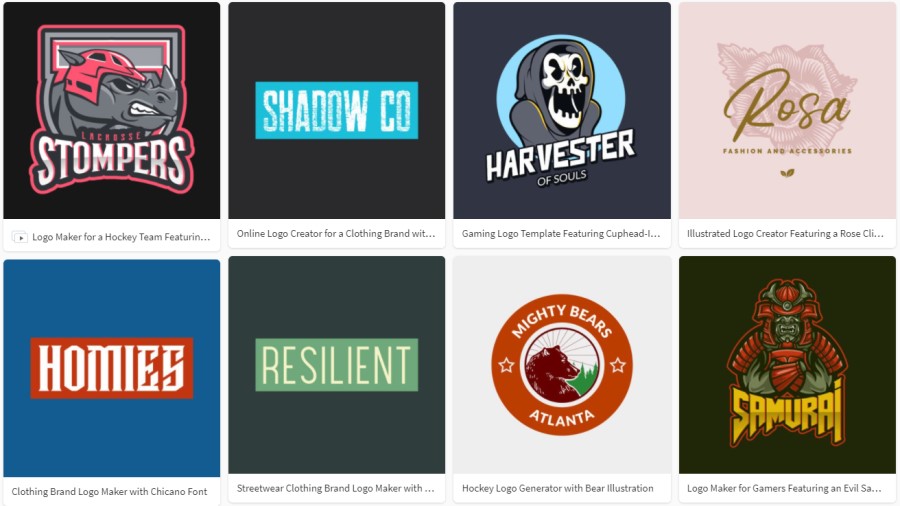 T-Shirt design templates – they have thousands of t-shirt design templates that you can browse through and filter them by niche to make it easier to find the design you're after.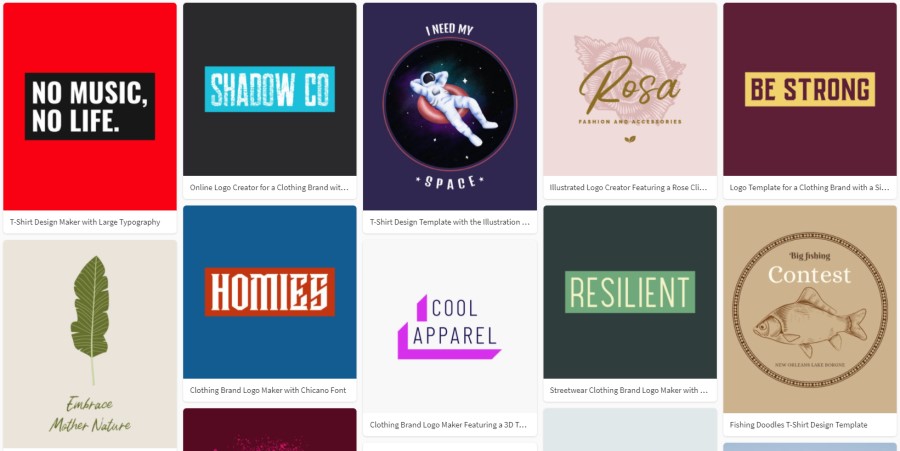 Once you've chosen a template, it's incredibly easy to customize all aspects of the designs to get the look you're going for with your merch.
The best part of it is that with any designs you make with Placeit you have the commercial rights and can sell and reproduce them. You can see their licensing policies here.
In terms of the pricing, there are some free designs, but the vast majority of them are premium.  So, you can either buy them individually or subscribe to Placeit to get unlimited downloads.  Here's the pricing breakdown:
---
#4 Streamer merch ideas (What should you sell in your store?)
If you're unsure what merch to sell, the first place you start is by asking your audience what merch they would like to see from you.
That should give you some good ideas but it's very likely to include some of the following popular items often found in merch stores:
T-shirts
Hats/Beanies
Hoodies
Mousepads
Stickers
Mugs
Phone cases
---
#5: How to get a merch store for your stream?
When it comes to setting up a merch store for your stream you have a few options too. Here are the most popular ones:
Streamlabs – If you're already using Streamlabs to broadcast your streams, why not take advantage of their inbuilt merch platform, if you're a Prime member you'll even have to pay less commission to Streamlabs for every sale.  It's incredibly easy to set up your store.  Here's a video showing you how:
StreamElements – Same goes with StreamElements, if you're already using their platform for your streams why not use their free merch store maker too. It's super simple to get everything set up.  This video walks you through the process:
Teespring – Another awesome option is Teespring who have developed an extension for Twitch that allows you to set up a 'Merch Store' in no time at all. The best part of Teespring's integration is that means your audience can buy merch from you without ever having to leave your stream. Here's a video that shows you how to set it up:
Printful – If you're looking for more options to customize the look and fee of your merch store then Printful could be a good option.  Here's a walkthrough:
Other great options to create a merch store are:
---
#6: Merch promotion tips
You've got your designs, chosen the products you want to sell, and set up your store. Now what?
It's time to get the word out there about your awesome merch of course.  Here are some great ways to do that:
Use a Twitch extension like Teespring's or Design By Human's – so viewers can purchase your merch directly from your stream without having to leave (Keep the panel in one of the top 3 spots for the best visibility!)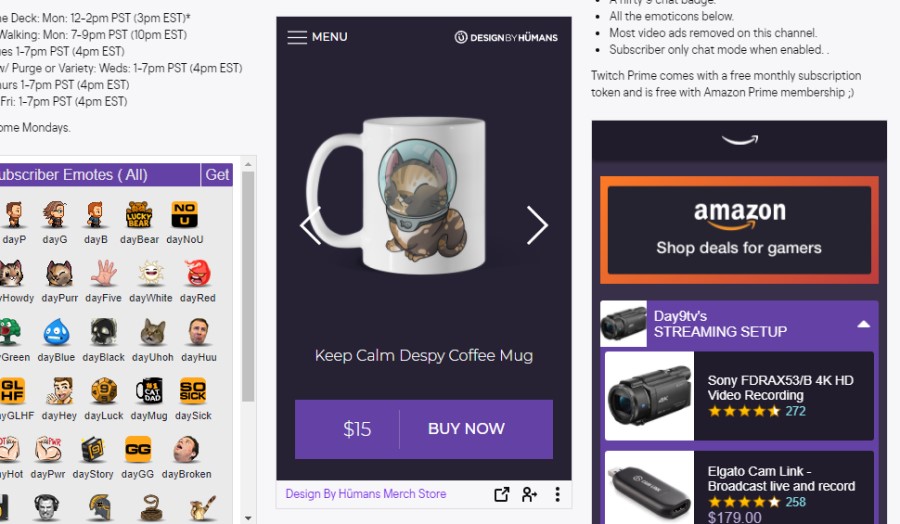 Merch alerts – set up merch alerts so whenever anyone buys your merch a notification will appear on your stream showing you and all your viewers that someone has bought merch from your store. It's a great way to promote your products and encourage other viewers to support you by buying your merch too. Platforms like StreamElements, Streamlabs, and Teespring all allow you to easily set up merch alerts.
Create a merch command – this can be really effective in promoting your products on Twitch.  You can share the command in the stream chat to encourage viewers to check out your store, and even create custom commands for limited-edition merch!
Use lifestyle mockups to show how your product looks on a person or in an in-life scenario. You can use these mockup images on your merch store or use them when sharing posts on social media about your merch to showcase them more effectively.  Placeit is a great place to create these kinds of mockups.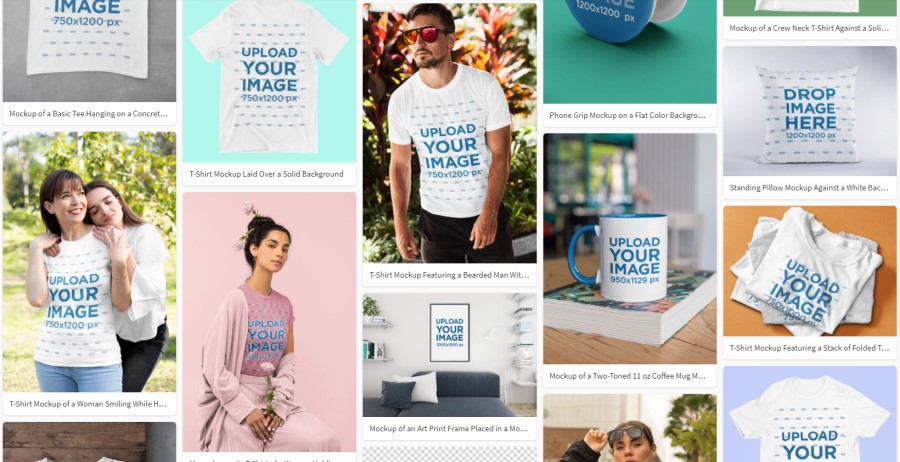 Announce your merch store launch on your streams – it's a no-brainer really. Let your audience know about it, give them a tour of your store and your products, mention any special store launch discounts, etc.
Set up a merch store panel – and make sure to track all the clicks to get some good insights on the people who click through to your store
Overlays – this is a non-intrusive way of promoting your merch and merch store. Find a way to subtly highlight your merch store in your overlays and it gives you another way to gain visibility for it.
Wear your merch when you're live on stream and also in photos on your social accounts! It's a super-easy way to get some visibility for your merch without having to call out your merch store all the time.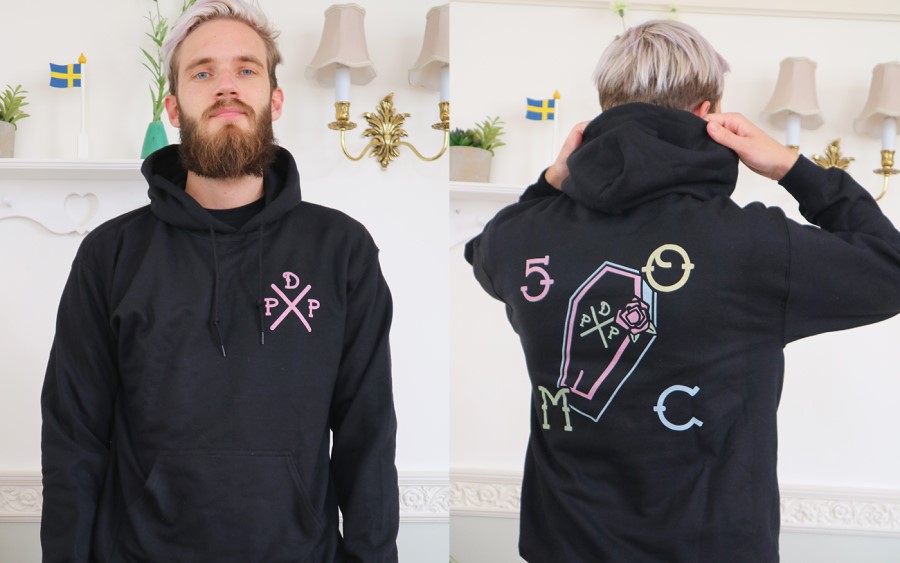 Get your viewers involved – ask them what merch designs they would love to see from you, maybe even conduct polls to get them involved even more, and then create the most requested designs – easy!
Social proof – When people buy your merch, encourage them to send photos of themselves wearing your merch, and share that with the rest of your audience which can generate excitement and 'FOMO' and highlight the quality of the products you sell!
---
To conclude…
So there you have it, that's how you can easily design merch, set up your very own merch store for your stream, and promote your merch.
Good luck with your new merch store! Oh, and if you have any questions, comments, or have other useful tips for stream merch, leave a comment below!