Looking to create some great-looking alerts for your Twitch channel but not quite sure where to go?
You could get some pre-made alerts from sites like OWN3D or Nerd or Die, or hire a designer from a site like Fiverr to make some stream alerts for you.
Alternatively, if you want to create them yourself using an online Twitch alert maker, below we've listed 5 awesome online tools that allow you to create your own alerts.
First, some tips for your Twitch alerts:
They should be in a PNG or WEBM format
These are the recommended dimensions:
File size no larger than 3MB
Here are some more Twitch size guidelines
---
Use the link below to jump to a specific product:
Let's get to the list…
---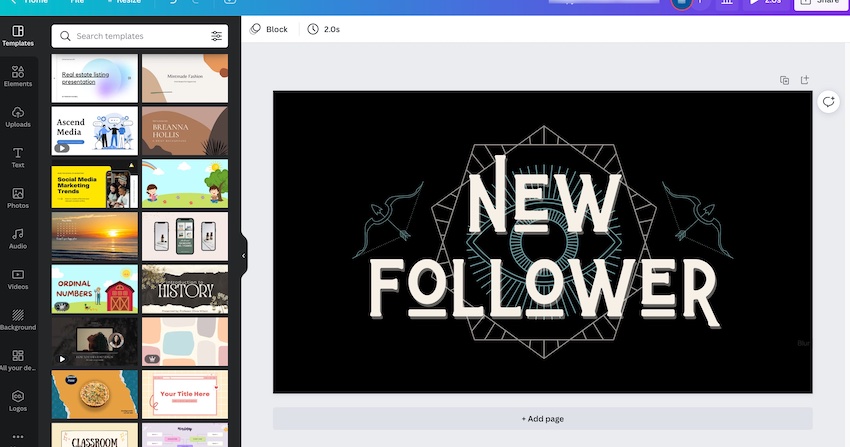 Unless you've been living under a rock there's a good chance you've heard of Canva. You can create all kinds of designs with the tool (here's an article showing you how to create all your Twitch graphics with Canva) and this includes static and animated Twitch alerts.
At the moment Canva doesn't offer any premade Twitch alert templates but it's incredibly easy to jump on the tool and create your own using their design elements and features.
Canva has even more to offer Twitch streamers looking to create their own designs. We've featured them in our Twitch panel maker article, gaming logo maker article, offline banner maker article, and also our sub badge maker article.
You can also create Twitch emotes with Canva, we walk you through how to do just that in the linked article.
The best part is that you can create many designs (including Twitch alerts) 100% for free on Canva.
Pricing:
Free!
If you want access to all the elements and features on Canva (such as the ability to download your files with a transparent background) you can subscribe to Canva Pro. You can get a 30-day free trial, after which the prices are:

$12.95 per month (monthly subscription)
$9.95 per month (annual subscription)
What we like:
Easily create unique-looking Twitch alerts
It's 100% free
Lots of elements and graphics to use
Plenty of customization options
Super quick to create your designs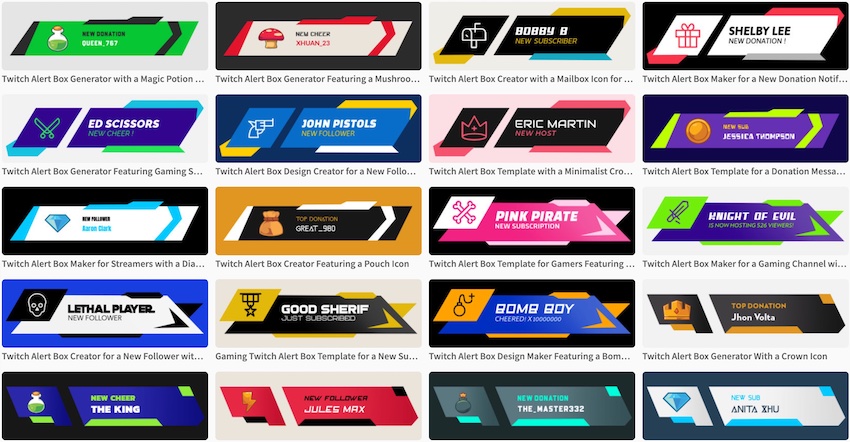 If you're looking for a simple online design tool that lets you quickly create a whole range of designs for Twitch then you should check out Placeit.
You can create so much more than just Twitch alerts (check out our guide on creating Twitch designs with Placeit) such as profile banners, twitch panels, overlays, and much more.
When it comes to Twitch alerts Placeit has a solid template library with over 80 at the time of writing.
It's incredibly quick and easy to create your own custom stream alert with Placeit. All you have to do is choose a template you like, adjust the customization options, and then download it. It couldn't be simpler.
Pricing:
Individual alert template: $2.95
Unlimited alerts with a monthly subscription ($14.95 /month)
Unlimited alerts with an annual subscription ($89.69 /year)
What we like:
Plenty of great-looking stream alert templates
No design skills or experience needed
Easily customize each template to your liking
Super simple and intuitive interface
You can create something that looks professional in seconds
Unlimited alerts for an affordable monthly price (+ no lock-in contract)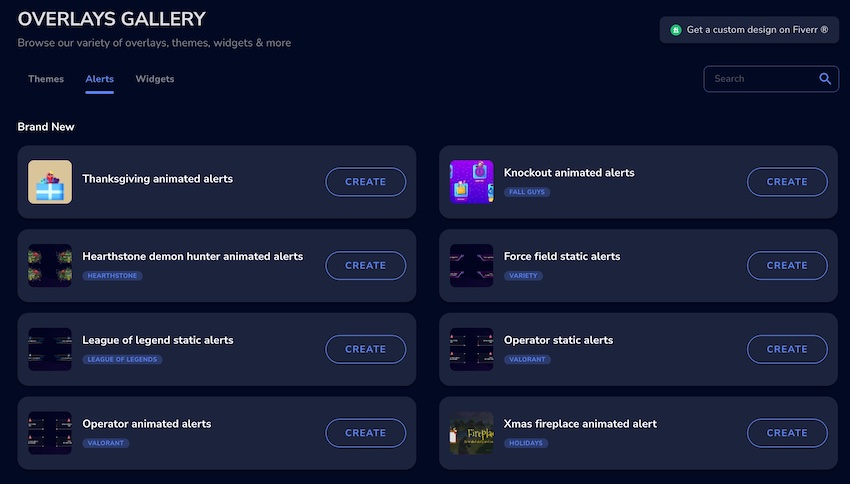 StreamElements is one of the best platforms out there for streamers. It's a web-based tool that allows streamers to create custom layouts and setups for their including chatboxes, overlays, sounds, alerts, and much more.
They offer a sizeable library of stream design packages, and also individual templates for stream alerts that you can customize and use on your stream completely free.
As mentioned everything is web-based so you don't have to manually upload anything in OBS, it makes the whole setup process much simpler! You simply select an alert theme (or set of alerts) from their library, customize, then easily add it to your stream. It's fairly easy to do.
The editor takes some getting used to but once you get your head around it, it's a breeze. You'll have your custom alerts running in no time at all.
Pricing:
What we like:

Good-looking templates
Easy customization
You can choose sets of alerts and overlays to fully brand your stream
All web-based so no need to manually upload anything to your stream
It's totally free!!
It keeps everything you need in the one interface
Beginner-friendly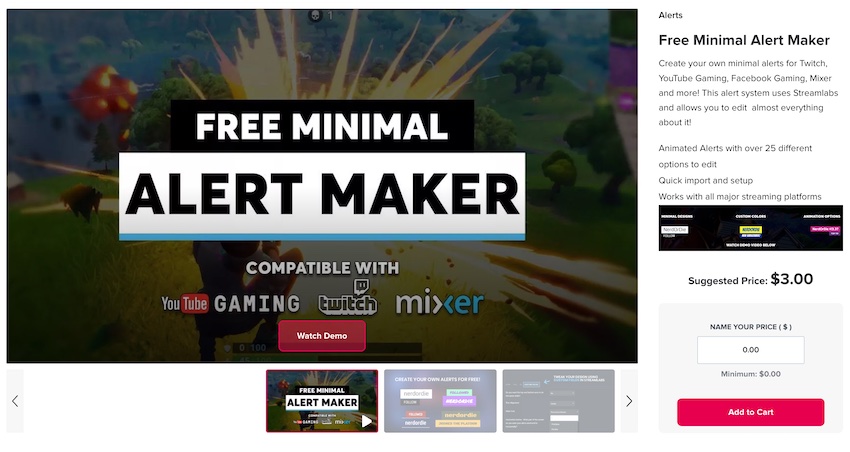 Nerd or Die has lots of Twitch designs (including stream alert templates), and they also offer several free online tools including their very own alert maker where you can create basic Twitch alerts completely for free
The alert maker lets you easily customize various aspects of your alerts including the text, fonts, and sizes of the various elements. It's very easy to use and is compatible with all the major streaming platforms.
If you're on a tight budget and are happy to go with basic-looking alerts for your Twitch channel then Nerd or Die's alert maker could be what you need.
If you want more professional-looking alerts but don't want to splash out too much money we recommend using Placeit, or checking out some of the paid packages that Nerd or Die offers.
Pricing:
What we like:
Very easy to use
Take seconds to make your design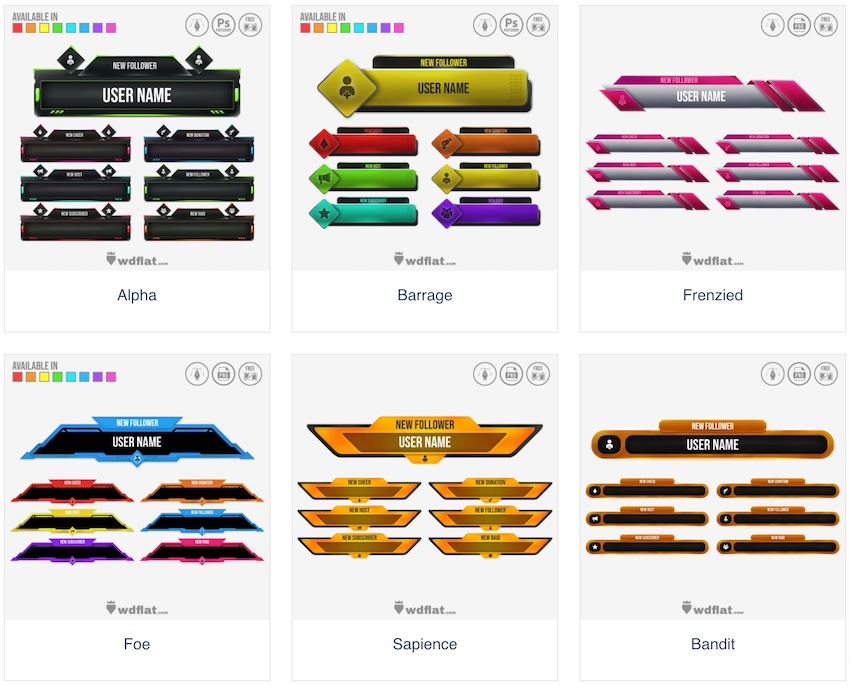 WDflat is a free web resource for streamers with a great range of completely free stream designs, including full packs, overlays, panels, banners, stream alerts, and even more.
The best part is that WDFlat continuously adds new 100% free designs regularly! They currently have 30+ stream alert templates on the site with about a third of those available to be edited in your browser.
The alert editor is quite simplistic and doesn't offer much in the way of customization options. However, if you're going for a simple design it could offer what you need. You're able to alter the text size, colors, text alignment, and font style.
But for a completely free resource, it's a great to place to go, particularly for those just starting out on their streaming journey.
Pricing:
What we like:
Nice templates to start your design from
Create something that looks good very quickly
#6 Other Resources
Sites to purchase or make Twitch alerts:
Create Twitch alerts with DaVinci Resolve:
Create Twitch alerts with Photoshop & Premiere Pro:
To conclude…
So, there you have 5 Twitch alert makers for you to try out.
You can create some pretty cool and unique designs with the aforementioned tools but if you're after very specific and bespoke designs you should find a designer from Fiverr to create the stream alerts for you.
Enjoy creating! Oh, and if you have any questions, comments, or suggestions for other Twitch alert makers or resources, leave a comment below.