Looking for the simplest and easiest way to make great-looking stream schedule designs or wanting to add a dynamic stream schedule widget to your channel but not sure where to turn?
Below we've listed 5 quality stream schedule panel makers that allow you to easily create static stream schedule panels, and also 4 awesome widgets that allow you to create a dynamic schedule for your Twitch channel.
Let's dive right on in.
---
Use the link below to jump to a specific product:
Static designs:
Dynamic widgets:
---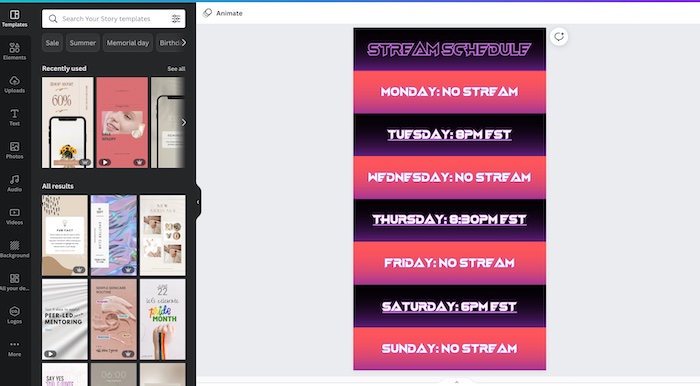 Canva is an incredible online design software that lets you create all kinds of designs with ease, including stream schedule designs that you can utilize for your Twitch channel or any other platform you livestream on.
With Canva you can create a whole range of branding assets for a Twitch (see our article on creating all your Twitch graphics with Canva) but at the moment they don't offer any predesigned templates for stream schedules. However, it is super easy to jump on a quickly create on that looks professional and on brand.
If you're a Twitch streamer looking for a dynamic schedule Twitch panel then you probably won't be able to create what you're after on Canva. However, if a static stream schedule panel design is all you need it's the perfect tool to use.
The best part is you can create stream schedule designs 100% for free on Canva (as well many other stream designs such as overlays, Twitch panels, Twitch banners, animated emotes, and much more)
What we like:
Easily create unique-looking stream schedule designs
Create designs 100% for free
No design experience needed
Lots of customization tools and options
Create designs incredibly quickly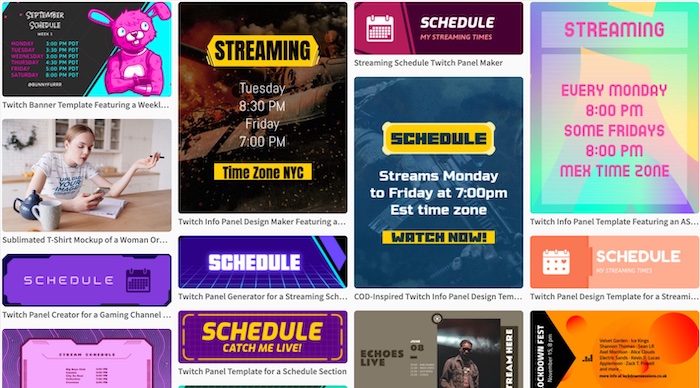 Another user-friendly and high-quality online graphic design software that allows you to create a whole host of stream designs is Placeit.
Like with Canva, you can brand your whole Twitch channel using Placeit and this includes stream schedule panels and banners which they have a decent range of predesigned templates for (over 20 at the time of writing).
It's ridiculously quick and easy to create your own custom stream schedule designs with Placeit. You simply need to choose a template you like, customize it to your liking, and then download it. It couldn't be easier.
Be sure to check out all the other stream templates that Placeit has. we've featured them in several design tool and templates articles including Twitch panel makers, offline banner makers, emote makers, and many others.
What we like:
Quality stream schedule panel templates
No design skills or experience needed
Easily customize each template to match your brand
Insanely easy interface
Some free stream design templates
Unlimited stream designs for an affordable monthly price (& no lock-in contract)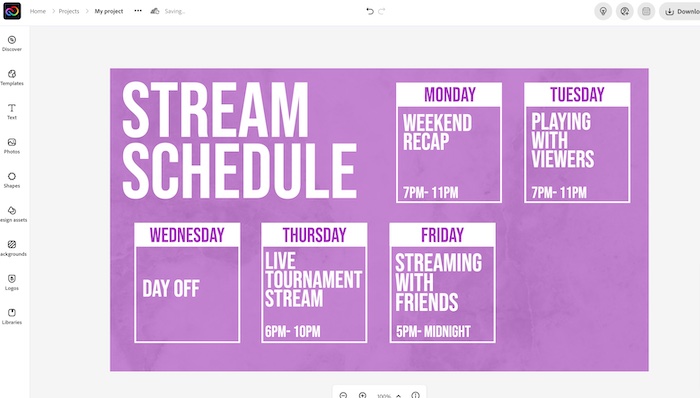 Adobe Express is another fantastic online design tool for streamers.
You can create all kinds of static and animated designs for your livestreams including banners, intros, overlays, social media posts, and of course, panels such as a stream schedule panel.
There are plenty of Adobe Express alternatives but not many similar tools that are as simple to use. It's very easy jump on and either customize one of their predesigned templates or create your own design from scratch.
So, if you're looking to create your own stream schedule panel or other stream designs you can do a lot worse than use Adobe Express to create them. You can even create plenty of designs 100% for free (we included the tool in our article free gaming logo makers).
What we like:
Good-looking templates
Easy template customization
No design skills or experience needed
Some templates 100% free
Can create a variety of stream assets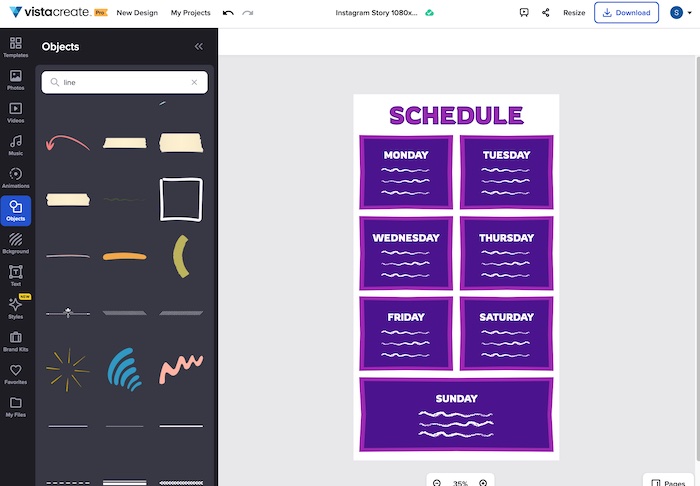 VistaCreate doesn't have an abundance of predesigned templates for streamers but as a solid Canva alternative it offers a very similar interface and design element library that you can utilize to create your own stream designs from a blank canvas, including stream schedule panels.
You can create up to five free designs on VistaCreate each month so if you're on a tight budget you can certainly make one or more stream schedule designs 100% for free as well as several other stream designs.
What makes VistaCreate stand out for us was their text and font options. You get access to a huge library of fonts that are a bit more varied than the standard font options you get with most tools and it 's very easy to customize your text elements to make it stand out and look professional.
If you want to design and unlimited amount of professional-looking stream designs, including stream schedules, we'd recommend getting a Canva or Placeit subscription before going to VistaCreate purely based on the amount of templates they have on offer for streamers.
VistaCreate does have some templates for Twitch banners, and offline screens but nowhere near as many the aforementioned tools.
What we like:
Very easy to use
Create designs in no time at all
Some free designs each month
Good text and font options
Amazing illustrated graphics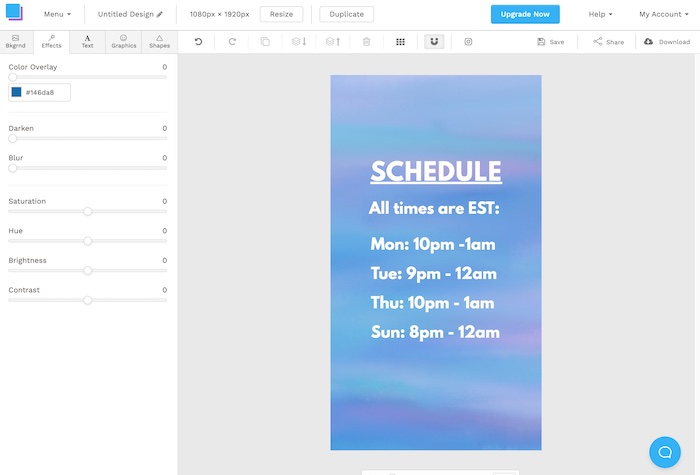 Similar to VistaCreate, Snappa is a fantastic online design tool but at the moment it doesn't offer a huge library of predesigned templates for streamers.
That being said there are some Twitch panel templates that can be customized to be used as stream schedule panels and it is very easy to create stream schedule designs from a blank canvas using Snappa.
We wouldn't recommend using the predesigned panel templates on Snappa though as not too many of them are amazing designs, certainly compared to the predesigned templates on other platforms such as Placeit.
Snappa allows users to create 3 free designs per month so if you're on a tight budget you can still create your stream schedule panel (and a couple of other stream designs) 100% for free with their design software.
What we like:
Some decent templates to start your design with
Create something that looks good very quickly
Very simple user interface
Free designs each month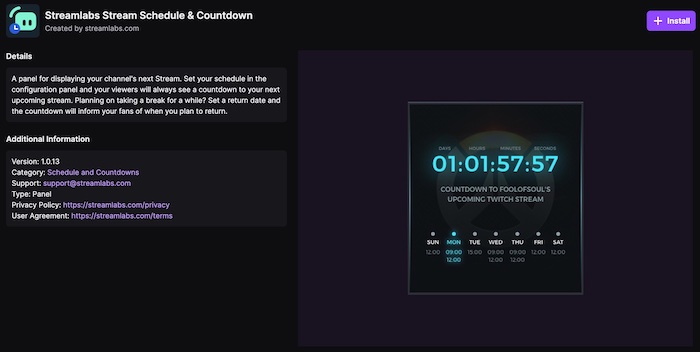 Streamlabs offers their own dynamic stream schedule and countdown widget for Twitch that gives you the ability to show your potential viewers your stream schedule in their timezone and also a countdown until you go live with your next stream.
If you're going to have a pause in your streaming content too, such as if you're on holiday for a while, you can show your return date in the Streamlabs widget so that your viewers will know when to check back in for your next stream.
You're fairly limited when it comes to customizing the look and feel of your Streamlabs schedule widget but you change the text color to match your brand and you can also switch out the background image on the widget too.
What we like:
Very easy to set up and customize
It's 100% free to use
Dynamic timezone feature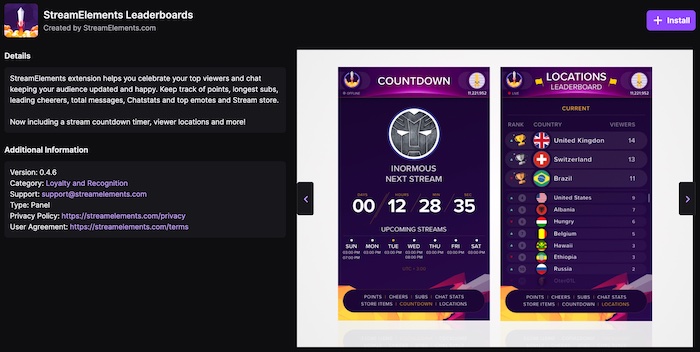 StreamElements also has their very own stream schedule panel and countdown widget called 'StreamElements Leaderboards'.
As the name suggests it offers a lot more than simply being able to show your schedule and a countdown to your next livestream. With their widget/panel you can also showcase stats such as audience points, longest subs, leading cheerers, audience location, top emotes, and even more.
It's super easy to setup the widget to display your stream schedule, it only takes a few minutes. However, when it comes to customizing the widget to match your branding there aren't too many options. You can't change the font, colors, or any of the visual aspects of the panel.
What we like:
Very easy to setup
Great looking panel design
Can show plenty of information to your audience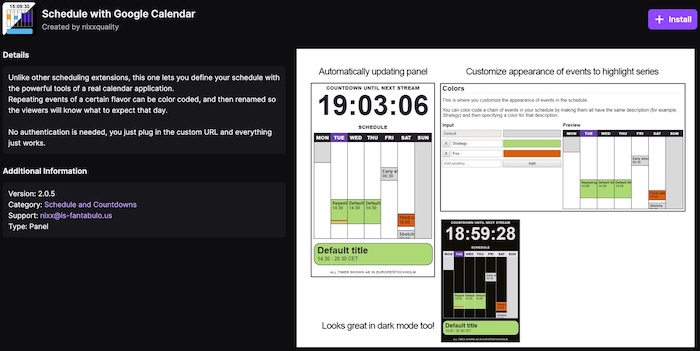 If you want a Twitch panel to show your stream schedule and countdown the Google Calendar extension could be a good option for you.
It isn't the most aesthetically pleasing widget but it does do exactly what it says it will including showing your upcoming stream in the local timezone of your viewers.
You can customize the widget too, including colors, text, etc. to more closely match your branding but as we mentioned it isn't the prettiest widget going, especially compared the widgets from Streamlabs and StreamElements.
It's still a nice and free option though that is relatively easy to setup and customize.
What we like:
Simple setup
Can customize to match your brand
Dynamic timezone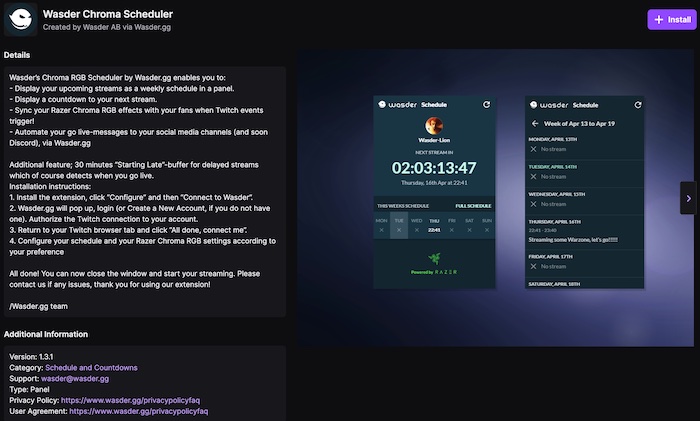 The last dynamic stream schedule panel on the list is Wasder's Chroma RGB Scheduler. Like the other widgets you can set up a weekly schedule as a panel on your Twitch channel, as well as include a countdown to your next stream so your viewers know when to check back in.
It's super easy to setup and you can customize some of the details to match your branding. Plus one nice feature is that you can automate your going live messages to sync with your social media profiles so all your followers will notified that you're going live.
What we like:
Easy to setup
Easy customization
Automated social media notifications
#10 Other Resources
Sites to purchase or make stream schedule panels:
How to create your own stream schedule designs with Photoshop:
How to setup your Streamlabs schedule extension:
To conclude…
So, there you have 5 Twitch stream schedule makers and 4 dynamic schedule widgets for you to try out.
It's a great feature to have on your channel so you can ensure that your loyal viewers know when they can check in to view your next livestream.
Enjoy creating! Oh, and if you have any questions, comments, or suggestions for other stream schedule makers or resources, leave a comment below!