You probably came here wanting to know if you should use Fiverr to get your own Twitch logo designed, right?
You've come to the right place.
We're going to take you through our journey on Fiverr so you can see if the platform is the right fit for you.
We went through the process of working with not just one, but six Twitch logo designers on Fiverr.
Read on to find out how it all went for us.
Let's go.
---
Jump to a specific section:
---
Section 1: Overview
Before we dive into the meaty details. Here's the answer to the fundamental question you'll likely have:
Do you recommend streamers use Fiverr to get their Twitch logo designed?
The answer to that is: most definitely.
There are plenty of other incredible options when it comes to getting Twitch logos, but we've used Fiverr plenty of times (including for our own brand logo) and we've almost always loved the end results.
That being said, there are pros and cons of using Fiverr, and other things you need to keep in mind. So read on to make sure it's the right option for you.
What is Fiverr?
If you've searched for information about the platform you likely know all about it.
But for those of you who aren't sure, here's a quick run-through of what Fiverr is.
Put simply it's a marketplace that matches people looking for help with a one-off or ongoing project (e.g. getting a Twitch logo designed) and freelancers who can work on that project for them.
You can find freelancers for almost any task, see the details of the 'gigs' that they offer (pricing, reviews, delivery times, etc.), and hire them to help you with a couple of clicks.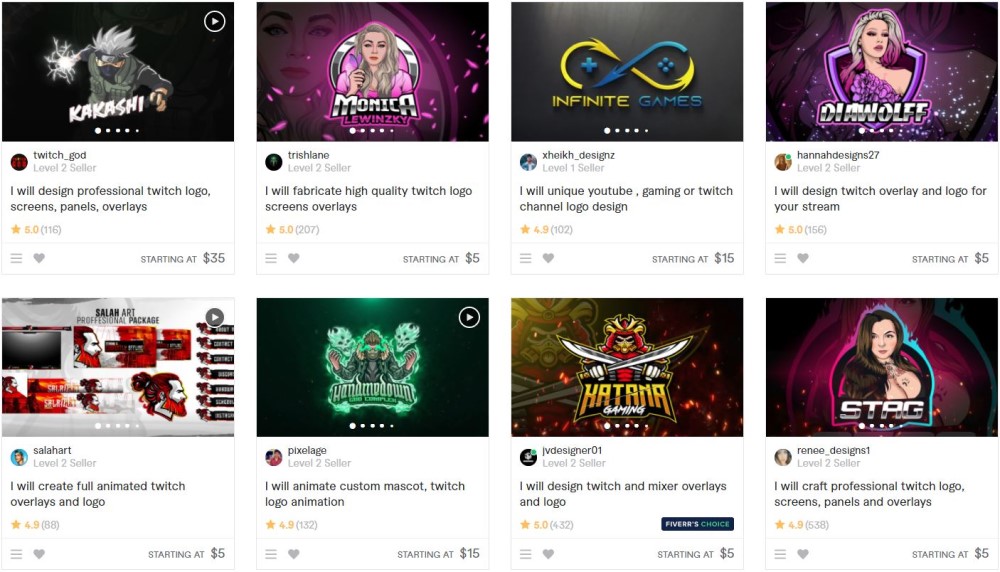 If you're on a seriously tight budget, you can easily filter the Fiverr gig results to ensure they all fit within your price range. There are plenty of great designers at insanely affordable prices on the platform.
When it comes to Twitch logo design there are plenty of good designers on Fiverr, with prices ranging from $5 and skyrocketing up to $1,050 (although that gig includes a full stream package)!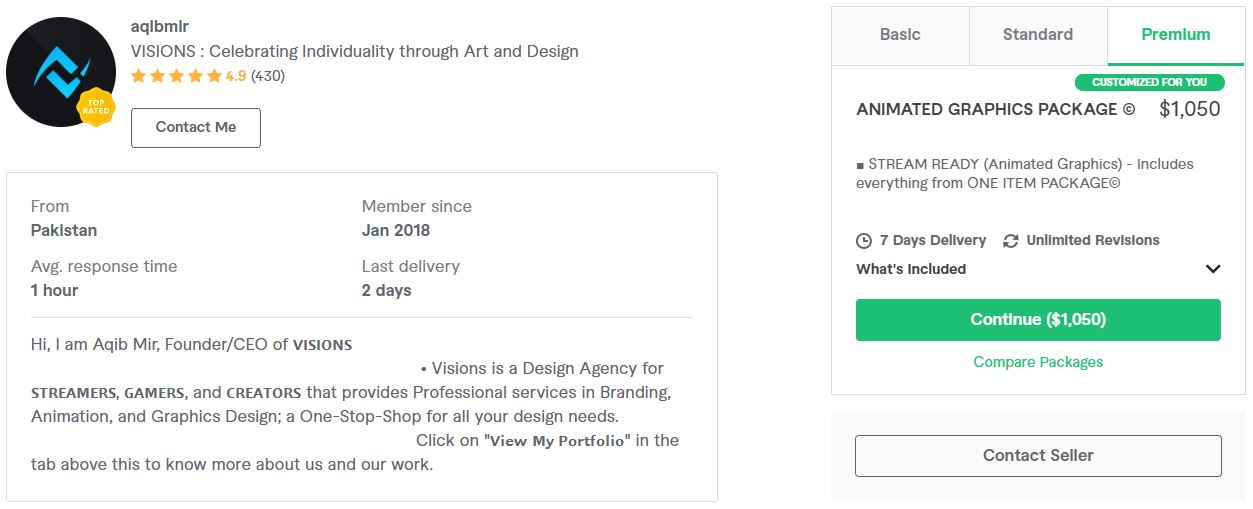 Why did we do this?
We wanted to get some great-looking Twitch stream designs that we could give away completely for free on Design Hub, and we've used Fiverr in the past so it was no brainer to go back and tap into the wealth of design talent there.
It also gave us a great excuse to write up a review of our experience getting Twitch logo designs via the platform to help you make an informed choice when it comes to getting your Twitch logo design made.
We hope this review and guide help you out!
Section 2: How to choose the right Fiverr designer for your Twitch logo
How you go about finding a logo designer to work with on Fiverr depends on what kind of logo you're after.
For example, if you want a classic mascot logo that's popular amongst gamers on Twitch all you really have to do is search "twitch logo" and you'll have plenty of options to browse through:

As you can from the image above, the vast majority of the gigs on the first page of results for the search "twitch logo" (filtered to logo designs only) are for mascot-style logos, which is awesome if you want that kind of logo.
If you want something slightly different you've got to get a bit more creative with your searches (or use search filters – more on that a bit further down).
Have a play around with different searches to see what you can find e.g. use search terms like "minimalist twitch logo" or "initial gaming logo" or whatever describes what you're looking for and you should be able to find some logo designers that are a good match.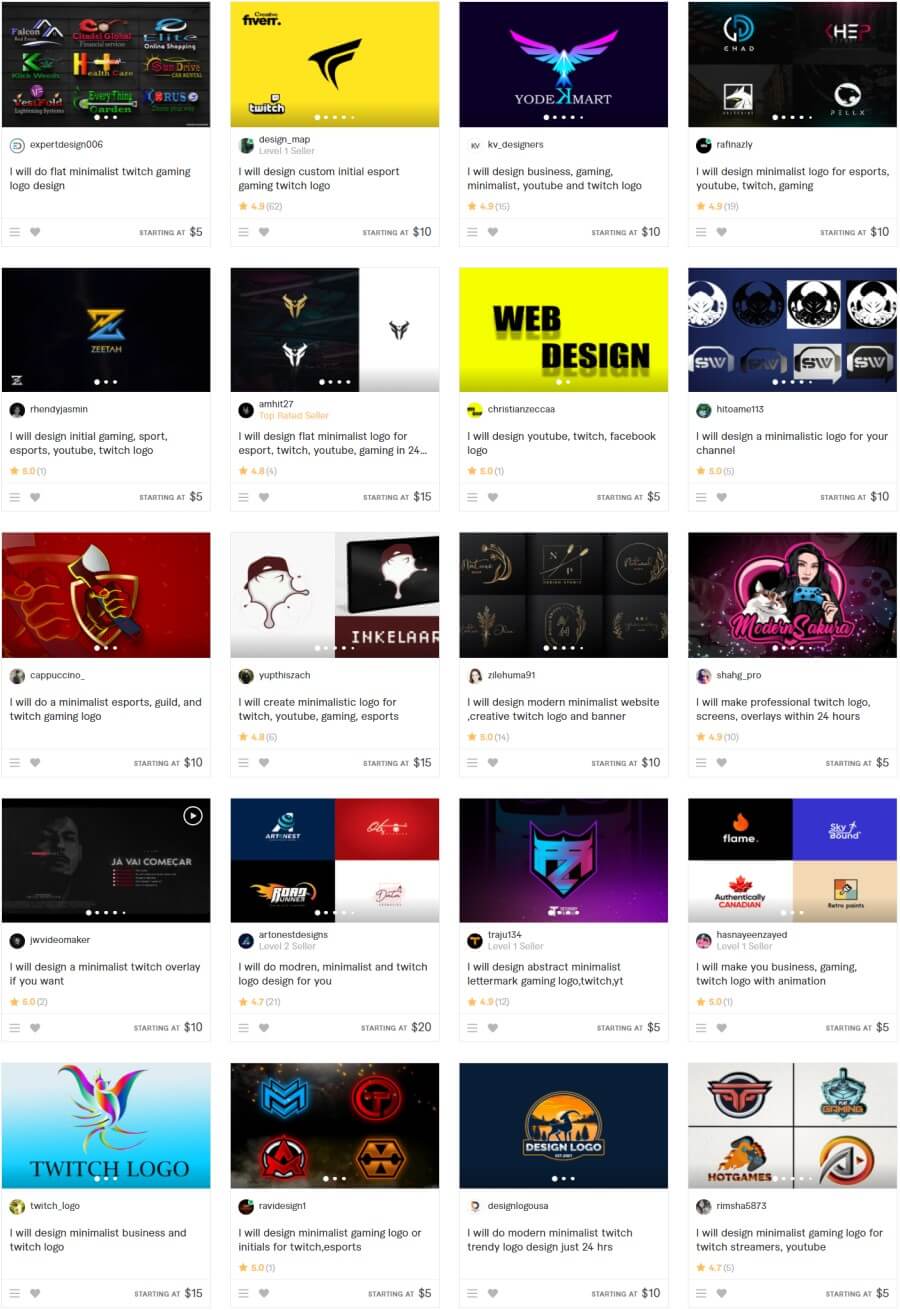 You can see the search results above for the term "minimalist twitch logo" (again filtered to logo designs only). There were quite a lot fewer gigs in the search results but the ones that were there were very different from the initial search for "Twitch logo" search.
Try different searches to find your ideal logo designer.
You can also search for non-Twitch or gaming-focused logo designers to see if you can some that have the style that you're looking for.
We've worked with logo designers on Fiverr in the past and have found plenty of great designers at affordable prices that have adaptable styles no matter what niche you're in.
Use filters
This one should be fairly obvious, but you should make sure to take advantage of the filtering options on Fiverr to narrow down your searches.
You can filter by price, logo style, file formats provided, if you get the logo source files, seller details (e.g. they're rating, and if they speak fluent English), etc.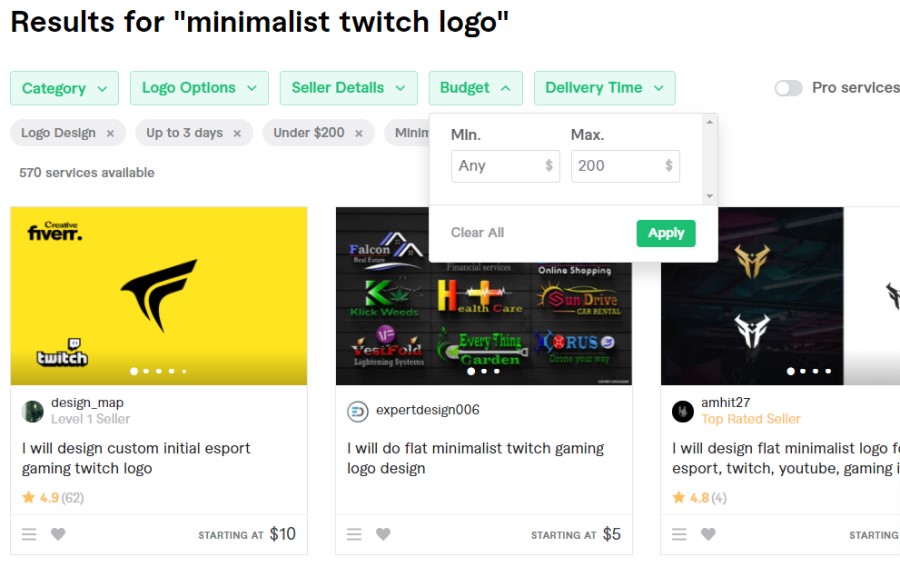 Input and select all your filters and this should really narrow down the number of gigs and designers in the results.
When it comes to pricing, a word of warning. Cheaper isn't always better. Be aware that a good amount (not all) of the cheapest gigs don't actually design logos themselves. They use online tools like Canva to create the logo e.g.:

You can see from the image above that two of the gigs are using Canva logo templates as their gigs featured image. You can actually get these logos for free on Canva.
So keep that in mind, but still obviously filter the results to show gigs within your budget range.
At this stage we recommend browsing through the results, taking note of any featured images that catch your eye, and adding any interesting gigs to a favorites list.
The way to do that is to create a new list (you can go to your list section via the link in the main navigation area) and then simply click the heart icon on a gig to add it to your list, so you can keep browsing and come back to all your saved gigs later on: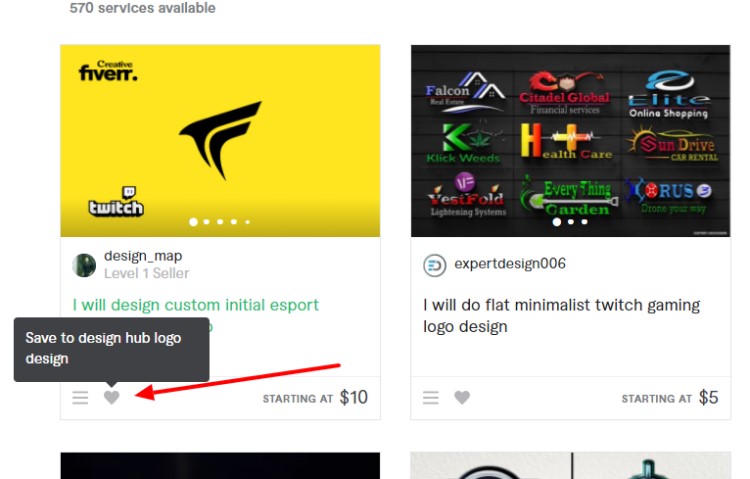 Check the logo designers gig page and seller profile
Now that you've some logo designer candidates it's time to take a closer look at their gig pages and seller profiles.
This is all pretty straightforward again, you need to look through the images of their past work and their portfolio to see if their style really matches up to what you're looking for.
Check the gig details and compare the gig packages on offer to make sure they include everything you need
Pro tip: make sure to get a good amount of revisions with your gig purchase, and we'd also recommend you get a few logo concepts included as part of the gig, in case the designer doesn't nail the first one: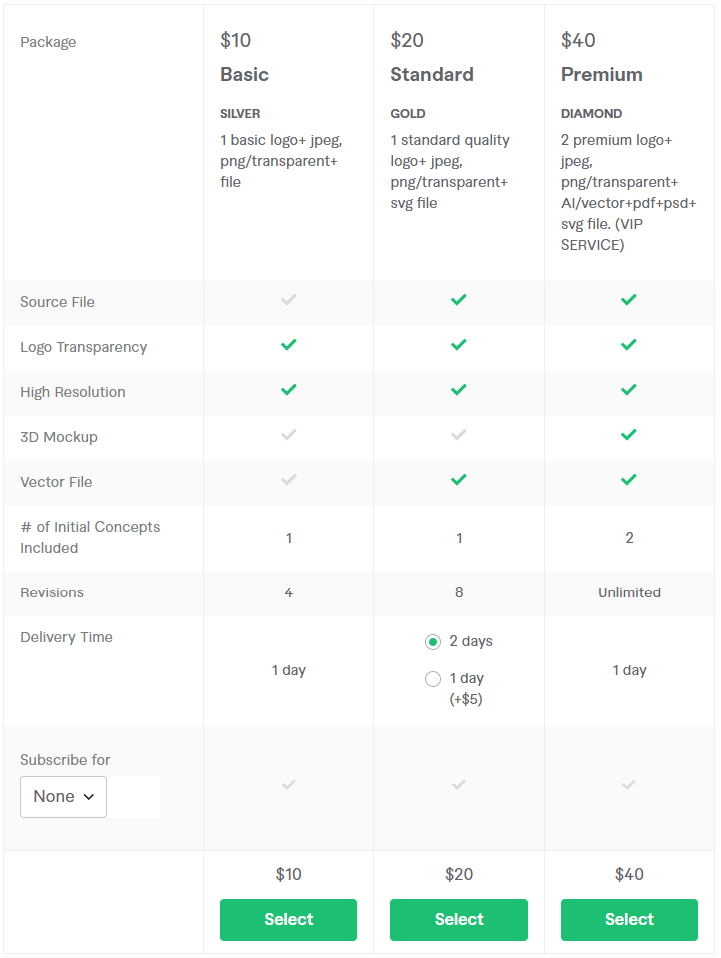 If you need something specific (e.g. the logo design source files or the copyright for the design) make sure that's included. If it's not you can do two things.
First, you can check the gig extras (when you click on 'Continue' you'll be taken to an order details page – no purchase made yet) where you can sometimes see gig extras that you can add to your order: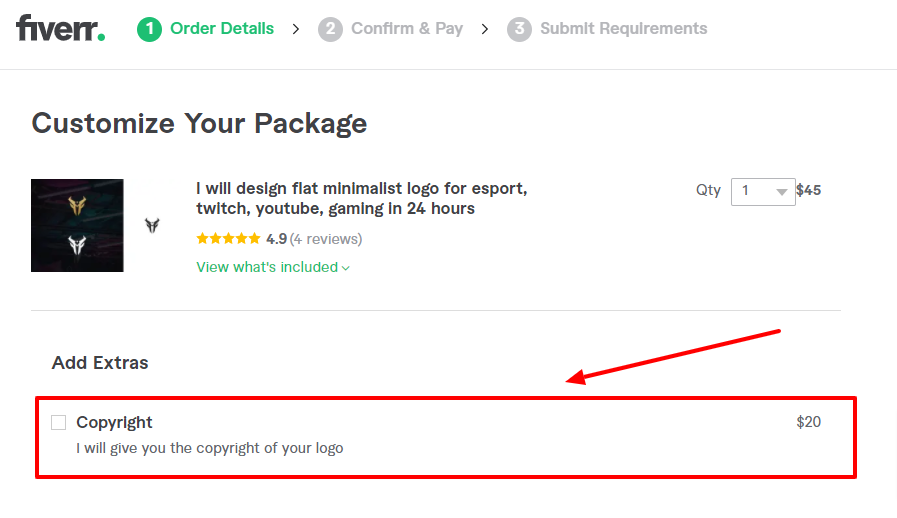 Second, you can talk to the designer before you purchase the gig (we recommend you do this before you make any purchase anyway to get to a better feel for the designer).
They might be able to create a custom gig offer for you that includes everything you need.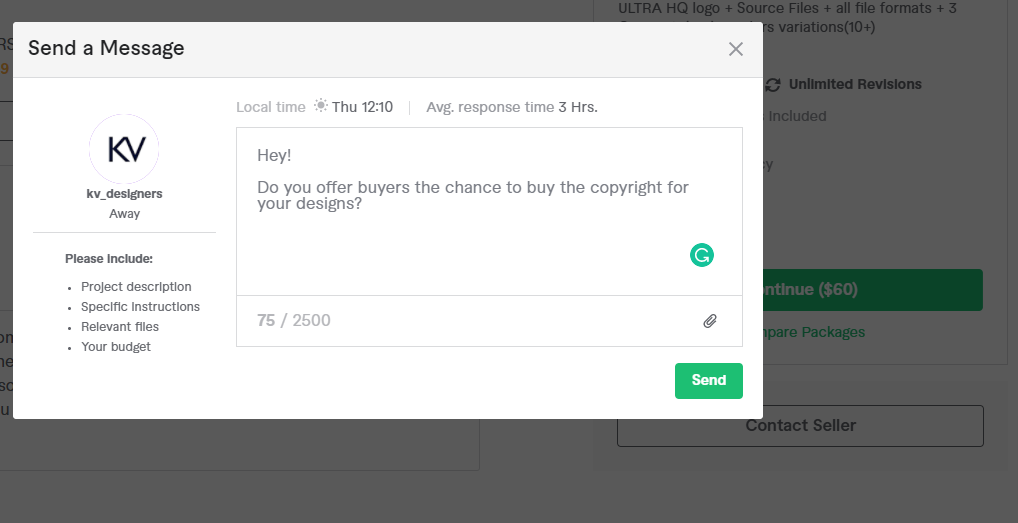 Also, be sure to check that the seller has delivered on a fair amount of projects (at least 25 plus). If a Fiverr logo designer has done plenty of gigs then you can be more confident that they can deliver on what they say they will.
Look at their positive and negative reviews (if they have any)
Be sure to look at a logo designer's negative reviews (not just the positive).
Everyone can have the occasional off day or a project that simply does not go well for whatever reason, but if there are common patterns with their poor reviews, they might be someone to avoid working with.
We've done this before in the past, saw that there was a bit of a pattern in the negative reviews a seller was getting but decided to give them a chance anyway. Unfortunately, the same negative experience happened to us too.
But that's a lesson learned the hard way.
Here's an example of some negative reviews that seem to have a common theme (delayed delivery time). Although to be fair some of these might just be the buyers not reading the gig details closely enough: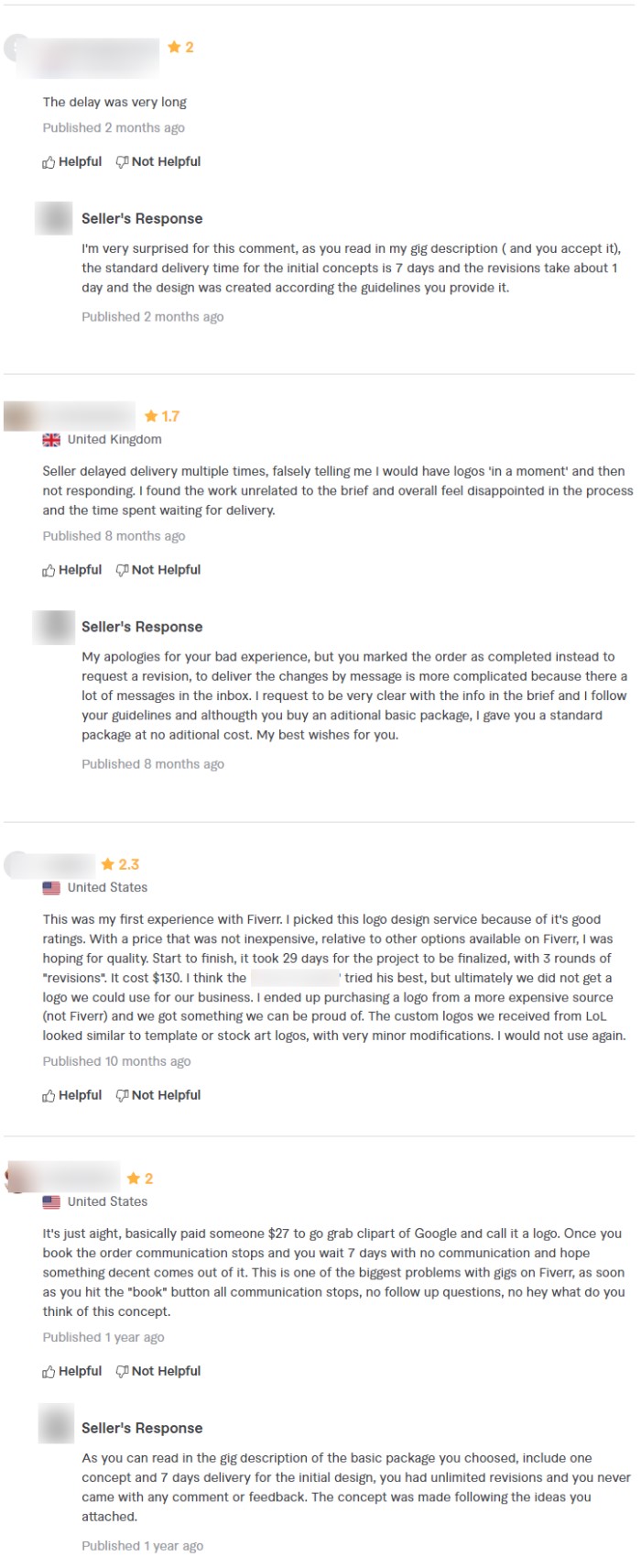 Once you've done all that you should be ready to choose the perfect logo designer on Fiverr for your project.
Here are the designers and gigs we chose to create our Twitch logos:
Luckily, all of these guys were really good to work with for our logo designs!
Section 3: Briefing the designers
Once you've confirmed your order on Fiverr it's time to put in the requirements for the job. This is a really important step.
If you give your chosen logo designer a vague and limited brief then it's going to be tough for them to deliver exactly what you had in mind.
Usually, your best bet is to go with a fairly detailed brief unless you've spoken with the designer beforehand and they are happy to work with a small brief to come up with concepts themselves.
We gave each of the six Twitch logo designers a very similar brief that we felt gave them a pretty clear direction for the design but also left a bit of room for them to use their own initiative and get creative with the concepts.
One important element that we gave to all the designers was to provide examples and visual inspiration for what we're after: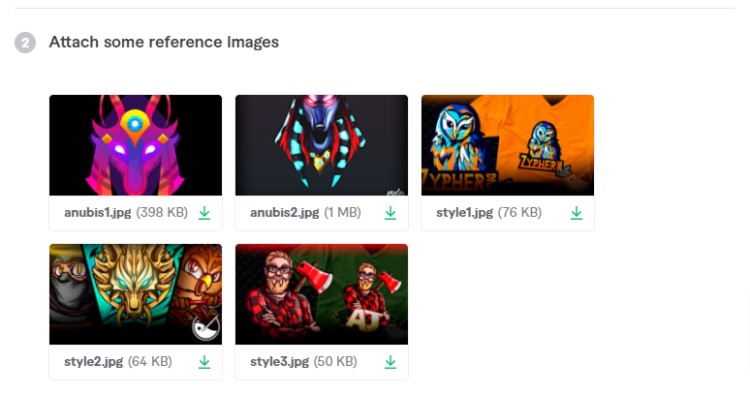 Some designers have a questionnaire for the brief whilst others just have a section for you to describe what you're after but you should essentially be able to give each the same brief.
Just be sure to give as much detail for your requirements as you can.
Section 4: Final logo designs
After some revisions and edits, here are the final Twitch logos designs we ended up with: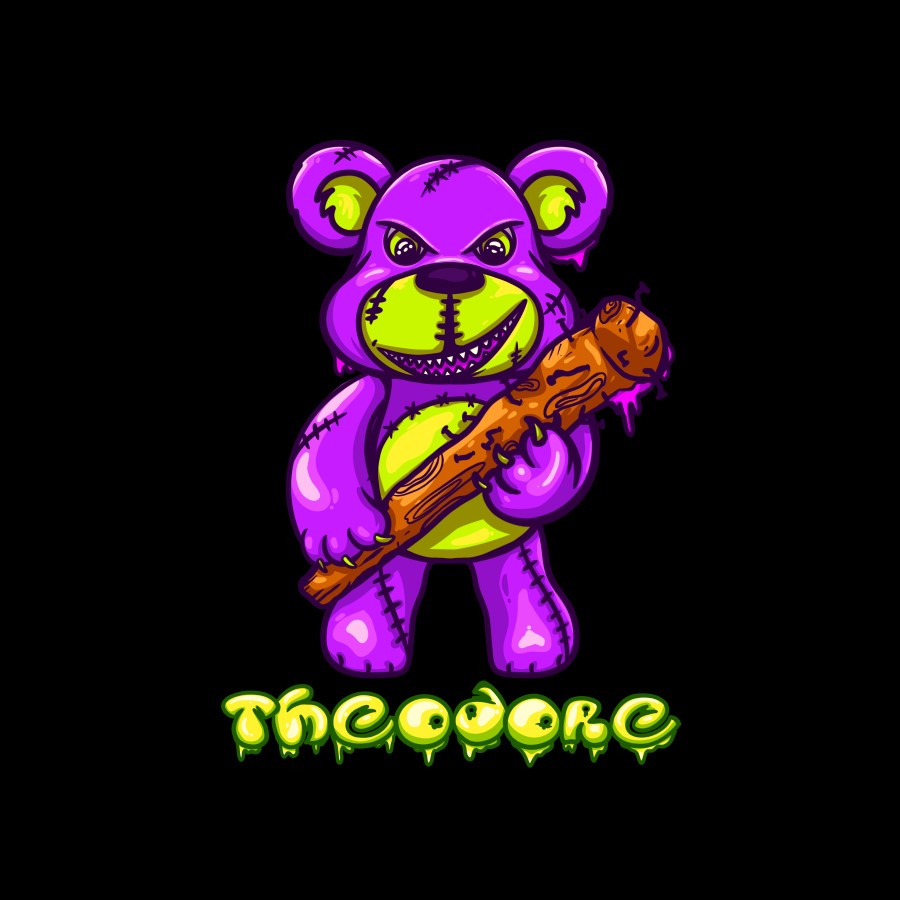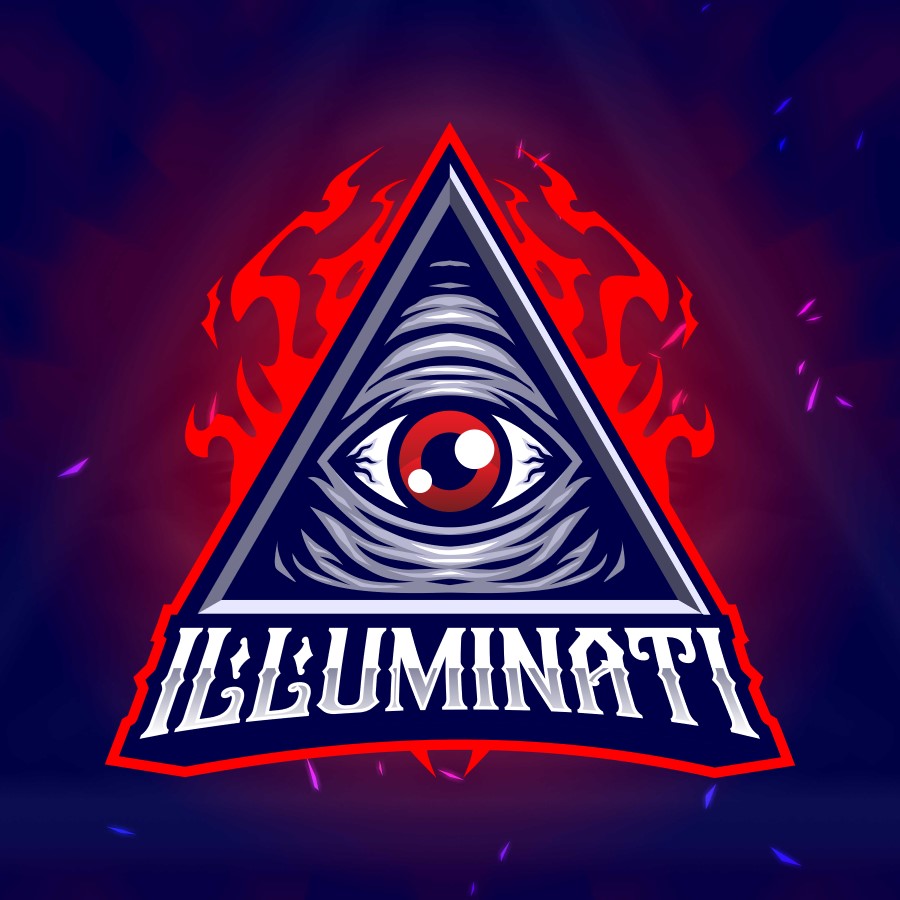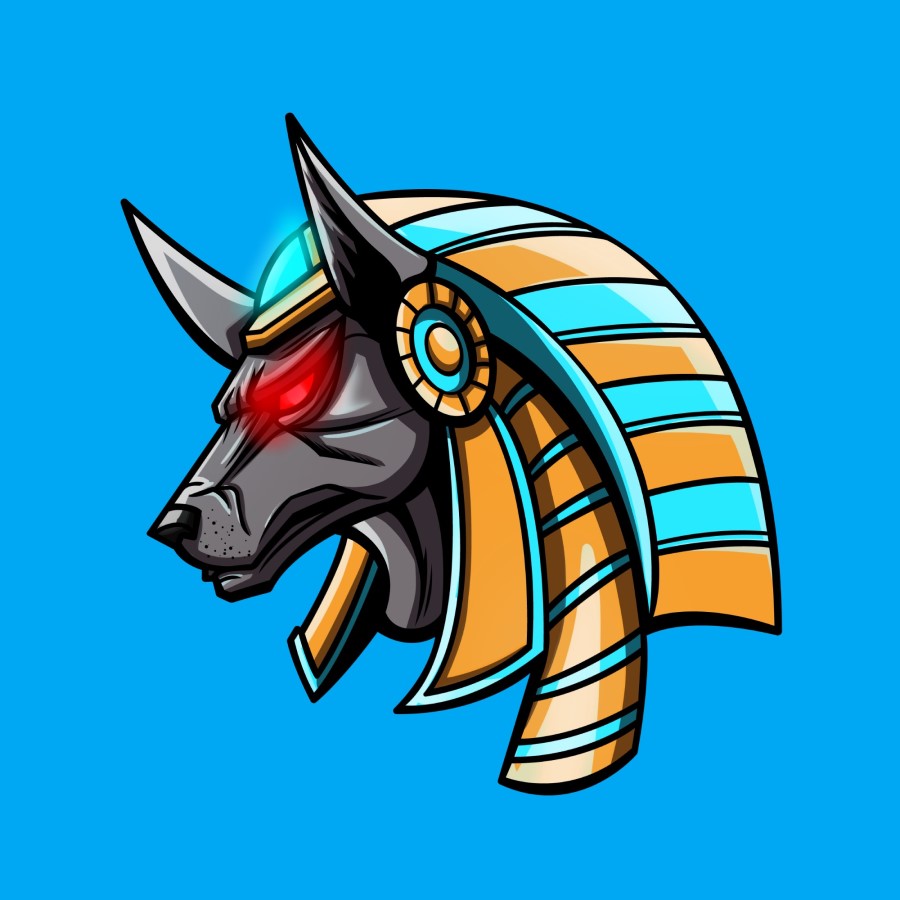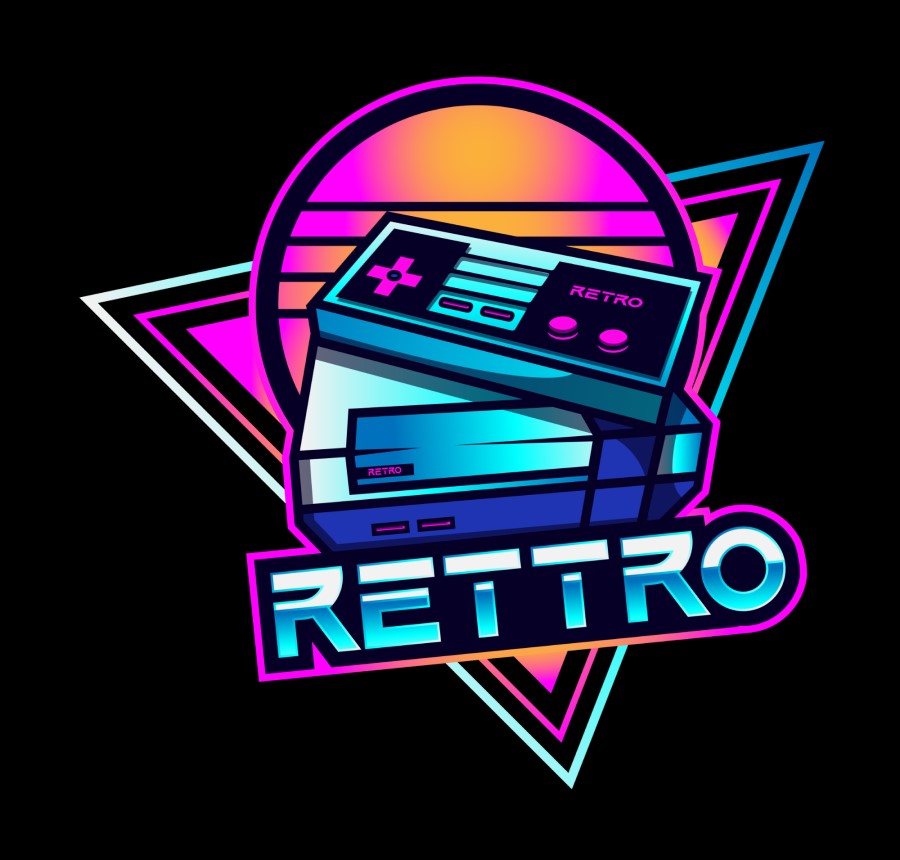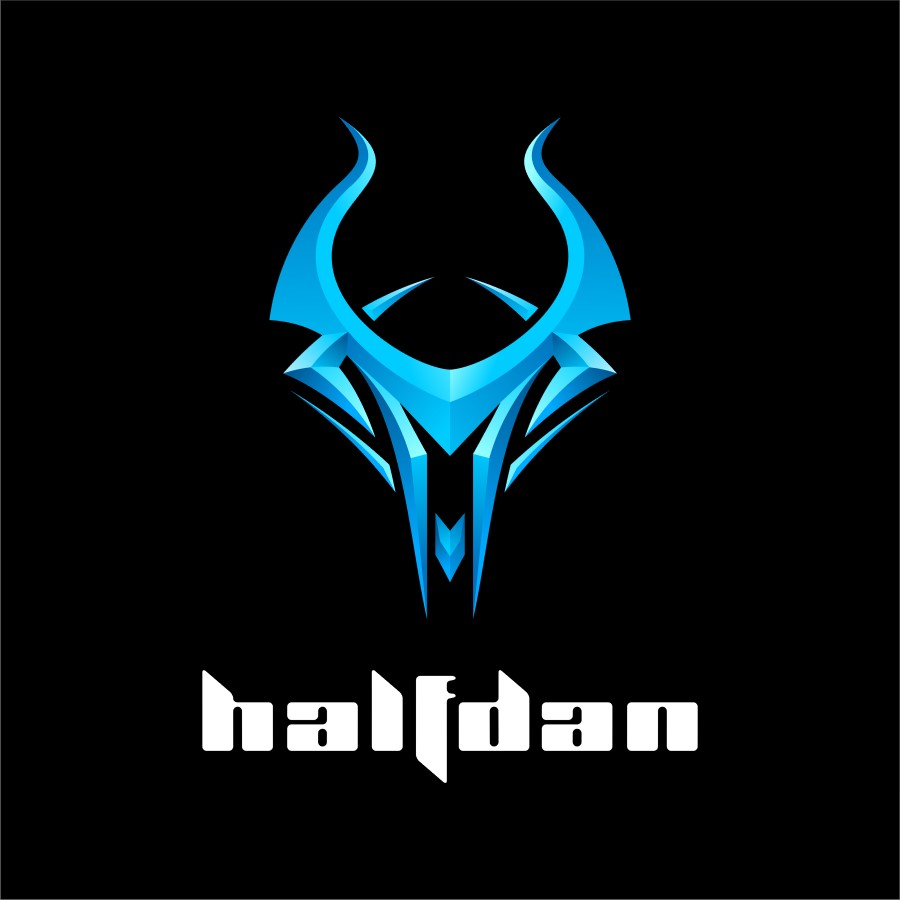 We thought all the designers did a great job.
Section 5: Tips for hiring a Twitch logo designer via Fiverr
If you're simply after quick-fire tips on hiring Twitch logo designers on Fiverr, here they are:
More expensive doesn't always mean better quality – just because you pay more doesn't mean the quality will be higher. Shop around, and you'll find some great logo designers at incredible price points.
Do a thorough search – take your time, have a good look through designers (there's going to be a lot!) but this searching time is worth it. Don't just pick the first designer you see. You can thank us later.
Talk to the designer before you put in the order – your Twitch logo is an important part of your brand you want to make sure the logo designer you're working with is a good fit. Message them before you order, discuss what you're looking for with your Twitch logo, and see if they can deliver on it.
Have examples of what you're looking for – be sure to provide plenty of examples for what you're looking for with your Twitch logo. Not for the designer to copy but so they get a good sense of what you want your logo to look and feel like
Add extras where needed – e.g. source files, commercial rights, more revisions, etc.
Get designers to create custom offers if you need – If you don't see everything you want in a Twitch logo design gig you can either look at the options in the gig extras or talk to the designer and see if they can create a custom offer for you based on your needs. Most will be open to doing this.
Make sure it's clear that you want unique designs – some designers will use templates, make it clear that you don't want this if you're looking for a completely unique design. Templates are useful for designers, but when it comes to a Twitch logo design, you want it to be completely bespoke.
So make it clear that you do not want any templates to form the basis of your logo design or copies of any other logo for that matter!
See if the designer provides concept drawings – some of the designers we worked with provided sketches of the logo before we committed to that design, some designs simply created the first version of the design without showing any sketches.
We'd always recommend working with designs that do provide sketches so you're not committed to a design.
Don't assume the logo designer will get 'creative' – some of the logo designers you work with will bring their own ideas and generate concepts for your logo design based on your initial request while others will simply do the bare minimum and not really bring fresh ideas.
It's hard to know what kind of designer you'll get but at least talking to them before, checking out their portfolio, and reviews will give you a good sense. You can also ask them if they're happy to get creative and create unique concepts for your logo design.
Make sure you have revisions included in your gig purchase – We've mentioned it before, but it's worth having as its own point. Make sure you have revisions included in your logo design package!! It's very unlikely the designer will nail the logo the first time, so be on the safe side and ensure you have revisions to utilize.
Don't be afraid to ask for revisions – If you have 2,3 or possibly unlimited revisions (which you should definitely make sure to get), don't be afraid to ask for them. It's not a criticism of the logo designer's skills, you've paid for a service and you should get what you want.
It can be hard to give feedback and ask for changes but do it. You want to be completely satisfied with what you paid for.
Section 6: Pros and Cons, and alternative options
There are pros and cons to most things in life, and Fiverr is no different.
Here's what we feel are the main pros and cons of working with logo designers on Fiverr:
Pros
You get access to talented and extremely affordable designers
Great support from Fiverr as a buyer (buyer protection)
Many different designers to choos from with a huge variety of styles
You can get designs created and sent over quickly
Some designers will go above and beyond on the project
You can usually add all the extras you need (e.g. source files, copyright, etc.)
Cons
Designers can be working on many other projects at the one time
Scammy sellers
You pay for what you get (cheap designs can deliver cheap results)
Some designers won't be all that creative or invested
Unlimited revisions doesn't always mean you will get unlimited revisions
Poor communication experience
Alternative Options
If Fiverr isn't a route you want to go down for your Twitch logo design, you have a few alternative options.
Logo Makers: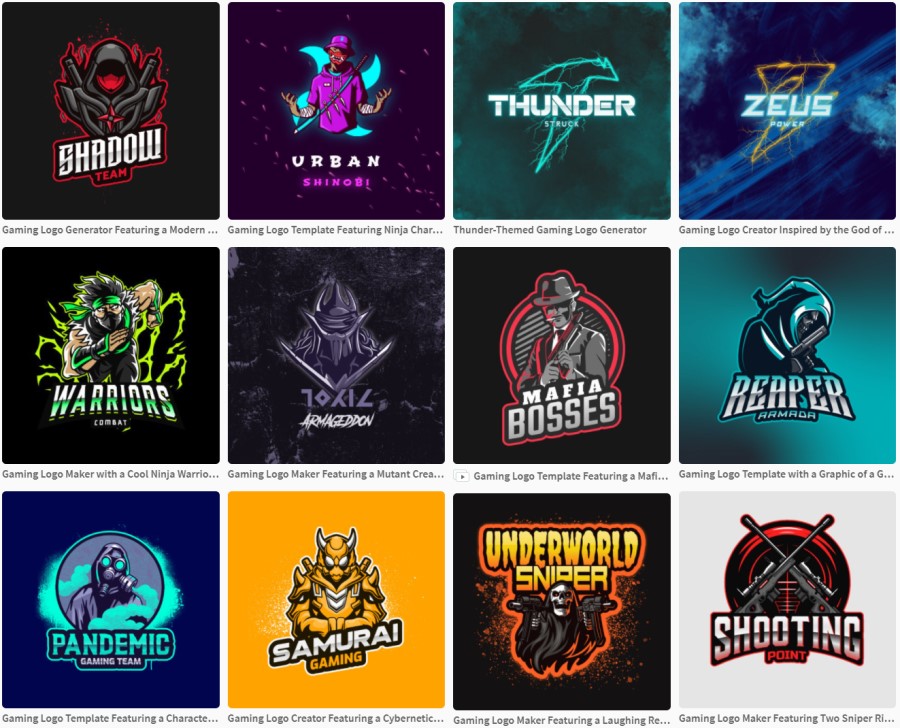 We've reviewed several logo makers, including gaming logo makers and there are quite a few good options out there. Particularly if you're looking for a mascot-style logo.
You won't get the most bespoke design or have full control over the logo customization but it's an affordable option that allows you to create some good Twitch logo designs.
Design contest websites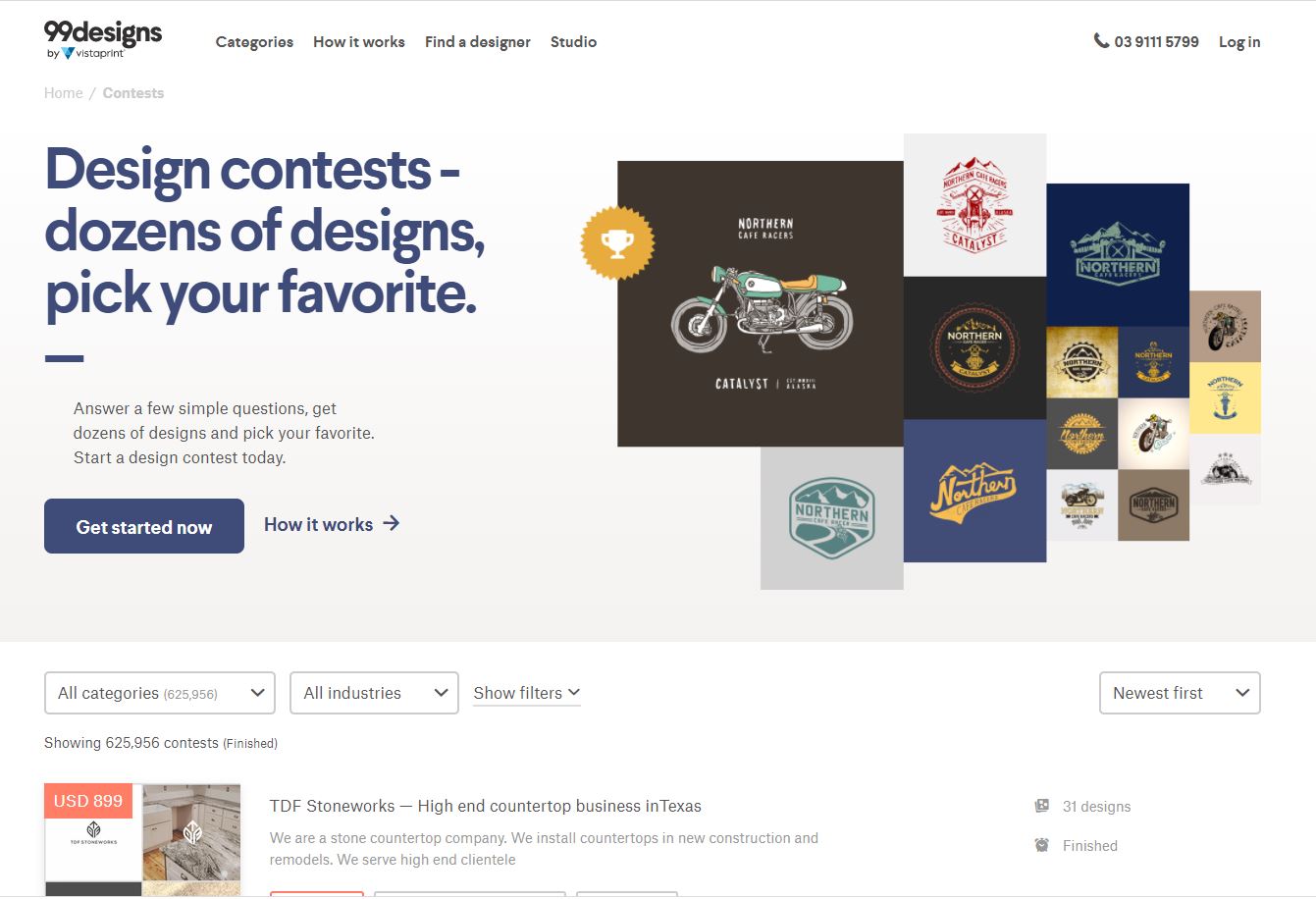 There are design contest websites such as 99Designs and DesignCrowd where you can create a design competition.
You simply outline the requirements and the prize and a whole host of designers will submit designs to the competition.
All you have to do then is pick your favorite.
Work with Twich niche-specialists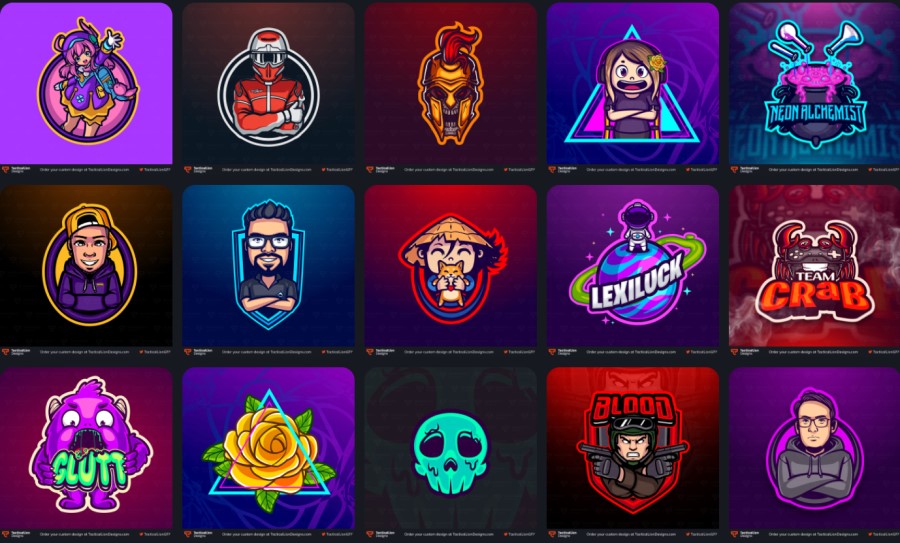 You could also work with Twitch design specialists and companies. These will likely be a bit more expensive than your average Fiverr designer.
However, you pay for what you get and the experience these companies and designers have with working with Twitch streamers and the platform means you'll more than likely get some incredible designs for your brand.
Some great examples are Visuals By Impulse and Tactical Lion Designs.
Do it yourself
If you have the design skills or the will to learn them you could create your own Twitch logo using graphic design software such as Adobe Photoshop or Illustrator!
Section 7: How we found it and do we recommend it?
We really enjoyed using Fiverr to get our Twitch logos designed, and we're happy with the end results.
No option when it comes to getting designs made for your brand is going to be 100% perfect but we spent a good amount of time selecting the designers we wanted to work with which we think resulted in a smooth and successful experience.
If you have a modest budget but still want high-quality bespoke logo designs you should definitely give Fiverr a shot.
For those of you who can spend a little bit more, you can certainly find great designers to work with on Fiverr or potentially using a niche-specialist company or designer as we mentioned in the previous section.
Final thoughts
So there you have it, that's our experience and advice with working with Twitch logo designers on Fiverr. We hope this helps you out!
If you want to get a fantastic logo for your brand we'd recommend checking out the logo designers on Fiverr. There's plenty of talent there.
Let us know your thoughts, we'd love to hear about your experience with getting your Twitch logo designed via Fiverr!