You've likely heard of Wix before. It's one the the most popular online website builders with over 4,000,000 live sites being created through their platform.
It's a popular choice with people looking to create a website of their own without needing any web design experience as the platform's drag and drop interface makes it incredibly easy.
Wix also has their very own AI-powered logo maker, so we thought we'd give it a try to see if it could deliver the same quality as their website builder.
Read on to see if Wix's logo maker is worth your time.
---
Jump to a specific section:
---
Section 1: Overview
Wix has a whole bunch of web-related products including their website builder, video maker, social graphic creator, and of course their logo maker.
All of their products are interconnected but can also be used on their own.
If you check out Wix's logo maker and decide you'd rather get someone else to do it for you, you can hire freelancers via their marketplace. If you go down that route we'd recommend considering hiring a logo designer from Fiverr too.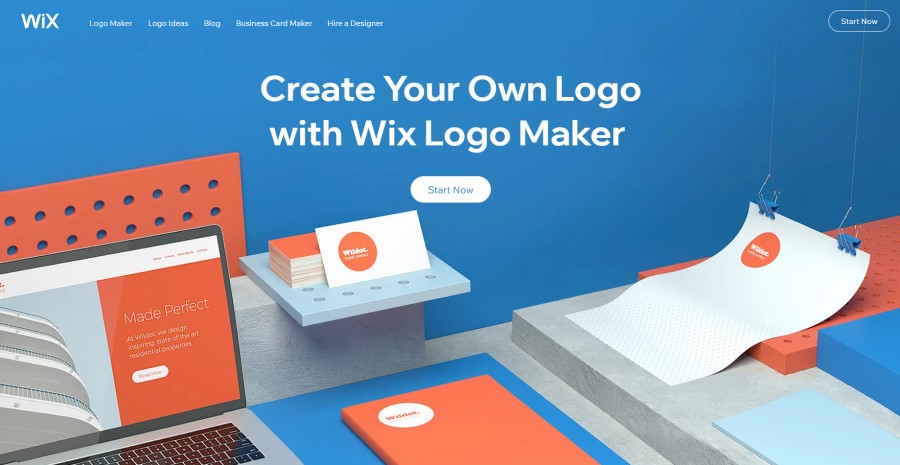 Section 2: Review
To review the tool we set ourselves the task of creating a couple of logo designs that we'd be happy to use as our brand logo.
The theme we had in mind for our logo designs was something that represents a hub, connected community, and simple (no fluff). You can see our final logo designs a bit later on.
We also looked at a few different areas:
Let's dive right in.
2.1 Logo setup process
Step 1:
Once you've clicked on the 'Start Now' button the first thing you need to do is to choose whether you want to hire a professional designer to create your logo or make the logo yourself.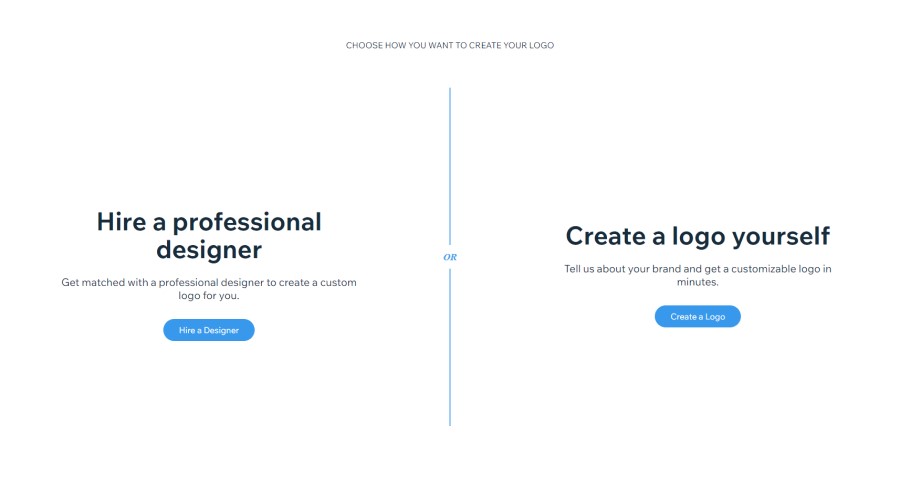 Obviously, if you want to use Wix's logo maker you'll need to select the 'Create a logo yourself' option.
You then simply need to follow the steps that Wix gives you, the first one being to enter your brand name and a tagline if you want to add one: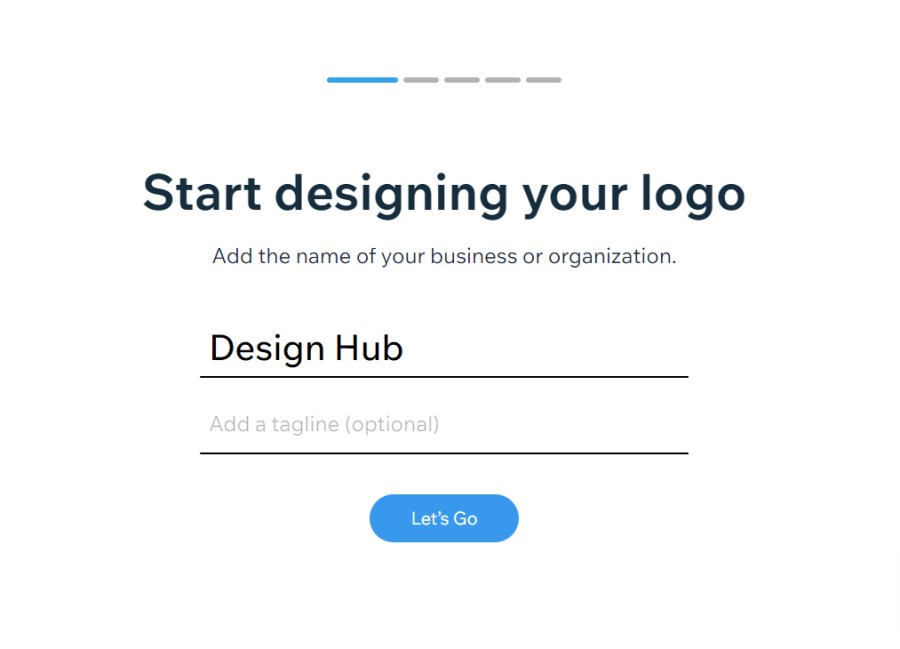 Step 2:
Next up is to let Wix know what your logo is for (you can skip this part if you don't want to add that information):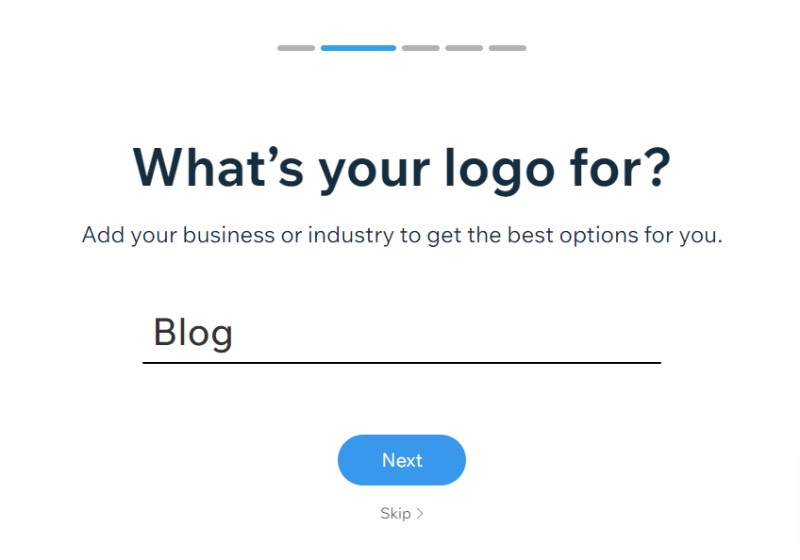 Step 3:
In step 3 you tell Wix how you want your logo to look and feel, you can select as many options as you want.
You can also skip this step too but we'd recommend doing to get some logo suggestions are somewhat close to what you had in mind: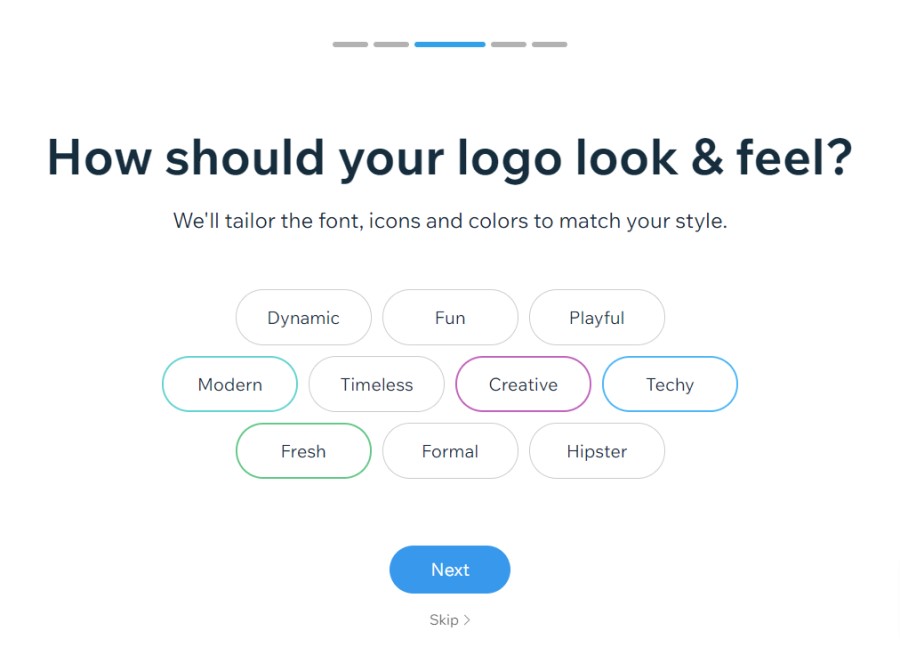 Step 4:
Next up you choose between several pairs of logo designs to give the Wix AI more information on the kind of logo design you like: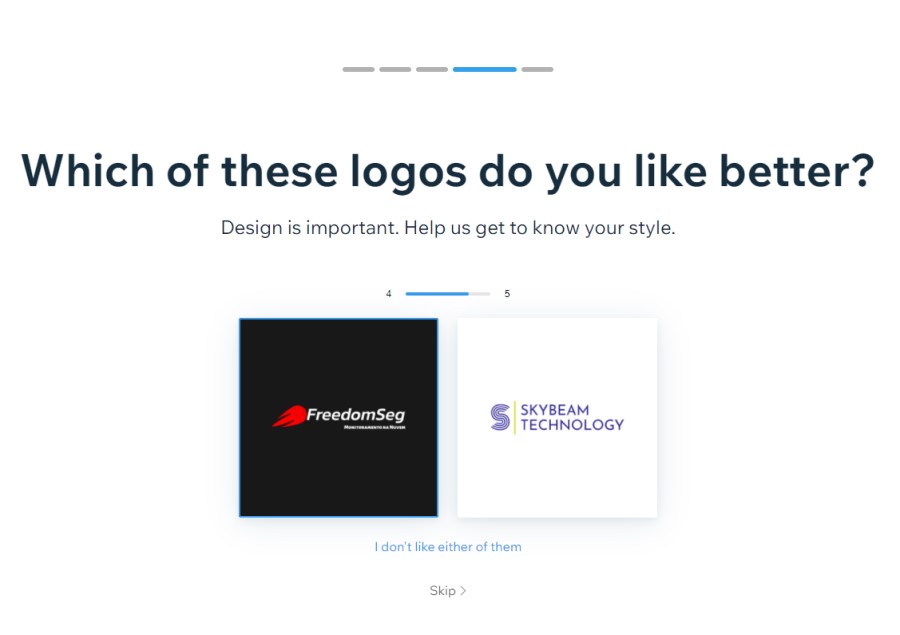 Step 5:
The last step is to tell Wix where you plan to use your logo. Again, you can select as many of the options as you want: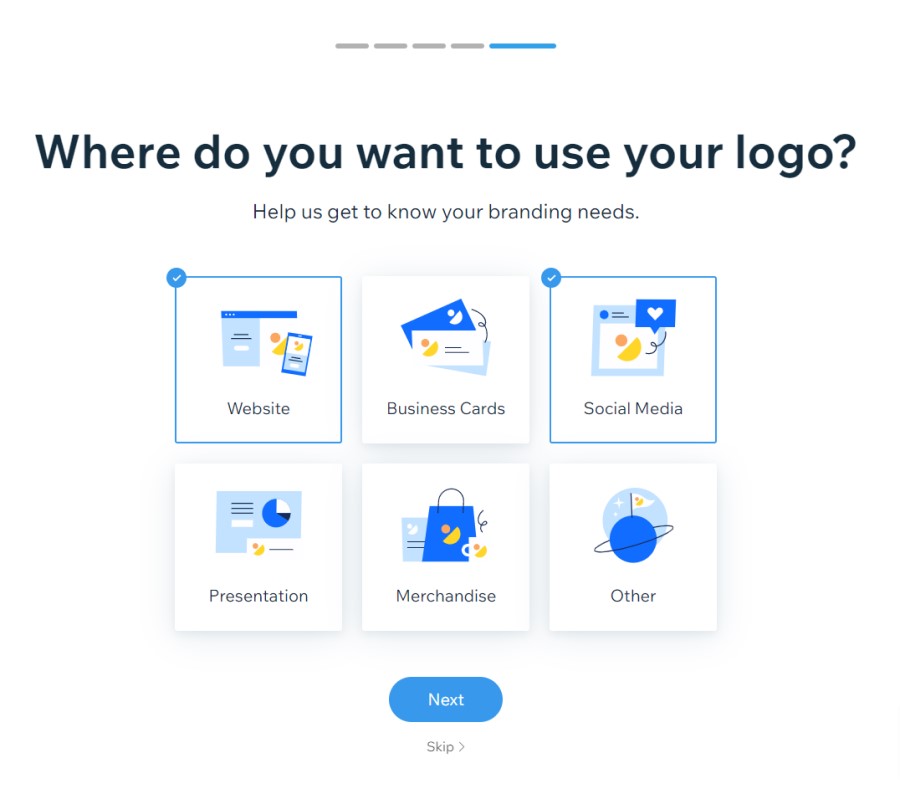 With those steps completed you'll be presentd with some logo designs.
You can now choose a logo design that you like and begin to customize it. You can keep scrolling down and loading more designs until you find your favorite: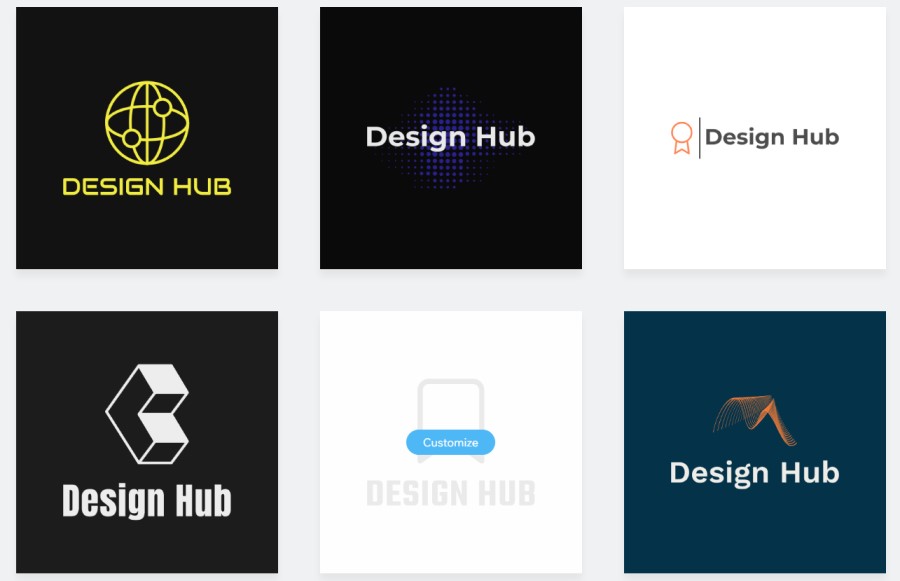 2.2 Logo design quality
When we saw the initial designs that Wix suggested we weren't all that impressed. They were quite a mixed bag of basic text-based designs or logo designs that design elements that resembled clipart.
However, when we went into the logo editor we were able to see Wix's full icon and graphic library, and we found some good quality design elements to use in our logo.
Here are some of the best logos that we got in our initial logo design results that Wix suggested to us: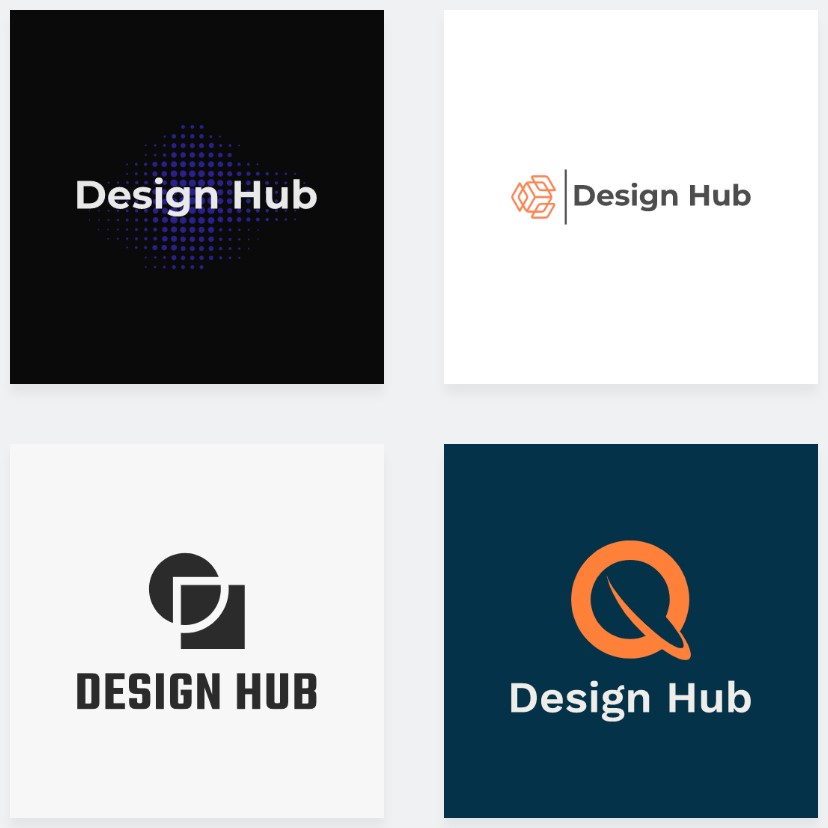 And here are some of the higher quality (in our opinion) design elements in Wix's icon/graphic library: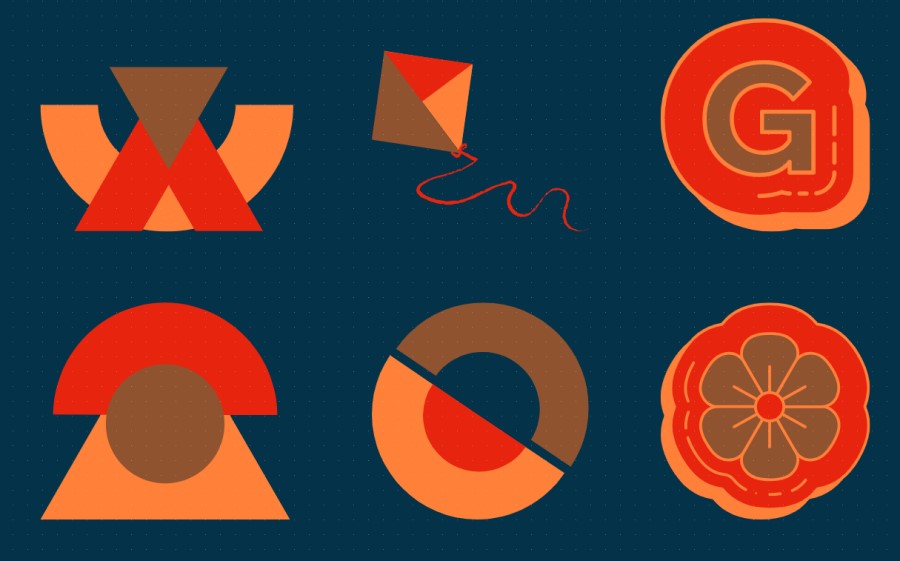 They're not the most insanely well-designed graphics but there are some good quality options that allow you to create an attractive logo.
Overall, the logo design quality is okay. If you're looking for intricate logo designs then you're better off looking at other logo makers such as Canva or Placeit.
Or even better, hire a freelancer on Fiverr to create one for you. We did just that, you can read our Fiverr logo design review for more details.
However, if you're after a basic, minimal logo then you're likely to find a few designs that have the look and feel that you're after with Wix's logo maker.
2.3 Logo Customization
When you click on a logo that you want to customize you'll be taken to the editor area: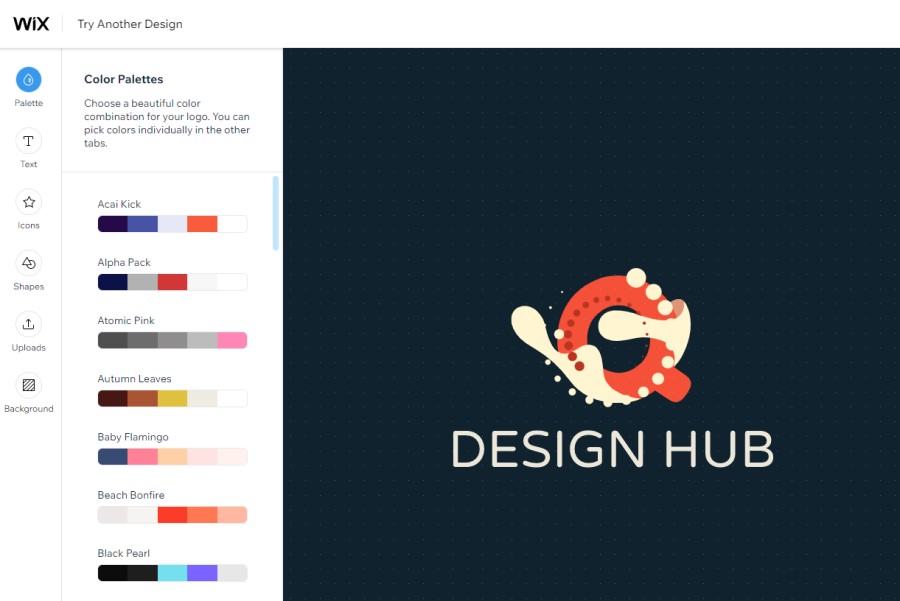 From here you can go through the customization options on the left side of the editor.
The customization options include the following:
Color Palette Presets:
You can easily select from a range of color palette presets for you which is useful if you don't know exactly what colors you want to use in your logo or you're curious to get a sense of some good color combinations.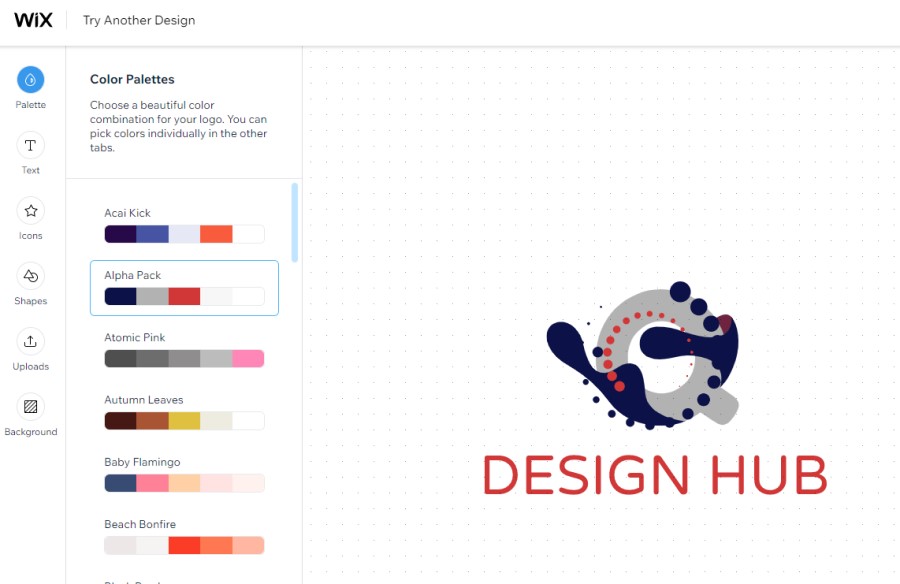 Text options:
You can easily add extra text elements to your logo, and when it comes to customizing the text things are very straightforward.
You can do typical text customizations including changing the text content, font, color, and size.
You can also easily change the alignment, add text outlines, curve the text, add shadow, and even blur. So there are plenty of customization options for text elements.
The font options are quite good too, so if you've already picked your brand name you're likely to find a few that have the look and feel that you're after: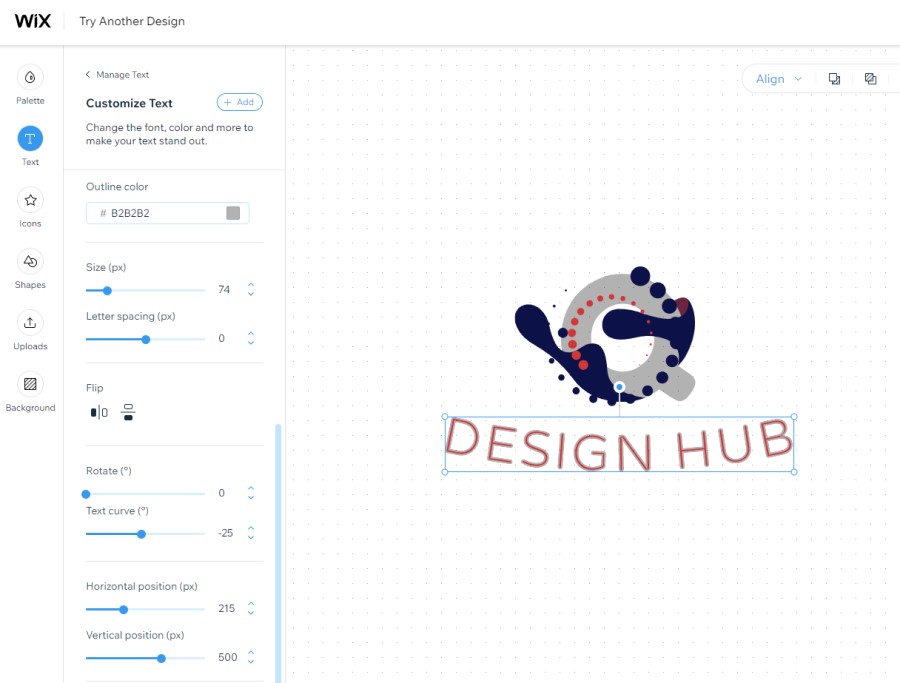 Icons:
When we saw the initial logo designs generated by Wix's logo maker we weren't all that impressed but, as mentioned, when you get a closer look at the icon (graphic) library there are some good quality elements.
You can easily delete the main icon for your logo and add a new one. When you go to add a new icon you can either search for one with a keyword (e.g. 'Circle') or you can choose one of their preset icon categories such as 'trendy' and 'Abstract':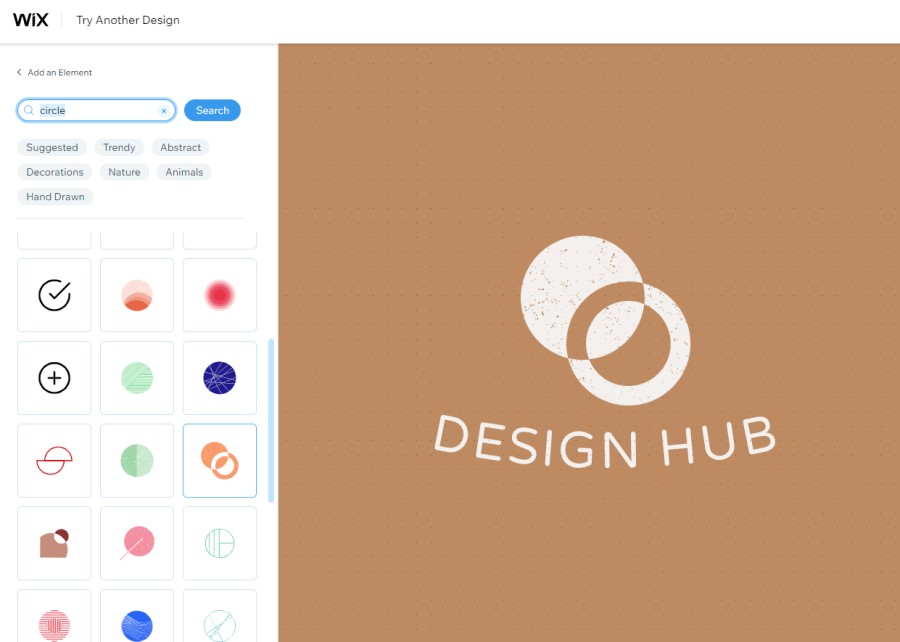 When it comes to customizing the icons, the options are similar to the text. You can change the colors, opacity, rotation, size, add shadow, blur, etc.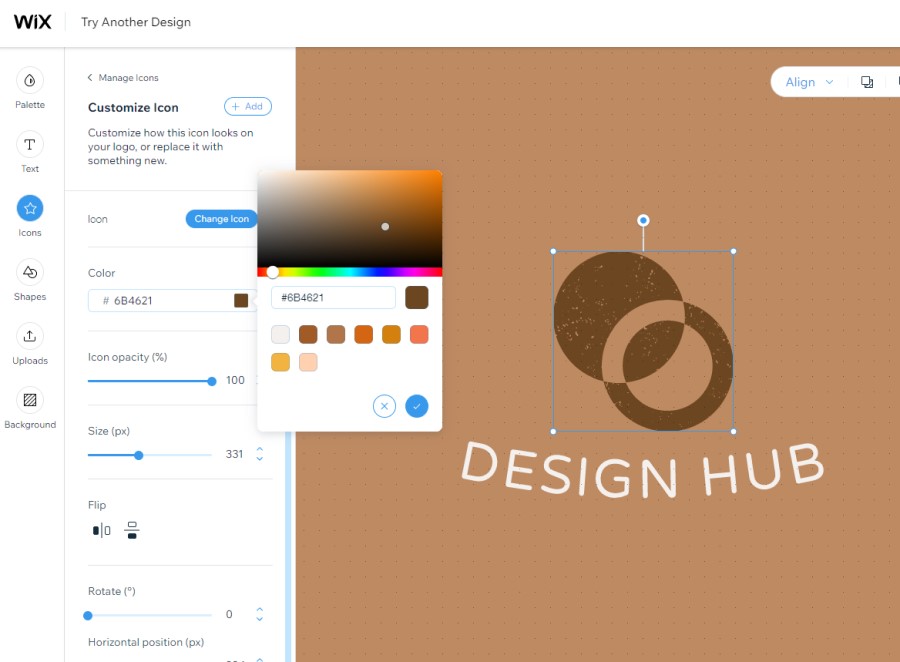 Shapes:
You can also add shapes to your design, a circle or a square. These have all the common customization options – size, color, rotation, etc.: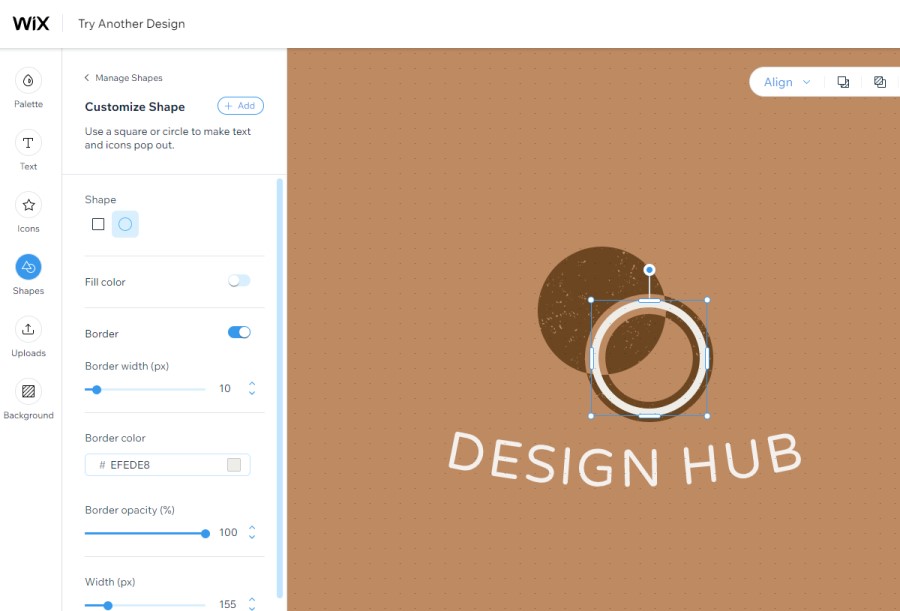 Other design elements:
Wix gives you the option to upload your own files to your design if you want, and you can also change the background color of your logo very easily: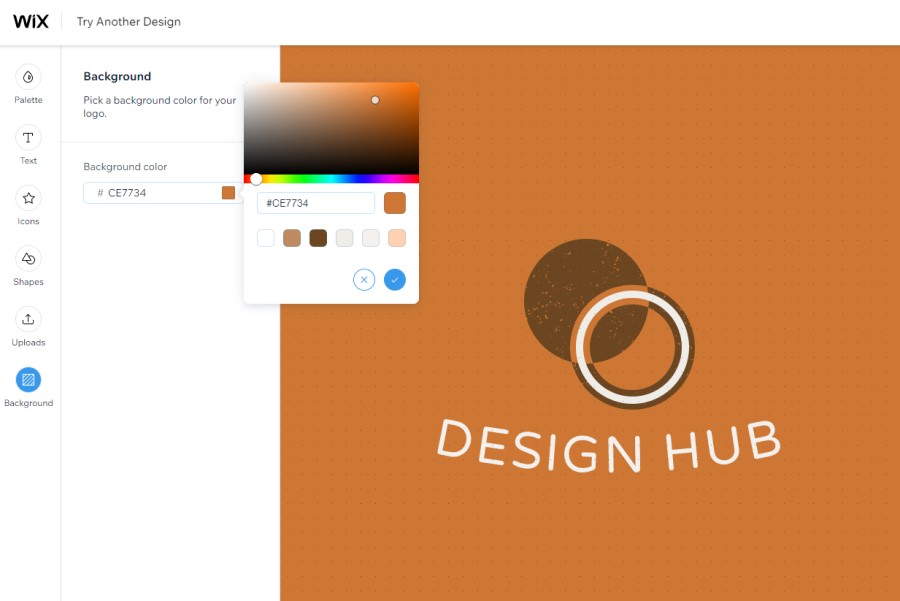 Using the canvas:
When it comes to moving around elements of the design, you can easily select whatever element you want to move and drag it around with your mouse.
Wix also makes it easy for your change the order of the design element (e.g. move one element over another), and you can also duplicate elements with one click too.
Duplicating design elements allows you to create more intricate designs, which is something we did for our logo designs (which you can see further down the article):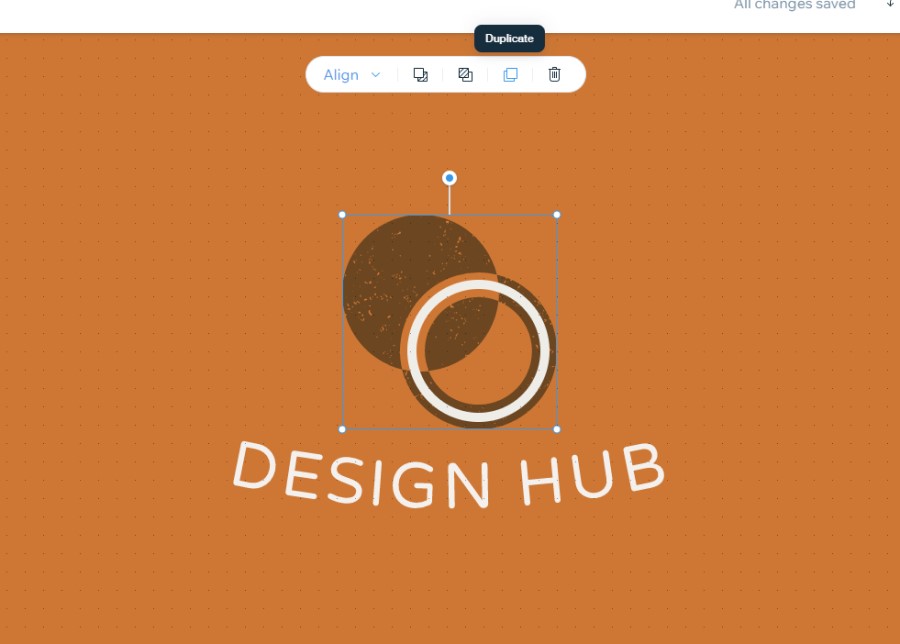 What we like about the logo customization
As mentioned previously, we weren't a huge fan of the initial logo designs that Wix presented us based on our answers to the setup steps.
However, when you get into the editor and access the full icon library there is some good stuff to choose from. Here's what else we like about the editor and the customization options:
Duplicating Items: Being able to duplicated items (and text elements) allows you to create more intricate and unique designs, and it's all very easy to do
Color palette presets: Being able to quickly see your logo in different color presets that work well together is a really useful feature, especially if you still haven't nailed down your brand colors.
Icon library: The icon (graphic) library has some really good choices and it's easy to search and find some options that match what you're after for your logo
Upload your own elements: Not all logo makers allow you to upload your own files and graphics so this is a nice feature
Easy of use: The editor is really smooth to use, you can easily move design elements around, align them, and modify them in simple ways.
What Wix's logo customization lacks
In our opinion, there a couple of areas where Wix's logo maker falls short when it comes to logo customization:
Fonts: The range of fonts is decent but not massive. You're likely to find most of these fonts on other logo makers so it would be good if Wix added some unique fonts. You also can't upload your own.
Icons (graphics): There are some good icon options but not too many amazing or unique ones. This is fine if you're after a simple logo but not if you're after some more intricate and unique designs.
Shapes: You can only choose from a square or a circle so it would good if Wix added more shape options to their logo maker
2.4 Additional features and options
When you go finalize the purchase of your logo, you'll get the chance to purchase a website package along with your new logo. Wix usually offers a discounted price to incentivize you to purchase the full packages.
You'll be able to see how your logo looks on a Wix store, basic website, and coming soon page: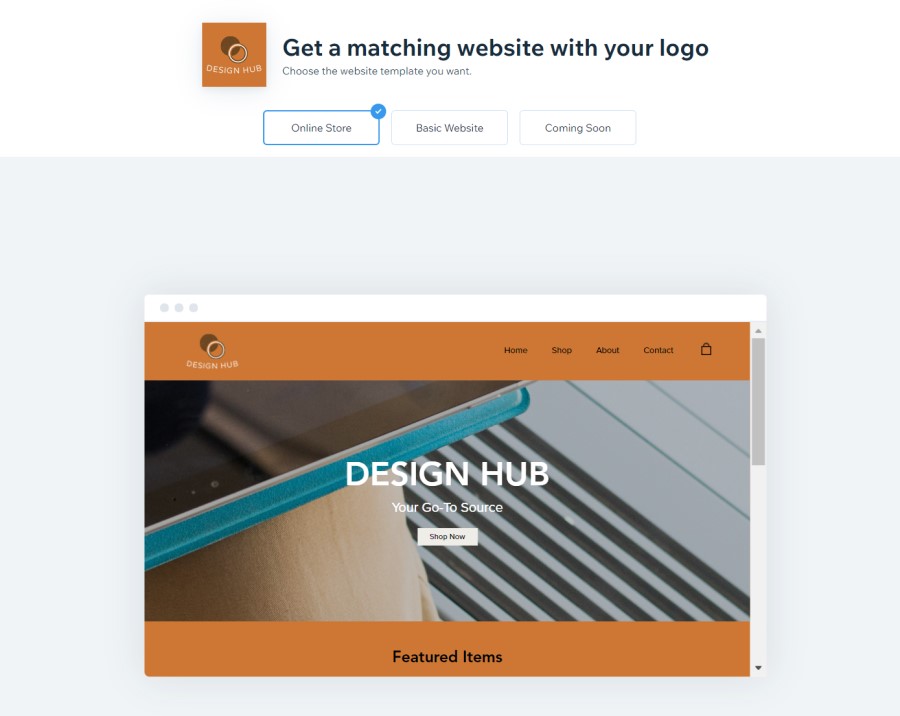 2.5 Customer Support
If you need any customer support there are a couple of areas you can go to:
Support Desk – If you have any issues or questions regarding the logo purchase you can submit a ticket through Wix's support desk
FAQs – Wix also has a fairly substantial FAQ section which you can easily access: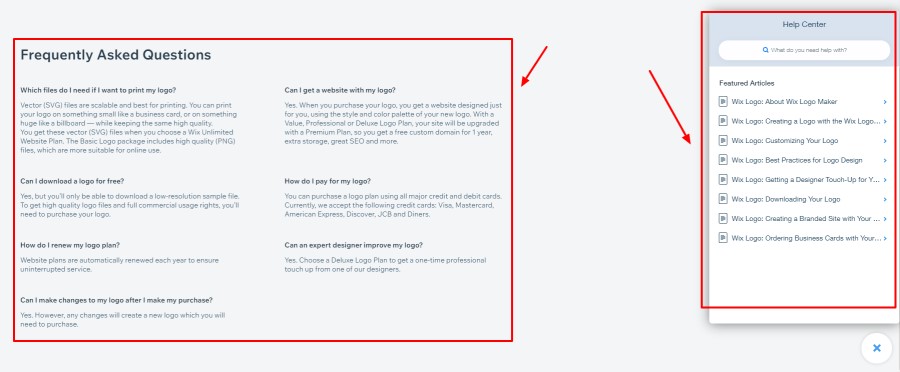 2.6 Our Verdict (& final logo designs)
After reviewing Wix's logo maker we feel that it's a good option, particularly if you're after a fairly simple logo design. If you're after something a bit more intricate we recommend looking at other logo makers or finding a logo designer on Fiverr.
The initial logo designs we were presented with weren't all good (or even relevant) but we found some good icons/graphics in the editor.
It's incredibly easy to use so anyone who uses it should be able to create a logo they're happy with.
We did manage to create some good looking logos with Wix's logo maker which you can see below: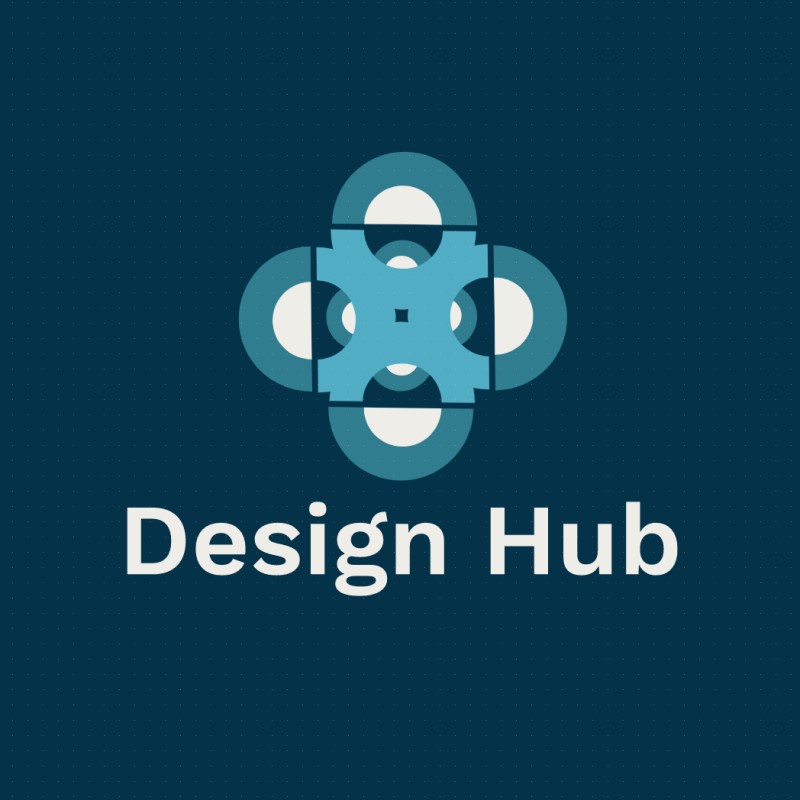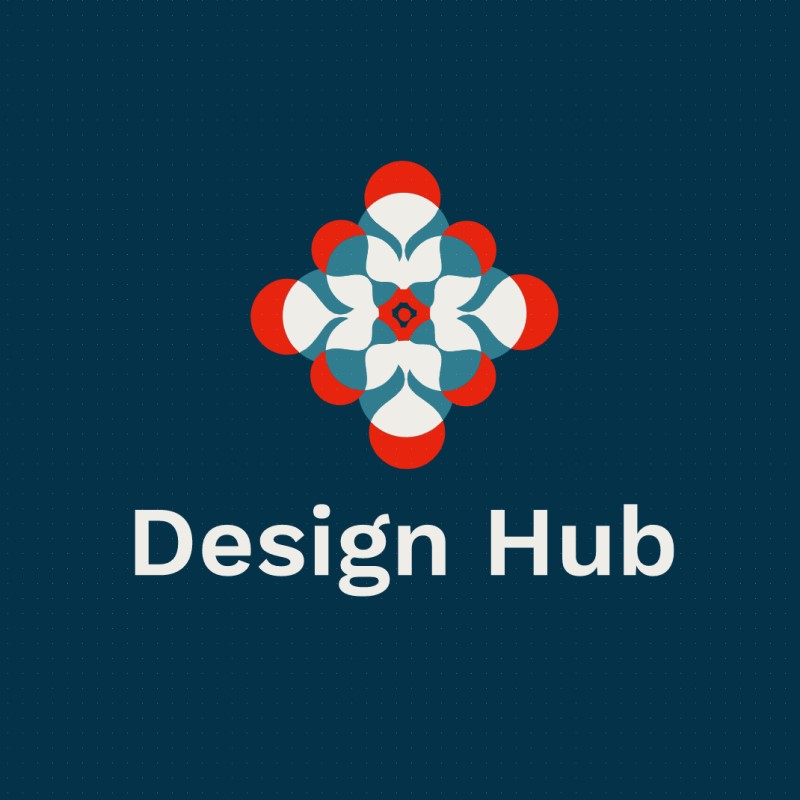 Section 3: Pricing
When it comes to buying the logo design you have two options, you can either get the 'Advanced' package ($55) or the 'Basic' package ($22).
If you plan to make further modifications to your logo you'll need to get the Advanced package which gives the resizable logo files.
You can also download a free sample of your logo which gives a version that is 198×198 px.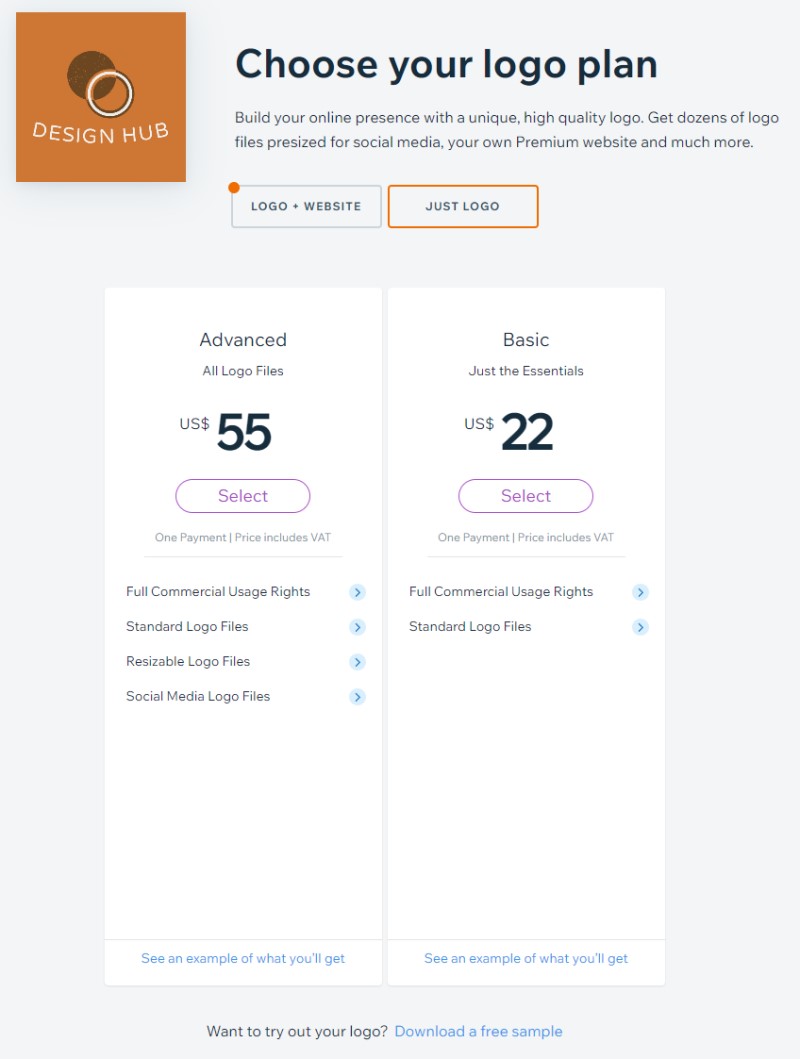 Alternatively, you can signup to get a Wix website and logo combination. These packages are all only available with a monthly subscription: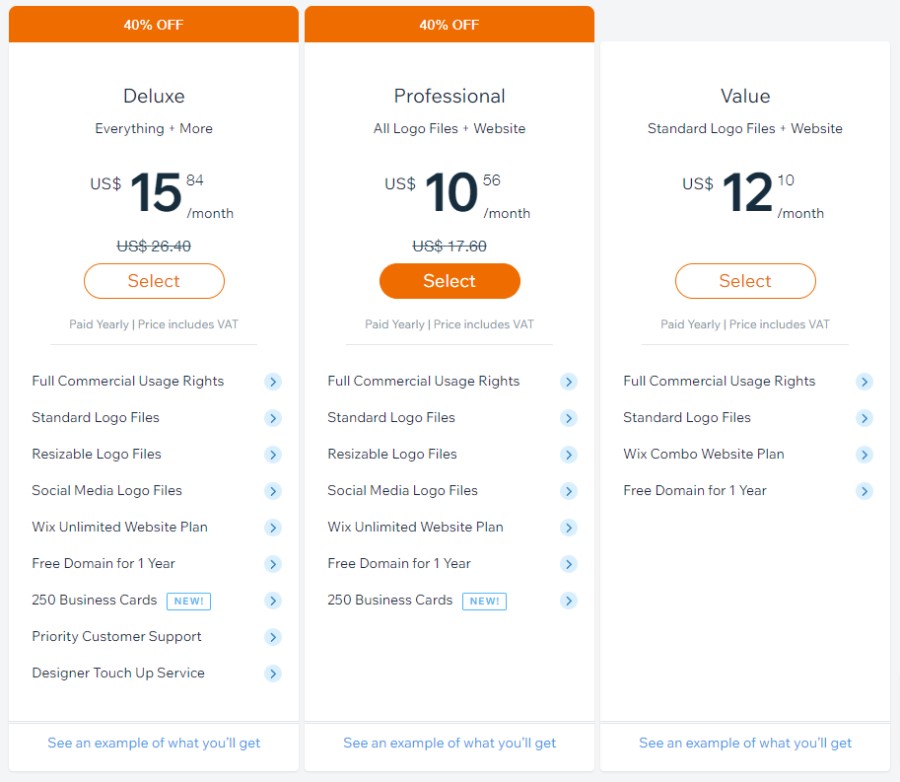 Section 4: Licensing
With any logo you create with Wix's logo maker you get full commercial usage rights so you're free to use them on any platform you see fit.
This is the case with both packages:

Section 5: What else can you do with Wix?
As mentioned you can easily build your very own website using Wix's drag and drop website builder.
They have a great range of pre-built websites that you can take advantage of too and a bunch of additional features for website owners including online booking functionality, analytics and reports, and more.
They also offer the following:
EditorX – An advanced website builder
Ascend (tools to create emails, Facebook ads, videos, and social posts)
Section 6: Alternative logo makers
We've reviewed lots of logo makers and based on the logo design quality and we think Wix's logo maker is a fairly solid choice but isn't quite as good as a few other options in the market.
At the moment there are a couple of other logo makers that we think offer a bit more. When it comes to customization options it hard to look past Canva's logo maker. For logo design quality and variety, we'd recommend you check out Placeit.
There are a few other logo makers that worth checking out too, including:
And as mentioned, check out the logo designers on Fiverr, there's plenty of talent there!
Final thoughts
Wix is a great company and their logo maker is pretty good too.
However, if you want to get a fantastic logo for your brand we'd recommend checking out some other logo makers or logo designers on Fiverr. We did it and we were delighted with the results.
So, what's your opinion of Wix's logo maker? What was your experience with it like?
Let us know what you think, we'd love to hear about your experience with the Wix logo maker!