Placeit and Renderforest are both quality online design tools and video makers. But which one is better?
Below we've covered the top level differences between Placeit and Renderforest to help you make an informed decision on which tool is best for you.
Let's dive into it.
---
Jump to a specific section:
---
Overview
Here's a top level comparison of the two products:
Placeit
Renderforest
Pricing (Monthly)
$14.95 /month USD
$14.99 or $29.99 /month USD
Pricing (Annual)
$89.69 /year USD
$119.88 or 239.88
/year USD
Pro plan free trial
No
No
Beginner friendly
Yes
Yes
Free templates
130+
13,000+ (low res.)
Templates
100,000+
14,000+
Free storage
Unlimited
500MB
Paid storage
Unlimited
30GB
Video & animation
Yes
Yes
Background remover
No
No
Quick design resize
No
No
Integrations
N/A
N/A
Social scheduling
No
No
Publish to social
Yes
No
Team collaboration
No
Yes
Custom support
Yes
Yes
Help guides & tutorials
Yes
Yes
Mobile app
N/A
iOS & Android
Go to Placeit
Go to Renderforest
Which is the best tool?
We'll update this article with a full breakdown and comparison of the different areas of each tool, but for now based on several factors including overall value for money, ease of use, template library size and variety, and few others we would say that these two tools are fairly evenly matched at the moment.
However, as an overall online design software we'd recommend Placeit. This is due to their superior template volume in most categories, in particular it's a better logo maker and mockup generator, plus Placeit offers more designs and videos for social media (although there are some superior Placeit alternatives for social media designs too).
That being said, if you're looking for the better option when it comes to video creation we'd recommend Renderforest – even though Placeit have more video templates, Renderforest has a fantastic toolkit for creating videos.
We also ranked them as number number one in our article the best YouTube intro makers.
For online video creation there are plenty of quality Renderforest alternatives so be sure to check out that article to see what other online video makers that are similar to Renderforest.
What are Placeit and Renderforest?
Placeit and Renderforest are both online graphic design tools that allow you to create awesome designs and videos with ease.
Even if you're a total newbie when it comes to using design tools you'll be be able to jump on either of these tools and get creating straight away, they're extremely easy to use and beginner friendly.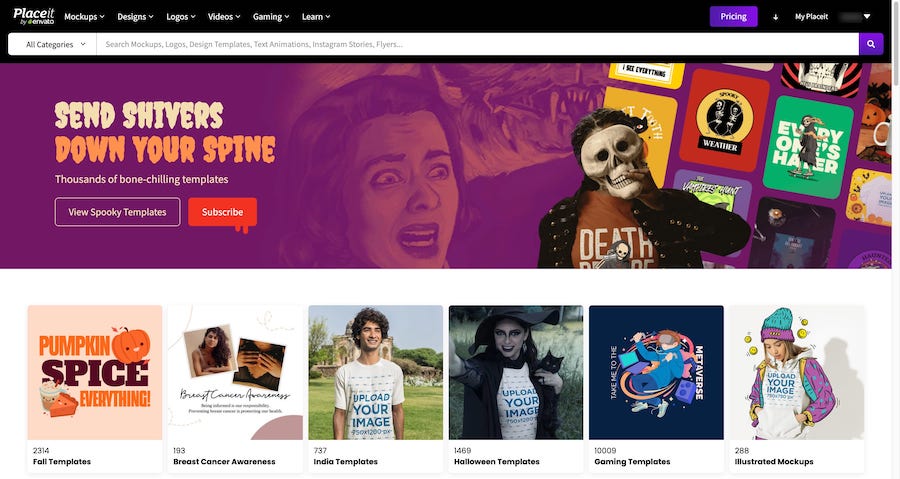 As mentioned previously, both tools have a good-sized library of pre-designed templates (Placeit's is a bit bigger in most categories) that you can use as the starting point for your designs. In a matter of clicks you can alter the layouts, colors, text, and more of the templates to make them your own.
These templates cover various categories such as mockups, videos, social media content, YouTube banners, and much more.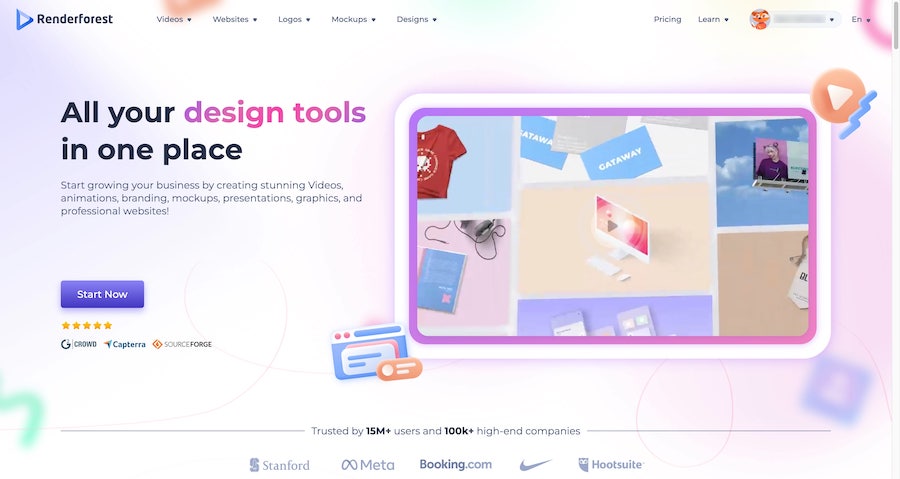 Templates
Here are some of the main template categories available on both tools:
| | Placeit | Renderforest |
| --- | --- | --- |
| Mockups | 43,000+ | 2,800+ |
| Video mockups | 1,800+ | 0 |
| Logos | 17,000+ | 4,000+ |
| Animated logos | 1,200+ | 0 |
| Intros/Outros | 1,000+ | 550+ |
| YouTube templates | 2,800+ | 1,100+ |
| Twitch templates | 4,000+ | 0 |
| Twitter templates | 500+ | 0 |
| Facebook templates | 8,000+ | 1,500+ |
| Instagram templates | 13,000+ | 2,500+ |
| Pinterest templates | 350+ | 0 |
| Video templates | 6,700+ | 900+ |
| Website themes | 0 | 140+ |
| Flyers & posters | 1,400+ | 220+ |
| Business cards | 600+ | 40+ |
| Book covers | 250+ | 130+ |
| Presentations | 0 | 1,000+ |
Placeit and Renderforest both offer a good amount of templates in some similar categories. However, as you can see Placeit has a few more templates in most categories.
Placeit also has some template categories that aren't covered on Renderforest, and Renderforest has a few that aren't available on Placeit as well:
Templates unique to Placeit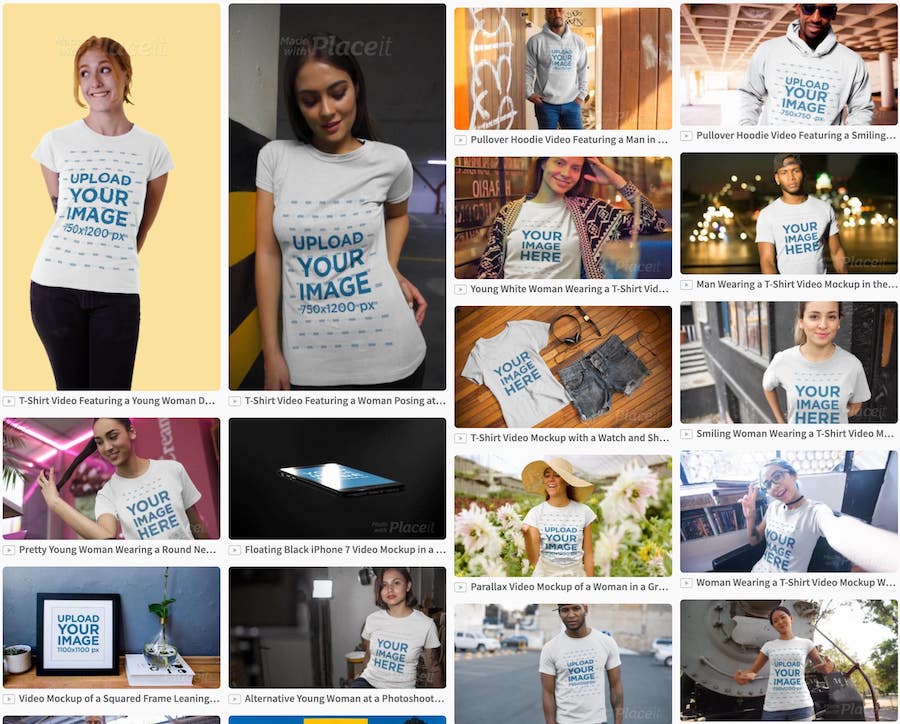 Here are a few examples of template options unique to Placeit:
Twitch templates – overlays, panels, emotes, etc.
Pinterest templates
LinkedIn templates
Twitter templates
Video mockups
Animated logos
Album covers
T-shirt designs
Podcast covers
And many others!
Templates unique to Renderforest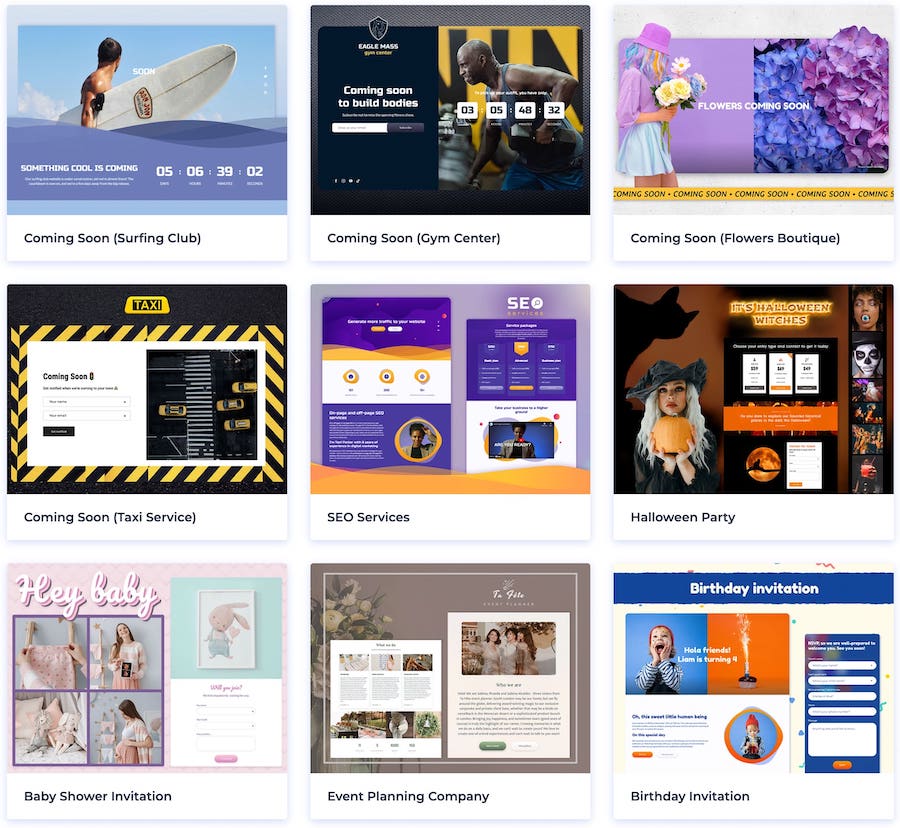 These are the templates categories covered on Renderforest that aren't currently available on Placeit:
Presentations
Website templates
Music visualizations
Animated explainer videos
Wrapping things up.
This article will be expanded into a full review of how Renderforest and Placeit compare, so stay tuned for that.
In the meantime, we hope this comparison article helped you!
If you're looking to create mockups, logos, or social media content we'd probably recommend Placeit before Renderforest. However, if you're looking to create awesome videos or a simple website then we'd recommend using Renderforest.
Why not try both out for yourself to see which one suits your needs.
Good luck creating! Also, let us know in the comments which tool you prefer and why!