Deciding on whether to use Placeit or Vexels? Or simply curious about the differences between the sites?
Placeit and Vexels are two popular online design resources, particularly for people in the print on demand space.
Below we've covered the top level differences between Placeit and Vexels to help you make an informed decision on which tool is best for you.
Let's dive into it.
---
Jump to a specific section:
---
Overview
Here's a top level comparison of the two products:
| | Placeit | Vexels |
| --- | --- | --- |
| Pricing (Monthly) | $14.95 /month USD | $29 – $99 /month USD |
| Pricing (Annual) | $89.69 /year USD | $261 – $891 /year USD |
| Pro plan free trial | No | No |
| Beginner friendly | Yes | Yes |
| Free templates | 130+ | No |
| Templates | 100,000+ | 150,000+ |
| Commercial license | Yes | Yes |
| Video & animation | Yes | No |
| Logo maker | Yes | Yes |
| Mockup generator | Yes | Yes |
| T-shirt maker | Yes | Yes |
| Custom design requests | No | Yes |
| Customer support | Yes | Yes |
| Help guides & tutorials | Yes | Yes |
| Mobile app | N/A | N/A |
| | Go to Placeit | Go to Vexels |
Which is the best tool?
We'll update this article with a full breakdown and comparison of the various aspects of the two online design resources.
For now, based on several factors such as value for money, ease of use, template library size and variety, and a couple of others we would say that both tools are equally as valuable but for different reasons.
If you're looking for a browser-based tool that allows you to create mockups, promotional material, and a whole range of designs with total ease then we'd probably recommend Placeit.
However, if you're a print on demand seller only looking for quality merch designs, KDP designs, and a solid range of mockups to help you promote them then we'd say Vexels just takes it.
In an ideal world, we'd recommend getting access to both tools as that would give you an almost unlimited amount of merch designs, KDP assets, mockups, and promotional materials.
There aren't too many Placeit alternatives that can rival their online mockup range. Vexels does have a good range of mockups to but it's their design template range that sets them apart from other Vexels alternatives.
What are Placeit and Vexels?
Placeit is an online graphic design software that allows users to create mockups, designs, and videos without needing any designs skills or expensive software.
Everything can be done within your browser, and you get an unlimited amount of downloads with their paid subsctions (monthly and annual).
Placeit's biggest templates category is their mockup range, which includes video mockups. They also offer social media designs, templates for YouTubers and streamers, logo templates, plus merch designs that print on demand sellers can utlize.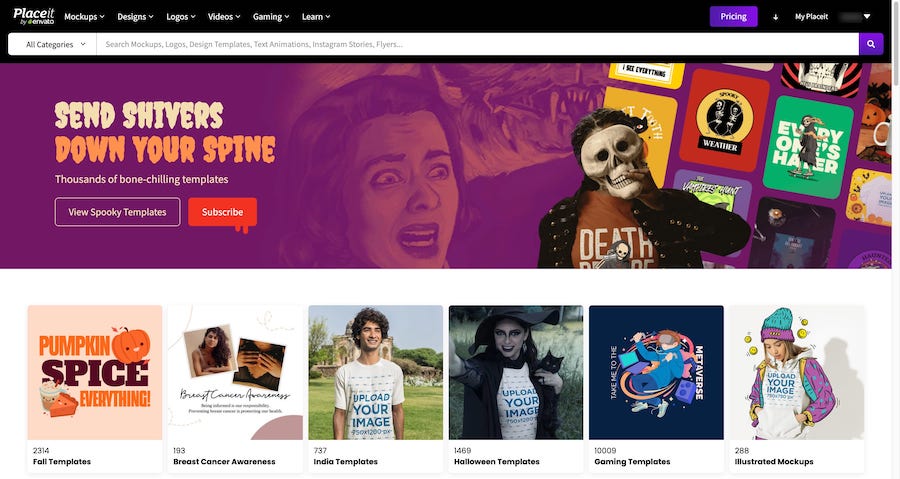 Vexels is a design platform mainly utlized by print on demand sellers. They have a range of online designs tools including a mockup generator, t-shirt design maker, and logo maker.
However, the bulk of their templates come in vector and PSD format including thousands of mockups, merch designs (e.g. t-shirts, mugs, phone cases, etc.), and KDP designs (Book covers, planners, posters, etc.).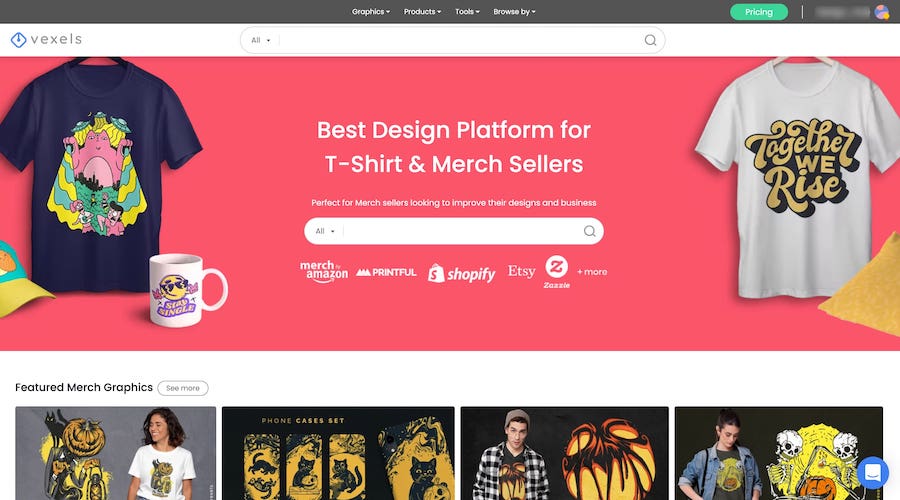 The online tools that both Placeit and Vexels offer are very beginner-friendly and for the most part, the downloadable templates (PSDs, vectors) from Vexels require very little customization too.
However it is beneficial if you have some knowledge of professional design software when editing those templates.
Templates
Here are some of the main template categories available on both tools:
As you can see Placeit and Vexels offer a similar number of templates in specific categories. There are some template categories available on each tool that isn't n the other and we list some of these below:
Templates unique to Placeit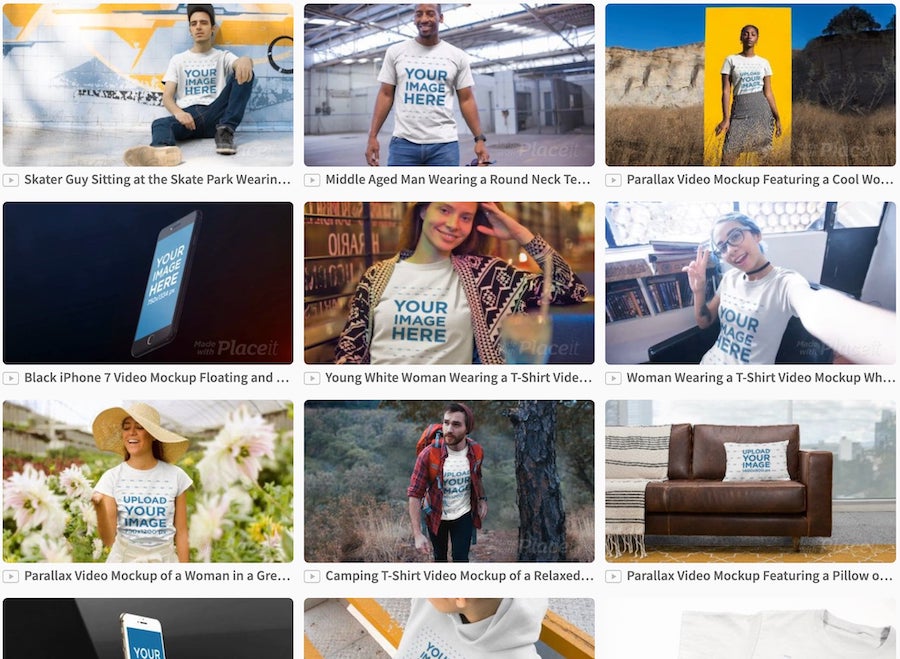 Here are a few examples of template options unique to Placeit:
Video mockups
Logo templates
Animated logos
Album covers
Twitch overlays, panels, emotes
Video templates (Intros, promos, etc.)
Social media templates
Instagram highlights
Magazine covers
Podcast covers
And many others!
Templates unique to Vexels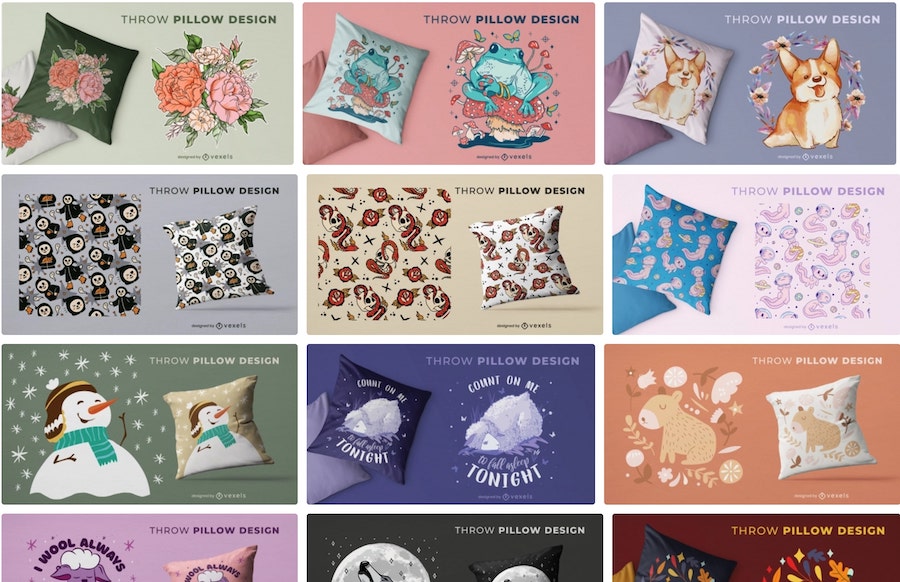 These are the templates categories covered on Vexels that aren't currently available on Placeit:
Pillow designs
Coloring book templates
Journal templates
Kids tracing templates
Tracker templates
Presentation slides
A few other designs
Wrapping things up.
This article will be expanded into a full review of how Vexels and Placeit compare, so stay tuned for that.
In the meantime, we hope this comparison article helped you!
Both Placeit and Vexels are fantastic resources for print on demand sellers. If you can afford it, we'd recommend subscribing to both products to help you create awesome designs and promotional material.
Why not try both out for yourself to see which one suits your needs.
Good luck creating! Also, let us know in the comments which tool you prefer and why!