Not sure what online design software to use – Canva or GoDaddy Studio (formerly called Over)? Or are you simply curious about the differences between the two tools?
Canva and GoDaddy Studio are two online graphic design tools that offer users the ability to easily create designs and content either via their browser or through one of their mobile apps.
Below we've covered the top level differences between GoDaddy Studio and Canva to help you make an informed decision on which tool is best fit for your needs.
Let's get into it.
---
Jump to a specific section:
---
Overview
Here's a top level comparison of the two products:
| | Canva | GoDaddy Studio (Over) |
| --- | --- | --- |
| Pricing (Monthly) | $12.95 /M USD | $9.99 /M USD |
| Pricing (Annual) | $119.99 /Y USD | $69.99 /Y USD |
| Pro plan free trial | Yes (30 days) | Yes (7 days) |
| Beginner friendly | Yes | Yes |
| Free templates | 250,000+ | 900+ |
| Templates | 600,000+ | 6,000+ |
| Image library | 100 MM+ | 3 MM+ |
| Free storage | 5GB | Unlimited |
| Paid storage | 1TB | Unlimited |
| Video & animation | Yes | Yes |
| Background remover | Paid feature | Yes (3 free uses) |
| Quick design resize | Paid feature | Yes |
| Drawing tool | Yes | No |
| Integrations | Many (e.g. Pexels, Google Maps, YouTube, Giphy, Smart Mockups, & many more) | Unsplash, Instagram, other GoDaddy products |
| Social scheduling | Yes | No |
| Publish to social | Yes | Yes |
| Team collaboration | Yes | Yes |
| Customer support | Yes | Yes |
| Help guides & tutorials | Yes | Yes |
| Mobile app | iOS & Android | iOS & Android |
| | Go to Canva | Go to GoDaddy Studio |
Which is the best tool?
We'll update this article with a full breakdown and comparison of the various aspects of the two online design tools, but for now based factors such as overall value for money, ease of use, template range, and more we'd recommend investing your time and money into Canva.
As a complete online graphic design software Canva is lightyears ahead of GoDaddy Studio. It has so much more to offer with regards to its template range and quality, third party integrations, video creation tools, and many other areas.
That being said, if you're an existing GoDaddy user and subscriber then GoDaddy Studio is a great addition to your toolkit that you should utilize. They do have plenty of quality tools and templates to help you create engaging designs and content, plus some additional options via the mobile app versions.
What are Canva and GoDaddy Studio?
Canva and GoDaddy Studio are both online graphic design tools that allow you to create designs, and videos with ease. Whether you're completely new to the online design tool world or you have some experience you should have no problems learning either platform.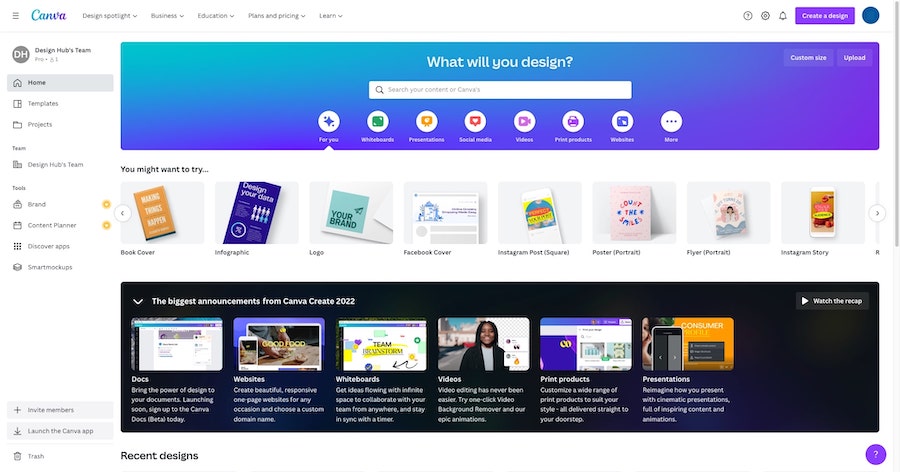 Both tools allow you to create designs from a blank canvas or utilize their libraries of predesigned templates that cover a broad range of categories (although Canva's is significantly larger).
GoDaddy Studio started life off as a simple photo editing app (formerly called Over) to a fully fledged graphic design tool today. They're consistently improving the product but it's still far away from Canva's offering at the present. tie.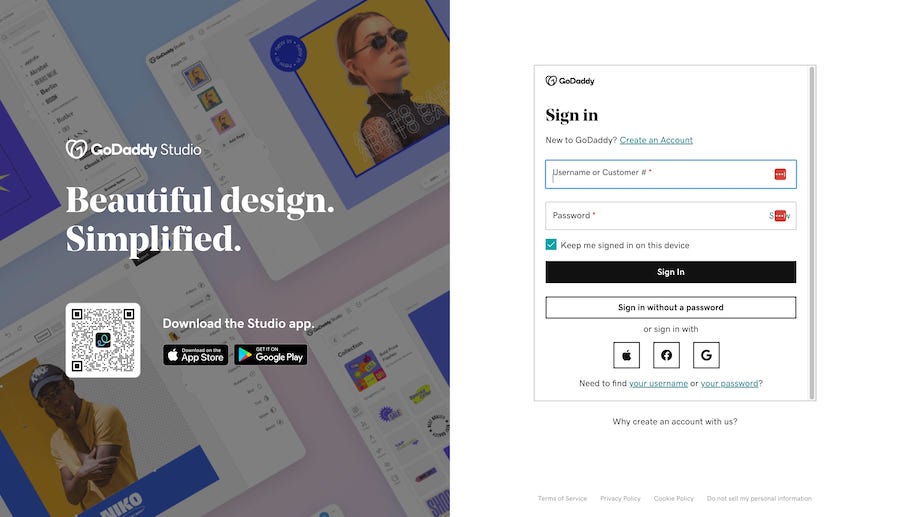 However, both products are extremely user-friendly and have simple and intuitive user interfaces that most people will be able to learn very quickly.
They also a range of additional tools that make creating designs even quicker such as background remover, design resize, filters, effects, animations, and much more.
Templates
Here are some of the main template categories available on both tools:
| | Canva | GoDaddy Studio |
| --- | --- | --- |
| Instagram templates | 400,000+ | 2,800+ |
| Pinterest templates | 10,000+ | 300+ |
| Facebook templates | 190,000+ | 2,000+ |
| Logos | 50,000+ | 900+ |
| Posters/Flyers | 90,000+ | 200+ |
| Business cards | 12,000+ | 40+ |
| Invitations | 26,000+ | 150+ |
| Wallpapers | 32,000+ | 200+ |
| Quotes | 100,000+ | 200+ |
| Announcements | 1,000+ | 150+ |
| Link in Bios | 40+ | 10+ |
Canva and GoDaddy Studio both offer plenty of great-looking predesigned templates in similar categories. However, as you can see Canva has so many more templates to offer in almost every single category. If you want more options when it comes to templates, Canva is the obvious choice.
Canva also has plenty of template categories that aren't currently covered on GoDaddy Studio:
Templates unique to Canva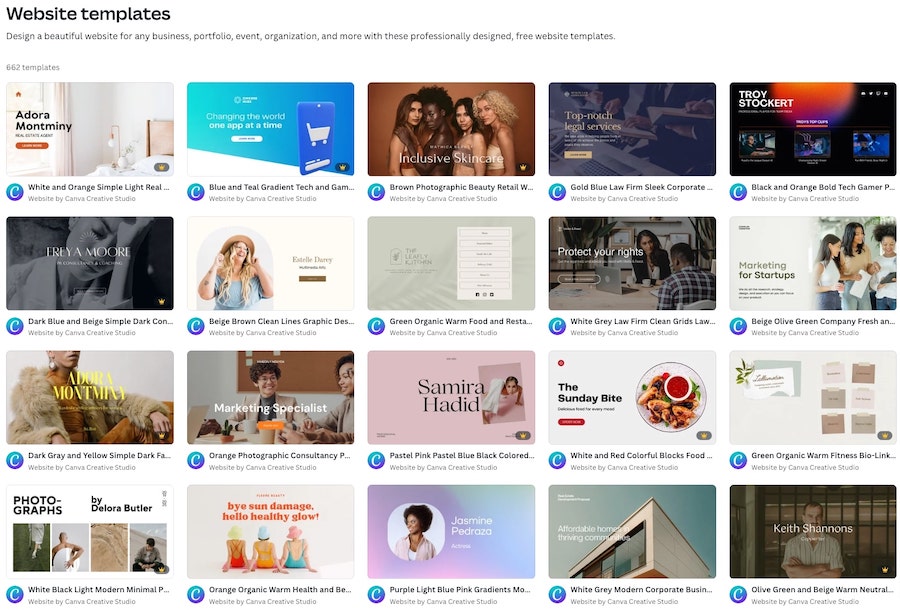 Here are a few examples of template options unique to Canva:
Magazines & magazine covers
eBooks & covers
Catalogs
Portfolios
Album covers
Whiteboards
Animated logos
TikTok videos
Podcast covers
T-shirt designs
Mug designs
Mockups
Video collages
YouTube intro/outros
Twitch templates
And even more!
Templates unique to GoDaddy Studio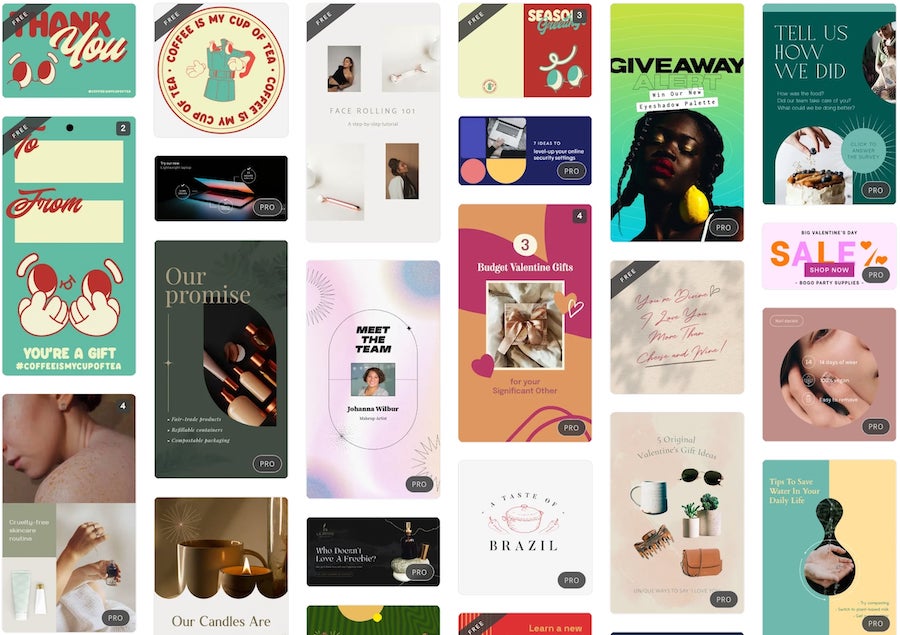 We couldn't find any unique template categories on GoDaddy Studio that aren't currently available on Canva at the moment.
Related articles
Related comparisons
Wrapping things up
This article will be expanded into a full review of how GoDaddy Studio (Over) and Canva compare, so stay tuned for that.
In the meantime, we hope this comparison article helped you!
GoDaddy Studio is a good tool, particularly for existing paying GoDaddy subscribers, but at the moment Canva is ahead as a fully fledged online design software.
Why not try both out for yourself to see which one suits your needs.
Enjoy getting creative, and let us know in the comments which tool you prefer and why!