Are you considering upgrading your account to take your design game to the next level with Canva Pro?
A free Canva account gives you tools and templates that allow you to create incredible designs. However, you might have come across some of the premium features and elements on Canva and wondered if it's worth getting a Pro account?
In this article, we'll take you through what Canva Pro has to offer and if it's worth the cost.
---
Jump to a specific section:
---
Overview
Before we get started, for those of you who aren't aware of what Canva (and Canva Pro) is, here's a quick run-through for you.
What is Canva?
Canva is a 'drag and drop' online design tool that allows anyone to create great-looking designs without needing any real design skills or experience. Creating designs can be intimidating for some people but using Canva makes it extremely easy!
With Canva you get access to the following:
1000's of premade templates you can use to start off your design
User-friendly drag and drop editor
Free video editing
Upload your own images and files
Photo editing capabilities
Text and style effects
Integrations (e.g. extra stock photos from Pexels and Pixabay)
Online collaboration
What's great about Canva is that you can use it for free and download an unlimited amount of free designs. However, there are some parts of the tool that can only be used if you have a Pro account.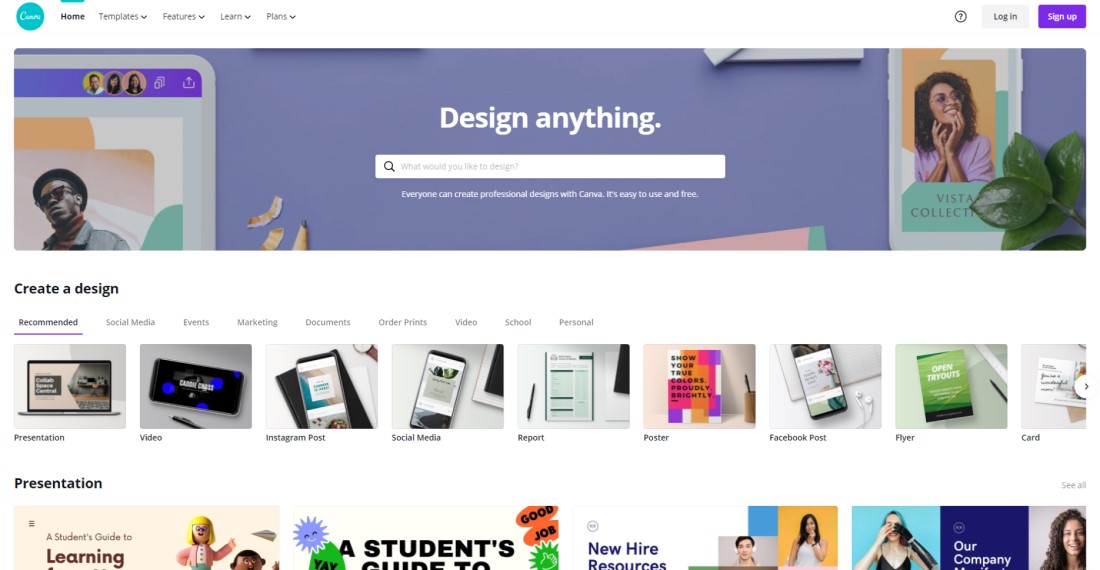 Related articles
Canva Pro
Canva Pro is a paid-for subscription (either monthly or annually).
You get access to premium features on Canva, this includes some tools, designs, templates, and other additional features – we'll get to those features later in the article.
Canva Free vs Paid
Below is a quick comparison of some of the numbers of features you get with a free Canva account compared to a Canva Pro account:
Canva Free
250k free templates
200k free photos
57k free graphic elements
13k free videos
75 free audio tracks
1,700+ free fonts
5 animation effects
5GB cloud storage
2 free folders
No brand kit
Canva Pro
420k templates
7.1m photos
4.5m graphic elements
2.5m videos
25k audio tracks
3,000+ fonts
10 animation effects
100GB cloud storage
Unlimited folders
1 brand kit
Let's break down each feature into a bit more detail so you can get a better understanding of what you can get with Canva Pro:
Templates
Canva offers pre-made templates that you can use as the base of your design. In the free version of Canva you have access to over 250,000 pre-made templates, which is amazing for a free offering.
You have templates for logos, Facebook posts, YouTube banners, posters, Instagram stories, printables, and so much more!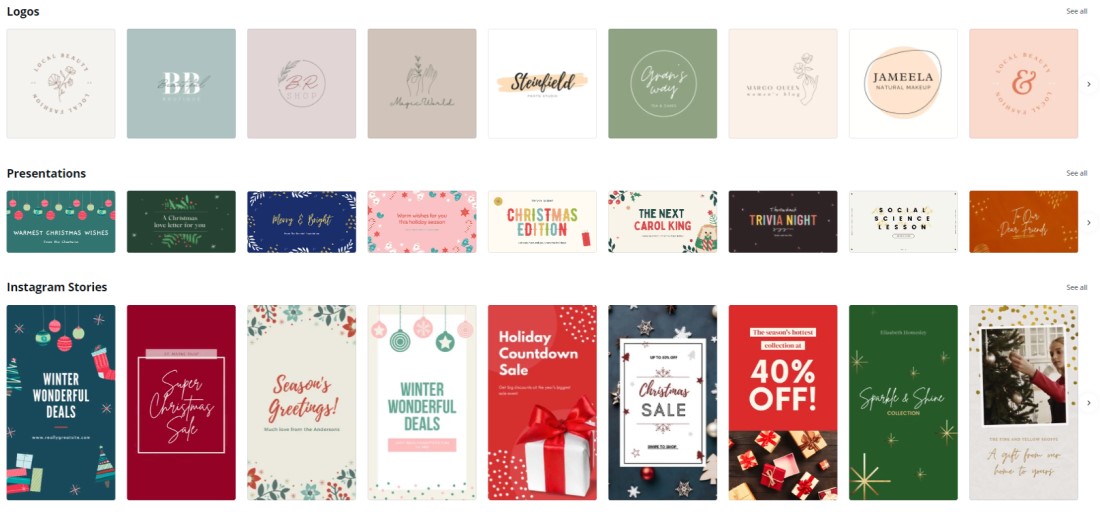 You can see which templates are free by hovering over them. If they are completely free to use a 'FREE' tag will appear over the template thumbnail: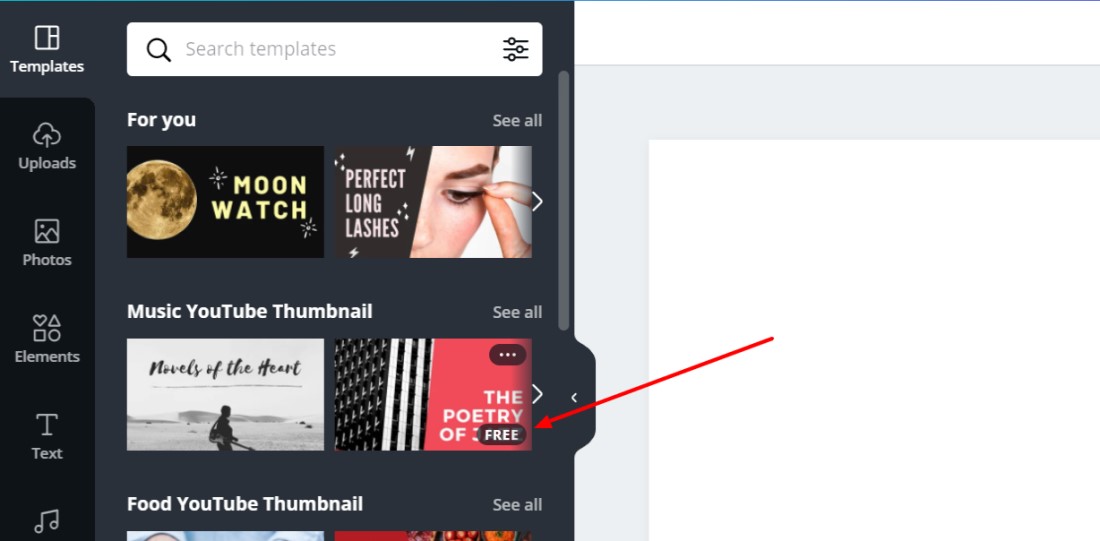 If you click on one of the Pro templates you'll see that some of the elements of the design have a Canva watermark over them. The only way to remove this is to have a Canva Pro account: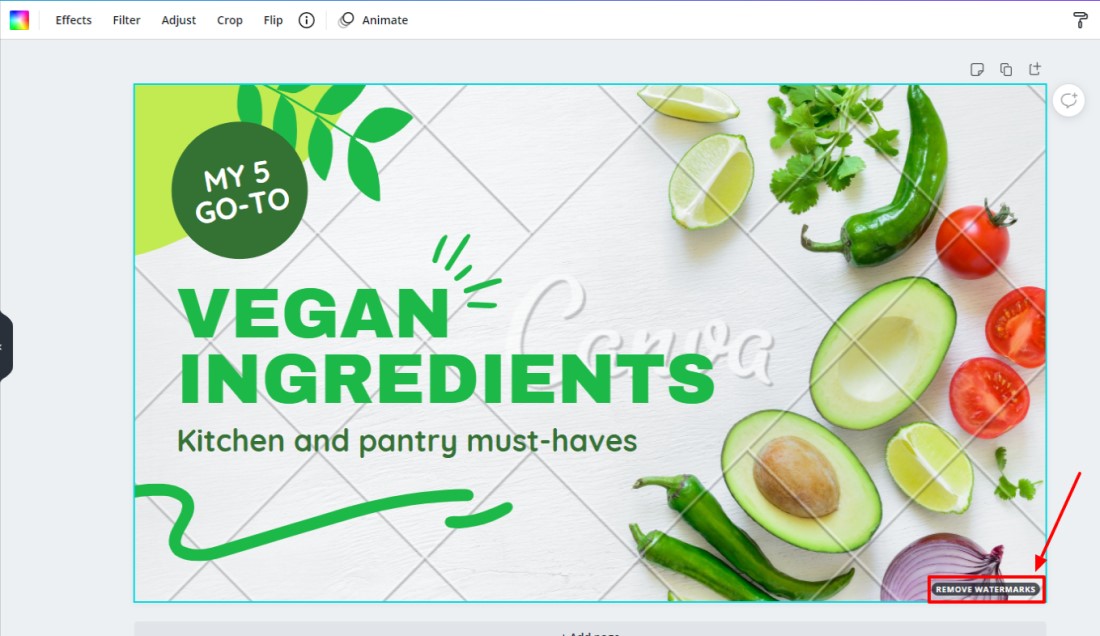 When you sign up for a Canva Pro account you'll get access to 420,000+ templates (all the free templates + premium ones).
The Canva team are always adding new templates too!
Design Elements
When we say design elements, we're talking about all the things you can add to your designs such as photos, graphics, text (fonts), music, videos, etc.
Here's a reminder of the number of free design elements you get on Canva:
200,000+ free photos
57,000+ free graphic elements
13,000+ free videos
75 free audio tracks
1,700+ free fonts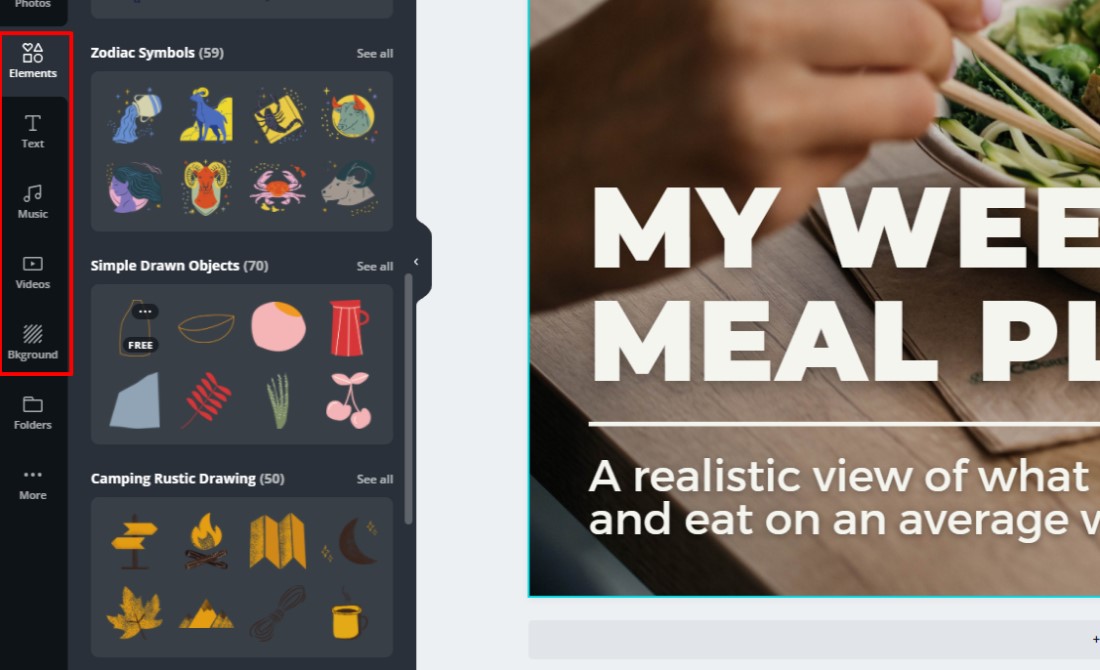 This is obviously still a huge amount of free elements that you can utilize for your designs. You can even access an even larger free stock photo library by adding the Pexels and Pixabay integrations to your free Canva account (100% free to do):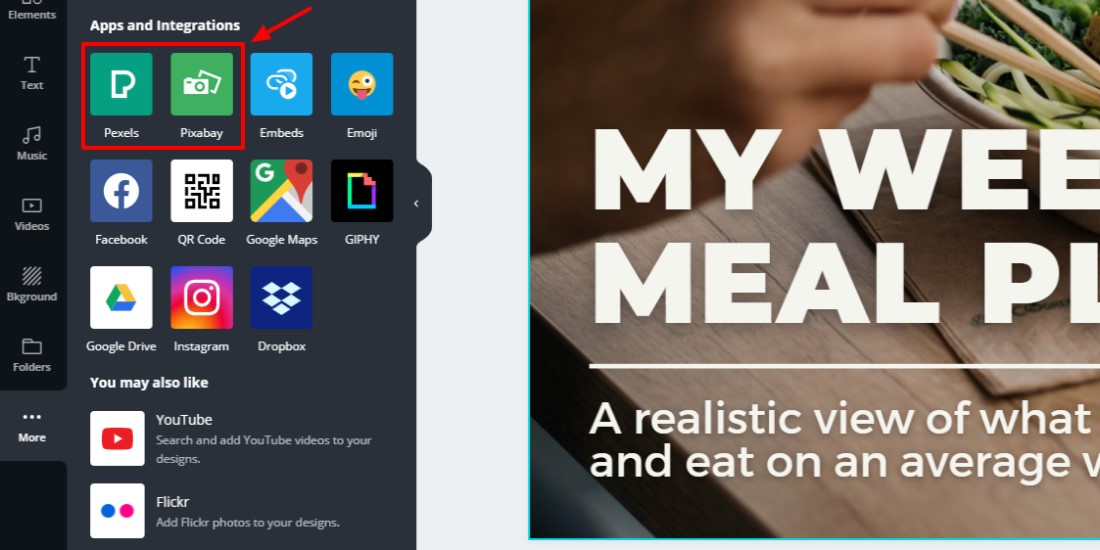 However, if you're someone who is going to regularly create new designs, whether that be for your social media, blog, YouTube channel, etc. you're likely going to need more options and some additional premium-looking design elements.
Canva Pro can give you just that.
Here's how many additional design elements you get with Canva Pro:
+ 6,900,000 photos – you're essentially getting access to a premium stock photo site like Shutterstock with your Canva subscription (worth the price alone). It also means you don't have to use the same photos that all the other Canva free users are using in their designs.
+ 4,400,000 graphic elements – these are things like illustrations, icons, avatars, stickers, shapes, etc., and will give you plenty of options to get creative with
+ 2,480,000 videos – if you use a lot of video in the things you put out there, then having a Canva Pro subscription gives you access to a massive library of videos that you can easily edit in Canva
+ 24,900 audio tracks – Canva Pro gives you access to an ever-expanding library of audio tracks. Perfect for adding to any videos you create
+ 1,300 fonts – you'll also get access to a much larger library of fonts with Canva Pro, including the ability to upload your own fonts if you download font packs for sites like Creative Market and Envato Elements.
You can easily see which design elements on Canva are for Pro users only as the premium elements will have a crown icon next to them. Here's a couple of examples: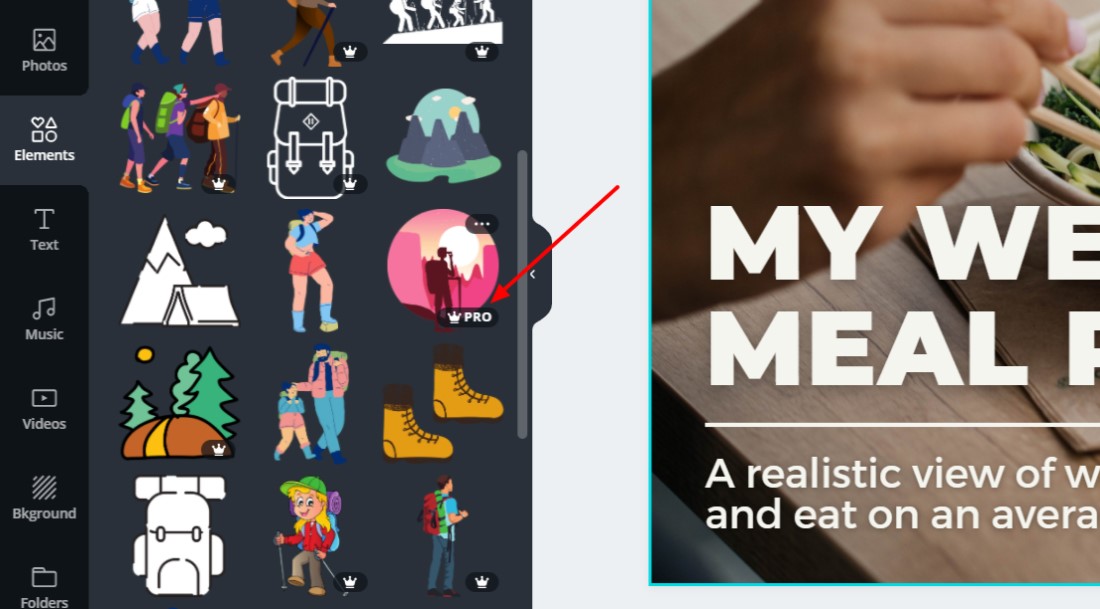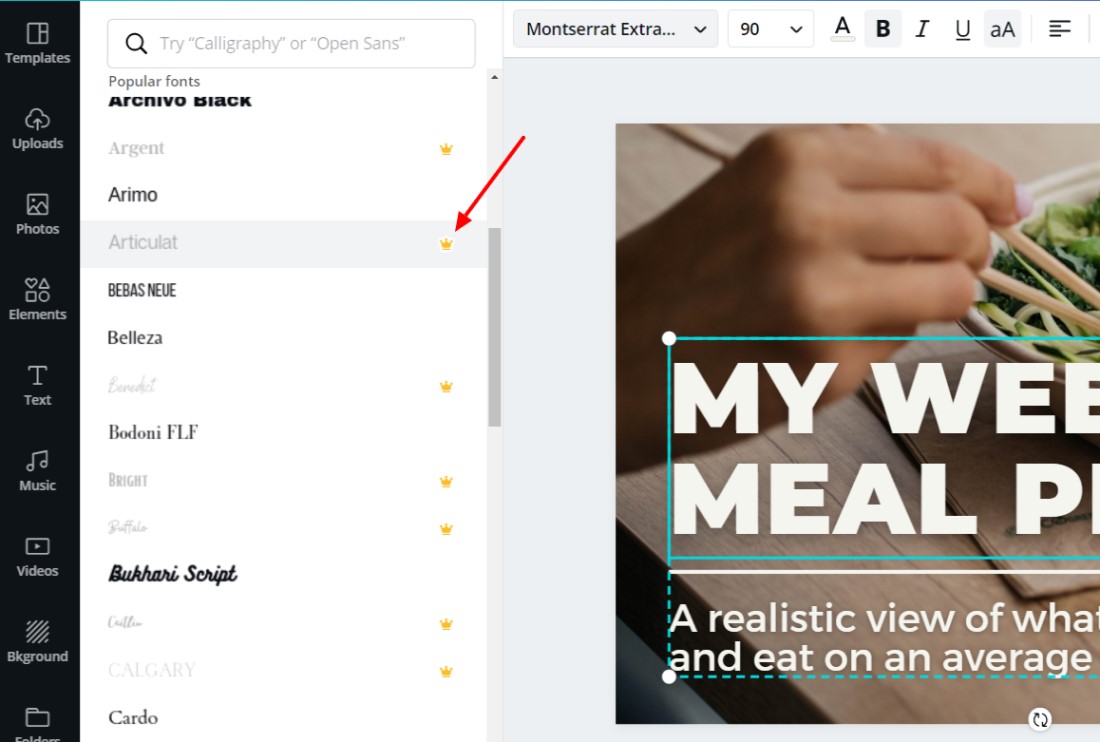 It is also possible to buy individual design elements if you don't want to subscribe to Canva Pro: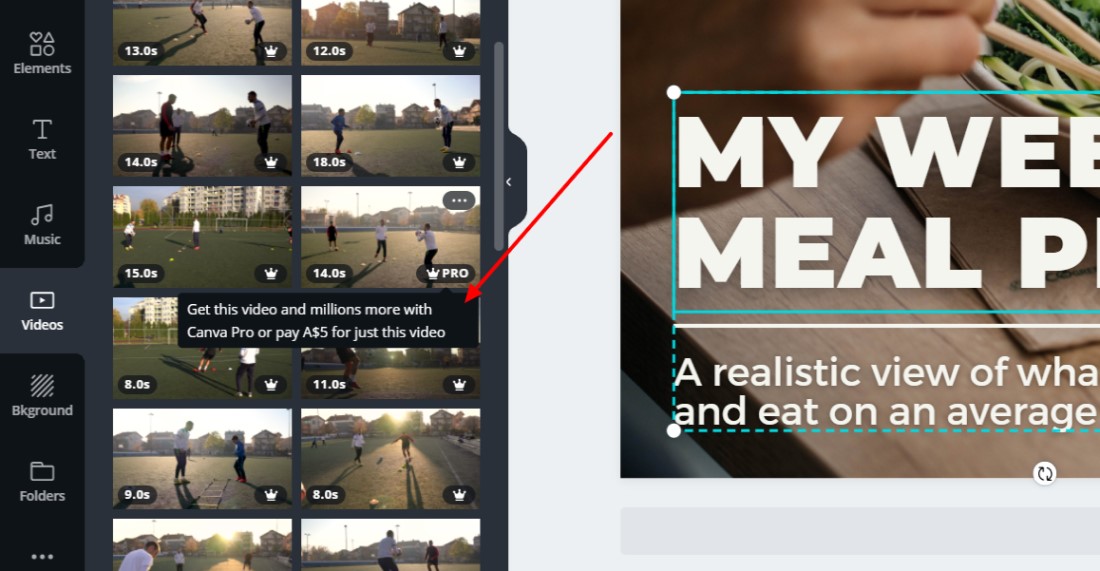 Animation Effects
Canva gives you the ability to animate your designs with the click of a button.
With the free version of Canva you get access to 5 animations but with Canva Pro this number increases to 10: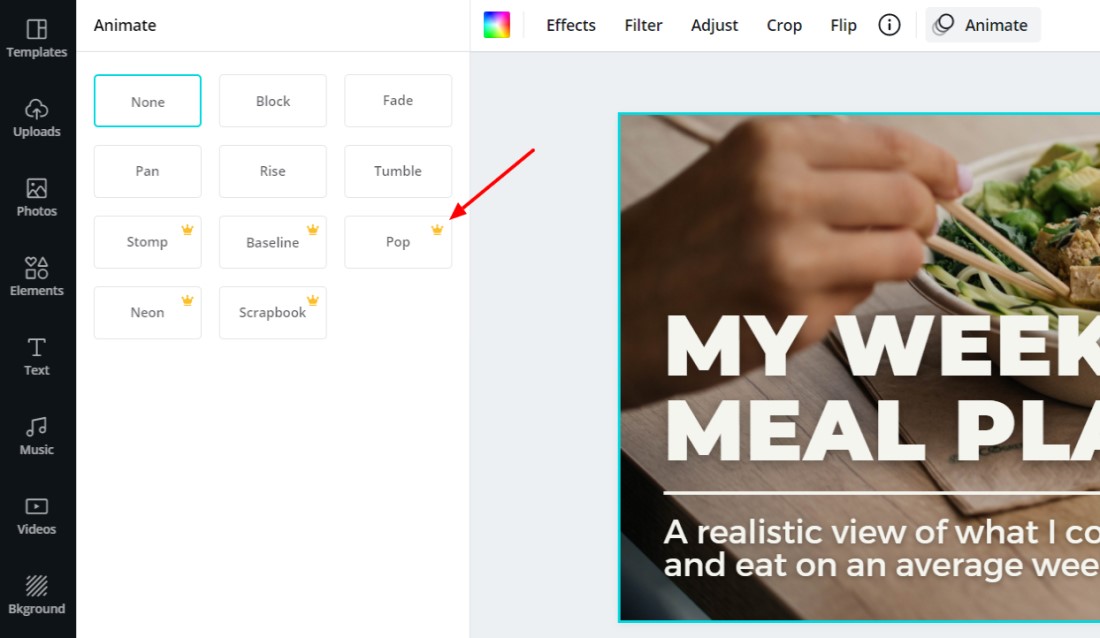 Cloud Storage
A free Canva account gives you 5GB of storage which is pretty decent. However, if you use Canva a lot you'll burn through that 5GB fairly quickly.
However, if you're going to be using Canva you'll probably upload a lot of your own files and save a lot of designs, so you'll need extra storage space!
Canva Pro gives you 100GB of cloud storage space so you'll have plenty of room for all your saved designs, templates, and uploaded files.
Folders
With a free Canva account you get 2 folders to store your designs. This isn't a whole lot if you plan to create a whole variety of designs and want to separate them or create folders to share with specific people.
With Canva Pro you can create unlimited folders which allows to easily segment your designs how you see fit, and also create folders that only specific people access, etc.
If you're going be creating a lot of designs and you want to organize them in a manageable way you'd be wise to invest in a Canva Pro account.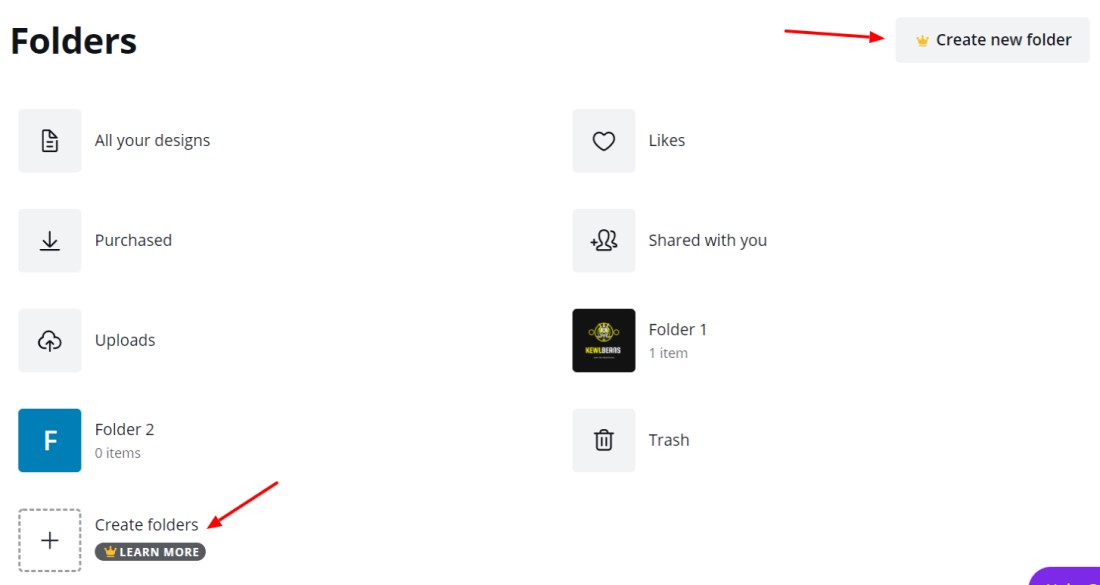 Brand Kit
If you often create designs that need to have your brand colors or you often add your logo to your designs then Canva's brand kit feature will be very helpful to you.
When you're creating a design, rather than having to search for your logo image or find the hex code for one of your brand colors you simply need to grab them from your brand kit. It's a huge time saver.
With a free Canva account you can't really create a brand kit. All you can is add 3 colors to a color palette for easy access when you're designing.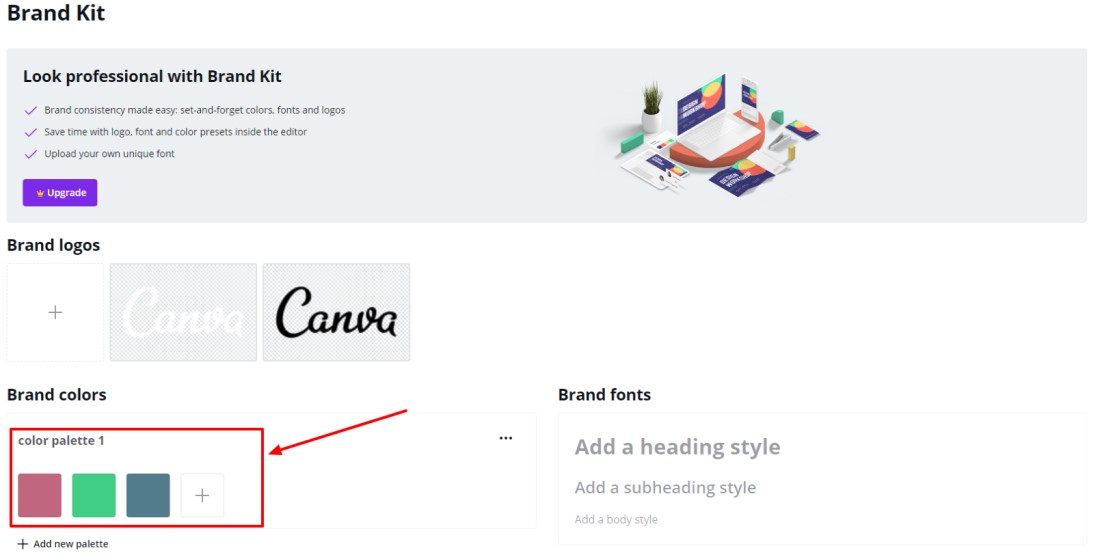 With Canva Pro you have no limitations when it comes to your brand kit.
You can add your logos, create as many color palettes as you want, and add select your brand fonts. It makes it incredibly easy to keep your designs consistent and on-brand: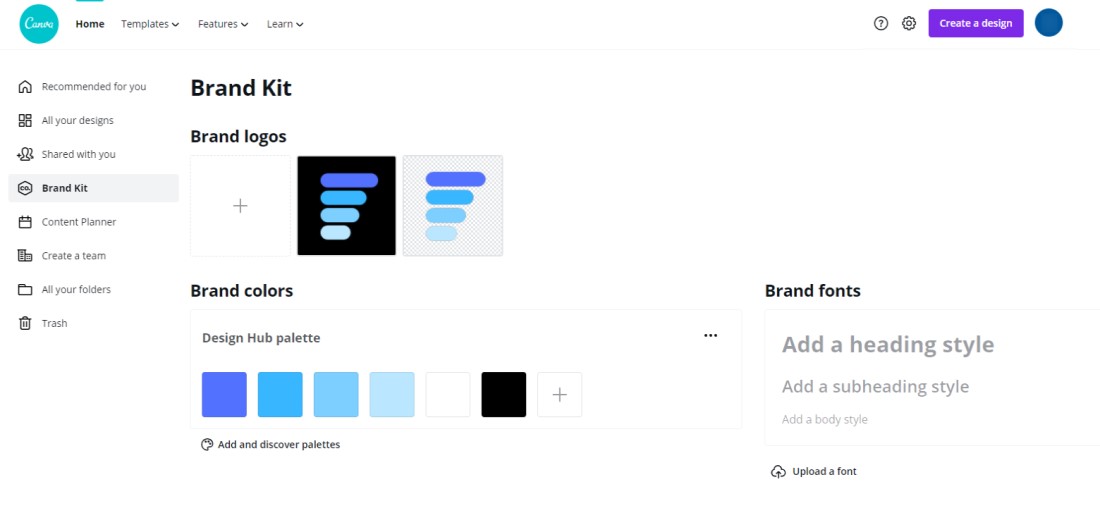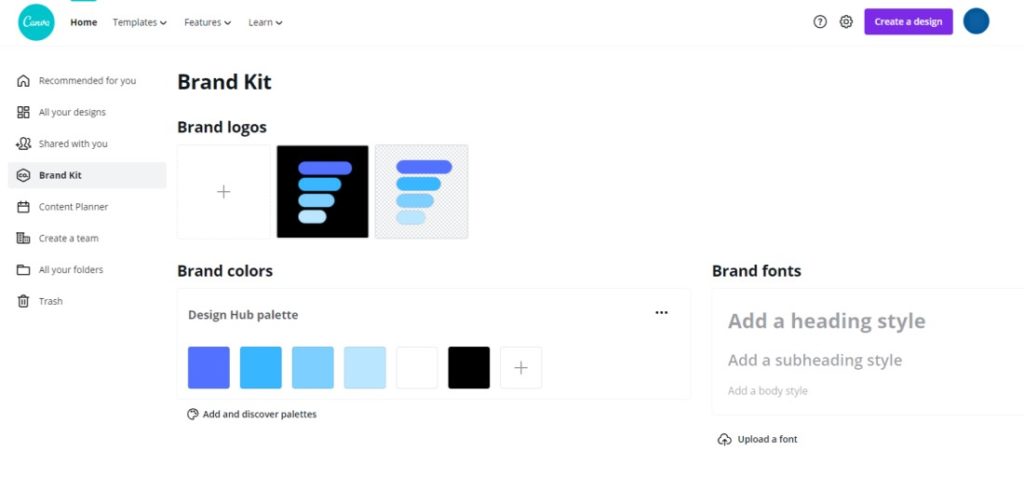 Canva Pro-only features
There are quite a few features that you can only access if you have a Canva Pro account. Here are the best ones:
Magic Resize
If you've created a design and you want to create a new version of it for a different platform (e.g. you've created a Facebook post but you want to create a version for an instragram story) Canva's magic resize tool let's you do that with a couple of clicks.
All you have to do is click on 'Resize' in the editor and choose the new format (or formats) you want the design in.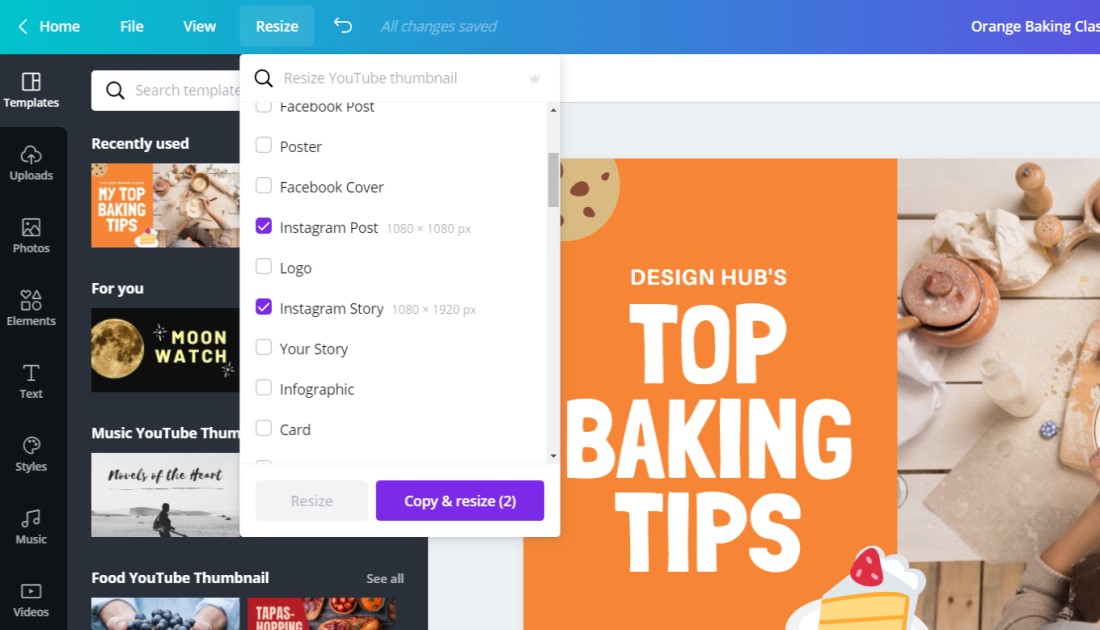 If you regualrly create multiple designs for your business e.g. for Facebook, Instagram and your blog, etc. it's a huge time saver.
The resizes aren't always perfect, but you can adapt the design elements to the new size/format in seconds.
Content Planner
Canva Pro's newest feature is the content planner. This allows you to schedule your designs to be posted on various platforms such as Facebook and Pinterest.
It essentially replaces any social scheduling tool you might be using, such as Buffer.
The only downside is that it currently doesn't include the ability to schedule posts to Instagram but we're hopeful Canva will add that functionality soon.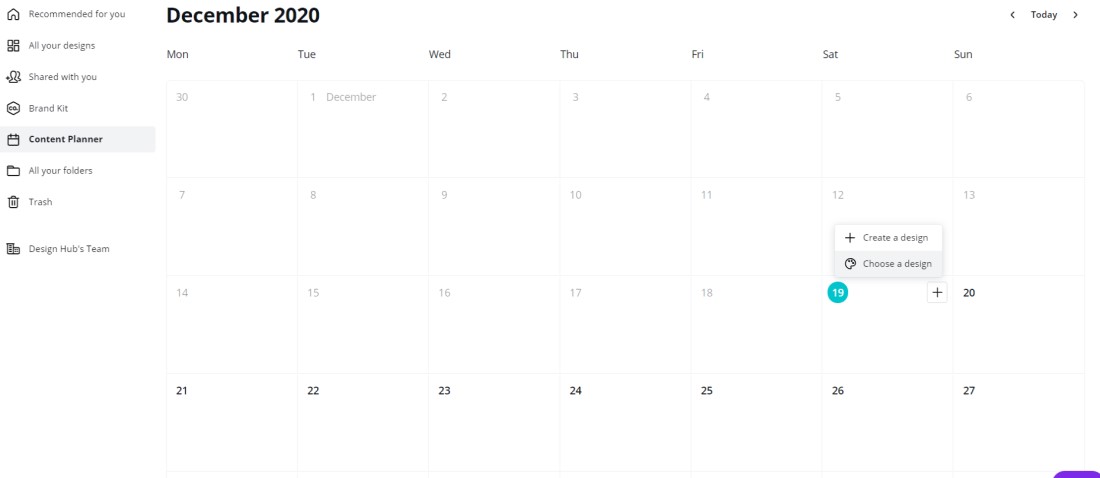 Scheduling your designs is super easy. You simply need to choose a design you want to post, choose which platform to share it to, write a description, set a date and time, and hit the schedule button.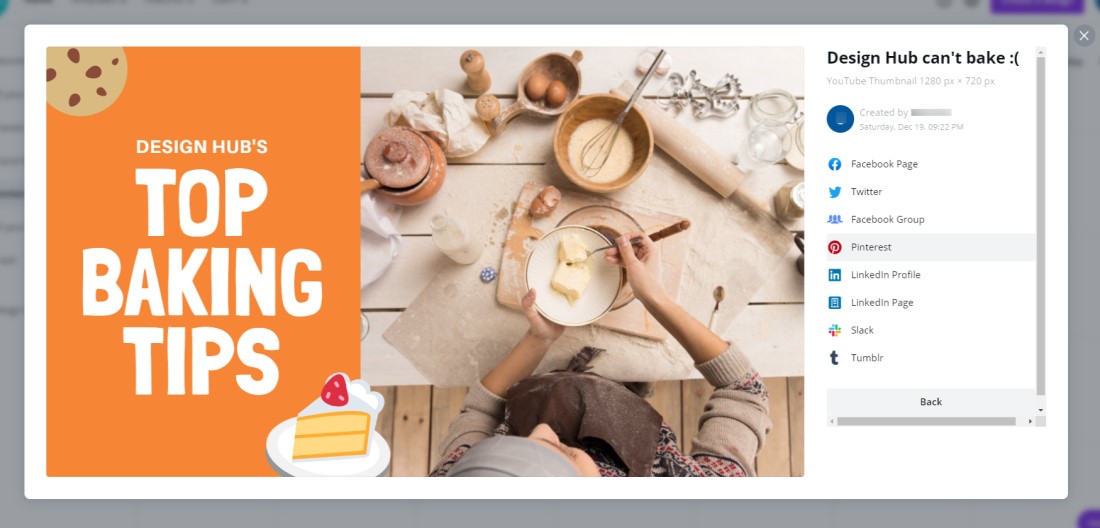 Here are the platforms where you can currently schedule your designs to be posted:
Facebook page/group
Twitter
Pinterest
LinkedIn profile/page
Slack
Tumblr
Image background remover
With Canva Pro you get access to some more image effects. The most significant being their powerful background remover.
If you upload an image (or choose an image from the Canva Pro library) you can remove the image background with a couple of clicks. It couldn't be easier.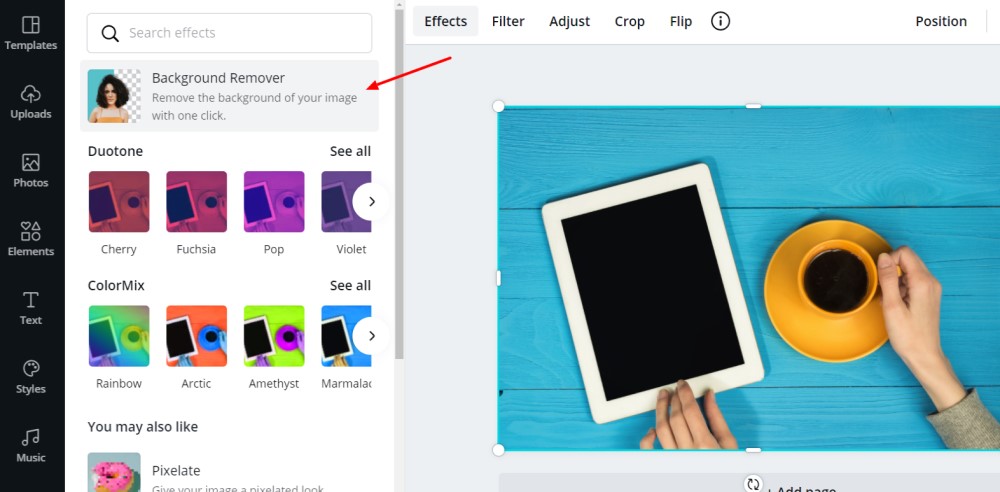 It also does a great job of removing all of the background and leaving the remaining feature of the image looking crisp. It's definitely more effective than most similar tools out there just now.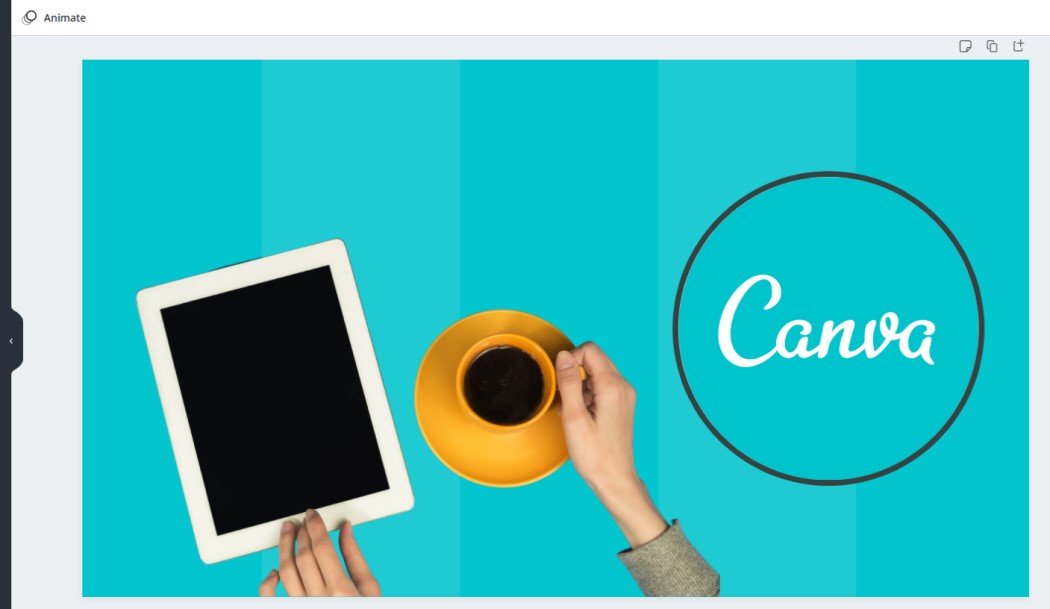 Download & Export options
Canva Pro gives you a lot more options when it comes to exporting and downloading your designs.
Download and export options:
Transparent background – download your image with the background removed – e.g. particularly useful for logo designs
Chose the file size – you can make files huge if needed – e.g. useful for printables and poster designs, etc.
File compression – alternatively you can compress your designs making the file sizes much smaller – e.g. if you want an image that will load fast on your website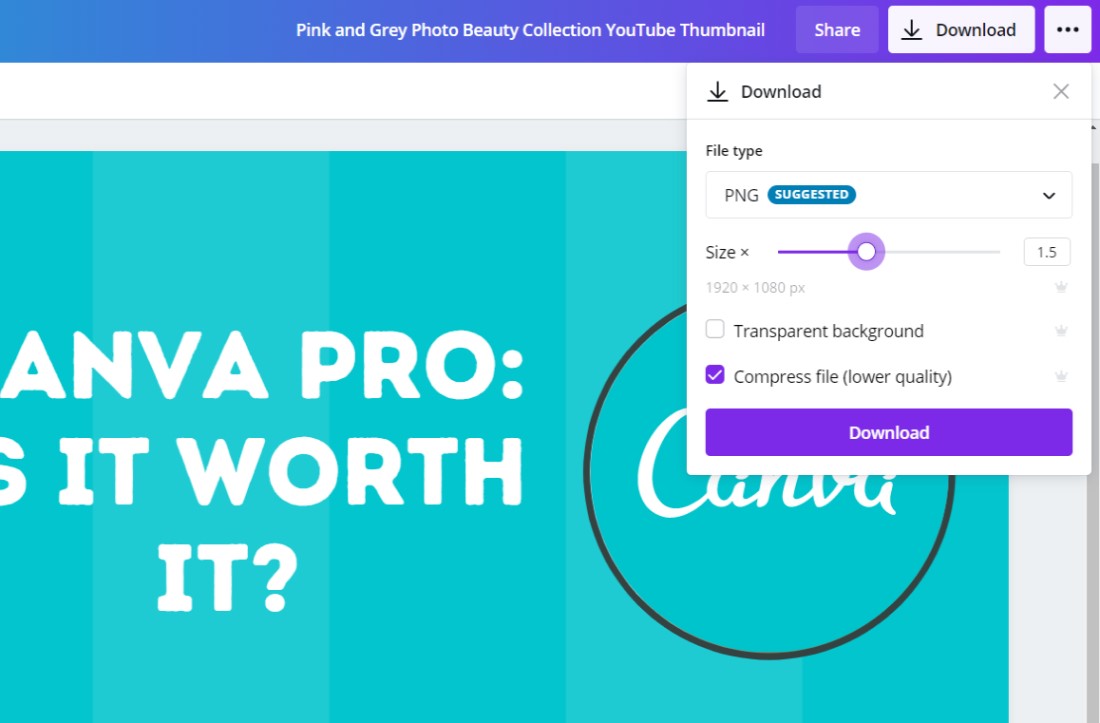 Create teams
With the free plan from Canva, you can be part of a team, but with Canva Pro you can create teams and invite people to join them.
This allows you to invite team members to join, give them access to templates and designs, organize team designs into folders, and create sub-groups in the team (e.g. a group for the social media team, blog team, etc.).
If you work with multiple people then this can be a really helpful feature.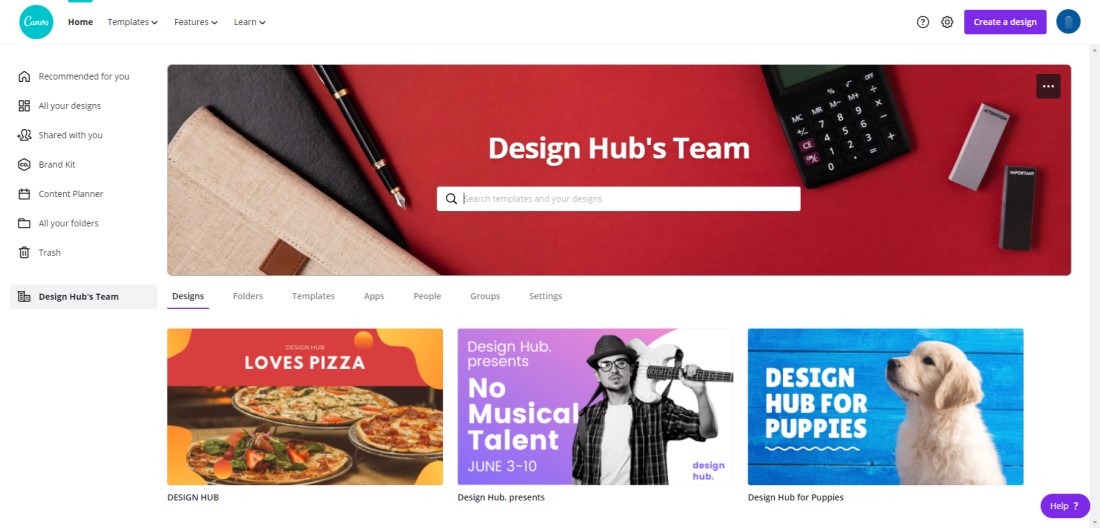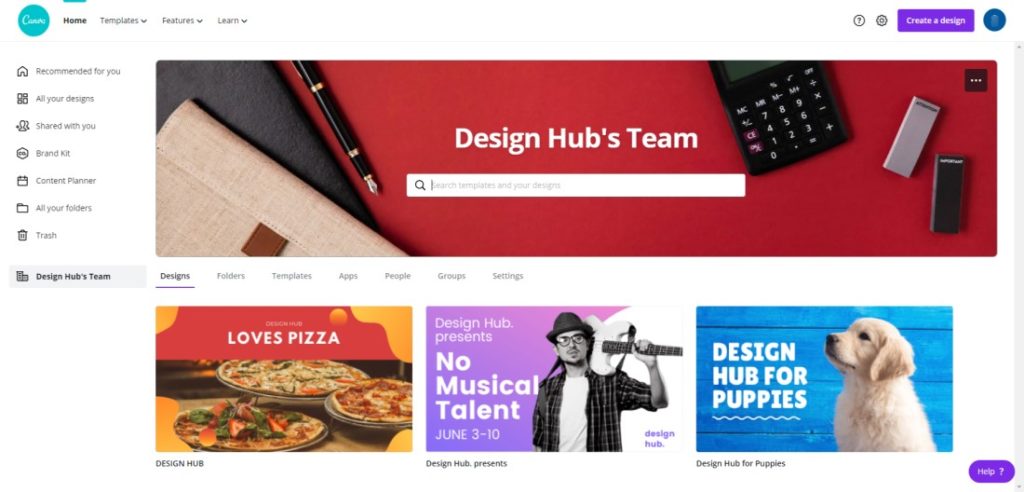 Upload Folders
When you upload files to Canva they are saved in the same folder in the free version of Canva.
Canva Pro lets you organize your uploaded files into folders to make it so much easier to organize them and access them when you need them.

Versions
Another great feature of Canva Pro is the 'Version History'. This let's you revert back to previous versions of a design if you're not happy with the latest version.
It's a nice safety net to have, especially if you create a lot of designs!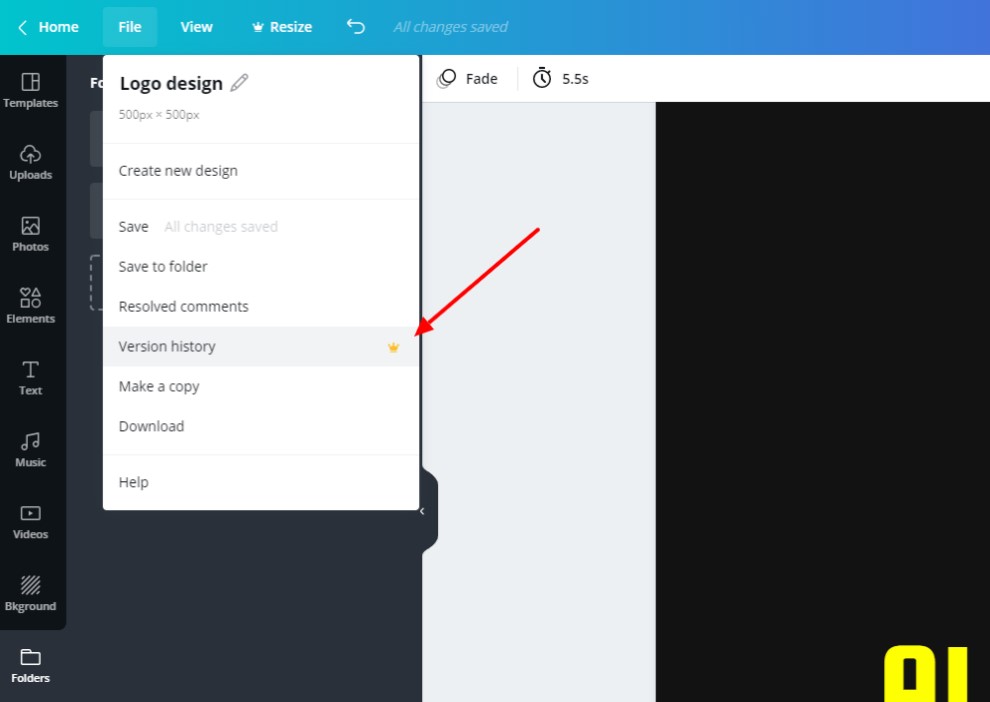 How much does Canva Pro cost?
With Canva Pro you can either pay monthly or annually. The annual fee works out at $9.95 per month whilst the monthly fee is $12.95.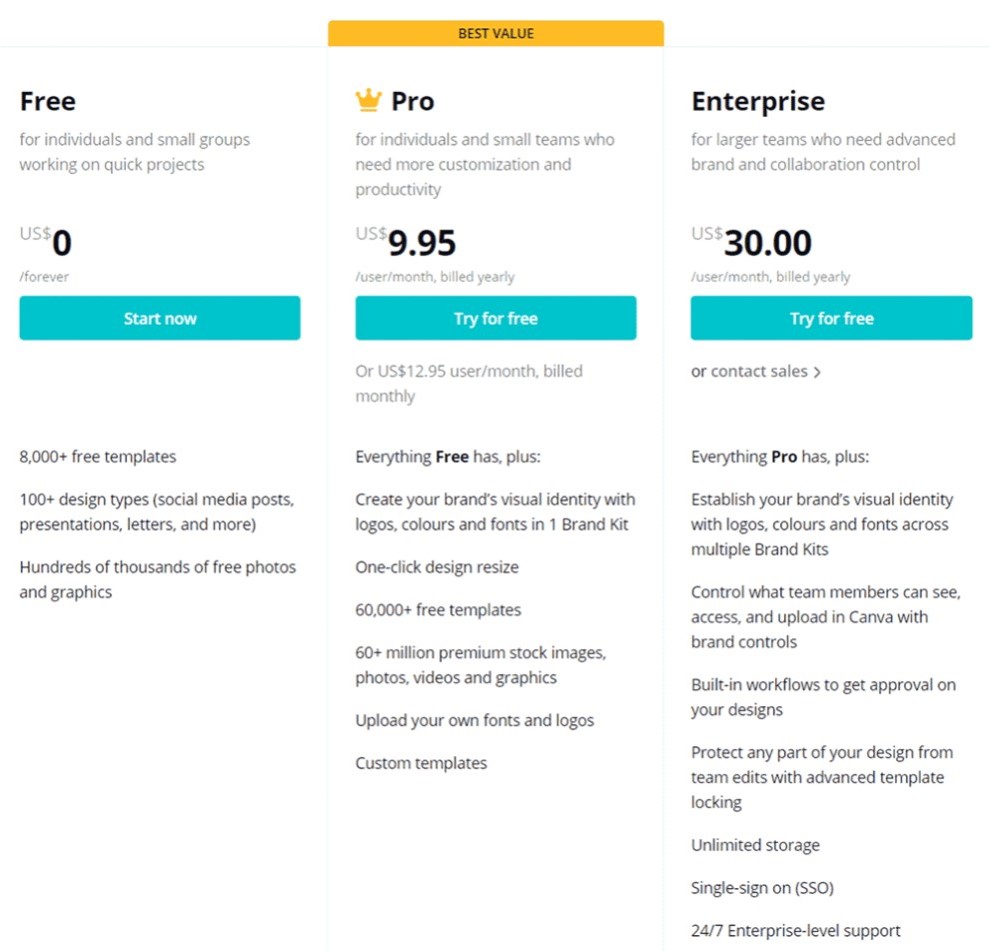 Free trial option
You can try out Canva Pro free for 30 days before you commit. We recommend giving the product a go before you commit.
You get access to all the Pro features in the 30-day free trial, and if you cancel before the 30 days is up you won't be charged anything at all.
Pros & Cons
Below we've listed some of the main pros and cons with Canva.
However, as you'll see we feel there aren't too many cons with Canva. It's a fantastic product that allows you to easily create incredible designs and assets!
Canva Pros
Incredibly user-friendly interface
Lots of awesome templates
3rd party integrations
Easy collaboration tools
Huge photo library
Time-saving Pro features
Plenty of design elements
Easily make animations and videos
New features and tools being added all the time
Many more!
Canva Cons
No design layers
No offline version (all online)
No unlimited storage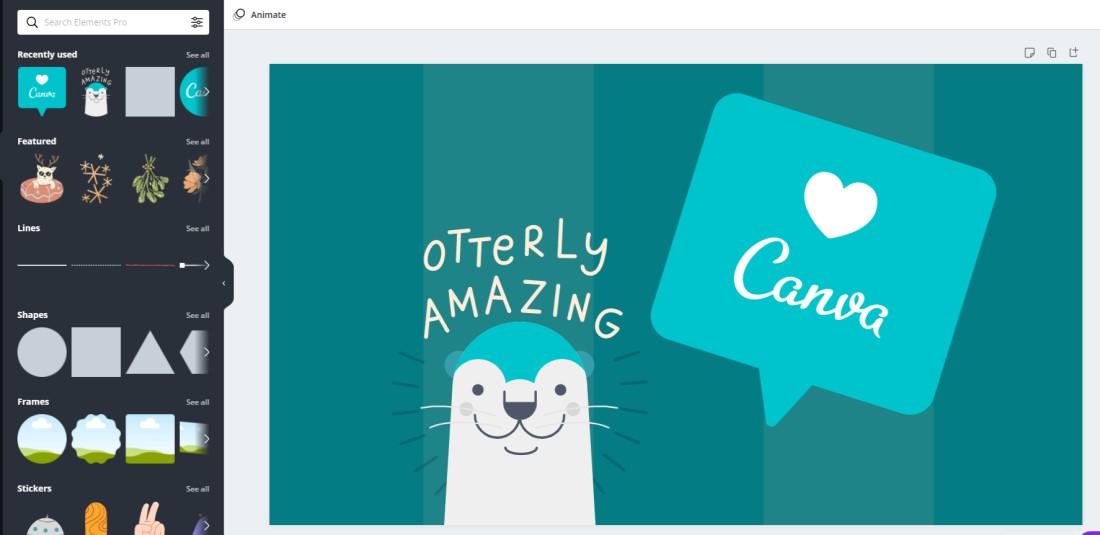 Who should upgrade to Canva Pro?
If you're someone who is going to be creating designs regularly then you should seriously consider investing in a Canva Pro account.
It's one of the best design tools out there at the moment and they're always adding more templates, features, and tools to the product.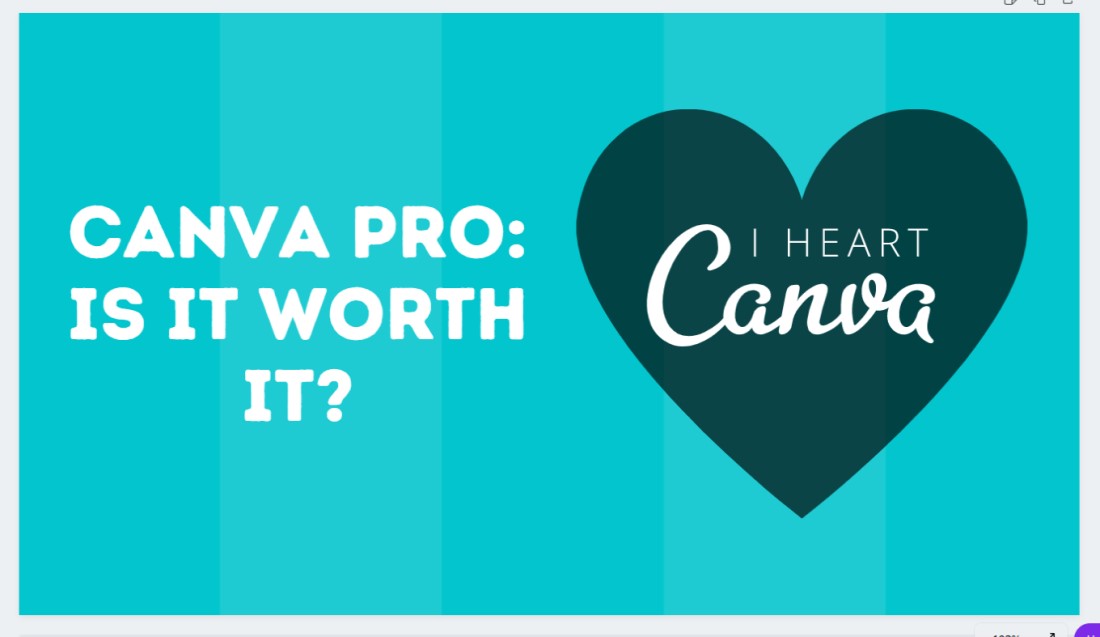 With the incredibly large premium stock photo offering, content planner, version history, and background remover in Canva Pro you're also getting features included in the price that can replace other subscriptions you might have (e.g. Buffer, Shutterstock, etc.).
Also, having the ability to organize your designs into folders and the ability to easily access brand assets such as your logo and color palettes makes creating designs so much easier and worth the investment in Canva Pro.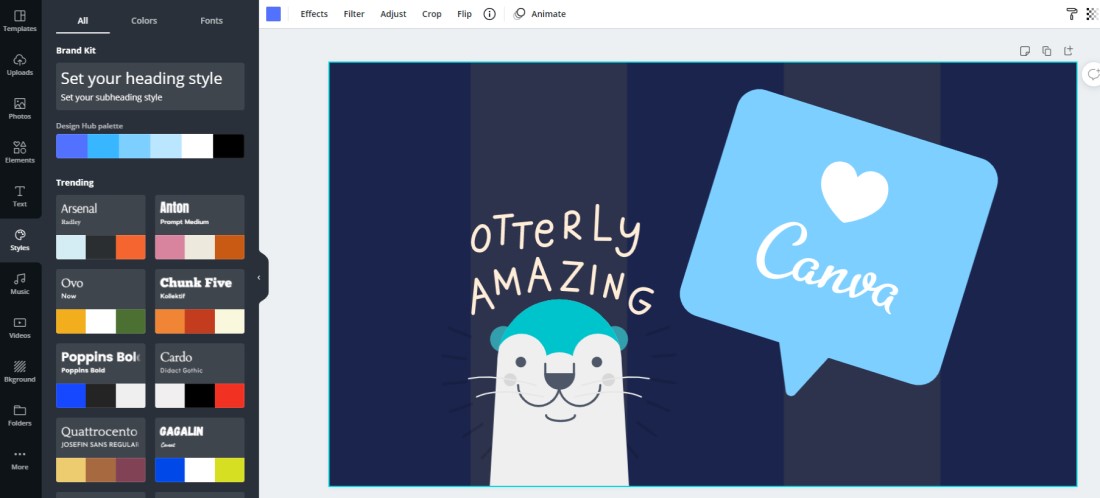 Put simply, anyone who creates a lot of designs and wants to make the process as easy, enjoyable, and streamlined as possible should consider trying out Canva Pro.
Plus, they offer a 30-day 100% free trial, so there's no harm in testing it out.
Who should stick with Canva free?
If you only plan to create the odd design here and there, then Canva Pro probably won't be worth the money for you.
The free version of Canva will likely be more than enough for what you need.
However, if you're still on the fence and not quite sure if it's worth it for you – give the 30-day free trial a go and see what you think. Here's a quick recap of the difference in numbers of Canva Pro versus Canva Free:
+170k templates
+70.8m photos
+4.4m graphic elements
+2.48m videos
+24.9k audio tracks
+1.7k fonts
+8 animation effects
+95GB cloud storage
+Unlimited folders
+Unlimited brand kit options
Canva Pro FAQs
Here are the answers to some of the most common questions when it comes to Canva Pro:
Is Canva easy to use?
Canva is ridiculously easy to use. Almost anyone could use it with no problems whatsoever. Plus the drag and drop editor is very intuitive making the learning curve very minimal for most people.
Can I cancel my Canva Pro subscription?
Yes, you can cancel your Canva Pro subscription whenever you want. There are no lock-in contracts. You also have the option to pause your subscription too.
Can I cancel my Canva Pro free trial?
Yes, if you cancel your subscription before the end of the 30-day free trial period then you won't be charged anything at all.
What is Canva's commercial license?
Most of what you create on Canva can be used for commercial and non-commercial purposes. For more information check out Canva's guide.
Can Canva replace Photoshop?
If you're a non-designer then the learning curve for Canva will be much shorter than with a tool like Photoshop.
Canva lets you create incredible designs very easily, however, if you need more control over all the design elements then a tool like Photoshop can give you that.
Are there any good Canva alternatives?
There are quite a few other design tools on the market. Check out our article 'Sites like Canva' for more details.
Wrapping things up
Canva is an incredible product. Luckily for most, the free version will be more than enough.
However, if you want to create designs and a brand that stands out then Canva Pro can help you do just that.
So, is upgrading to Canva Pro worth it? In our opinion, that's a definite yes. Especially if you're going to create designs on a regular basis.
Let us know what you think, we'd love to hear about your experience with Canva Pro!