Are you looking to quickly and easily create great-looking ad mockups but not sure which online mockup tool to choose?
We've tested many online ad mockup generators, and put together a list of the best ones to make it easy for you to find the one that has what you're looking for.
All the tools in this list are 100% free to use.
Let's get into it.
---
You can jump to a specific product if you want:
---
Quick comparisons table: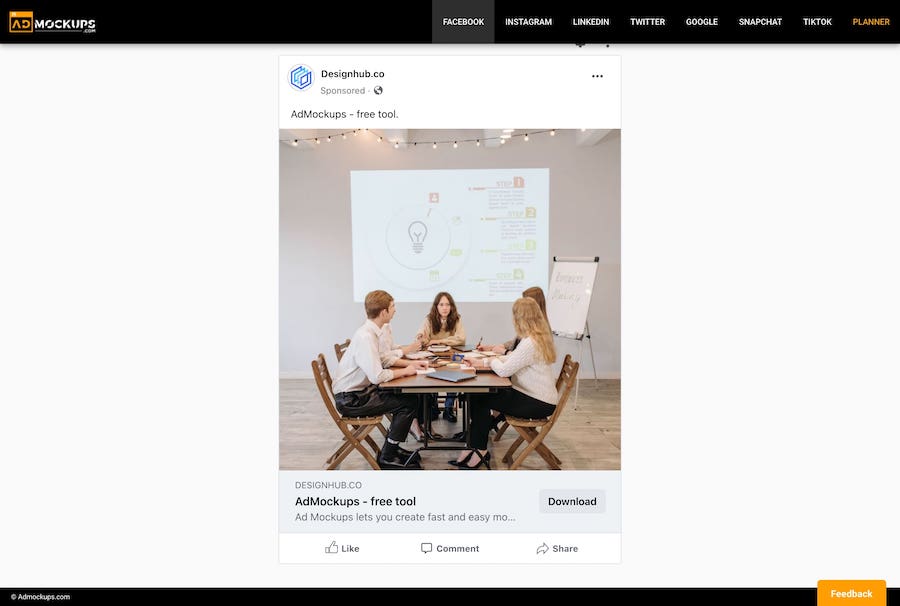 In at number one is Admockups.com which, in our opinion, is the best free option when it comes to quickly and easily creating ad mockups online.
Their tool has mockup templates for all the major platforms including Google search ads, Facebook ads, Instagram ads, and more.
All you need to is select the platform that you want to create the ad mockup for, choose the device type, ad type (e.g. for Facebook you get the option of a news feed, lead form, and messenger placement), and the ad format.
In seconds you'll have your ad mockup ready to go.
Platforms covered:
Google ads
Facebook
Instagram
Snapchat
LinkedIn
Twitter
Snapchat
TikTok
Pricing: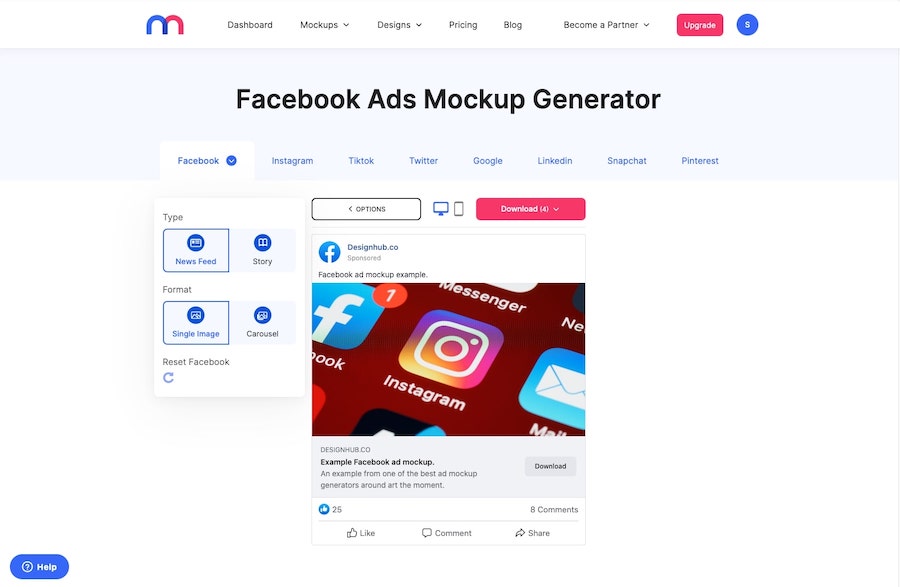 Next up is Media Modifier which is another user-friendly online mockup tool. Like AdMockups, Media Modifier has templates for all the major platforms that you can utlize to quickly create professional-looking ad mockups.
Their ad mockups are 100% free to use, and are super easy to customize. You can choose different devices, ad types, and formats to create your ideal ad mockup.
Media Modifier also offer a range of other mockup templates that you can use all within browser and these cover many categories including t-shirt mockups, iPhone mockups, branding mockups, and many more.
These also offer design templates such as book covers, Instagram posts, posters, and more than you can customize very easily.
Platforms covered:
Facebook
Instagram
TikTok
Twitter
Google ads
LinkedIn
Snapchat
Pinterest
Pricing:
Ad mockups are 100% free to use
Free plan: 100+ templates
Pro plan: $19 /month or $108 /year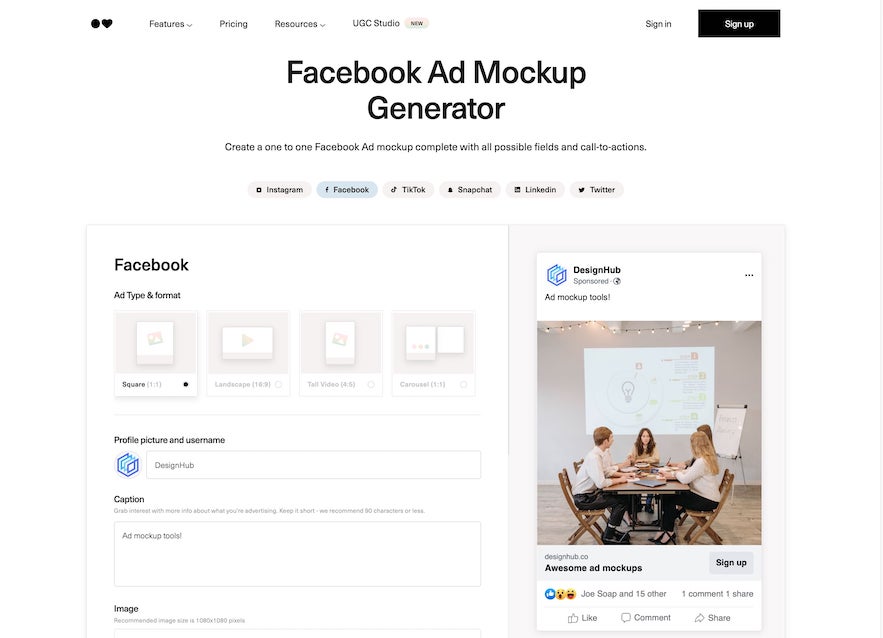 InBeat is a TikTok and Instagram influencer search engine but they offer some useful online free tools including an ad mockup generator.
They have templates for all the major platforms including Instagram, Facebook, and LinkedIn and all their ad mockups are 100% free to use.
The ad mockup generator is incredibly sleek and easy to use. You simply need to select your platform, choose the ad type and format and input your details and images. You can then download your mockup templates as PNG files or share them online.
Platforms covered:
Instagram
Facebook
TikTok
Snapchat
LinkedIn
Twitter
Pricing:
Ad mockups are 100% free to use
Paid plans: $2.91 – $33.33 /month or $23 – $267 /year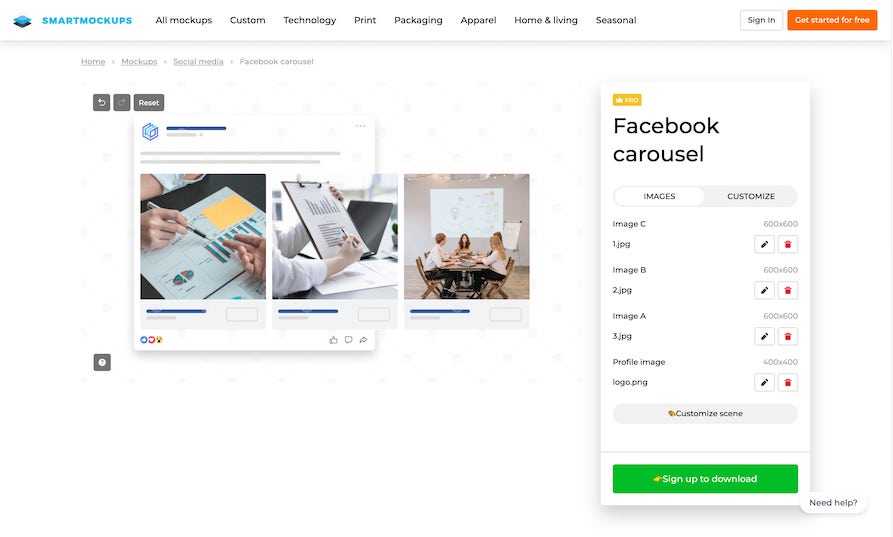 Smart Mockups is another fantastic online mockup generator that allows you to create a range of ad mockups all within your browser.
Their ad mockup range isn't quite as good as Media Modifier or AdMockups but there are several quality templates that you can utilize.
They have ad mockup templates for Facebook and Instagram including carousel ads, and a range of mockups for various other platforms which aren't necessarily ad mockups, more so profile and post mockups. These include platforms such as YouTube, Twitter, Linkedin, Pinterest, and Twitch.
There are plenty of other mockup categories covered on Smart Mockups including apparel, technology, packaging, and much more.
Platforms covered:
Pricing:
Free templates
Pro plan: $14 /month or $108 /year
Last up we have Social-mockup.app which is another 100% free to use online ad mockup tool.
At them moment they only have templates for Facebook and Instagram but these include Sponsored posts, carousel ads, and sponsored stories.
As with all the other tools in this list, it's very easy to use. You just need to put in the starter information (client name, website, and profile image), select the ad type, and customize the mockup template to your liking.
The tool was created by Grabarz & Partner which a marketing agency based in Germany.
Platforms covered:
Pricing:
Honorable mention: Placeit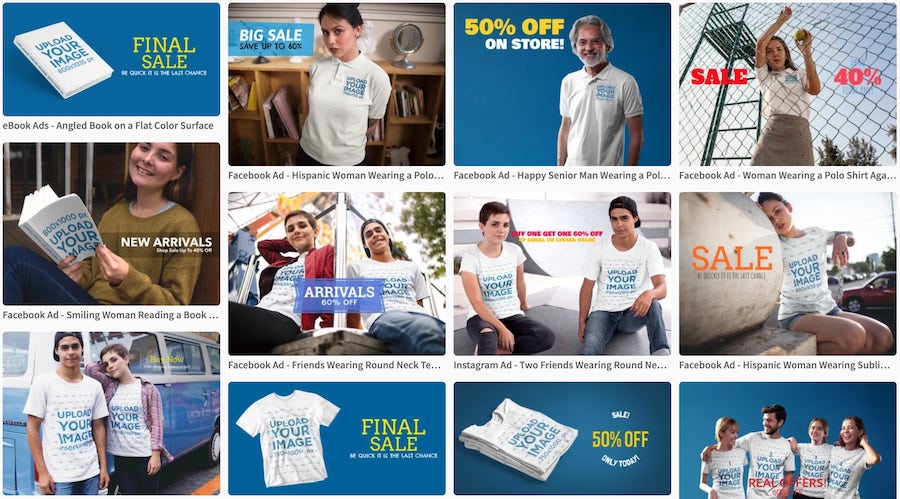 Placeit doesn't actually offer ad mockups such as the ones found in the tools mentioned above, however, they are our top rated online mockup generator so we thought they're worth highlighting.
You can create almost any type of mockup with Placeit, and if you are planning on creating ads for Facebook, Twitter, LinkedIn or any other similar platform you can use their templates to create the visuals for your ads.
They also have mockups for physical ad placements such as billboards, signage, posters, merchandise and so much more. So, they're definitely worth checking out!
More options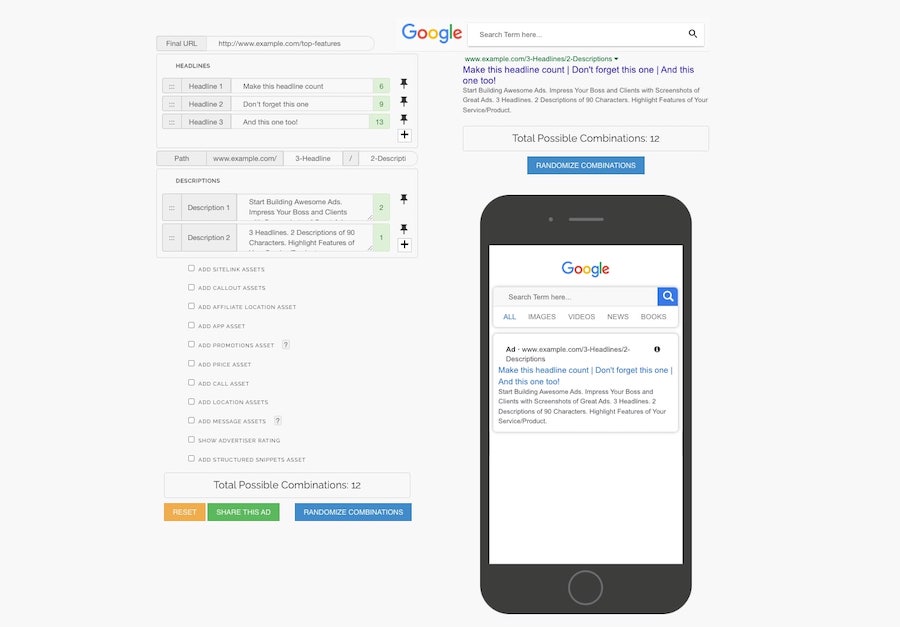 There were a few tools that didn't quite make our top 5 but we think are still worth a mention:
Google ad mockup tools
Social media ad mockup tools
Related articles
Wrapping things up
So there you have it. 5 tried and tested ad mockup generators.
We're sure there's a tool in this list that offers what you need. Plus they're all completely free to use so you can't go wrong!
Enjoy creating! If you have any questions, comments or suggestions for other awesome online ad mockup generators that we might have missed, leave a comment below.