If you're looking for sites like Vexels then you're in the right place. We've organized these Vexels alternatives by category so you can easily find competing tools and sites that offer the same quality.
We've included some free alternatives for each category for those on a tight budget.
---
Click on the relevant link below to jump to a specific category of alternative sites:
---
Vexels alternatives for mockups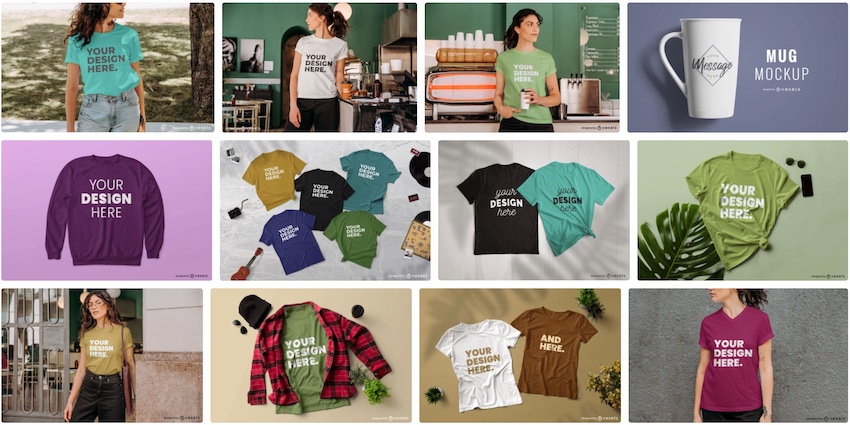 Vexels has a great range of mockup templates, particularly their range of PSD mockup templates which offers plenty of mockups (particularly apparel templates).
They also have an online mockup generator with an ever-expanding range of mockups that can be modified within your browser.
If you're looking for alternatives for mockups there are quite a few sites like Vexels that offer a comparable range of PSD mockups, and mockup generators that offer the ability to make mockups online:
Alternative mockup generators:
Alternatives for PSD mockups:
Vexels alternatives for merch designs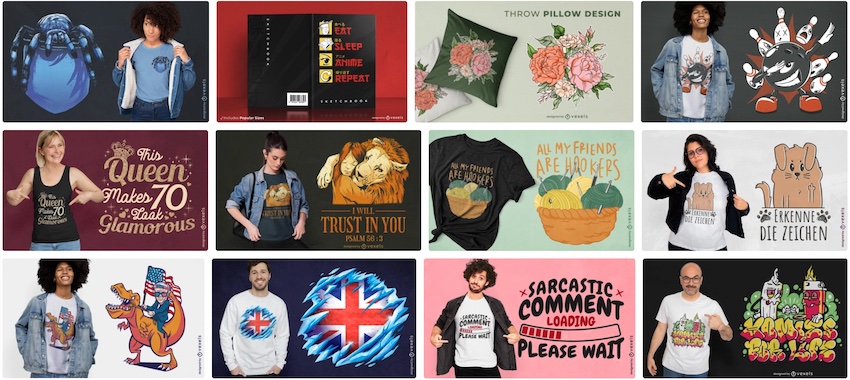 Like with their mockup templates, Vexels offers PSD templates for merch designs, but they also have an online t-shirt design maker too.
Their range of merch designs covers various products including t-shirts, pop sockets, phone cases, tote bags, and more. Their range is beneficial for print-on-demand sellers.
There are some great alternatives to consider when it comes to creating or buying merch designs. Here are some of the best:
Alternative online tools:
Other merch design alternatives:
Vexels alternatives for logos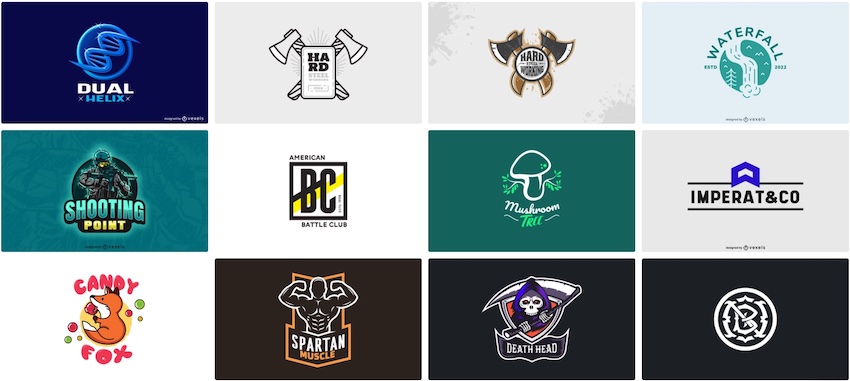 If you're familiar with Adobe Illustrator or other design programs you can access a great range of logo design templates on Vexels that can be downloaded and customized.
Vexels also has an online logo maker with some good designs that you can utilize.
The quality of the logo graphics in their logo maker isn't as good as the downloadable logo files they offer, so if you're looking to use a logo generator we'd suggest looking elsewhere at the moment.
There are some great alternatives to consider when it comes to creating your logo, some of which have some free templates too:
Alternative logo makers:
Other logo design alternatives:
To conclude…
So, there you have it. Some awesome Vexels alternatives.
Vexels has a great range of mockups, merch designs, and logo templates, and it's a great resource particularly if you are in the print-on-demand niche.
There are quite a few high-quality alternatives though, so it's worth browsing the various options to see what they have to offer.
Enjoy creating your designs! Oh, and if you have any questions, comments, or have suggestions for other awesome sites like Vexels, leave a comment below!