Fiverr is one of the biggest online gig marketplaces where freelancers can sell their services and people can hire professionals to help them out with their projects.
You can find freelancers for almost anything on the platform but one of the most popular areas is logo design.
We even got a freelancer from Fiverr to create our logo! Here are 25 of the best logo designers on Fiverr if you're interested in using a freelancer for your logo design.
Recently, Fiverr released their very own logo maker so we thought we'd give it a try to see how it stood up against other logo makers and if we could produce something close to the same design quality the Fiverr freelancers gave us.
In this article, we'll take you through the ins and outs of Fiverr's logo maker to see if it's worth your time and money.
---
Jump to a specific section:
---
Section 1: Quick overview
Before we get started, for those of you who aren't aware of Fiverr's logo maker, here's a quick run-through for you.
Like many logo makers on the market, Fiverr uses some AI technology to match you with your 'ideal' logo designs. You simply need to fill in the questions about your business and the style you're looking for and Fiverr gives you a selection of pre-designed logo templates to choose from.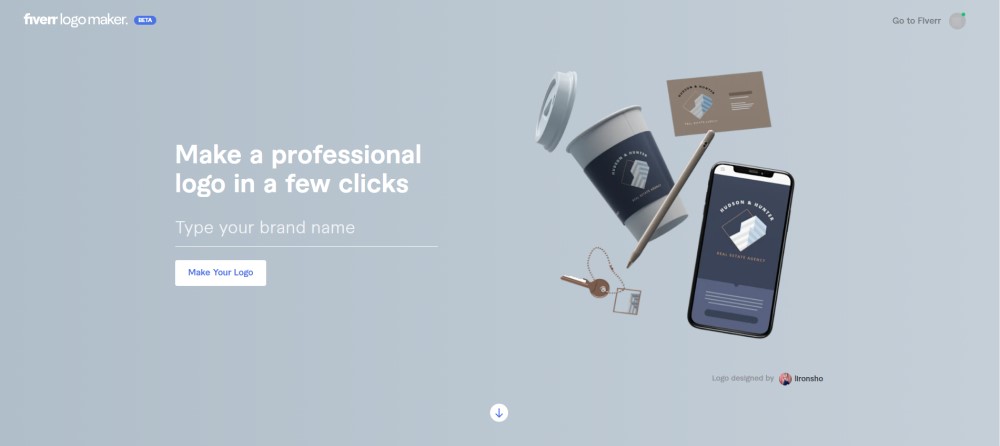 All the logos have been designed by professional designers who have decided to add their design to Fiverr's logo maker library. So, hopefully, that means there's plenty of quality designs to customize. Let's find out.
Section 2: Review
To review the tool we set out to see if we could create some logo designs that we'd be happy to use as our brand logo.
The themes we had in mind for the designs were something that represents a hub, connected community, and simple (no fluff). You can see our final logo designs a bit later on.
We also looked at a few different areas:
Let's dive right in.
2.1 Setup process
The initial steps to generate logo designs are incredibly quick and easy to go through. First up you simply need to put in your brand name to get the ball rolling: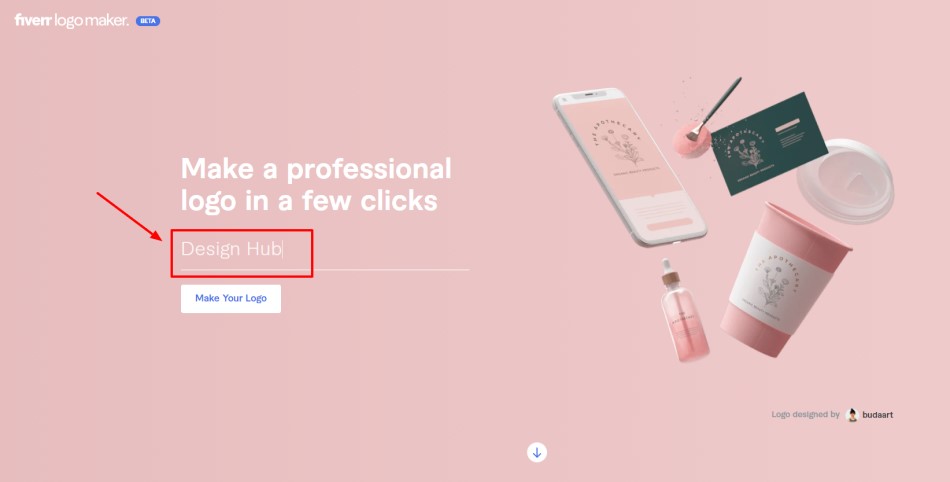 Next, you complete three steps. The first is adding a slogan if you want, second, you choose your focus industry and list any elements you want in your design e.g. "cat", "house", etc.
We went for "Design Blog/Channel" as our industry and put "hub" as an element we wanted in our design: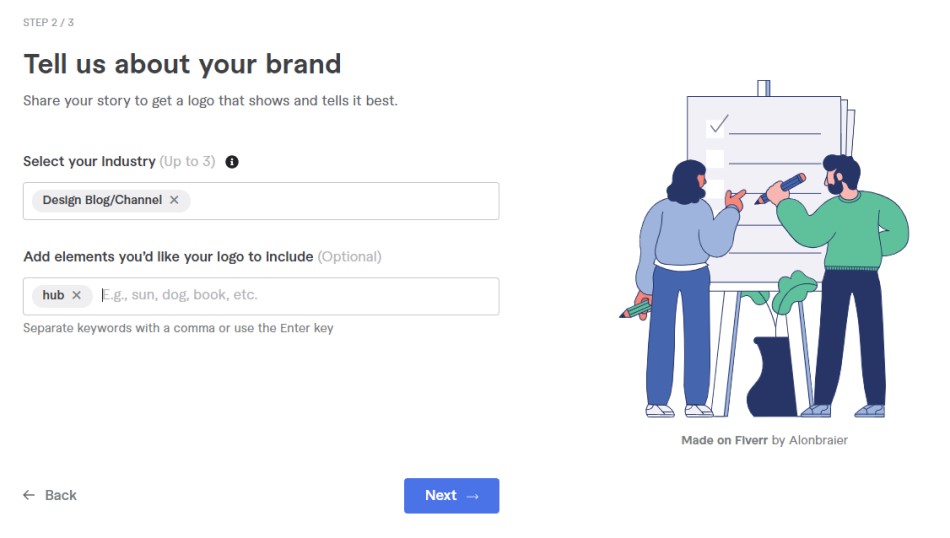 The last step before you generate your designs is to define your brand's personality. You choose points on a scale between two options e.g. "Classic vs Modern""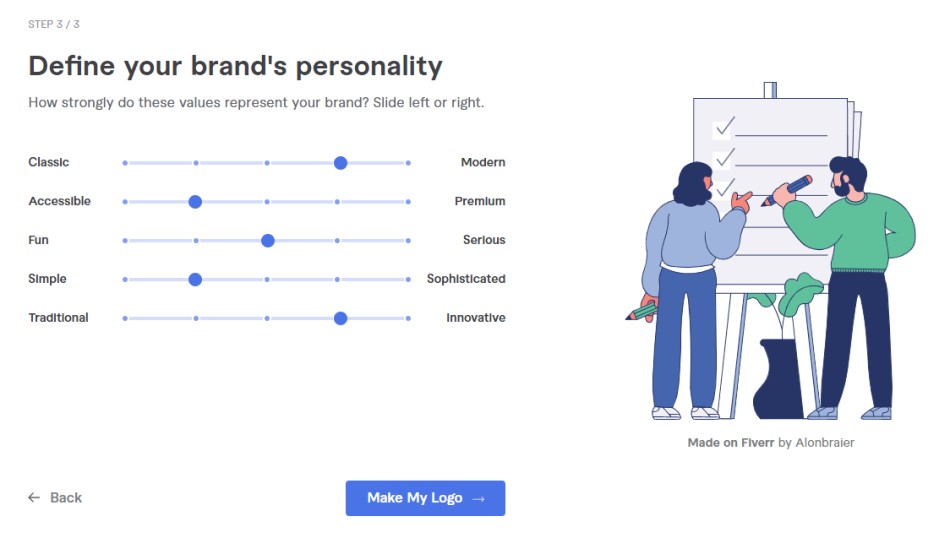 Once you're done with that you can generate your logo designs.
You'll now be presented with logo designs that match your inputs. At this point you can either purchase one of the logo designs, or choose one to customize to your liking: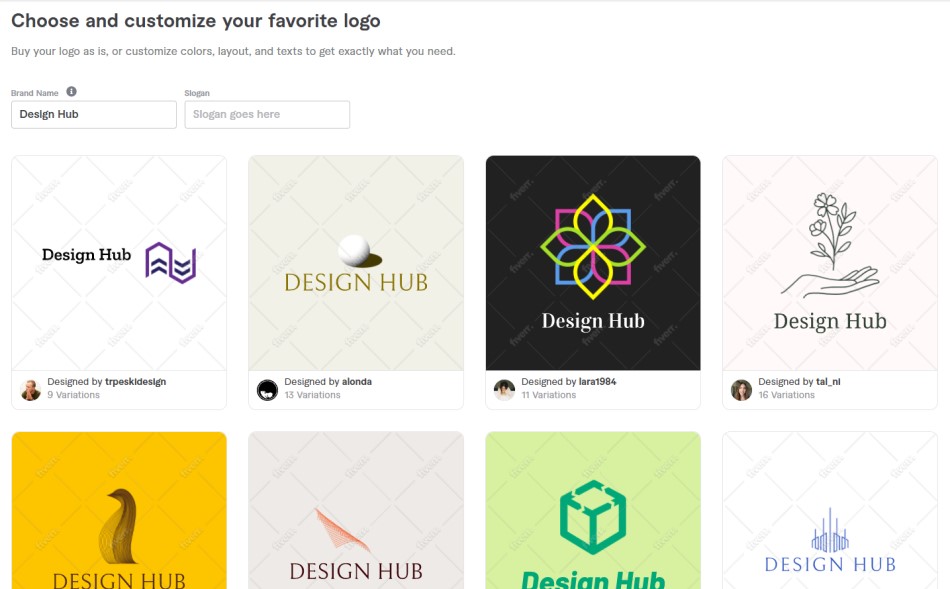 To see different variations of a logo design, hover over the design and variations will appear below it, this can help make your choice easier. You can also favorite designs by clicking on the heart icon on the logo design: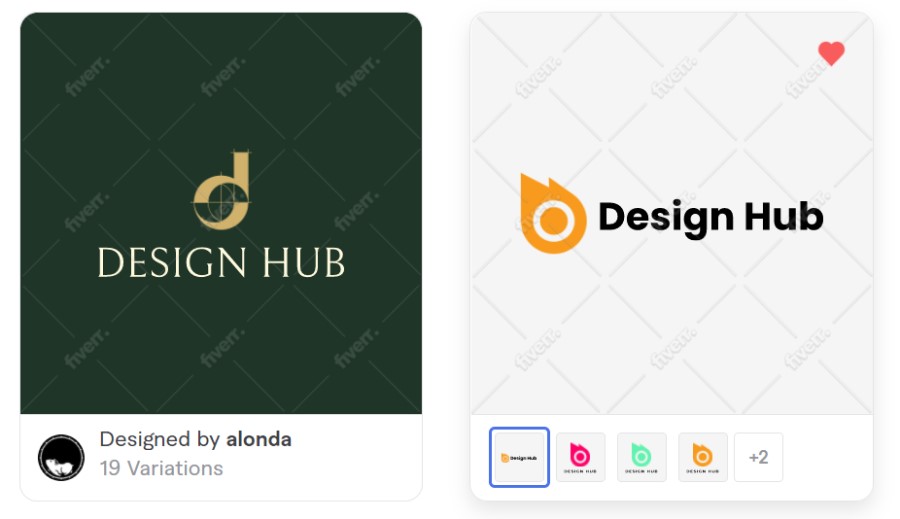 2.2 Logo design quality
In our experience, the quality of the logo designs on offer via Fiverr's logo maker is very much a mixed bag. Some look a bit like clip art, whilst others are good quality. Be prepared to have a broad range of designs presented to you.
It also depends on your industry and the design elements you requested. For example, the pet industry brought up some good-looking logo designs.
In our test there were some fairly poor logo designs, including ones that didn't really feature a hub (although that's quite a broad term to be fair) e.g.: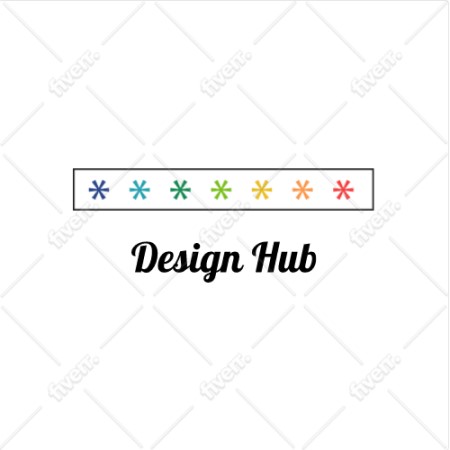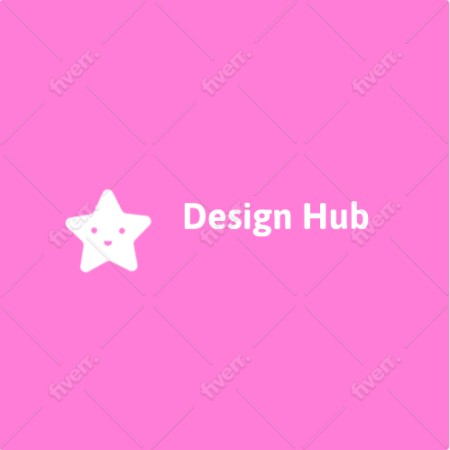 But there were certainly a few solid designs that we felt like we could work with and customize further e.g.: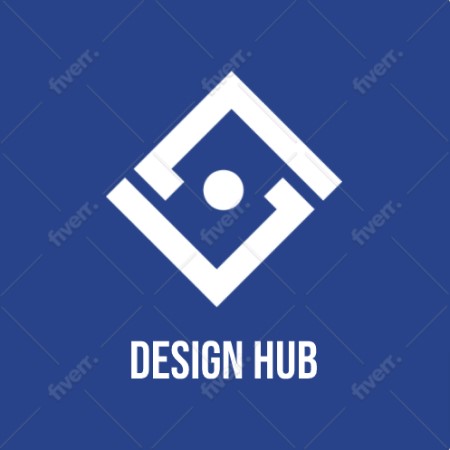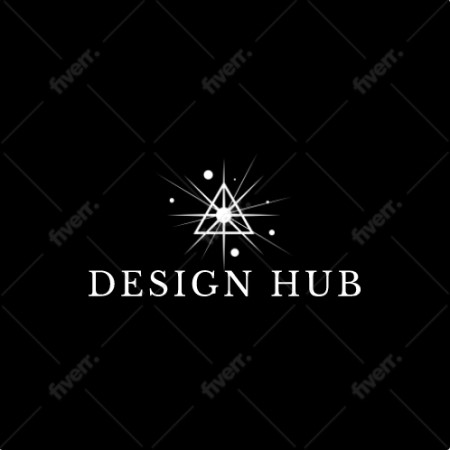 Overall, the logo design quality is okay. If you're looking for intricate logo designs then you're better off looking at other logo makers or even better, hire a freelancer on Fiverr to create one for you. We did just that, you can read our Fiverr logo design review for more details.
However, if you're after a basic, minimal logo then you're likely to find a few designs that have the look and feel that you're after with Fiverr's logo maker.
We're also sure that Fiverr will continue to tap into their vast logo designer network and keep adding more and more design options to their logo maker.
2.3 Logo Customization
When you click on a logo that you want to customize you will go to a page that has different variations of your chosen logo design and several mockups too.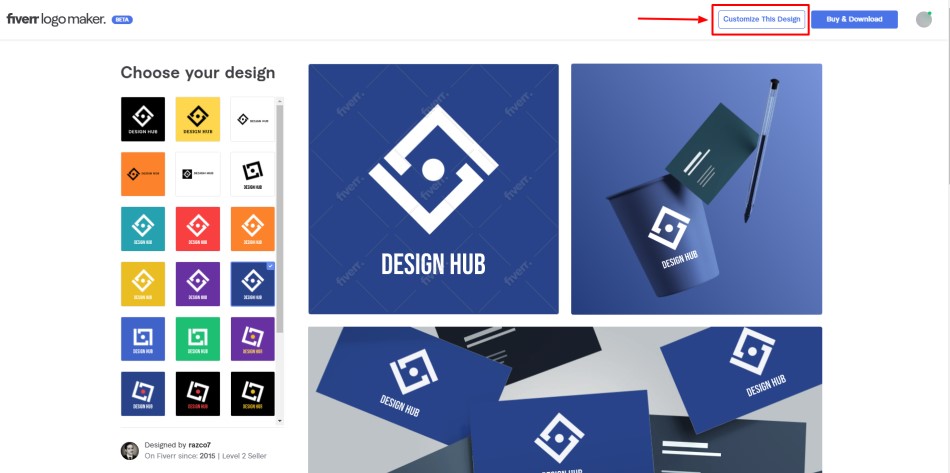 From here simply click 'Customize This Design' at the top right and this will take you to a page where you can make alterations to your design.
The customization options are fairly limited, you can do the following:
Select a color group/palette
Alter the text (content, font, size, position, rotation)
Alter the slogan (same options as the text)
Alter the icon (color, size, position, rotation)
Add a shape (square or circle) and do all the typical customization options with that too
Alter the background-color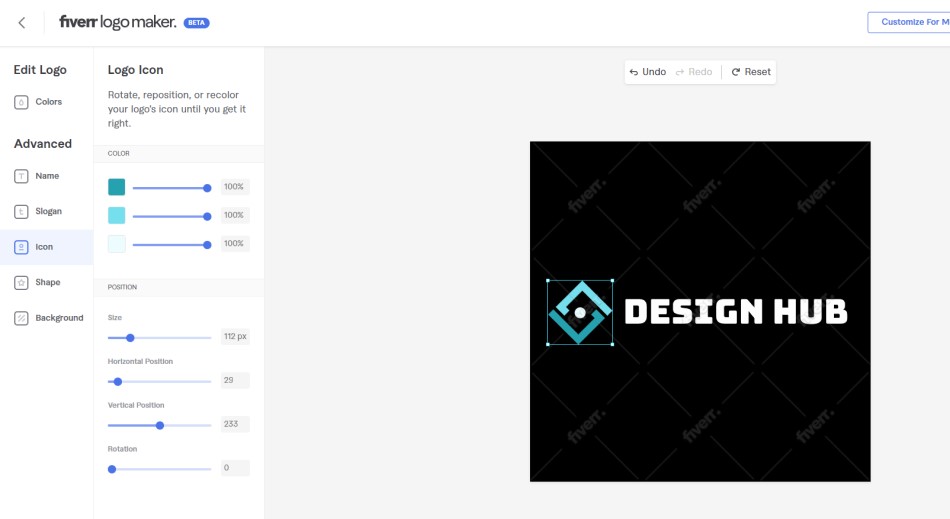 And that's it! There's not a whole lot for you to do there to be honest but the options that are there are easy to follow and are intuitively designed.
What the editor lacks
In our opinion the editing and customization options Fiverr's logo maker offers currently aren't all that great. There's definitely room for improvement in these key areas:
Element selection and movement: It's not possible to group elements together or select multiple elements are the same time which is quite annoying
Multiple text options: It would be good to add extra text fields. However, it is possible to use the 'slogan' field as an additional text field currently.
Fonts: The font selection is currently quite limited
Icons: It would be good to be to add additional icons
2.4 Additional features and options
When it comes to additional features there are only a couple. The ability to 'preview' your logo design which means to view it on some mockups and also the option to get the designer who created the original design to make further customizations for you.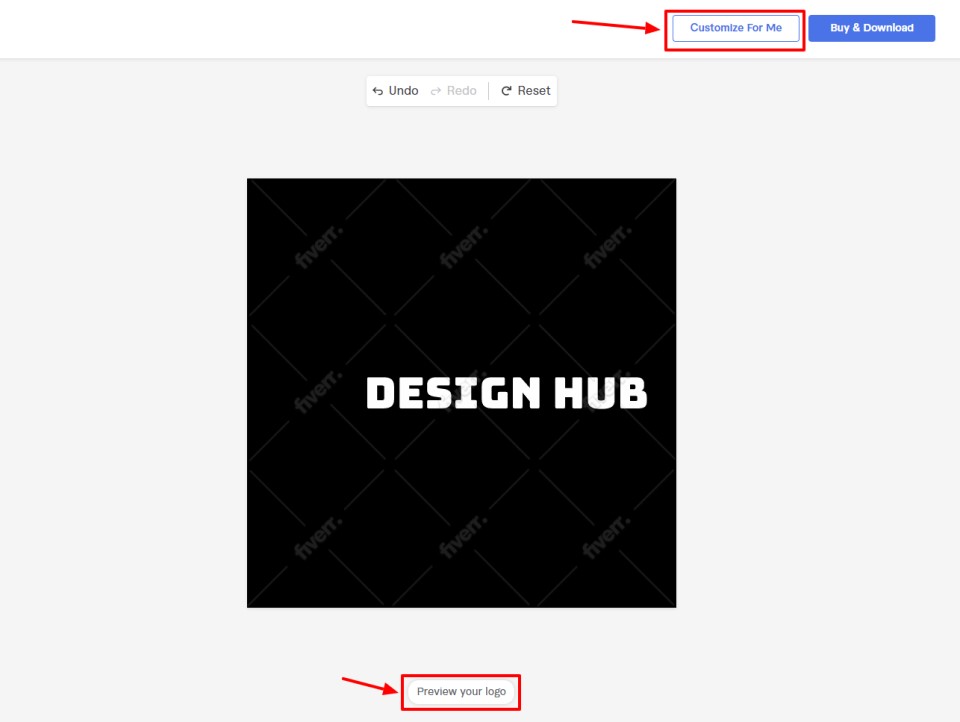 When you click on 'Customize For Me' this will allow you to hire the designer who created the original logo design to make further customizations for you. It doesn't mean create a whole new logo but simply to make alterations to what you've already done in the logo maker.
Prices may vary depending on the logo design but ours would have cost us $100: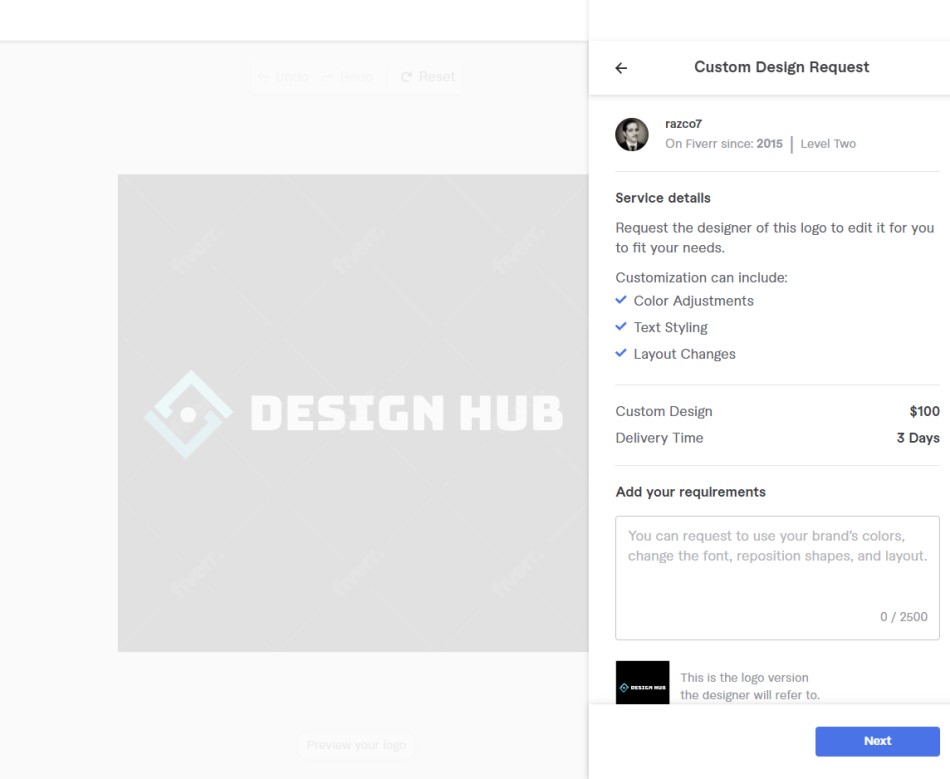 This is a nice option to have but obviously for people looking for a quick and super affordable solution it would be more ideal if they could make all the customizations they need themselves within the logo maker itself without having to turn to the orginal designer.
It does seem like a good way for Fiverr to drive additional business to the designers on the platform though!
2.5 Customer Support
If you need any customer support there are a couple of areas you can go to:
Help section – Fiverr answers many frequently asked questions here so if have any issues you should check out their help section first
Forums – You can also check out the forums for discussions that might help you
2.6 Our Verdict
After reviewing Fiverr's logo maker we feel that it has a lot of potential but it currently isn't one of the top logo makers around.
When it comes to the variety and quality of logo designs, and the customization options available, the logo maker doesn't quite offer as much as some competing products.
That being said, it's still very early days for this tool and we have no doubt that Fiverr will continue to invest and improve the product. Also, Fiverr has a massive talent pool of designers to tap into to keep adding quality logo designs.
We did manage to create some good looking logos with Fiverr's logo maker which you can see below: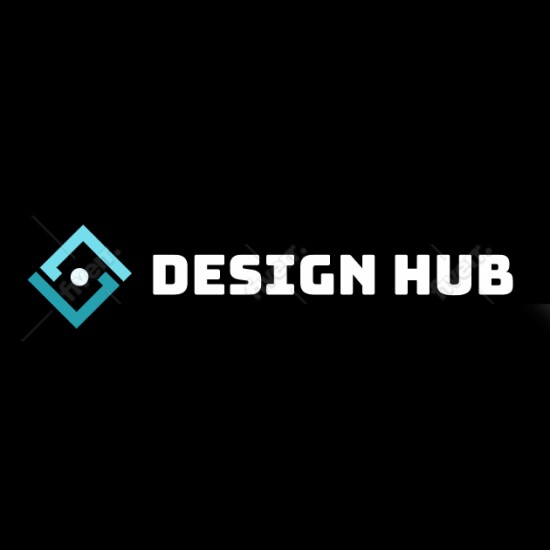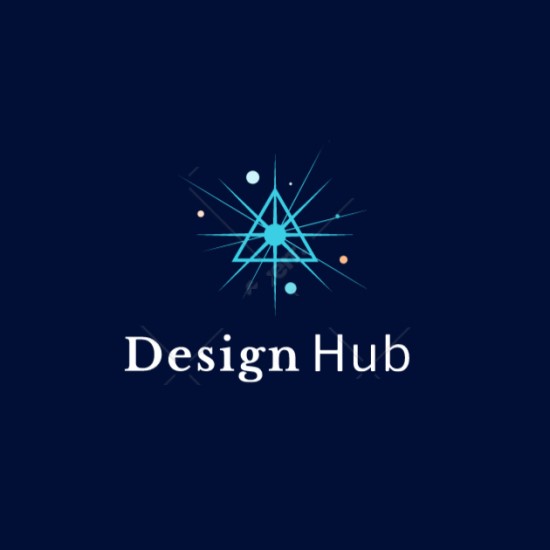 Below we've listed some of the main pros and cons with Fiverr's logo maker:
Pros
Create a good-looking logo super fast!
Intuitive user-friendly interface
Some quality logo designs
Cons
Not an abundance of quality designs
Lack of customization options
Limited font library
Can only have one icon per design
Overall, Fiverr's logo maker is a decent option and has the potential to become a really great tool but at the moment we'd recommend you check out the designers on Fiverr to get them to create a custom logo for you.
Section 3: Pricing
When it comes to buying your logo design you have to options, you can either get the 'Essential' package ($30) or the 'Professional' package ($60).
If you plan to make further modifications to your logo you'll need to get the Professional package which gives you an SVG version of your logo.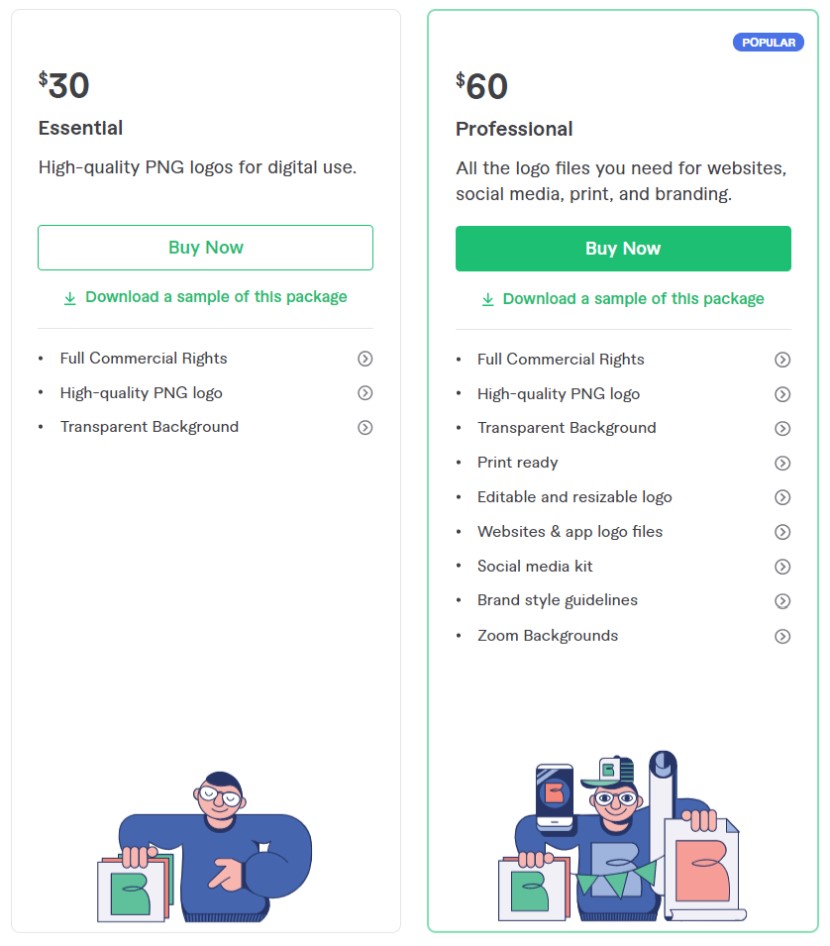 Section 4: Licensing
With any logo you create with Fiverr's logo maker you get full commercial usage rights so you're free to use them on any platform you see fit.
This is the case with both packages: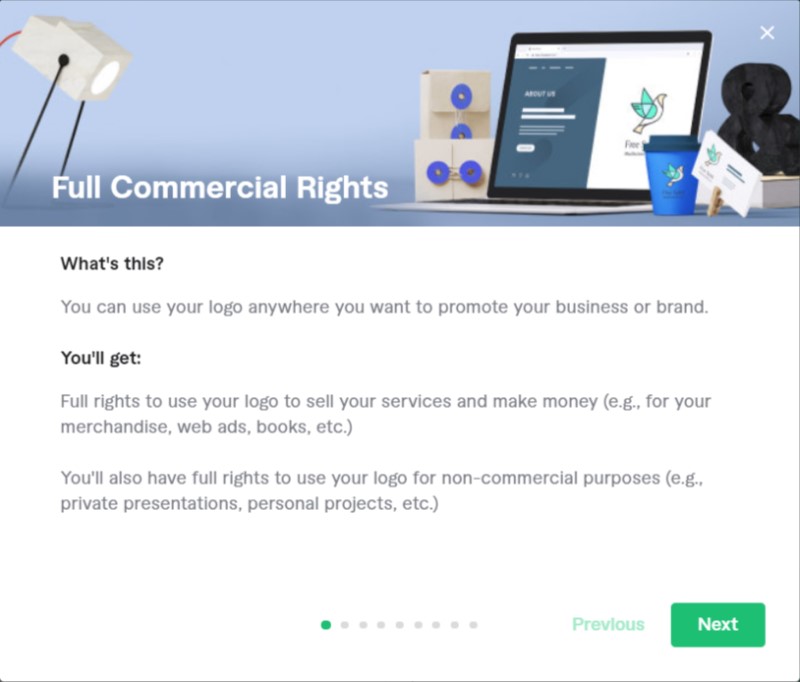 Section 5: What else can you do with Fiverr?
With Fiverr you can get almost anything but as mentioned previously, we'd highly recommend working with a freelancer from the platform to get your logo design created.
There are far too many to mention but here's a list of some of the other areas where you can find fantastic freelancers on Fiverr:
Section 6: Alternative logo makers
We've reviewed lots of logo makers and based on the logo design quality and we think Fiverr's logo maker is fairly solid but isn't quite one of the top logo makers around yet.
At the moment there are a couple of other logo makers that we think offer a bit more. When it comes to customization options it hard to look past Canva's logo maker. For logo design quality and variety, we'd recommend you check out Placeit.
There are a few other logo makers that worth checking out too, including:
And as mentioned, check out the logo designers on Fiverr, there's plenty of talent there!
Final thoughts
Fiverr is an incredible platform but at the moment their logo maker doesn't quite meet the high standards they've set for themselves. We're sure they're working on making it better though.
However, if you want to get a fantastic logo for your brand we'd recommend checking out the logo designers on Fiverr. We did it and we were delighted with the results.
So, what's your opinion of Fiverr's logo maker? What was your experience with it like?
Let us know what you think, we'd love to hear about your experience with Fiverr's logo maker!