There are plenty of online logo makers on the market and one of the most popular options is DesignEvo.
With over 4,000 reviews on Trustpilot (and a rating of 4.8 stars) we decided to give the popular logo design tool a spin to see if that rating was justified.
In this article, we'll take you through the ins and outs of DesignEvo's logo maker to establish if it's worth your time and money.
We'll also walk you through the steps to create your own logo with the tool.
Let's do it.
---
Jump to a specific section:
---
Section 1: Overview
If you're not too familiar with DesignEvo, here's a quick rundown for you:
What is DesignEvo?
Unlike some of the logo makers we've reviewed in the past such as Placeit and Canva, DesignEvo is an online design tool solely focused on helping its users create logo designs.
They have a sizeable library of logo templates organized by specific categories that you can easily browse to find your ideal design.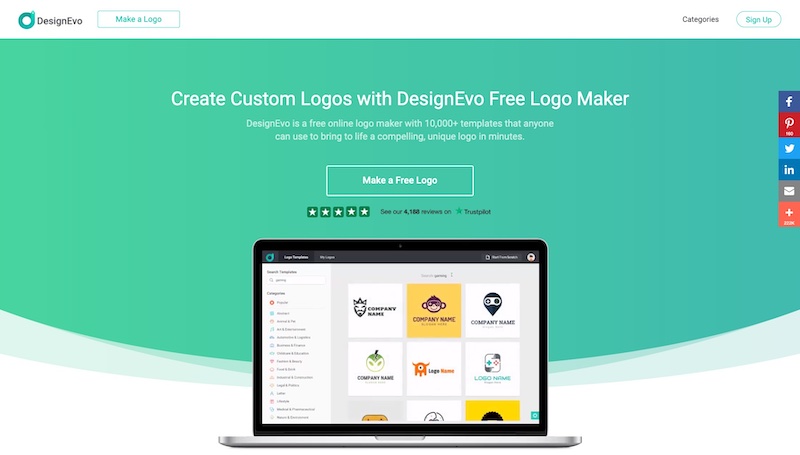 The logo design categories on DesignEvo with the most templates are:
Animal & Pet (1,500+ templates)
Art & Entertainment (1,400+ templates)
Nature & Environment (1,000+ templates)
Sport & Fitness (900+ templates)
Lettermark designs (900+ templates)
Food & Drink (800+ templates)
And many more
Section 2: How to make a logo with DesignEvo
Here are the steps you need to take to create your own logo using DesignEvo:
Step 1: Go to the logo maker and select a category
To start your logo design journey with DesignEvo, you simply need to click the 'Make a Free Logo' button on their homepage, then choose a logo design category that fits your niche: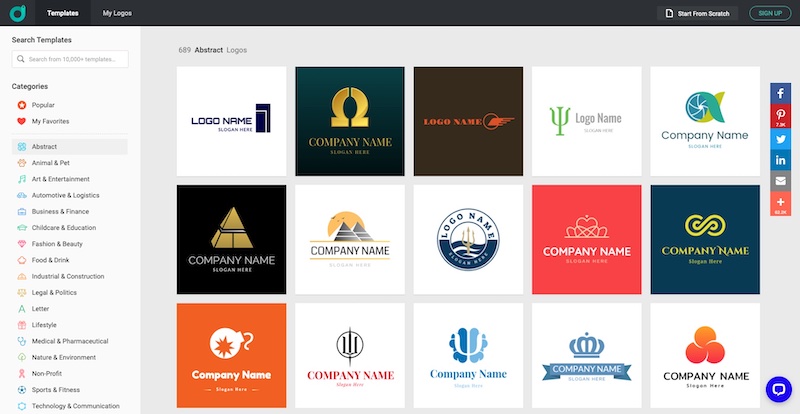 Alternatively, if you're feeling bold, you can start your logo design off from a blank canvas by clicking the 'Start From Scratch' button at the top right:
If you're on an extremely tight budget and you're looking for a genuinely free logo maker that lets you download a high-resolution file of your logo without a watermark then DesignEvo will disappoint.
You can "use the tool for free" (as a lot of logo makers like to highlight) but you can only download a very low-resolution logo design file for free.
If you're after completely free logo designs we'd recommend checking out Placeit or Canva as they allow you to do download some high-quality logo designs at full resolution.
Step 2: Choose your template
If you're going to down the route of utilizing one of DesignEvo's predesigned templates your next step is to choose one that you like.
Regardless of the logo category you choose, you'll likely have hundreds of templates to browse through so to make things a bit easier you can save designs to your 'favorites' to come back to later to make your final decision.
To do that you simply hover over a template and click the heart icon: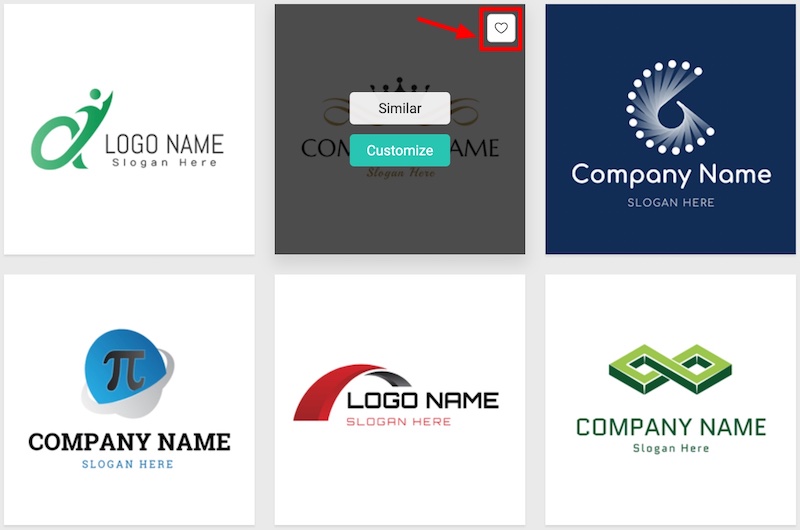 To get to your favorite templates you just need to click on 'My Favorites' and the templates will be filtered to the ones you saved so you can make your final decision.
You'll need to be logged in to a DesignEvo account to do this.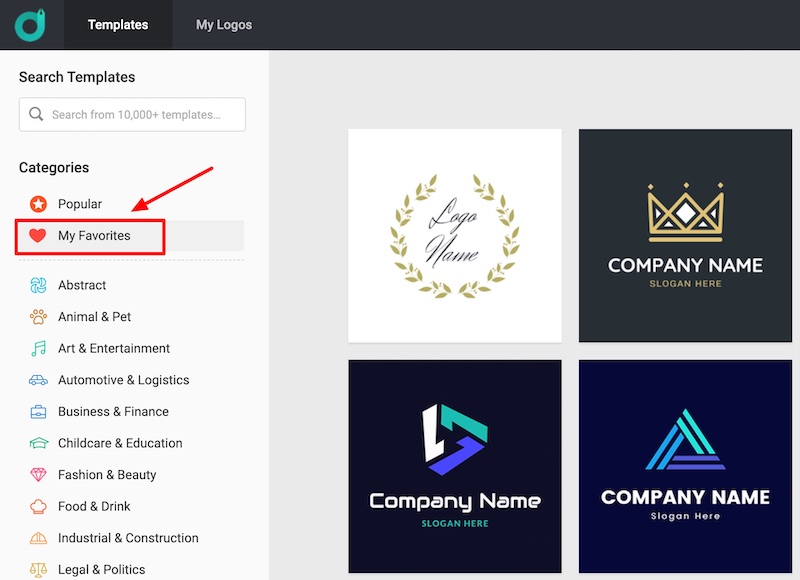 If you find a template that has a general theme and look that you like but it's not quite the perfect fit you can quickly find similar templates.
Simply click on the 'Similar' button on a template: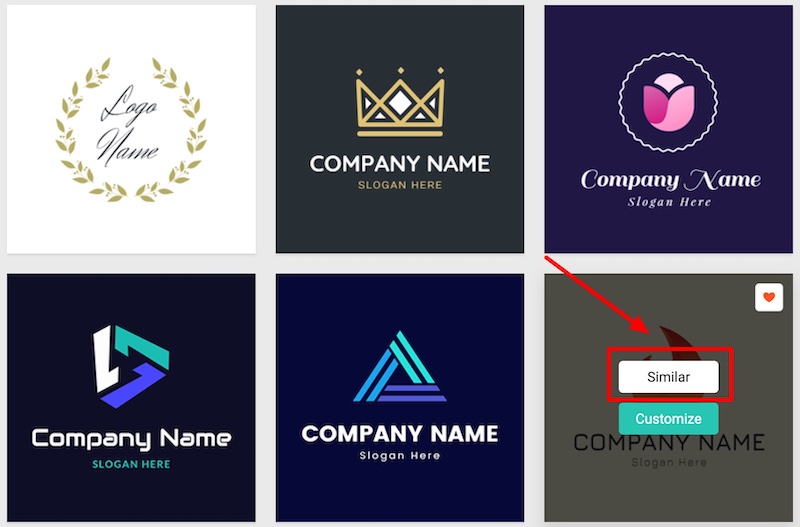 A popup will appear with very similar logos to the original template.
In the image above you can see we clicked on the 'Similar' button of a logo that had a fire/flame theme, this was the similar template options we got in the popup: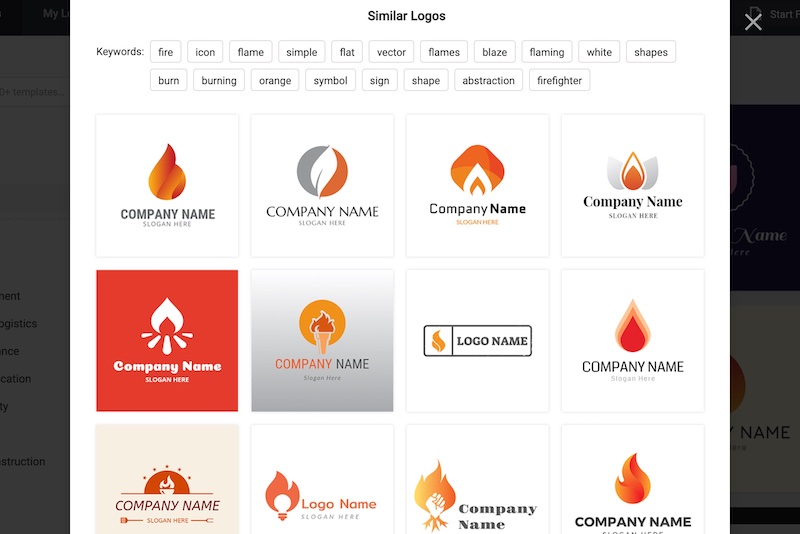 This is a nice feature! We thought the similar template suggestions were very relevant.
Once you've decided on your chosen template you simply need to hover on it and click the 'Customize' button to go to the editor.
Step 3: Customize your logo
Customizing the logo designs on DesignEvo is extremely easy. When you arrive in the editor you'll see a screen similar to this with the logo design elements on the canvas and the customization options on the left side: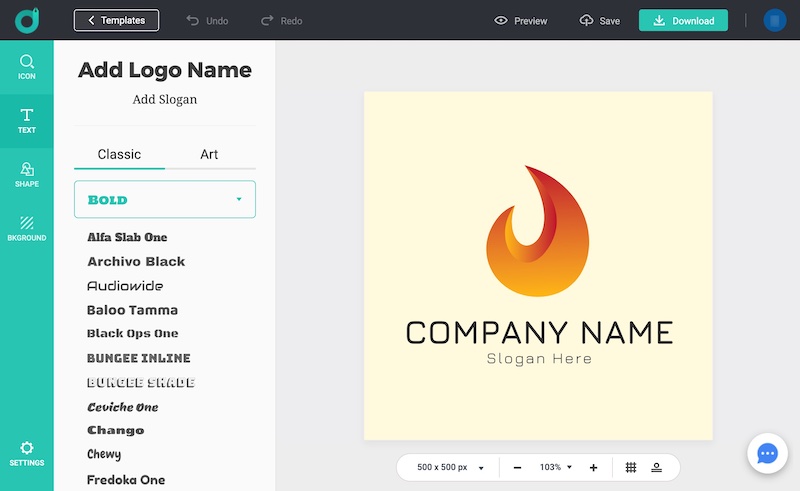 When it comes to customizing the logo text, you can either add some new text to the canvas by clicking on add text buttons in the text tab or by clicking one of the font options: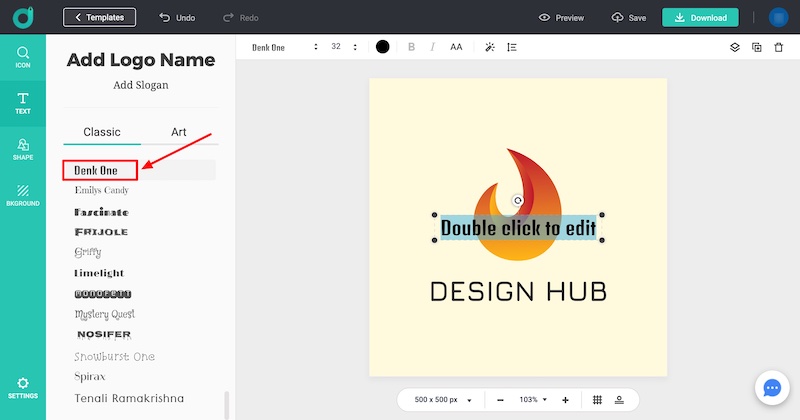 The font options on DesignEvo are broken down into Bold, Modern (Sans), Traditional (Serif), Handwriting, and Funny fonts styles. They also have a small selection of preset 'Art' font styles.
At the moment, it doesn't appear that you can upload your own custom fonts to use on DesignEvo.
You can also add additional shapes and icons (graphics) to the canvas. The icon library is pretty big, so if you search for a specific element (e.g. animal, fire, shield, weapon, etc.) you'll likely find a good number of options: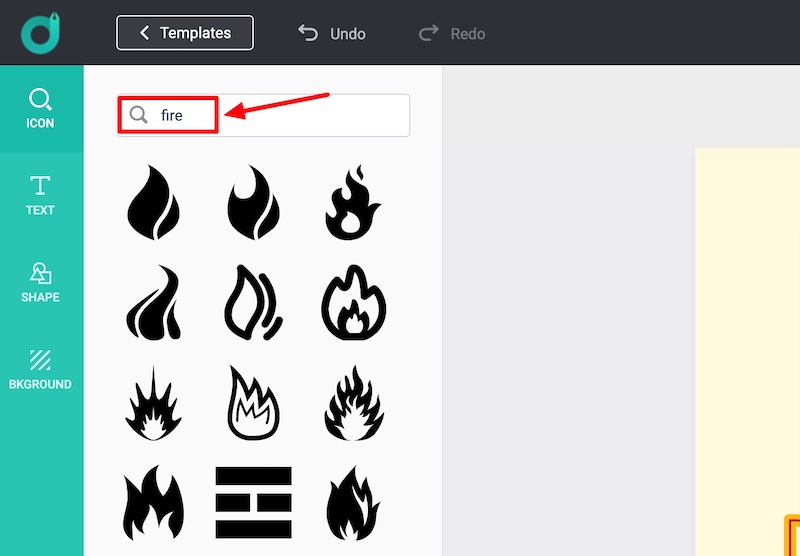 When it comes to customizing the elements on the canvas, this is just as easy.
If you click on one of the graphics you can do several customizations including being able to move it around on the canvas to reposition it (you can also use the arrows on your keyboard to do this), flip it vertically, horizontally, and you can also change the opacity.
You can duplicate elements from the canvas too, this allows you to create some unique designs.
Changing the colors of an element is very simple, you choose preset color options or choose your own custom color: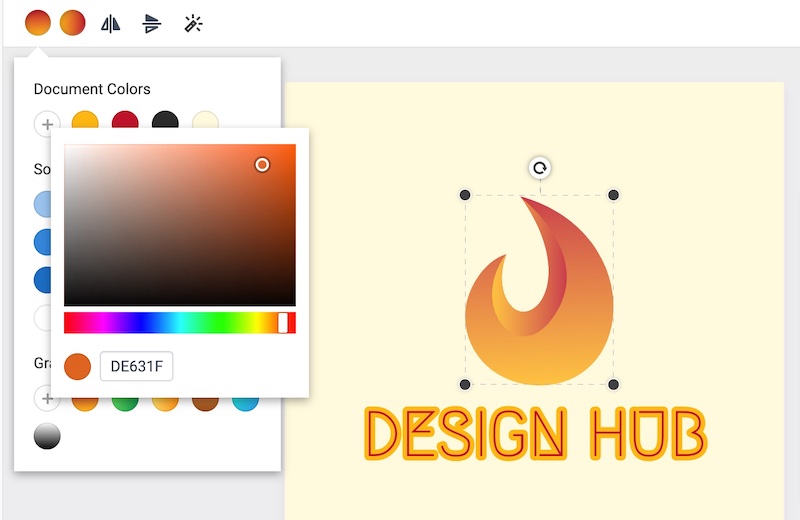 If you're using a color gradient you can also easily customize the colors and even the direction of the gradient: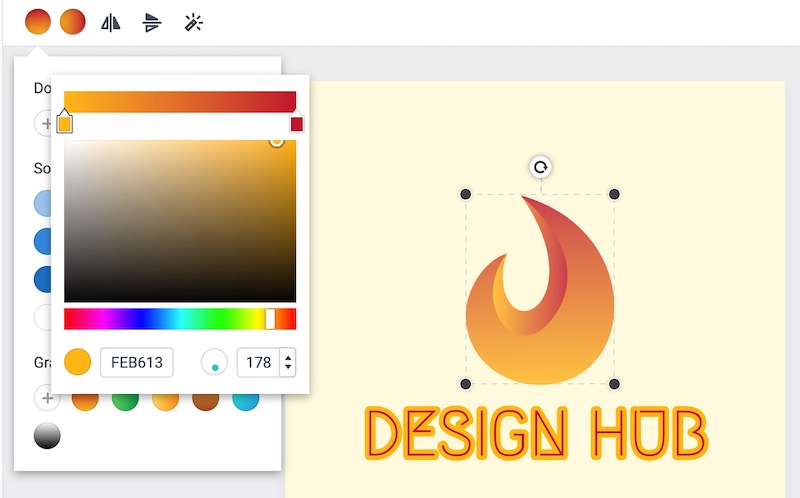 Similar options are available when it comes to modifying the logo text.
You can move it around on the canvas, duplicate it, change the font, size – all the standard options that you would expect: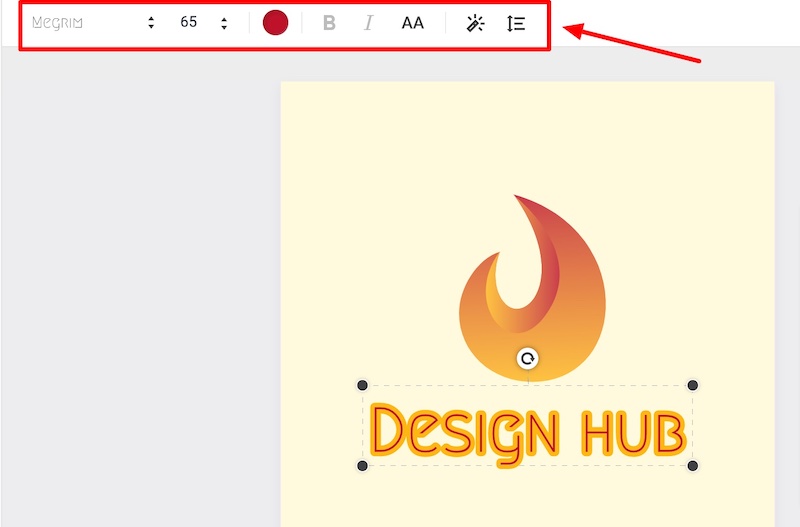 You can also easily adjust the alignment, spacing, and line-height of the text, as well as being able to easily curve the text in the direction you want: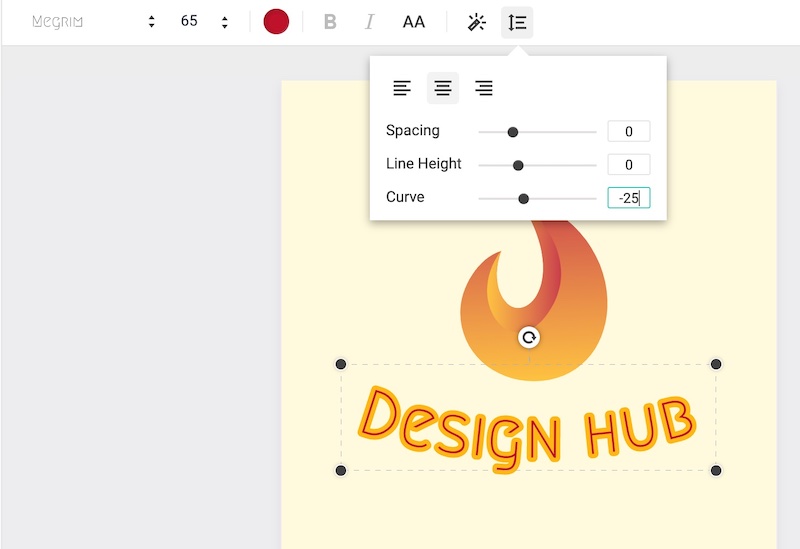 You can also add additional text effects, including changing opacity, adding a shadow, and adding an outline around the text: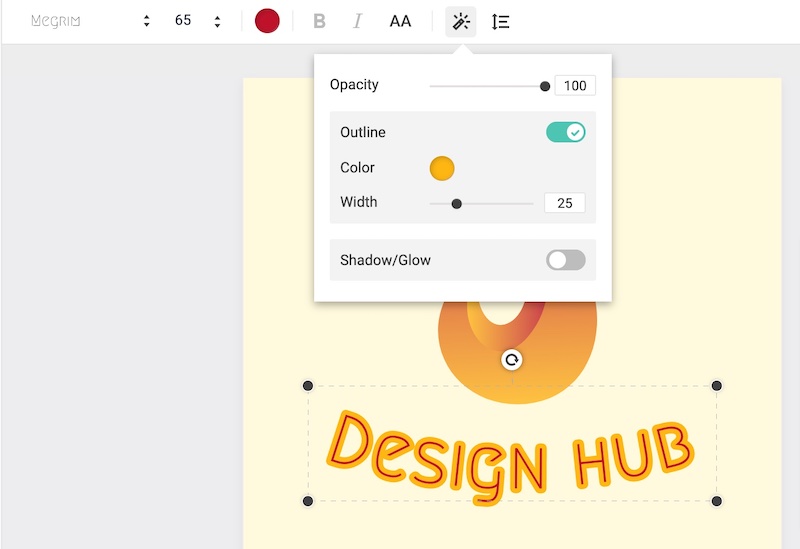 DesignEvo uses a layering system, so if you have several graphic or text elements on the canvas you can select one and change what order it sits in the layers by clicking the layers button at the top right and clicking forward or backward: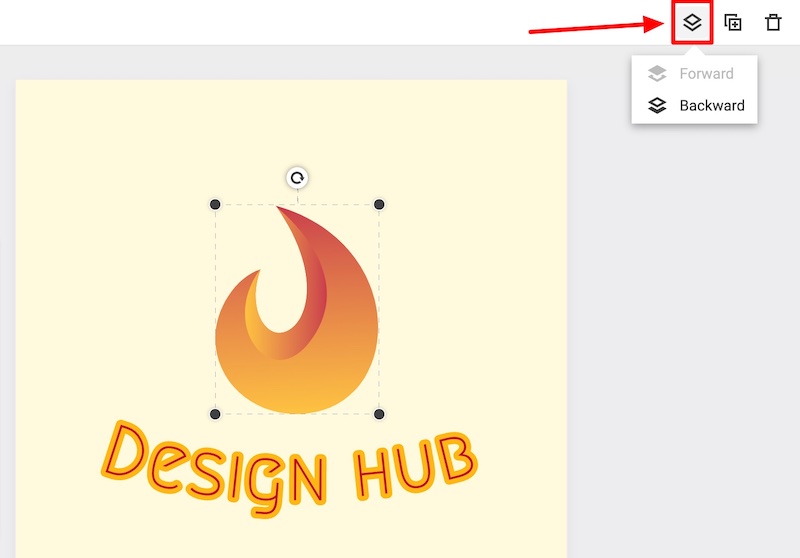 Finally, changing the background color is very quick. You simply click on the background tab on the left side menu and select either a transparent background, solid color, or a gradient: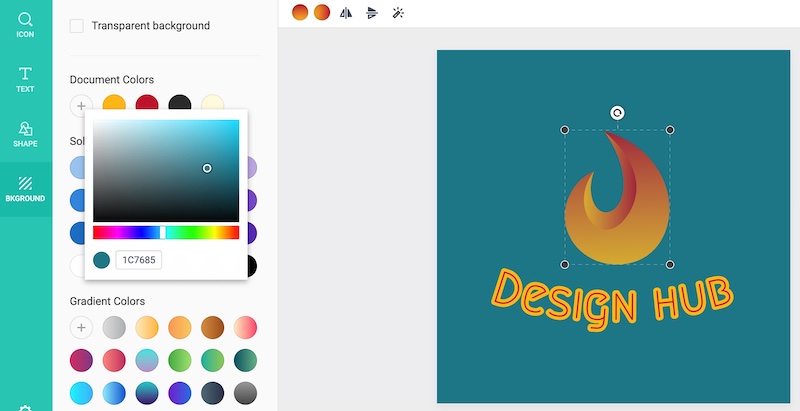 Creating and customzing a logo from a blank canvas
If you go down the route of starting from a blank canvas on DesignEvo all the customization options are the same, you just have to add elements to a blank canvas.
You can add icons, shapes, and text from the left side tabs and then customize them like you would with one of the predesigned templates.
In our opinion, the icons library you can search through isn't as high-quality as the predesigned templates which look more professional and less like standard icons that you can find on most platforms: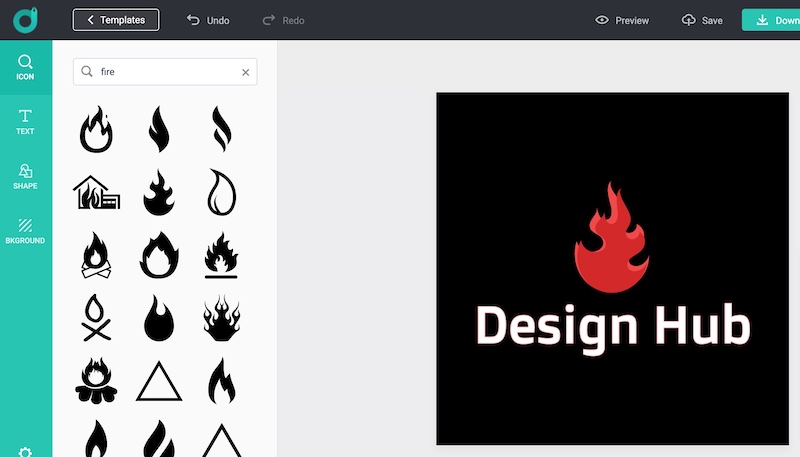 When you've got your logo setup how you want it, you can do a few a things.
You can save it in your account to come back to later, and you can also preview it to see how it looks on various mockups: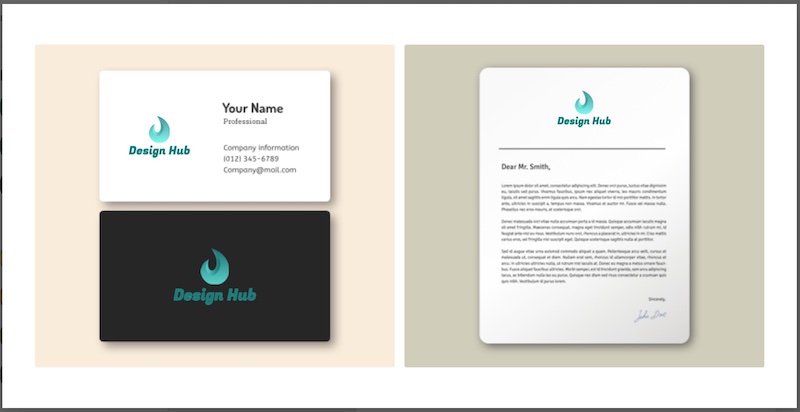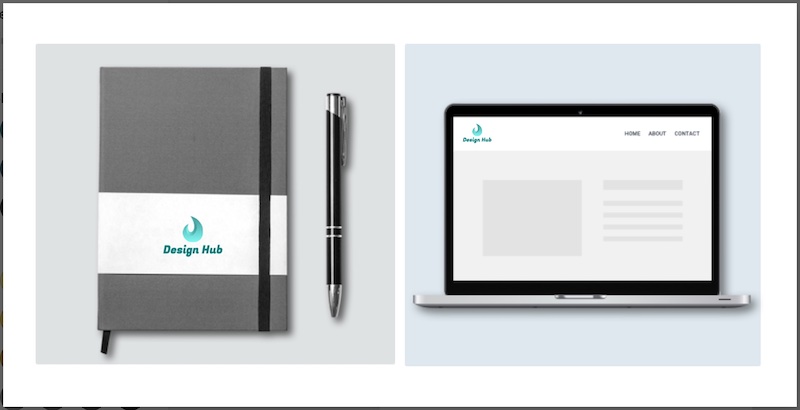 And that's it, you've created a logo with DesignEvo, and you're ready to hit the download button to make your purchase!
We also recommend creating several versions of your logo to make sure you have different formats for the different platforms you'll need them for e.g. your website, social media profiles, merch, etc.
When you purchase a logo from DesignEvo you can go back and make unlimited edits of the design once you've purchased it.
Here are the three versions of the logo we created: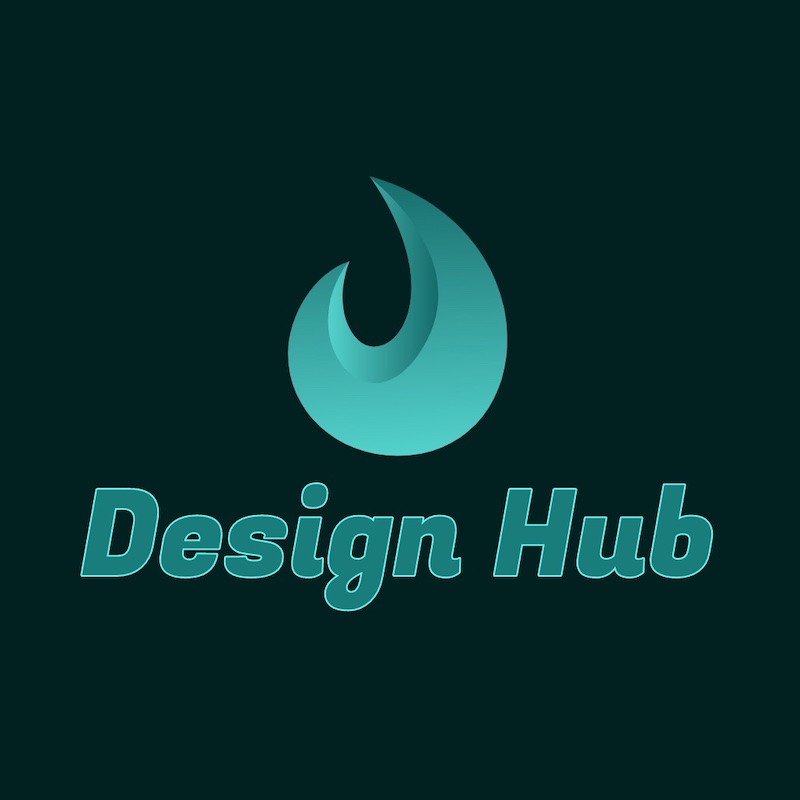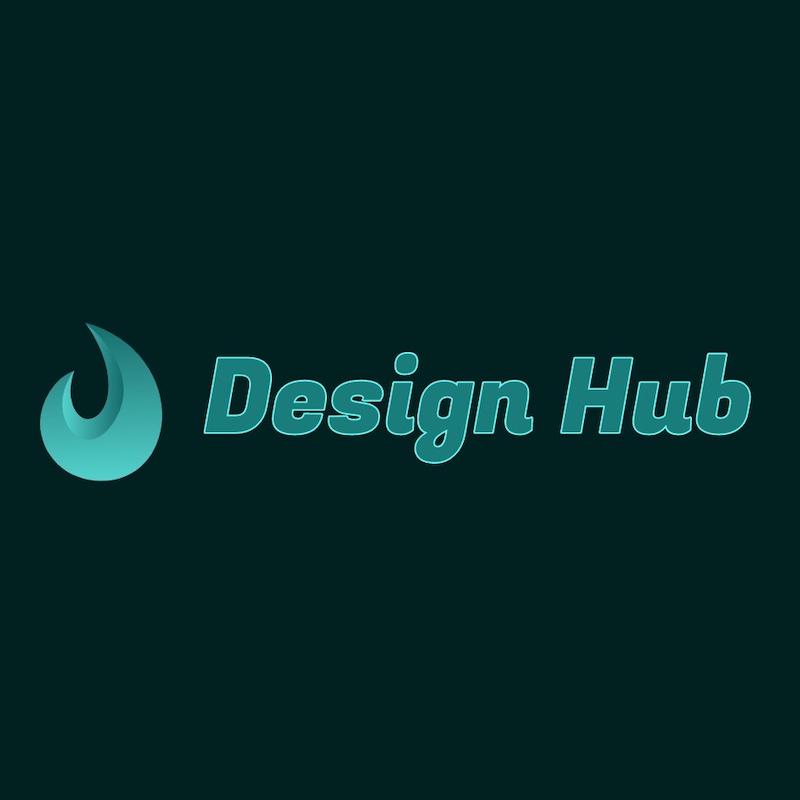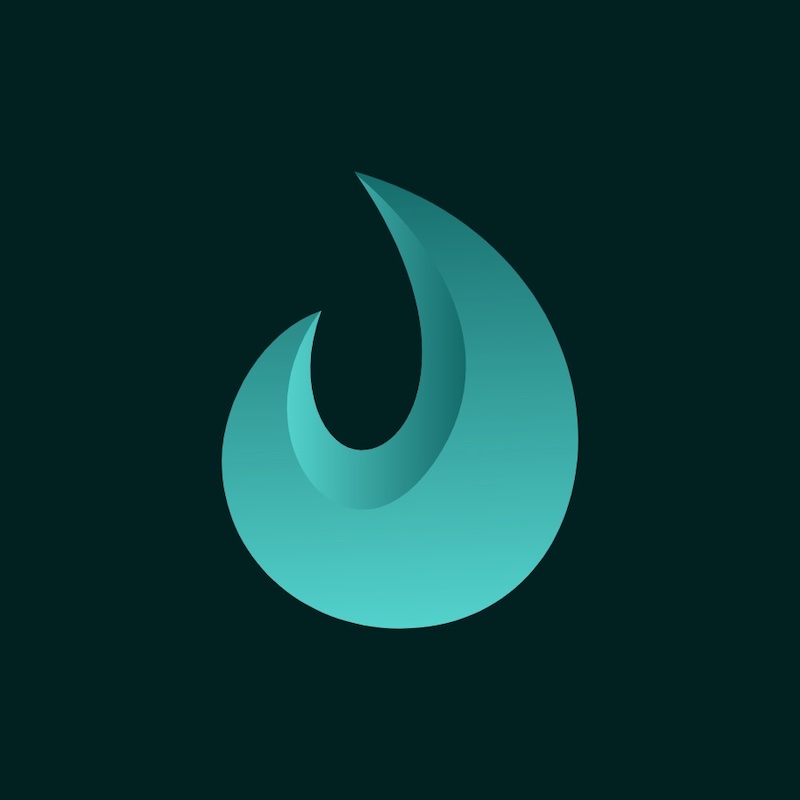 Section 3: Logo maker review
To review Design Evo's logo maker we looked at a few different areas:
Let's go.
3.1 Templates & Graphics
Design Evo has a good range of pre-designed logo templates that you can use as the starting point for your design.
At the time of writing, there are over 10,000 logo templates, and these span various categories from sport & fitness, animal & pet to lettermark logos, and much more.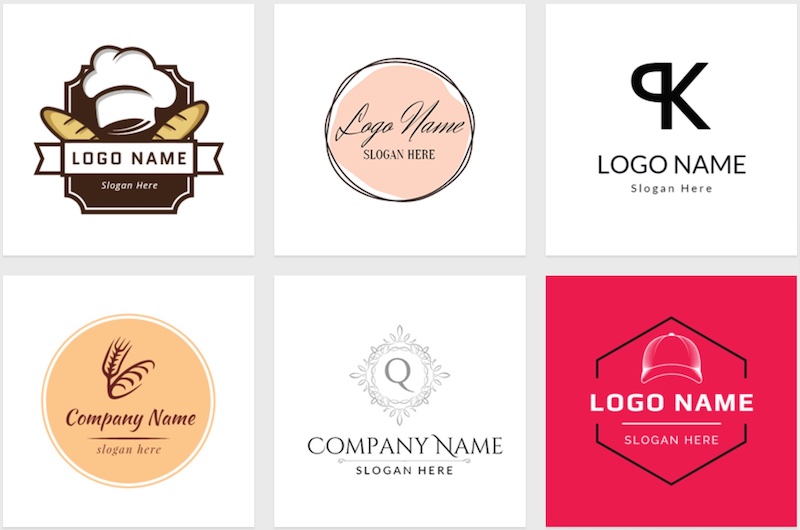 Most of the logo design categories on DesignEvo have at least a few hundred templates with the smallest category being 'Legal & Politics' with just over 120 logo templates.
So whatever niche you're in it's likely that there will be a good number of templates that are a good match.
Here are some of the best categories for logos on DesignEvo:
Animal & Pet logos (1,500+ templates):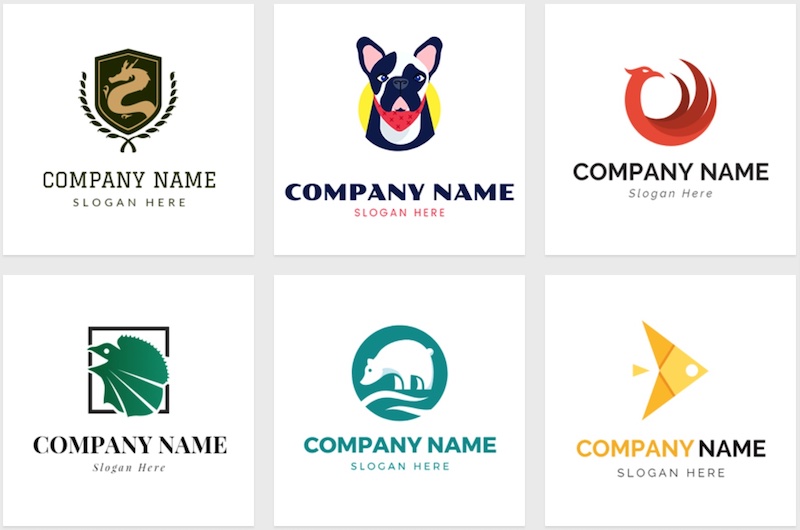 Art & Entertainment logos (1,400+ templates):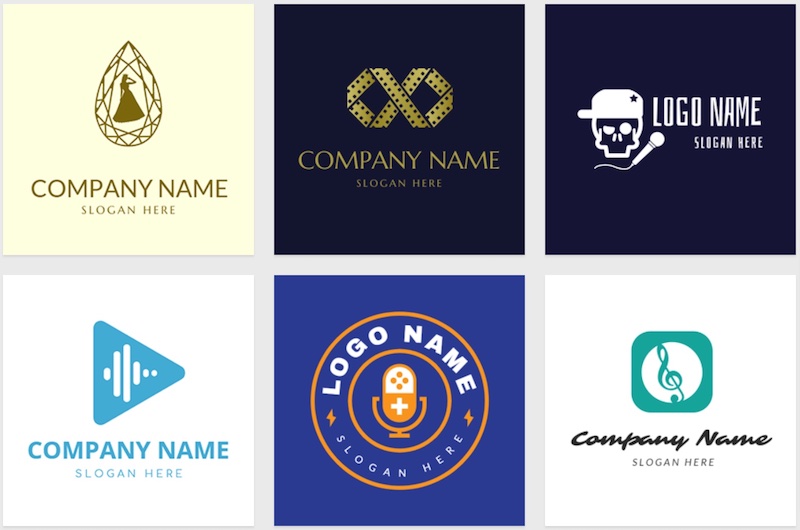 Nature & Enviroment logos (1,000+ templates):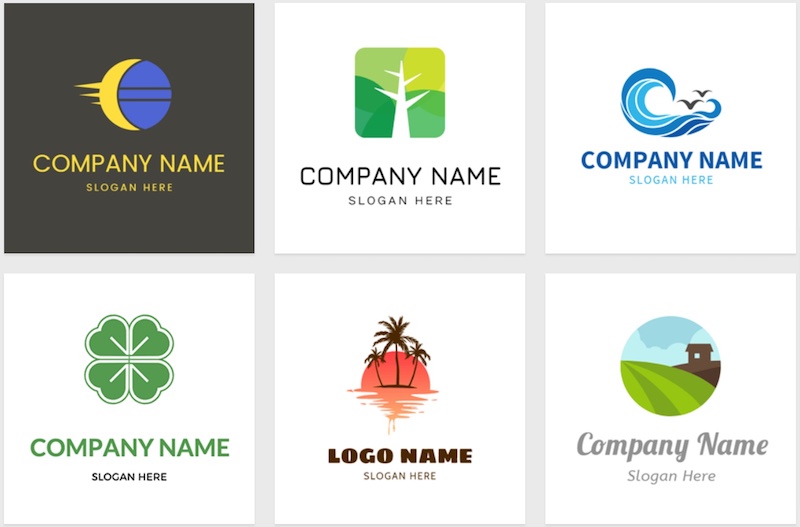 Sport & Fitness logos (900+ templates):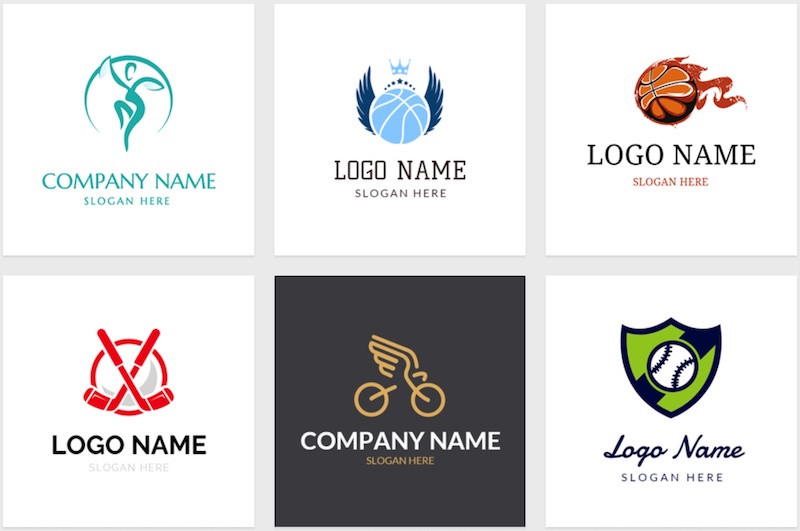 Lettermark logos (900+ templates):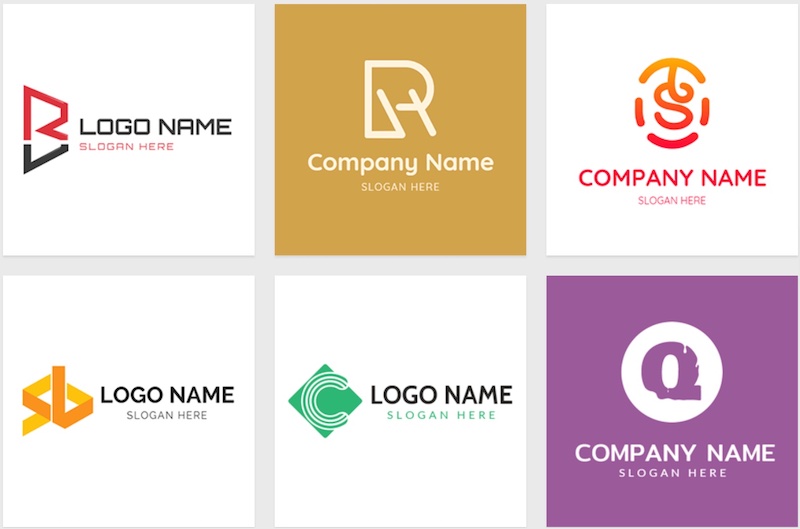 The design quality of the logo templates on DesignEvo is a bit of a mixed bag.
Some templates look great, whilst others look a bit basic or like clipart. However, if you do enough browsing through the options you're likely to find plenty of quality templates for your niche.
If you're looking for logo makers with a broader range of high-quality predesigned templates we'd recommend checking Placeit's logo maker, or Canva's logo maker.
That being said, there's a good number of unique designs on DesignEvo, and different options in terms of lettermark logos and graphic logos.
You can certainly do a lot worse than DesignEvo in terms of the logo template quality.
Graphics & Icons
The quality of the graphics and icons in DesignEvo's library is pretty standard. Many of the extra icons that you can add to your designs are available on most logo makers, and a good number of them look a bit like clipart.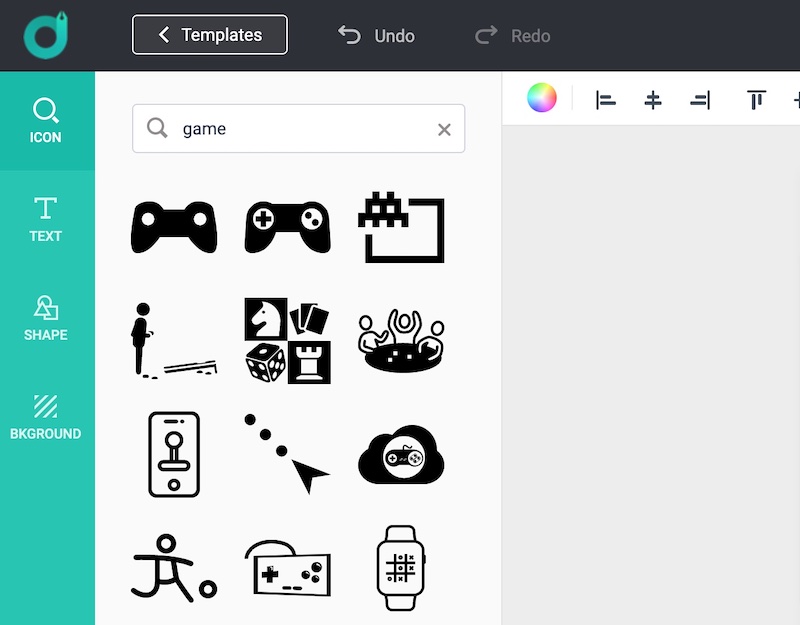 3.2 Ease of use & functionality
If you looked at the process of creating a logo with DesignEvo you'll have seen, like with most online logo makers, how easy and quick it was to create a logo with DesignEvo.
You can jump on to the tool and have your logo created in no time at all.
There are a few areas that DesignEvo could improve though, we'll cover them in this section.
We cover the good and poor elements, and improvements areas below, including:
Resizing & repositioning
Altering the colors
Text & font options
Download options
Collaborations options
Resizing & repositioning
Resizing and repositioning the logo design elements on DesignEvo is incredibly simple. You just need to select an element and the customization options are very obvious and apparent.
Lines on the editor area show you where a selected element is in relation to the canvas (e.g. if it's centered) and also where it sits in relation to the other design elements
All really helpful features to ensure your logo elements are lined up correctly: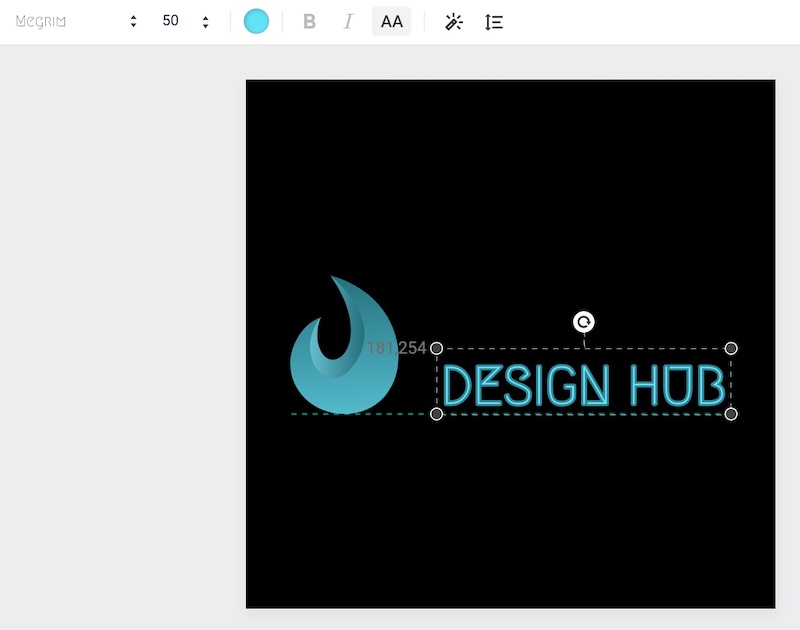 With the layer system on DesignEvo, it's also easy to make your elements site in the order that you want them to be.
You can also select multiple elements at the same time and move them around or resize them together which is a very helpful feature. Not all logo makers we've used have this option.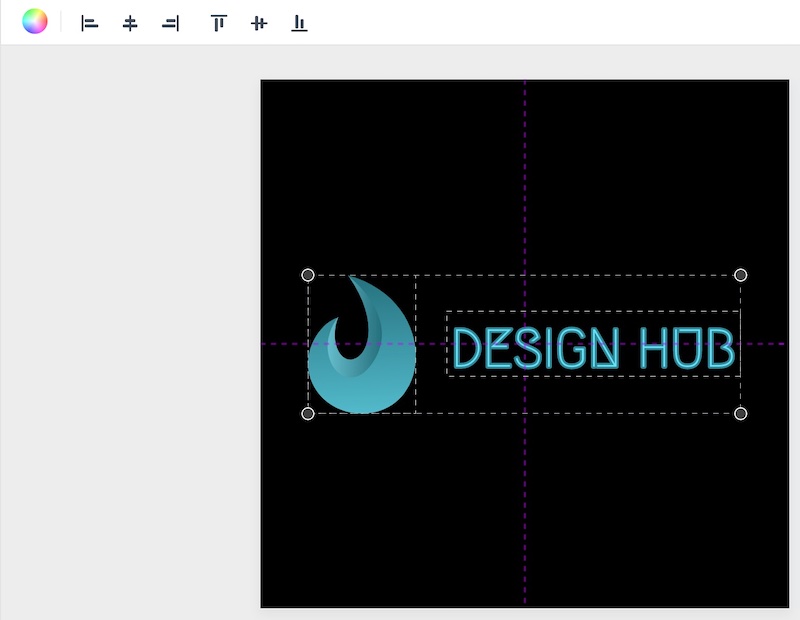 The toolbar above the canvas also makes it very quick and easy to adjust the placement of logo elements. You can see in the image above the options to change the alignment of the selected elements.
Altering the colors
Customizing the colors of the design elements (graphics and text) is also super easy on DesignEvo.
All you have to do is select the color palette for the element you want to customize and select your color from the options. You can also input the hex code of a color if you have a specific one that you want to use.
We also like the color gradient option that DesignEvo offers, especially the feature that gives you the ability to change the direction of the gradient: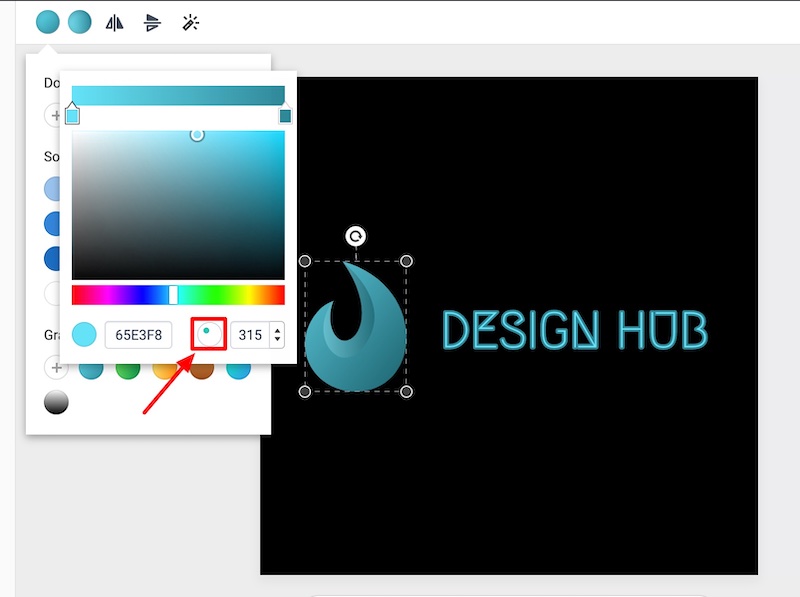 Text & font options
The font options on DesignEvo are fairly average. The library of fonts that they offer is available on most logo makers, and you can't upload your own fonts (probably for licensing reasons) so it would be great if they could broaden the options.
You also can't save your favorite fonts. For example, if you wanted to test out a few different fonts with your logo you have to go back to the full list each time you want to test out a font. It would be great if you could save some favorites and have that list quickly available to compare them.
So there's plenty of room to improve in regards to fonts.
When it comes to customizing the text, things are much better. There aren't too many features on offer but what's available is very useful – including curving the text, adding an outline, quickly switching between uppercase and lowercase, adding text shadow, changing the spacing, line height, etc.
It's not endless possibilities but enough to help you customize your logo text in the way that you want: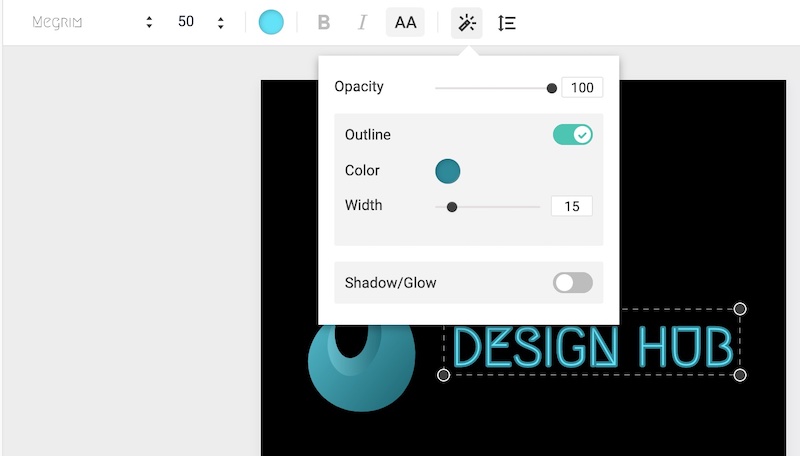 As with all logo elements on DesignEvo, you can easily duplicate your text: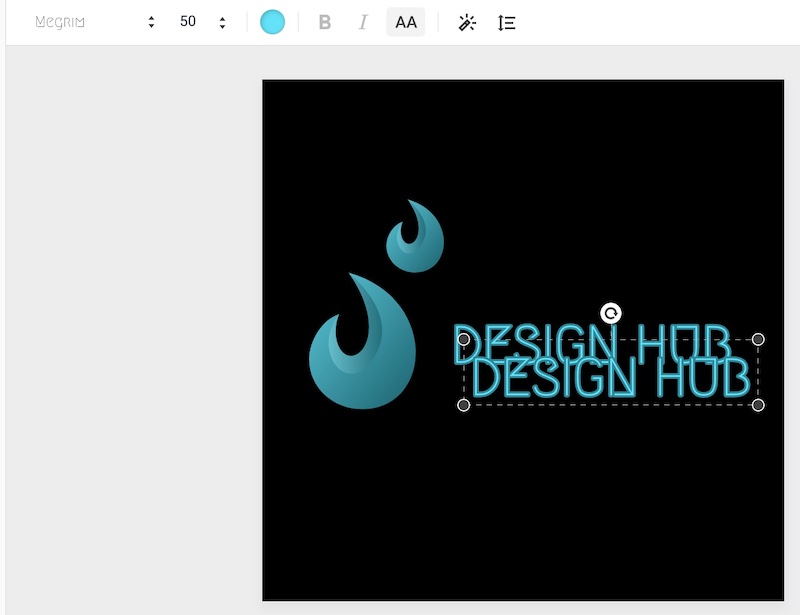 Here's what we feel is missing from the DesignEvo toolkit in regards to font and text options:
You can't change the color of individual letter or words within the same text field so they have to be all the same color
You can't upload your own fonts (this is due to licensing reasons presumably)
The range of fonts is standard if not limited, a broader range would be great
Download options
When it comes to the logo design download options on DesignEvo they offer all the essential options.
The file size is great (up to 5000x5000px) and you get a JPG, PNG, and transparent PNG version of your logo (as well as the ability. to go back and make unlimited edits.
If you pay for the 'Plus' package you can also get an SVG and PDF version of your logo design, plus you get the logo design sources files.
Collaboration options
You can share a link to your logo design(s) but there aren't really any collaboration options on DesignEvo. If you want to collaborate on a logo design with someone else using an online logo maker, Canva would be your best option.
It would be great if DesignEvo introduced a feature where multiple users could comment on the same design.
3.3 Customer Support
If you need any customer support there's only a couple of areas you can go on DesignEvo:
FAQ section – DesignEvo answers many frequently asked questions here
Live chat – They also haver a live chat feature if you need questions answered straight away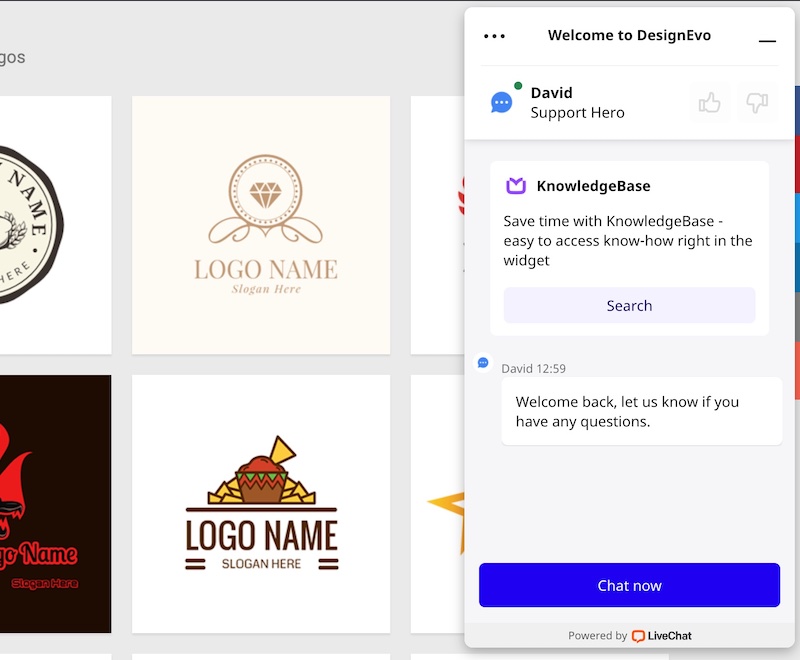 Contact Us form – You can reach them via the contact form
Twitter – You can also reach out to them via Twitter
3.4 Our Verdict
After reviewing DesignEvo's logo maker we'd say that, as far as online logo makers go, it's a great option. There's plenty to like about DesignEvo, however, it's not quite as good as a few alternative options (namely, Placeit, Canva, and Wix).
They do offer some unique and high-quality logo templates not found on other platforms so they are still well worth checking out if you plan to use an online logo maker to create your logo.
DesingEvo also has a good range of templates (over 10,000) so no matter what niche you're in there's a good chance they'll have some logos that have the look and feel that you're after.
Their logo maker is also insanely easy to use, literally anyone could jump on to it and create a logo in no time at all.
Here's what we feel are the main pros and cons with DesignEvo's logo maker:
Pros
Plenty of high-quality logo templates
Incredibly user-friendly interface
Easy logo customization
Big template library (10,000+)
Templates for many niches and industries
Easily find templates in your niche
Downloads come with multiple file formats (JPG, PNG, transparent, etc.)
Unlimited edits of your logo design (after purchase)
Affordable (pricing info below)
Easy to apply your brand colors
Solid text customization options
Good color customization options
Cons
Poor range of fonts
Standard icon library
No real collaboration features
Can't upload your own fonts
Can't upload your own design elements (e.g. images/shapes)
Some poor quality logo template
Section 4: Pricing
There are two logo packages:
Basic: $24.99
Plus: $49.99
Both are a one-time fee and give you a high-resolution version of your logo design.
However, if you need the source files, and copyright license for your logo design (which is recommended) you'll need to get the Plus package.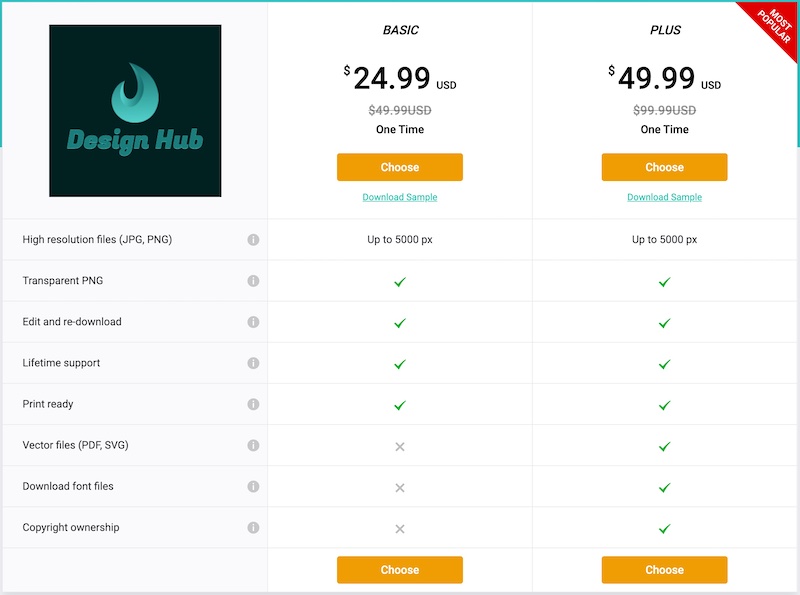 'Free trial' option
DesignEvo doesn't really have a free option so we can't class it as a free online logo maker.
You can download a version of your logo design for free but it's very low resolution and won't be of much use to you.
Section 5: Licensing
As mention above, if you need the copyright license for your logo design you'll need to get the Plus package ($49.99).
Click here for more information regarding the copyright license.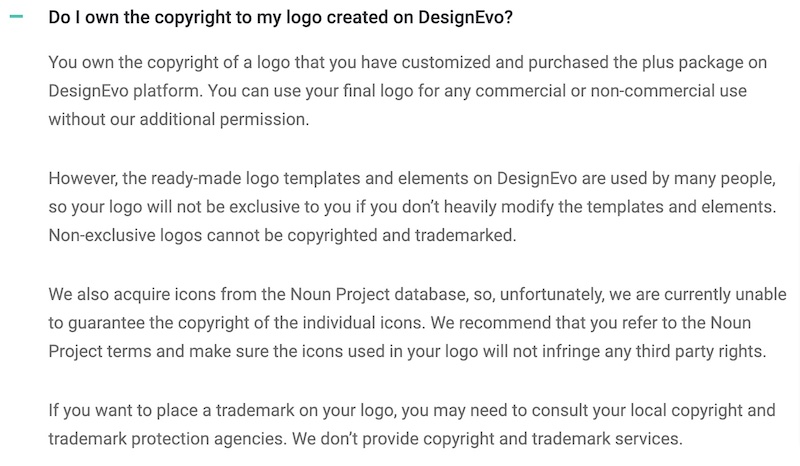 Section 6: What else does DesignEvo offer?
As DesignEvo is solely a tool for making logos there isn't much else they offer.
They do have a mobile app though, which is available for both iOS and Android devices.
It gives all the same features and functionality but you can do it all on your phone.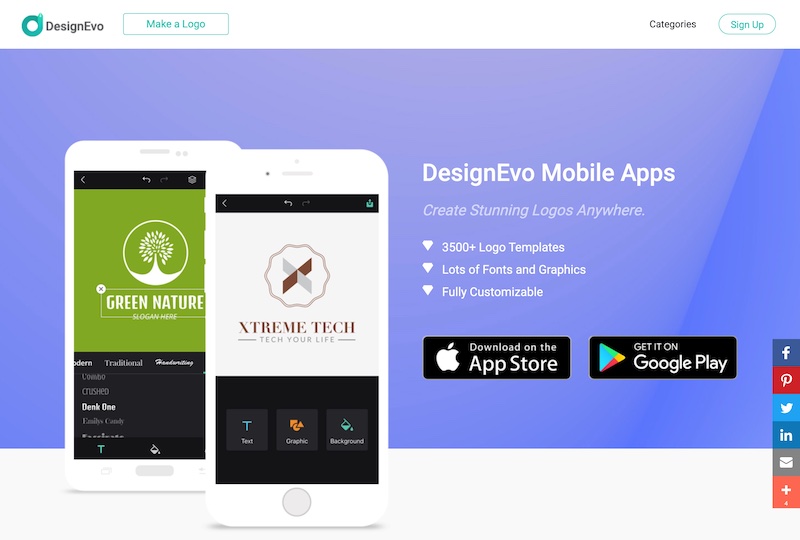 Section 7: Alternative logo makers & options
When it comes to online logo makers there are a few tools that have a high-quality offering than DesignEvo.
Here are the best alternative logo makers to check out:
We think Placeit and Canva are incredible tools, and you can do a lot more than simply create logos with them.
If you want to go down a different path and have a designer create a logo for you, we'd highly recommend checking out Fiverr.
We had our website logo created through Fiverr, and have gone back to Fiverr several more times for other design projects.
It's a great option if you're looking for more bespoke designs at great prices.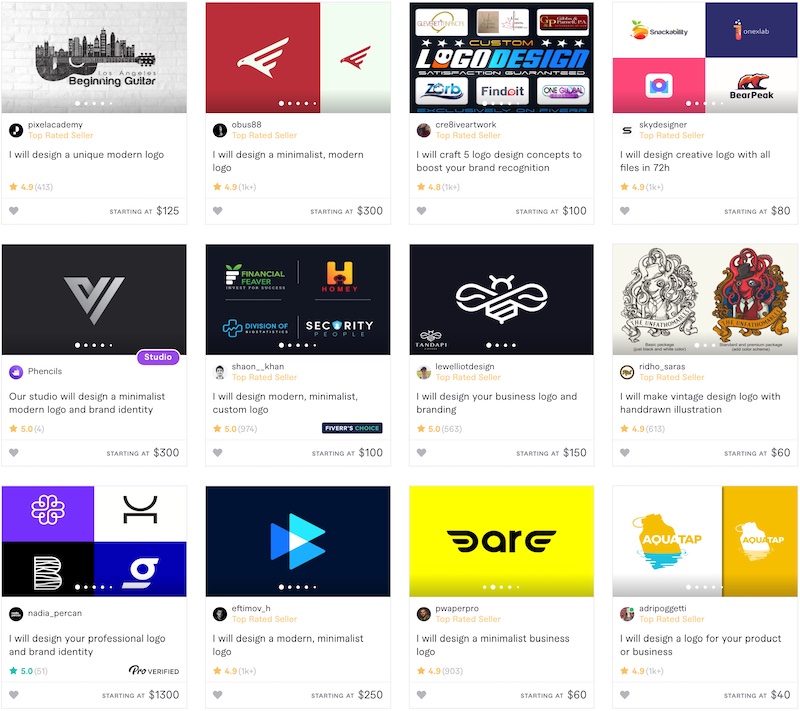 Final thoughts
DesignEvo is a good logo maker that allows you to quickly and easily create some quality logo designs.
It's probably not as good as a few other logo makers at the moment but with their large logo template library and range of designs, you're bound to find some high-quality templates no matter what niche you're in.
So, do you agree? What do you think of DesignEvo's logo maker?
Let us know in the comments, we'd love to hear about your experience.