Struggling to decide between Placeit and SmartMockups as your mockup tool of choice?
Placeit and SmartMockups are two of the best online mockup generators on the market, and both have a huge number of high-quality mockup templates you can use to display your designs or create marketing material.
But which one is better?
We set out to find the answer to that question, and this article will take you through our findings.
---
Jump to a specific section:
---
Overview
Before we get started, for those of you who aren't aware of what these two products are exactly, here's a quick run-through for you.
Placeit and SmartMockups are both online graphic design tools created to help people create awesome mockups and designs without needing any design skills or experience.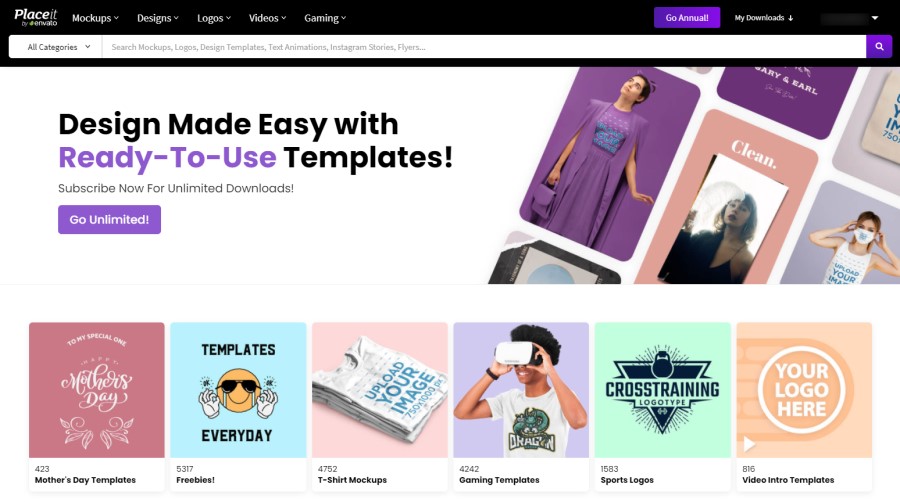 SmartMockups is purely a mockup generator – so all you can create with their tool is mockup images. Placeit has mockups but also offers a whole host of other templates such as designs for social media, YouTube, t-shirt designs, logos, and a lot more.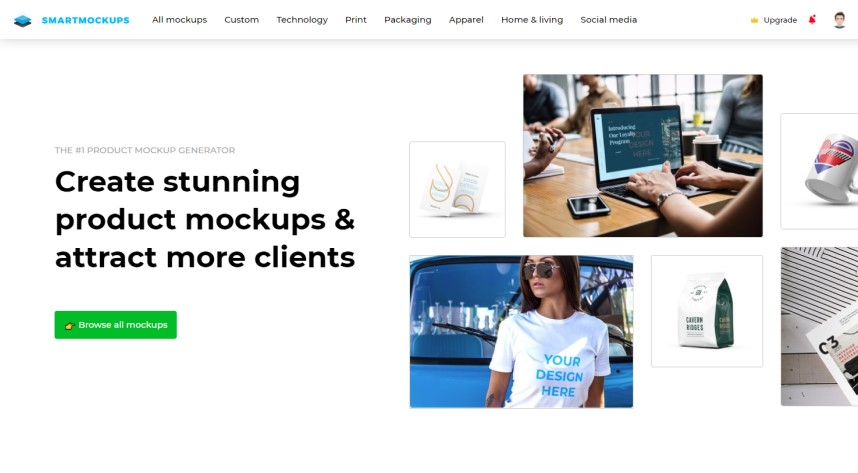 Round 1: Template Options
Both of these tools have an abundance of mockup templates that you can utlize to create great looking images. At the time of writing, Placeit has over 32,000 mockup templates and SmartMockups has over 7,000.
Template Categories
Both tools have a range of mockup templates for different categories including:
For the most part, the variety and categories of mockups on both platforms are very similar. The main difference here is that Placeit simply offers a lot more templates to their users.
However, there are a couple of unique elements to both products.
Placeit offers video mockups where you can place your design onto a t-shirt or device within a video. It's pretty incredible!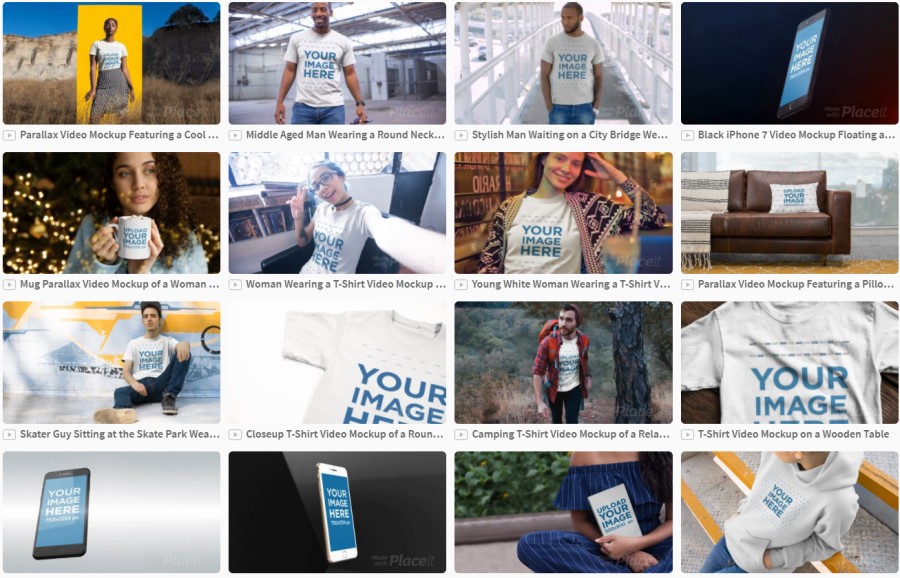 When it comes to templates the unique feature that SmartMockups offers is the ability to create custom mockups.
You can take one of your product images, and turn it into a mockup template. It's a great tool but it's currently only available to Pro users.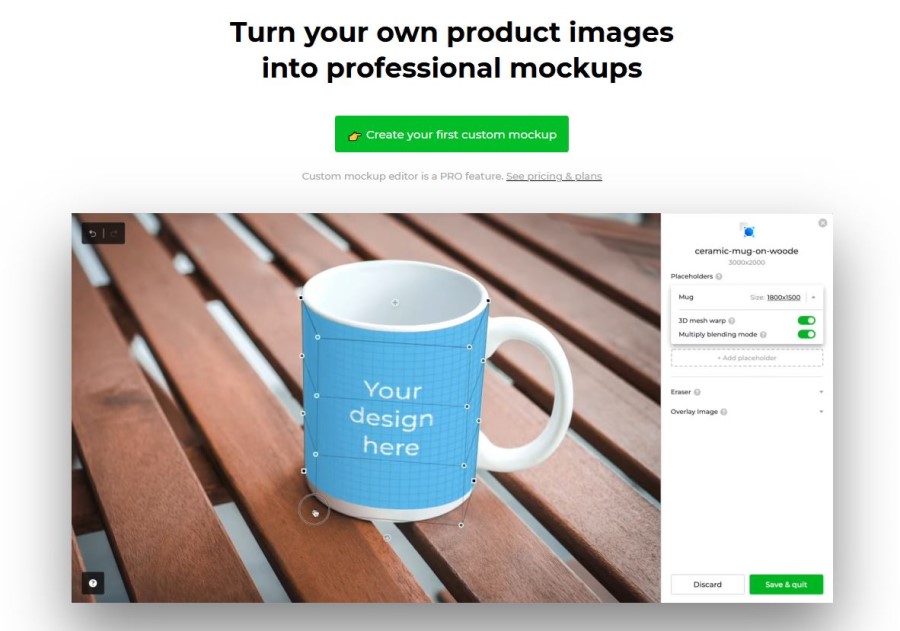 Mockup Template Quality
Both Placeit and SmartMockups offer a fantastic range of mockup templates that cover a large range of categories. The quality of most templates is very high so whatever product you choose you'll get access to a library of great quality photos.
You can't seperate the tools when it comes to the quality of the mockup templates.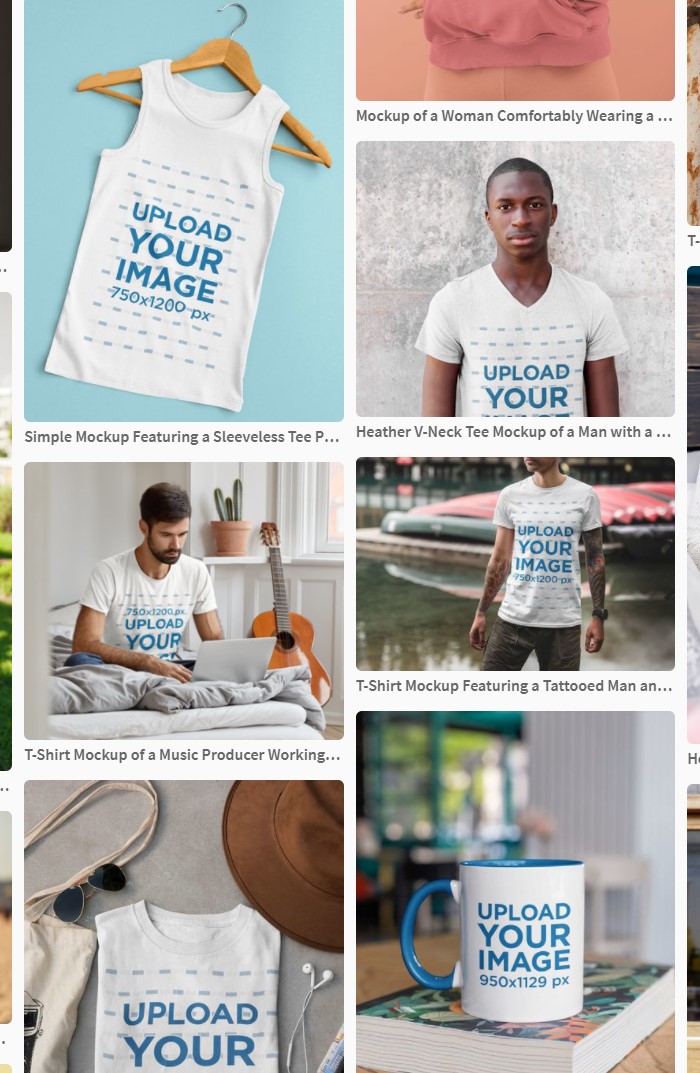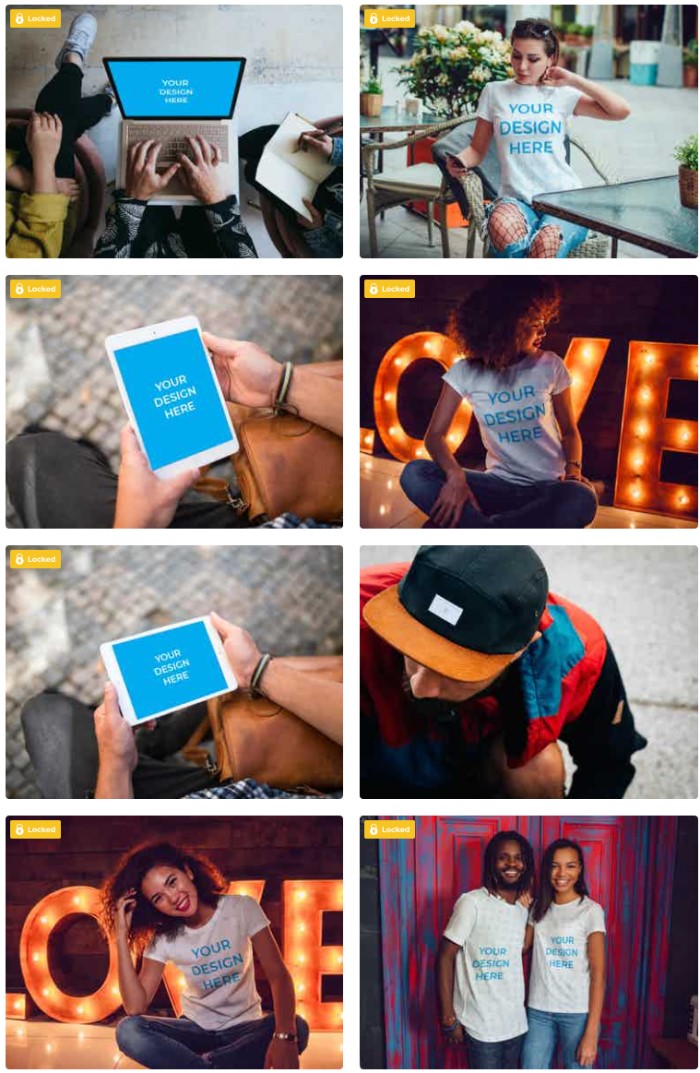 Round 1 Winner
There really isn't much between them when it comes to their mockup templates.
They both offer a great range of templates, the quality is as good as each other and both offer a unique feature – Placeit's video mockups and SmartMockups custom template option.
However, Placeit has a bigger offering currently and some extra mockup template categories that SmartMockups doesn't currently cover.
Round 1 winner: Placeit.
Round 2: Usability, Customization, & Downloads
When it came to looking at which tool was easier to use, we broke our testing down into several areas:
Finding a template
Template customization
Download options
Placeit Usability
Finding a mockup template on Placeit is very simple. From the homepage you can either search for a template you want (e.g. hoodie mockup) or choose a relevant category from the main navigation menu: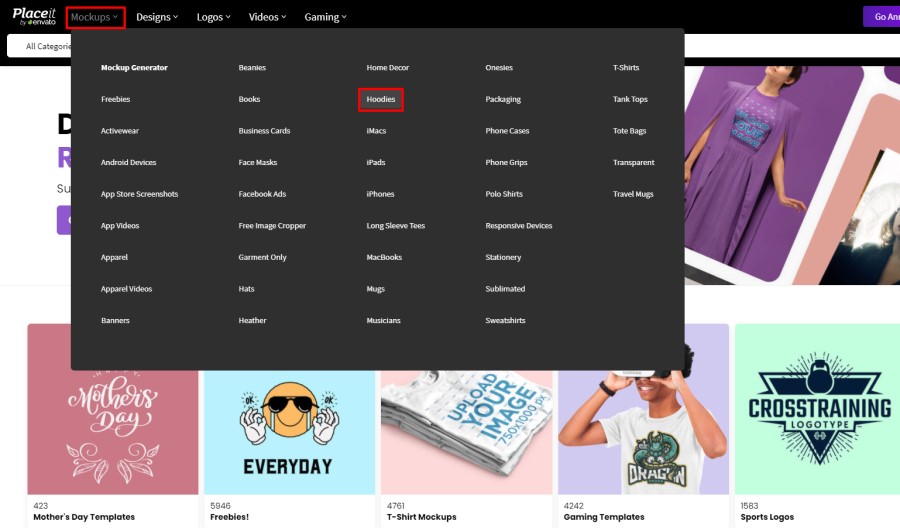 When you get to the mockup category page you can use the filters on the left side to narrow down the templates to exactly what you need. For example, you can filter by model gender, ethnicity, and age. You can also filter by template such as "Basketball", "Christmas", etc.: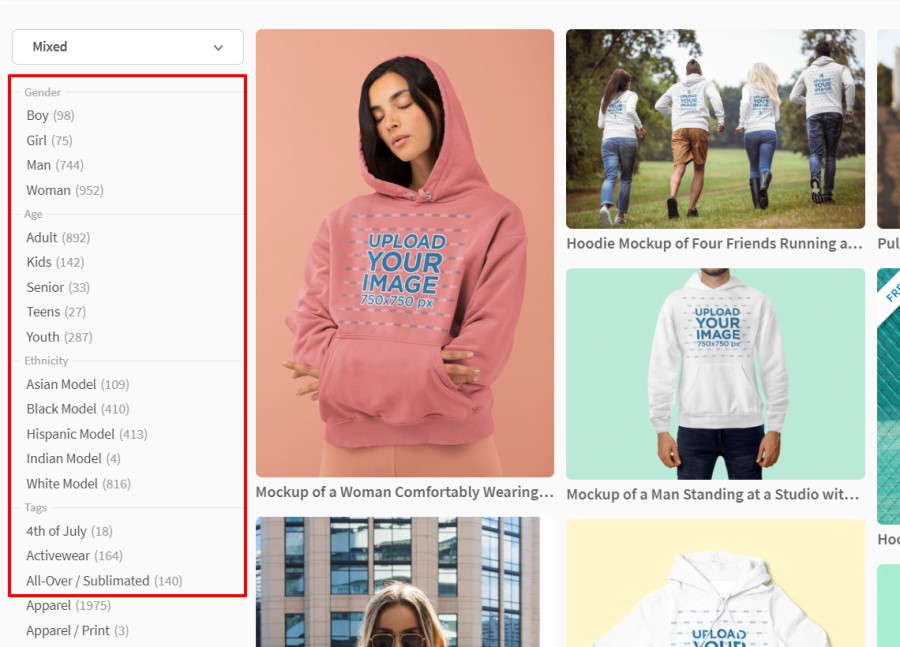 If you want to see the best selling templates for a specific category, or the newest templates you can also easily sort the templates by selecting the option from the drop down menu above the filters: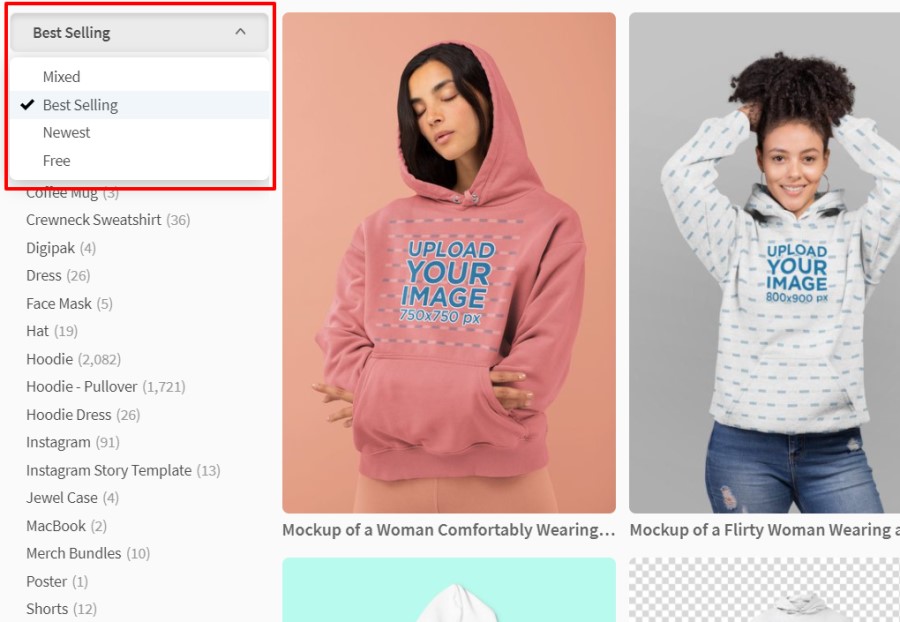 You can also 'heart' templates to add them to your favorites. This allows you to browse several pages and save templates to come back to later: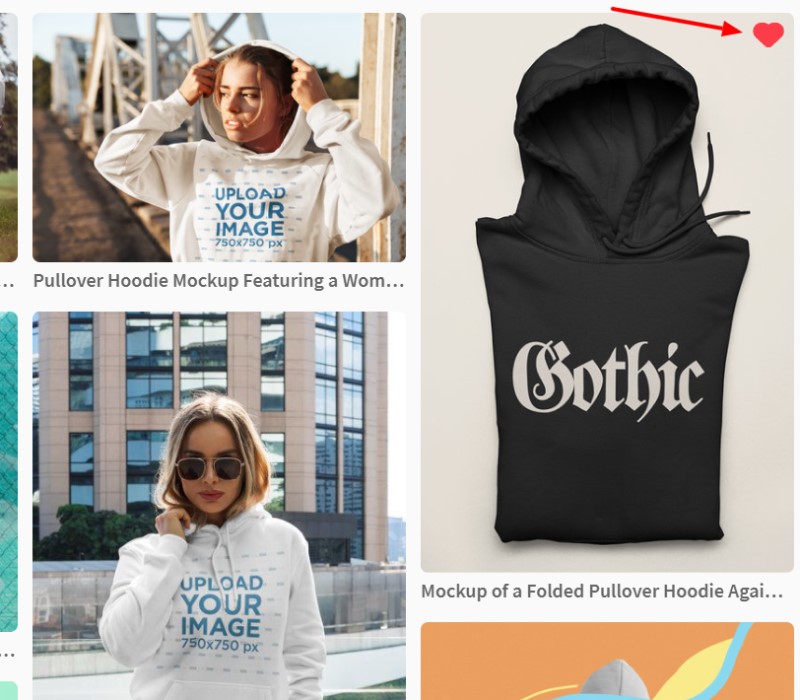 When it comes to customizing the mockup templates, it couldn't be easier on Placeit.
You have a few options including being able to change the color of the item in the mockup image, you can also change the background color, and you can add a text overlay to the image too.
Finally, you can add the design you want to put into the image – either by uploading a file or by using a design you've already got in your Placeit account: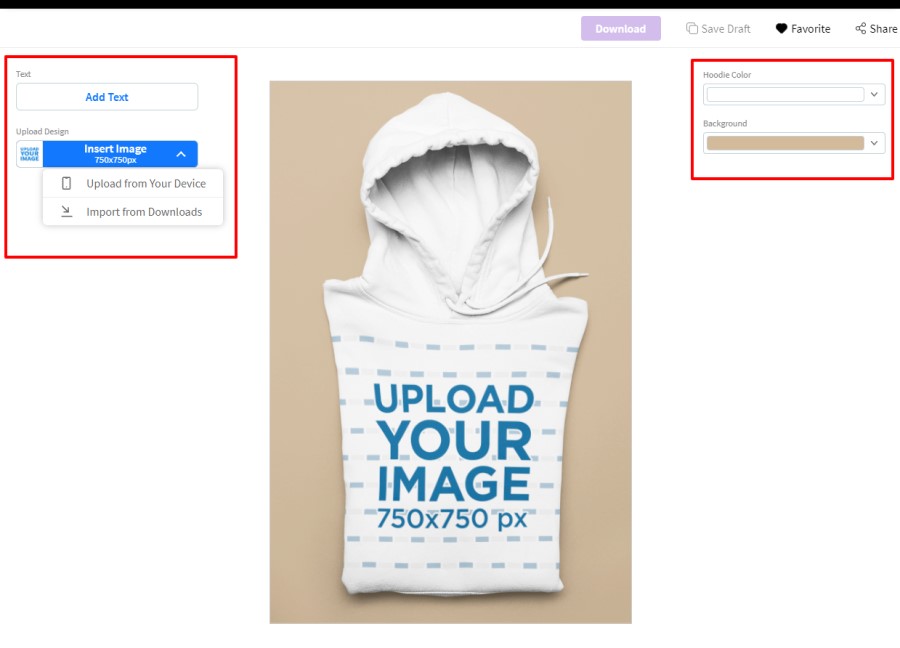 When you select or upload a design to add to the mockup image a popup appears that lets you resize the design and position it where you want on the item in the mockup: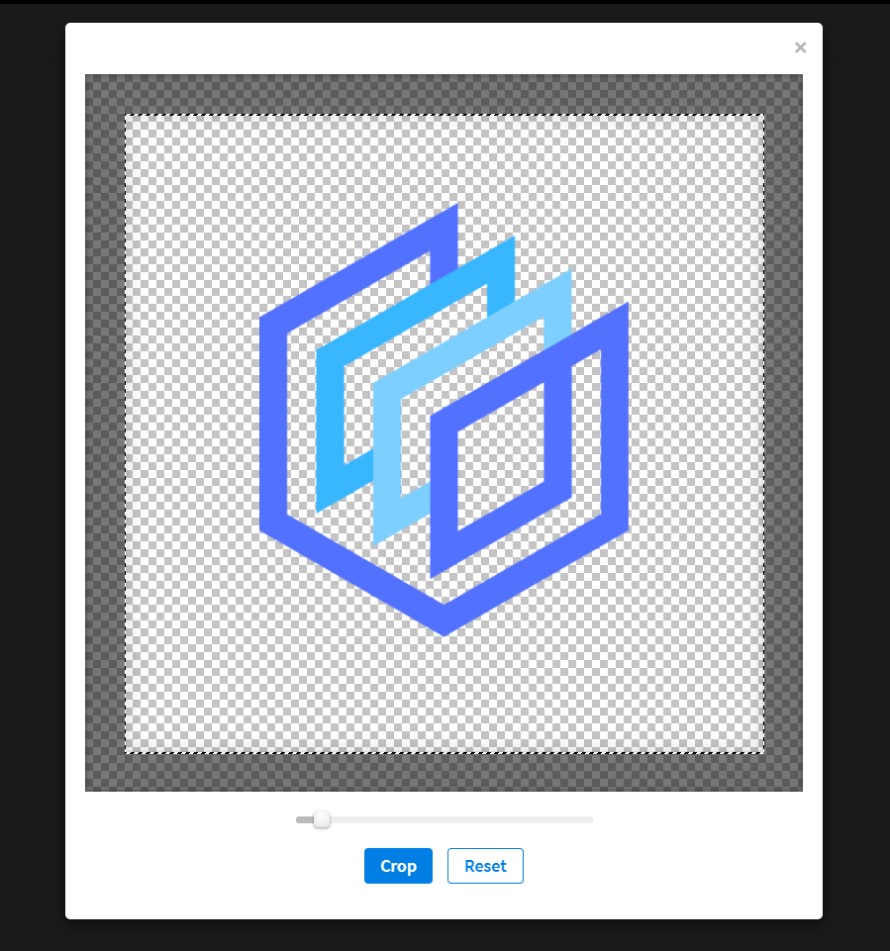 When you've uploaded your design you can resize or reposition it by clicking 'Resize', you'll also be able to add an additional design to the mockup image by clicking 'Upload Logo' – perfect if you like to add watermarks to your images: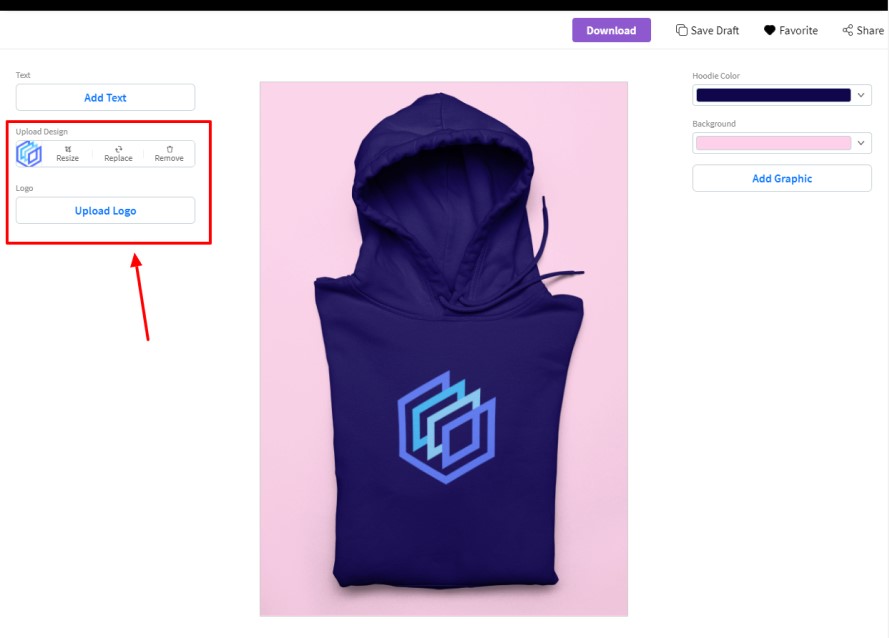 If you want to save your design and come back to it later to finish it off you can save your work as a draft by simply clicking 'Save Draft' on the top right of the editor area.
To get to your drafts you need to hover over your username and click on 'Drafts' in the drop-down menu: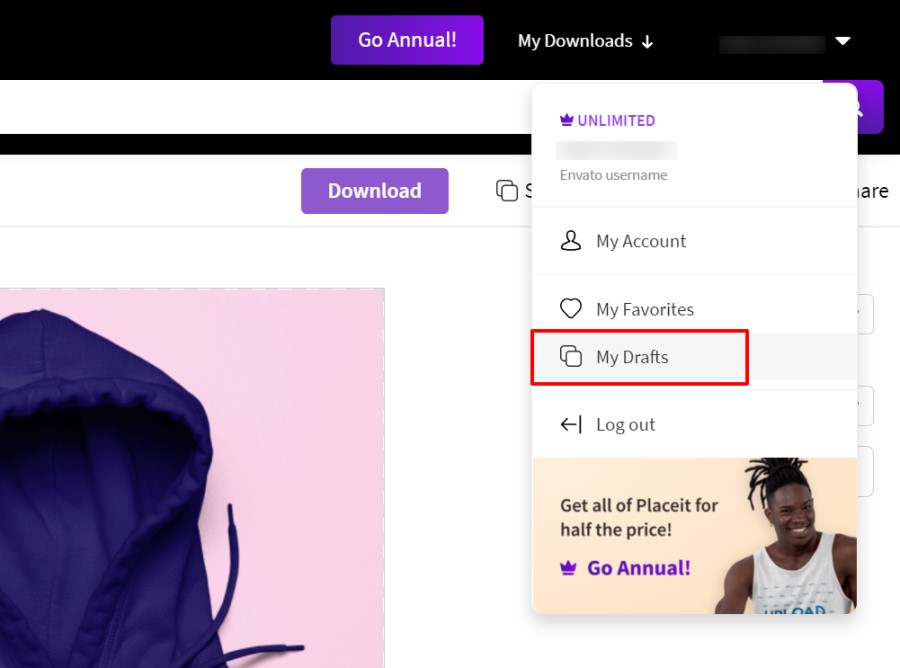 To download your image, simply click the download button. If you have a Placeit subscription the download with happen automatically, if not a popup will appear with options to either buy the template individually or get a Placeit subscription: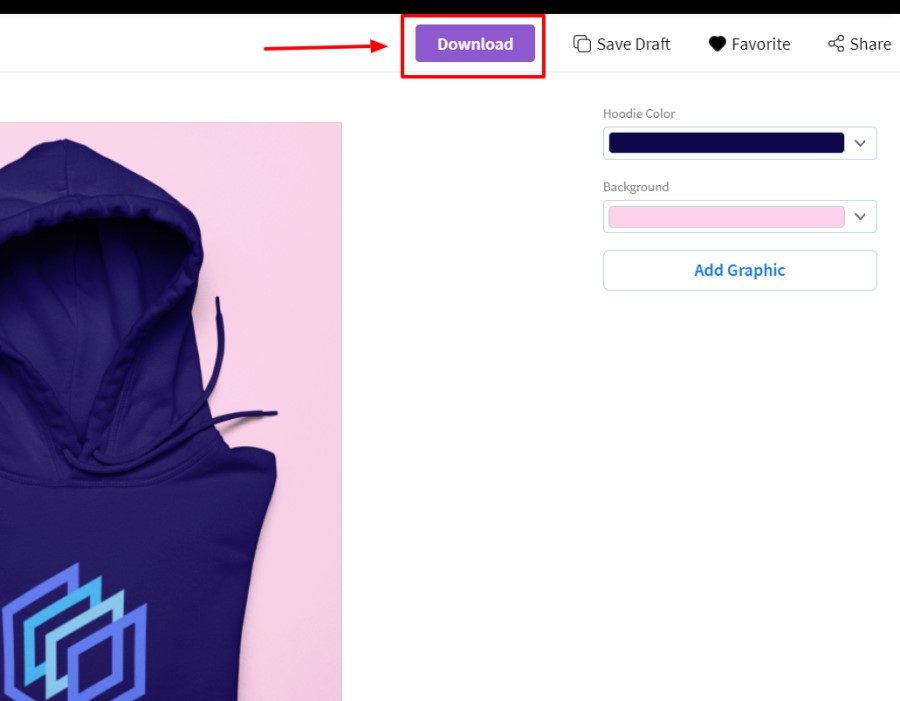 No matter what mockup you download you will get a PNG image file that's more than suitable for online use. For example, we downloaded this template and got a PNG file with the dimensions 1440 x 2160 px.
The downside here with Placeit is that you can't get really high resolution downloads of mockups (You can for other design templates and logos). So, if you're looking to use the mockup images for print, it's not going to be ideal.
However, if you're just going to be using them online then they're completely fine for that.
Related article: How to create and use mockups on Placeit
SmartMockups Usability
Finding the mockup templates you're after on Smartmockups is easy. You can either go to 'All mockups' and search for a template or you can select one of the categories from the main navigation menu (e.g. t-shirts):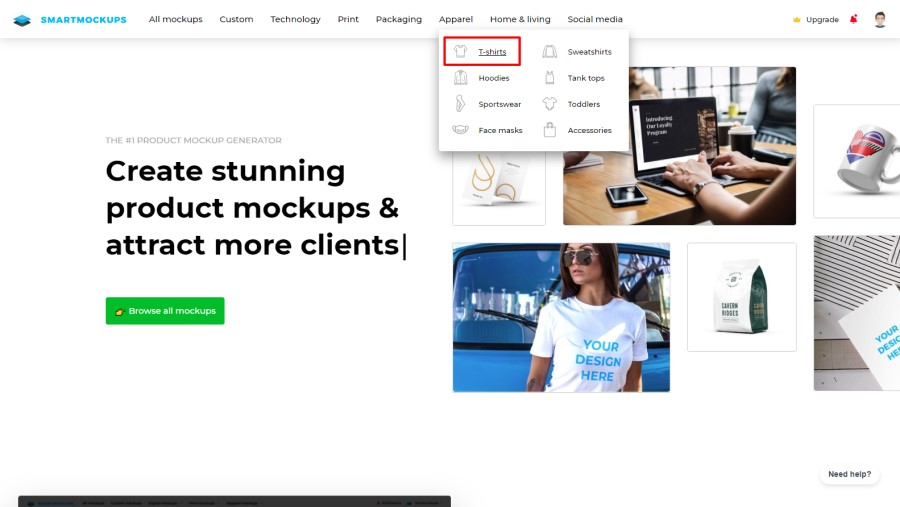 When you get to the mockup category page you can use some of the filter options to narrow down your search. You can choose subcategories, for example in the t-shirts mockups category you can choose subcategories such as 'Men's T-shirts', 'Flatlay T-shirts', etc.
This makes finding the template you're after much quicker: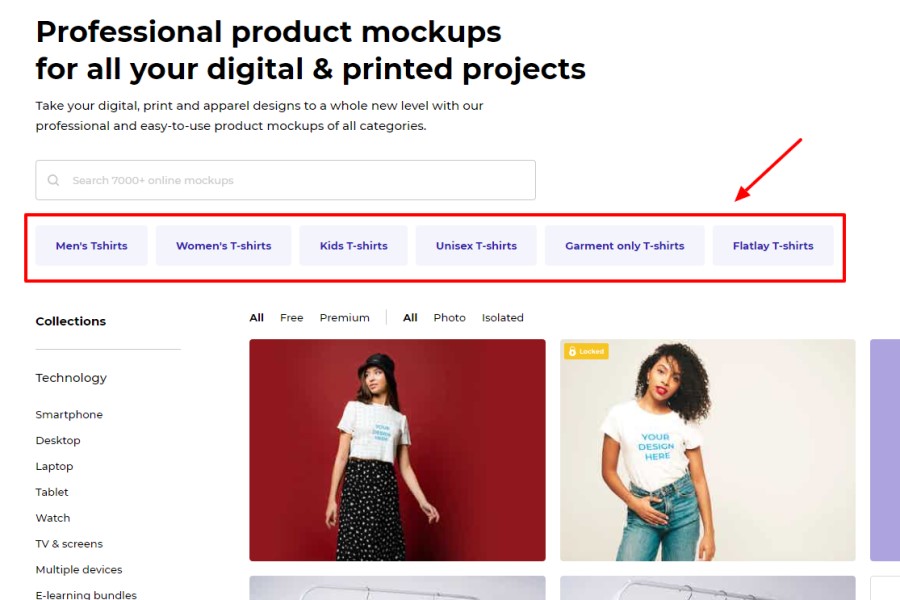 You can also filter the templates further with options such as choosing to see only free templates, or item-only (Isolated) templates.
You also get the option to sort the templates by 'Latest' or 'Popular':
Similar to Placeit's 'Favourite' option you can create 'Collections' of templates on Smartmockups.
All you need to do is hover on a template you like and click 'Collect'. A popup will appear allowing you to create and name a folder to save similar mockups in for you to come back to later: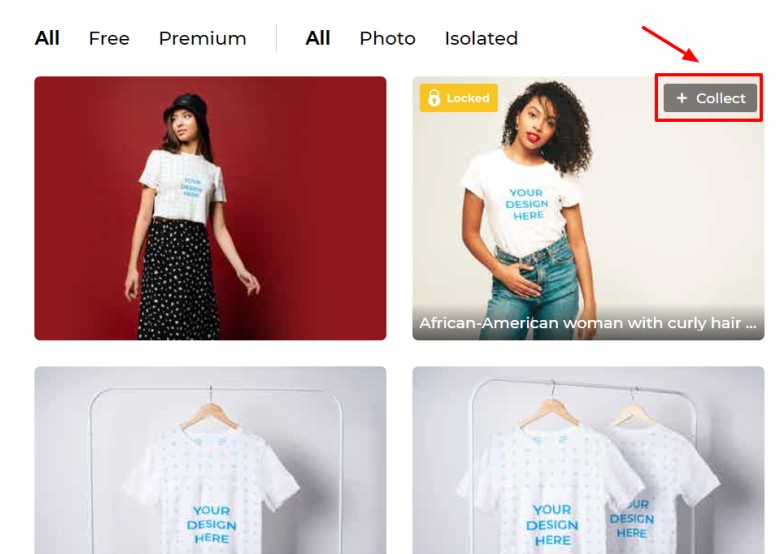 Customizing mockup templates on SmartMockups is also incredibly easy.
To add your design to the mockup scene you have a few options. You can add it via a URL, upload a design from your device, or you can import a design from your Dropbox, Marvel, or Canva account if you have one: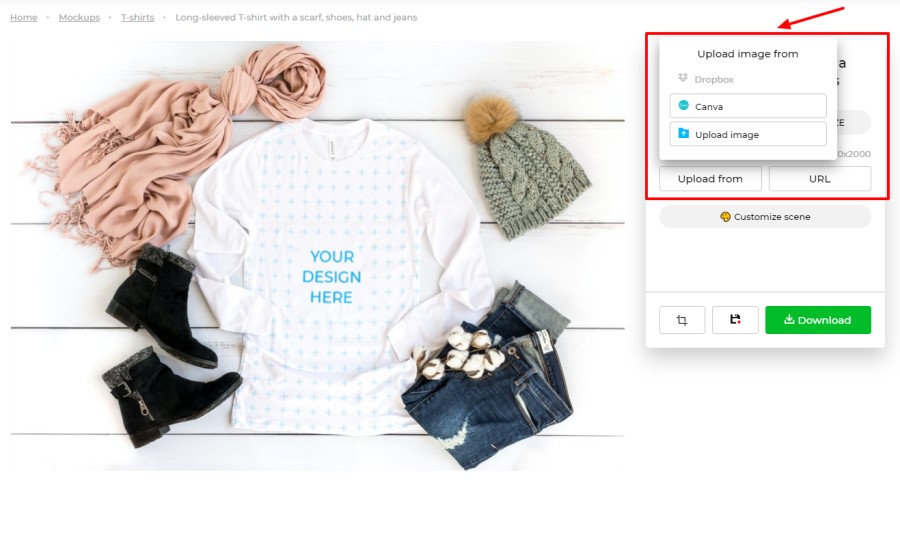 When you select or upload a design to add to the mockup the design will appear on the main element in the mockup.
If you want to resize or reposition your design you need to click on the pen icon on the right side menu and a popup will appear allowing you to customize it: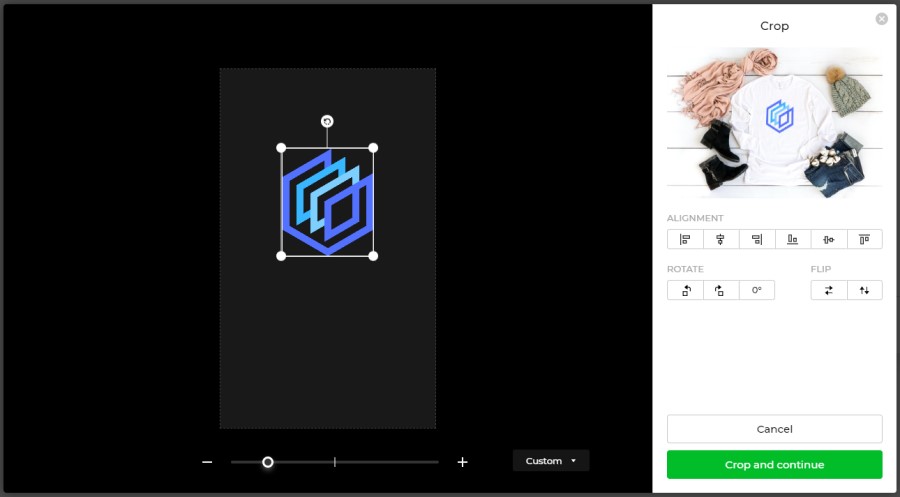 You get options to click to change the alignment or rotation of your design but the best feature here is the fact you get a real-time view of how your design looks in the mockup.
It makes it so much easier to know where to place it and how much to resize it.
If you click to the 'Customize' tab you'll see some extra scene customizatin options.
These will vary depending on the template you're using but you might see options such as being able to choose the fabric of the t-shirt, change the background image or color, and most templates offer the ability to change the color of the main element in the image: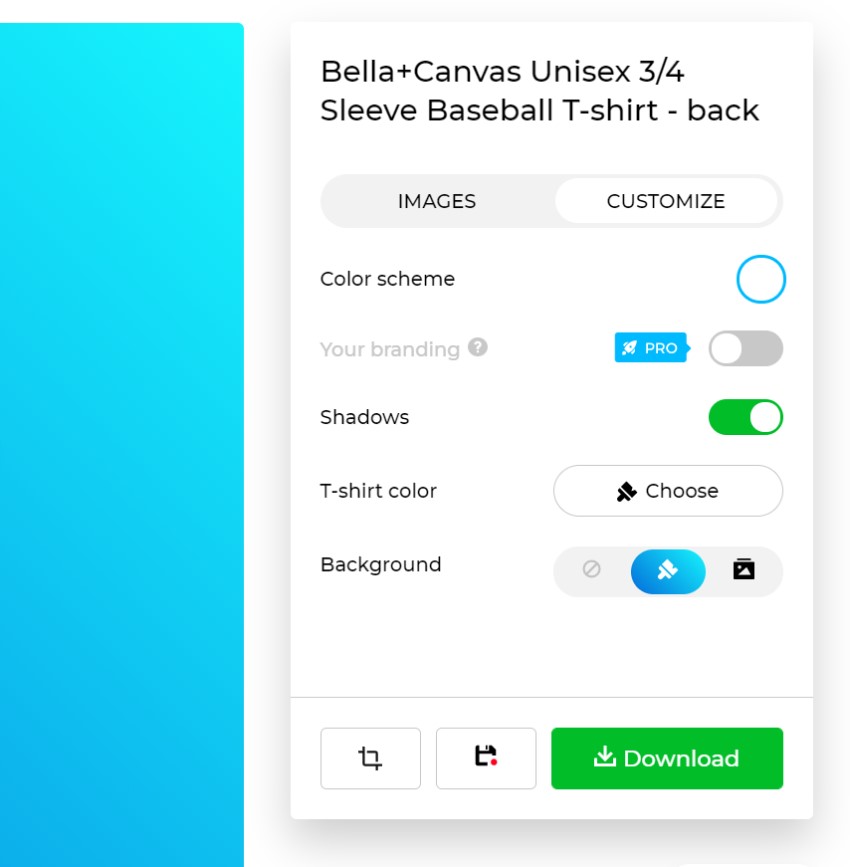 If you have a SmartMockups Pro account you can also add your own branding to the mockup image.
If you want to save your design and come back to it later to finish it off you can save your work as a draft by clicking the floppy disc icon. To get to your saved mockups you just need to click on your profile image and click 'Saved mockups'.
You can also crop the mockup image. For example, if you need a square image or a different layout you can select that by clicking on the crop icon: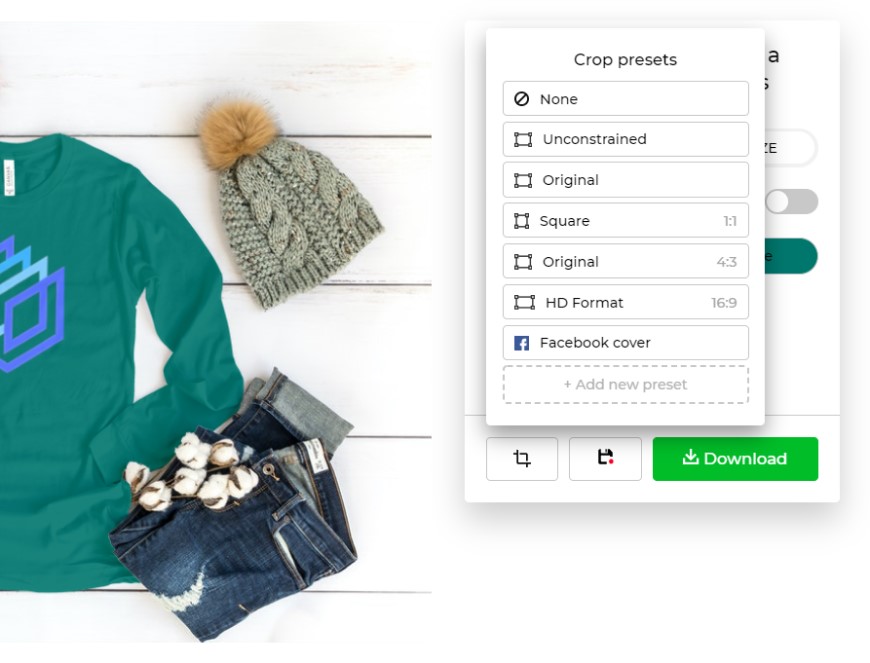 To download your image, simply click the download button. If you have a SmartMockups Pro account you will be able to download the mockup image as a PNG with a transparent background.
Free users can only download templates as JPGs:
You can choose between Medium to high file sizes. With the largest being 'Super-High' image quality (e.g. 5000 x 3500 px).
With the high-resolution file download option from SmartMockups it means you can use their mockup templates for print, not just online.
Round 2 Winner
In round 2 there also isn't much to split the two mockup generators. They're both very user-friendly and easy to use.
Placeit has better filtering options so you can quickly find the templates you're after and their editor is so easy it takes no time at all to generate your mockups.
SmartMockups has superior customization options and the editor gives you the ability to see a real-time view of your design as you're cropping which is very helpful! You can also download very high-resolution mockup images unlike on Placeit.
Overall, we couldn't choose a winner when it came to usability.
Round 2 winner: Tie.
Round 3: Integrations & Add-Ons
In round 3 we looking at the integrations and add-ons for each tool to see which product works the best with 3rd parties to enhance their user experience.
Placeit Integrations & Add-ons
None! Placeit doesn't have any 3rd party integrations or add-ons so we think this might be the most clear-cut round yet.
SmartMockups Integrations & Add-ons
SmartMockups on the other hand has quite a few integrations and add-ons.
Canva
The Canva and SmartMockups integration is very cool. If you connect you're Canva and SmartMockups accounts together (very easy to do) you can create a design with Canva and then send it to your Smartmockups account to appear on their mockups.
You can also access all the designs you have on Canva via your SmartMockups interface. When you go to add a design to a mockup on Smartmockups you can click the Canva button and see a library of your designs from Canva that you can add to your mockup.
It makes things very easy! Especially if you're an existing Canva user.
Dropbox
SmartMockups also has an integration with Dropbox that allows you to upload files from Dropbox into your SmartMockups account to be used in your mockup images.
Here's how it works:
Marvel
Marvel is a prototyping and wireframing tool, so if you're a web or app designer you can easily mockup your designs with the Marvel and SmartMockups integration:
Figma
Many web designs use Figma to create designs and mobile apps. Smartmockups and Figma have now teamed up so you can easily and quickly get your designs from Figma and use them on a SmartMockups mockup in no time.
Round 3 Winner
This one was easy. SmartMockup actually has some integrations, and useful ones at that!
Round 3 winner: SmartMockups
Round 4: What do you get for free?
Both Placeit and SmartMockups allow you to create free mockups. But which tool has the better free offering?
Placeit
A Placeit free trial technically doesn't exist but there is plenty you can do on the site for free. They refresh their free template offering each month, and many of the free templates are usually mockups.
At the time of writing, Placeit had 1,200+ mockup templates that could be downloaded completely for free: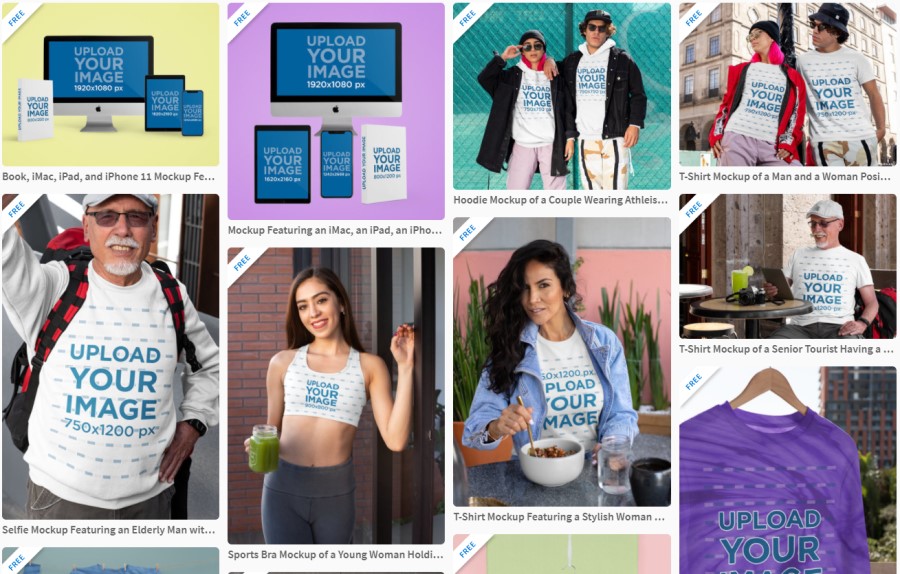 They also have free templates for many other design categories on the site, including:
SmartMockups
SmartMockups does a free trial which lasts 7 days and gives you full access to everything SmartMockups has to offer.
When it comes to completely free templates, they do have a decent selection but nowhere near as much as Placeit at the time of writing.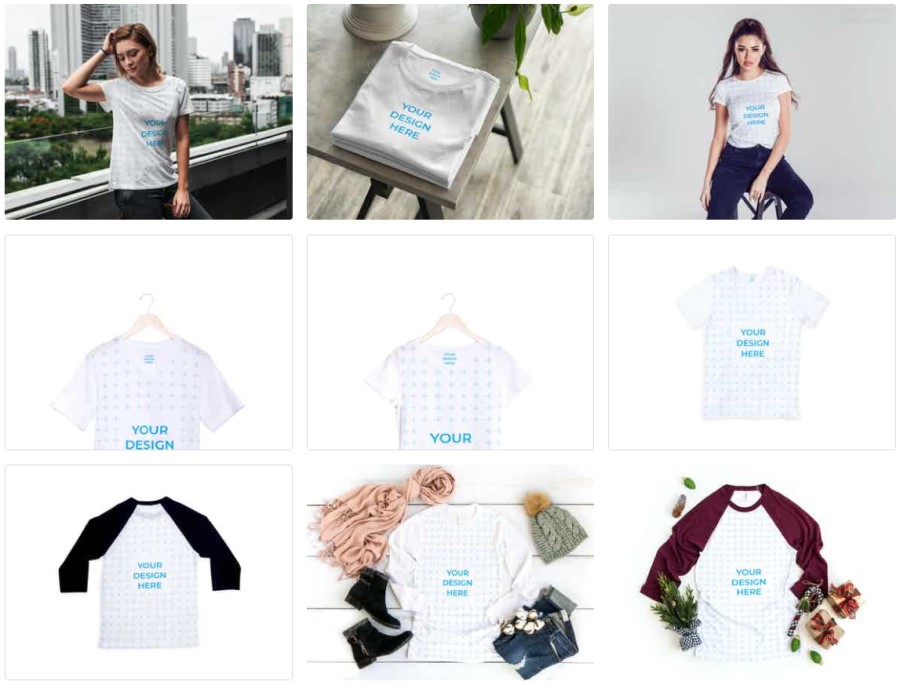 Here's a selection of some of their free mockups templates:
Round 4 Winner
This was another fairly easy decision.
Placeit has a much broader range of free mockup templates, as well as free templates for a whole host of other categories such as logos, t-shirt designs, and much more.
Round 4 winner: Placeit.
Round 5: Placeit Subscription vs SmartMockups Pro
In round 5 we're looking at the paid plans of both products to see which tool offers the most value for money when it comes to their paid version.
Placeit Subscription
Placeit's subscription is very easy to explain. It's the same as the 'free version' where you have access to templates from various categories. The only difference is that with a paid Placeit subscription you get unlimited access.
So, that's unlimited downloads of mockups, t-shirt designs, logos, YouTube templates, etc.
There are currently have about 32,000 mockups and around 45,000 templates overall on Placeit. Plus they're adding new templates each week so you're never going to run out of templates to utilize with a Placeit subscription.
Placeit Subscription Pricing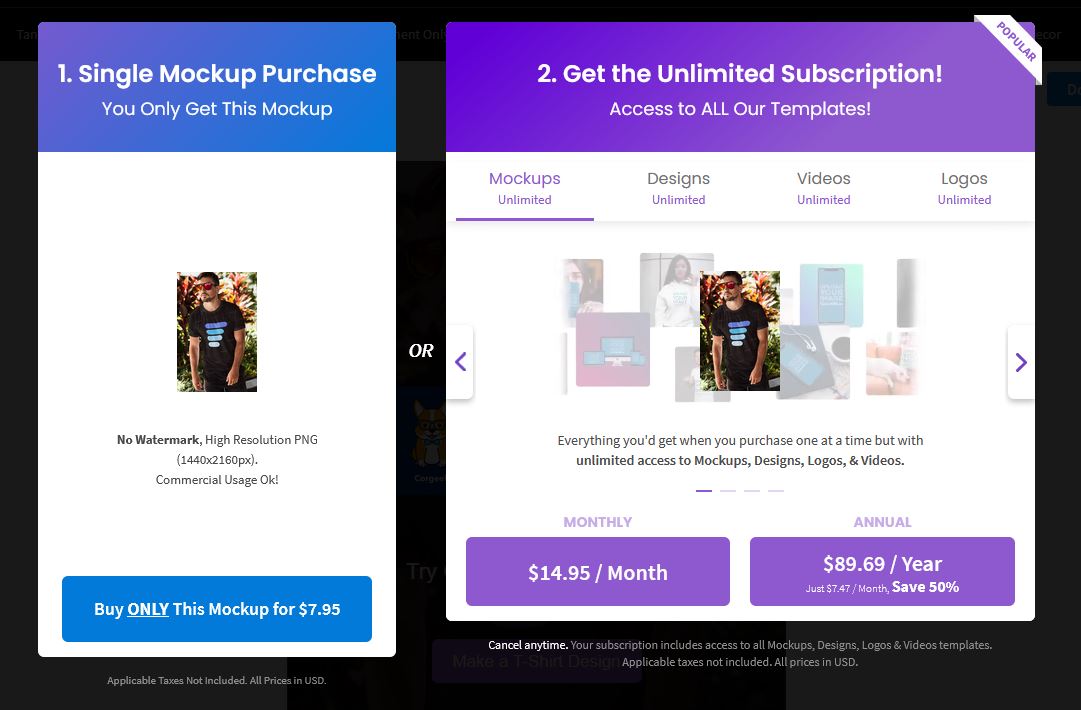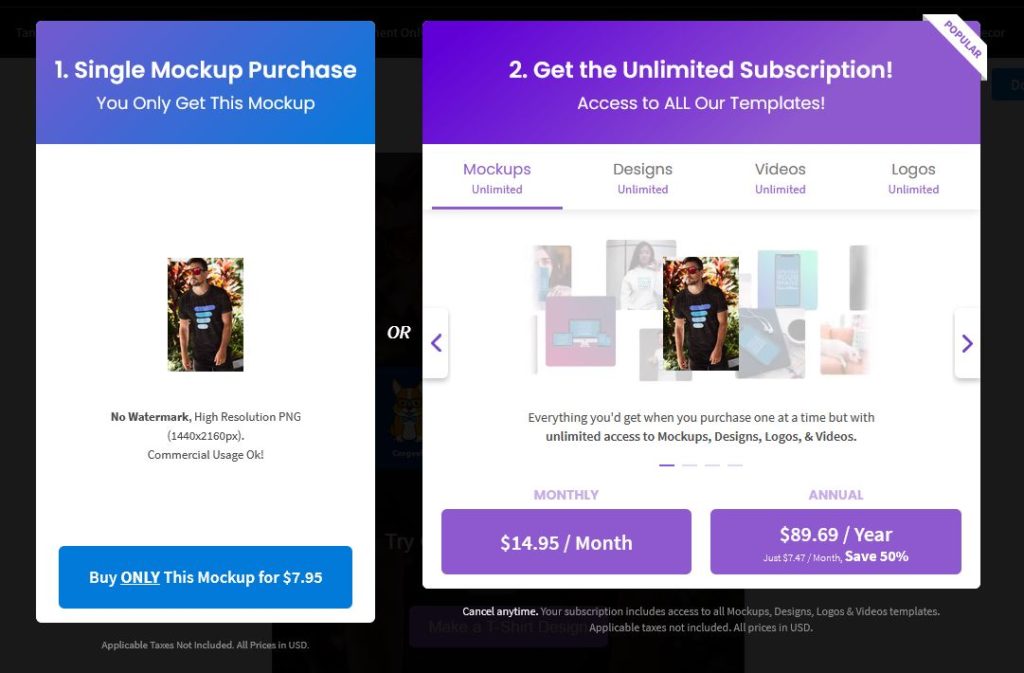 Unlike with SmartMockups you can buy templates from Placeit individually (including mockup templates) but you get the most value if you subscribe to one of their plans.
It's $14.95 per month for a subscription or $89.69 for an annual subscription (works out at $7.47 per month), and it's not a lock-in contract so you can cancel at any time (here's a guide on how to cancel your Placeit subscription).
Everything you download from Placeit also comes with a commercial license!
If you click the button below you can even get a 15% discount off a Placeit subscription:
SmartMockups Pro
With SmartMockups Pro you get unlimited access to the SmartMockups library (currently around 7000), You also get all the 3rd party integrations and basic customization options as you do with their free plan.
Here are some of the extra features and options you get with SmartMockups Pro:
Ability to change the background images on some mockup templates (access a stock photo library)
URL capture (Capture screenshots from a URL to go straight into your mockup)
Transparent mockup images (PNGs)
Video mockups (add your video to a mockup image (usually a digital screen) and download the file as a video or gif.
Create custom mockups – turn your own images into mockups on SmartMockups
Branding – add your own brand colors and logo to your images
Automatic saving of your designs
SmartMockups Pro Pricing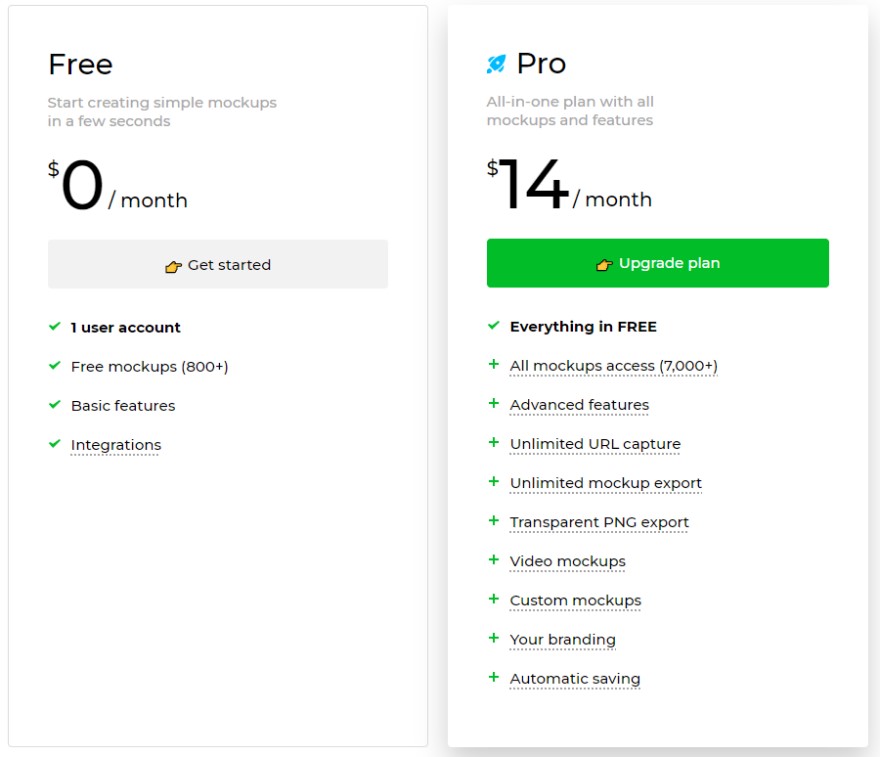 If you go for the monthly subscription it's $14 per month, the annual subscription is $108 per year. Like with Placeit there's no lock-in contract so you can cancel at any time.
Round 5 Winner
To decide on the winner of round 5 we looked at the value for money you get from the paid version of each tool.
We think SmartMockups is an incredible tool that provides a huge amount of value for anyone looking to create a lot of high-quality mockups. Especially if you'll need them for print.
They also have a lot of integrations and features that Placeit doesn't offer which makes it a great option too.
However, for the price you pay we think a Placeit subscription offers more value. They have way more mockup templates and cover all the same (if not more) mockup categories that SmartMockups do.
On top of that you get access to so much more with a Placeit subscription including unlimited designs, logos, etc. so it's fantastic value. Their editor is also incredibly easy to use so you can create mockups in seconds!
So, this round was very tight but we're going to go with Placeit.
Round 6 winner: Placeit.
Our verdict
If you've been paying attention throughout this whole article you will have noticed that Placeit came out top in most rounds. Therefore, Placeit is the winner.
We just felt that when it came to the overall offering Placeit has a bit more to offer at the moment.
That being said they are both fantastic tools, and you can't really go wrong with either one.
Overall winner: Placeit.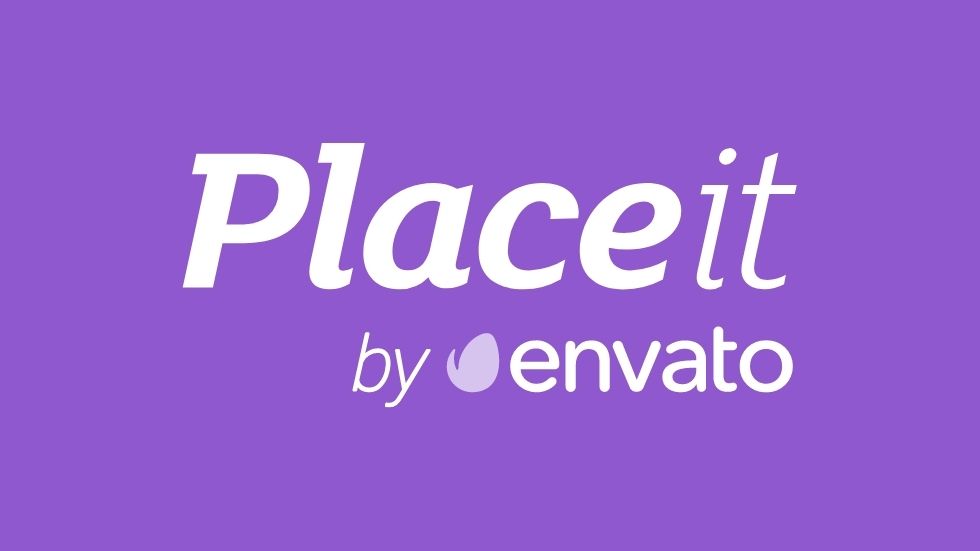 Wrapping things up.
We hope this comparison article helped you!
As we've said a few times, there really isn't all that much between these two tools. They both offer you the ability to easly create amazing mock images, and the paid versions are both fantastic value for money.
We recommend you try both out for yourself to see which one suits you the best.
Good luck creating! Also, let us know in the comments which tool you prefer and why!