Are you looking for the easiest and quickest way to create high-quality t-shirt mockups?
Well then, you're in luck.
In this article, we're going to show you how you can easily create t-shirt mockups for your online store without any experience with design software like Photoshop needed.
---
You can jump to a specific part of the article with the links below:
---
#1 Overview
If you're using a tool like Photoshop, creating t-shirt mockups can be a bit of a pain, to say the least, especially if you're wanting to create them at scale.
Thankfully these days there are quite a few online t-shirt mockup generators that make the whole process a breeze. At the moment, the best of the bunch is Placeit's.
So we're going to show you how to create t-shirt mockups in no time using Placeit.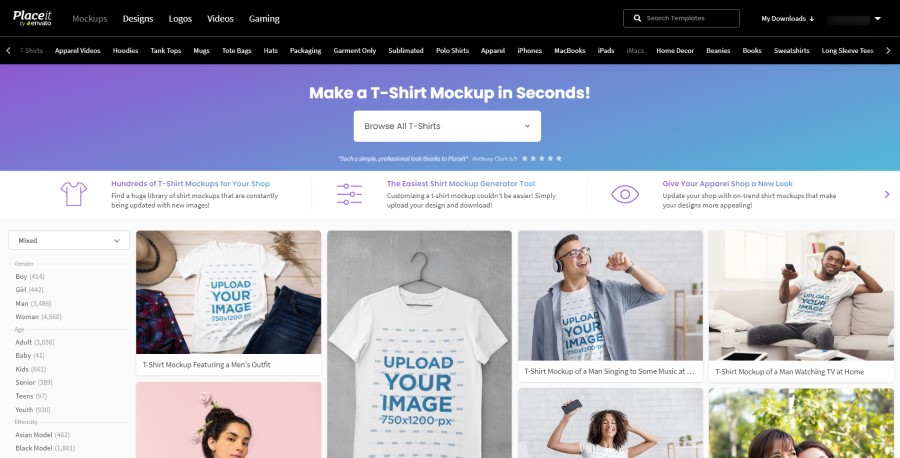 Why use t-shirt mockups?
Before we get started on the process of creating mockups, let's quickly cover why you should bother using them in the first place:
Save time and money – Rather than spending a bunch of time and money on photo shoots, photographers, models, etc. online t-shirt mockups allow you to simply upload your design, click the download button, and you're good to go.
Scale-up – Using online mockup tools allows you to create images of your designs on a huge range of garments so you can create tons of quality images in no time to promote your designs and products.
Reach a specific audience – Online mockup generators like Placeit also allow you to create t-shirt mockups with specific models and scenarios so you can easily create images that attract your target audience. For example you can choose a female model, or an image of people hiking, etc.
Social promotion – If you plan on promoting your products via social media you can use mockups for your ads. They work great on Facebook, Instagram, and other platforms.
What you need to get started on your t-shirt mockups
Before you can create your t-shirt mockups, you're going to need at least one great design to add to the images. You can create good-looking mockup images but if your actual product design is bad then it's a waste of time.
You can create t-shirt designs on Placeit or use a service like Fiverr to get some. When you have some designs (in a PNG format) you're good to go.
Now let's get on with creating your t-shirt mockups.
---
#2 Finding & choosing a template
When you navigate to the t-shirt mockup templates on Placeit (this link will take you there) you'll see that they have thousands of templates available so you should have no problems in finding some images that have the elements you're looking for.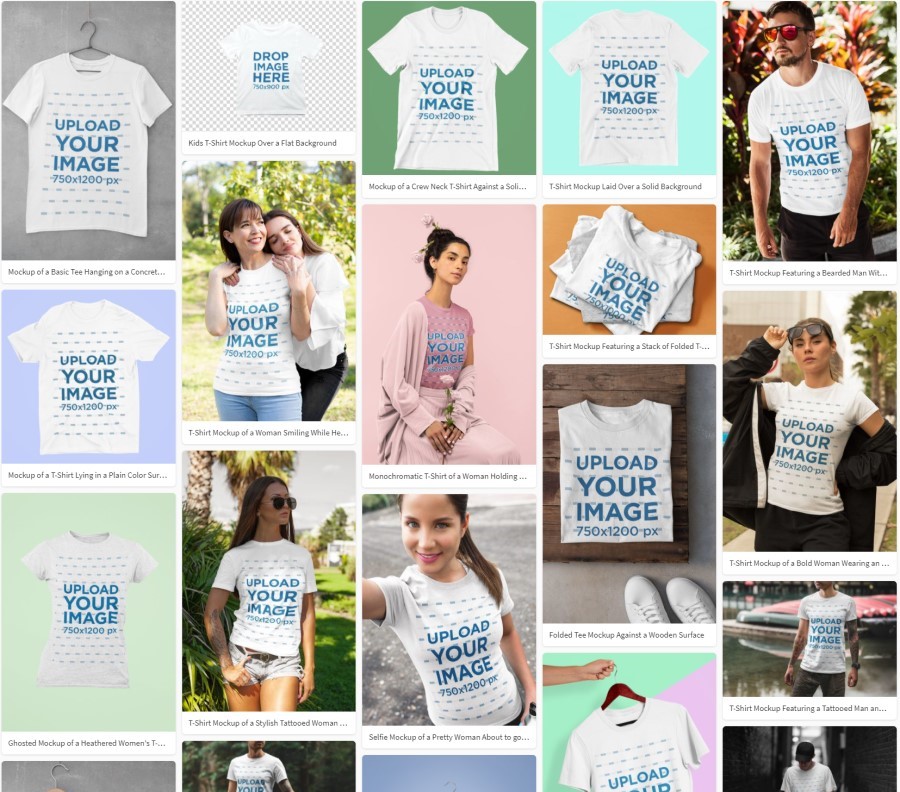 If you're looking for specific model types or themes, since Placeit has so many templates, to make your search easier you can filter the mockup templates to really drill down to what you're looking for.
For example you can filter by gender, age, ethnicity, and themes such as beach, musician, pets, garment only, etc.
You can even select multiple tags which makes it so much quicker to find the images you're after:
If you plan to download a lot of t-shirt mockup templates, then you might want to save some as 'favorites' as your browsing so you can easily access all the templates you want to download later on.
To do this you need to be at least signed into a free Placeit account. Once you have that you simply need to hover over the thumbnail of a template and click the heart icon on the top right-hand side of the image: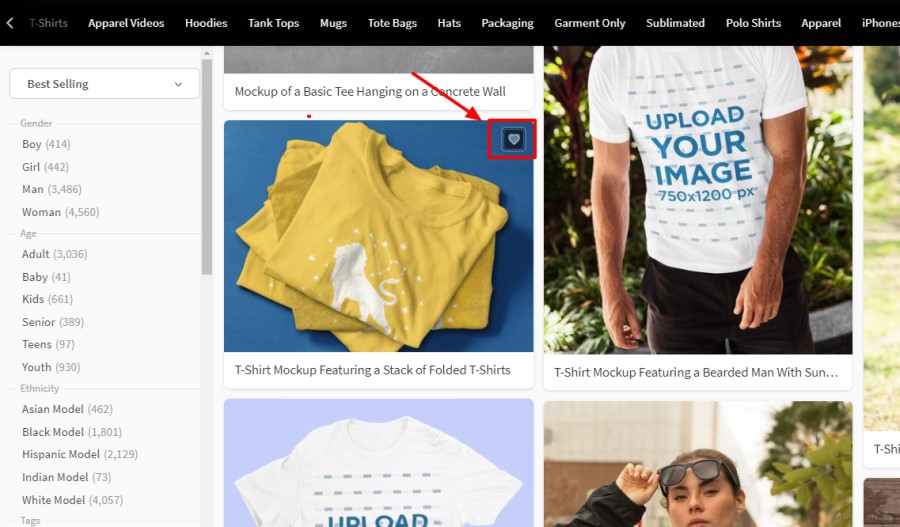 To access all your 'favorites' you simply need to hover on your username at the top right side of the screen and click on 'My Favorites':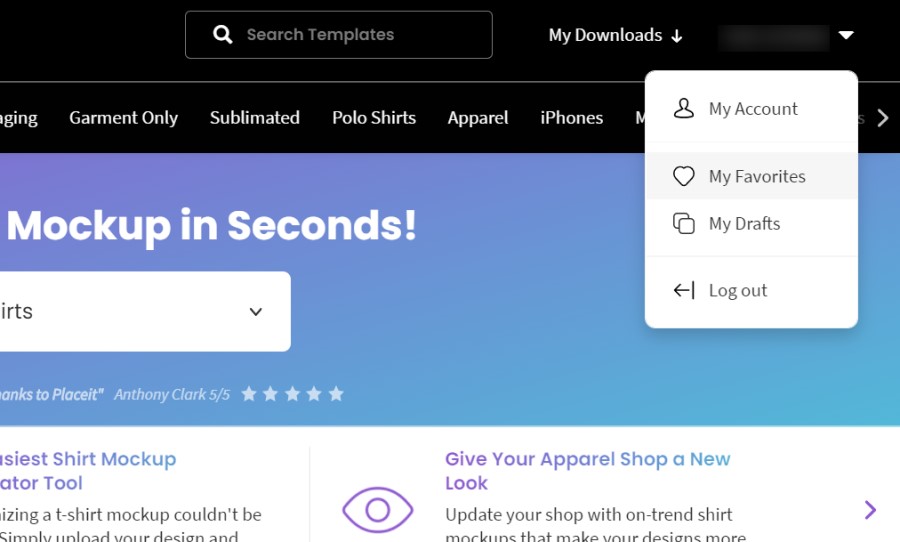 ---
#3 Customizing your template:
Now that you've chosen a template, it's time to customize your template.
The customization options may differ slightly with each template but generally, on the left-hand side, you can do a few things: upload your design, add text to the image, and upload an extra image/logo if you want.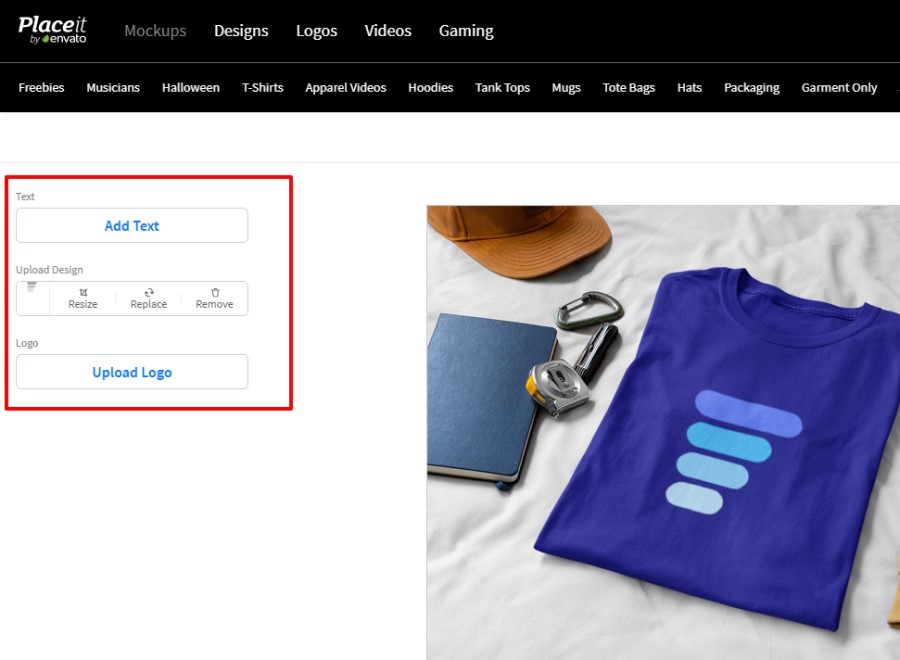 When you upload your design you will be able to crop it, resize it and place it where you want it to appear on the t-shirt:
On the right-hand side, you can choose the color of the t-shirt(s) in the image, and you can also add graphics from Placeit's library if you want.
If you have a specific color you want to use (and the HEX code for it) you can add a custom color too.
Some of the mockup templates also give you the option of changing the background color of the image too, but this only applies to certain templates.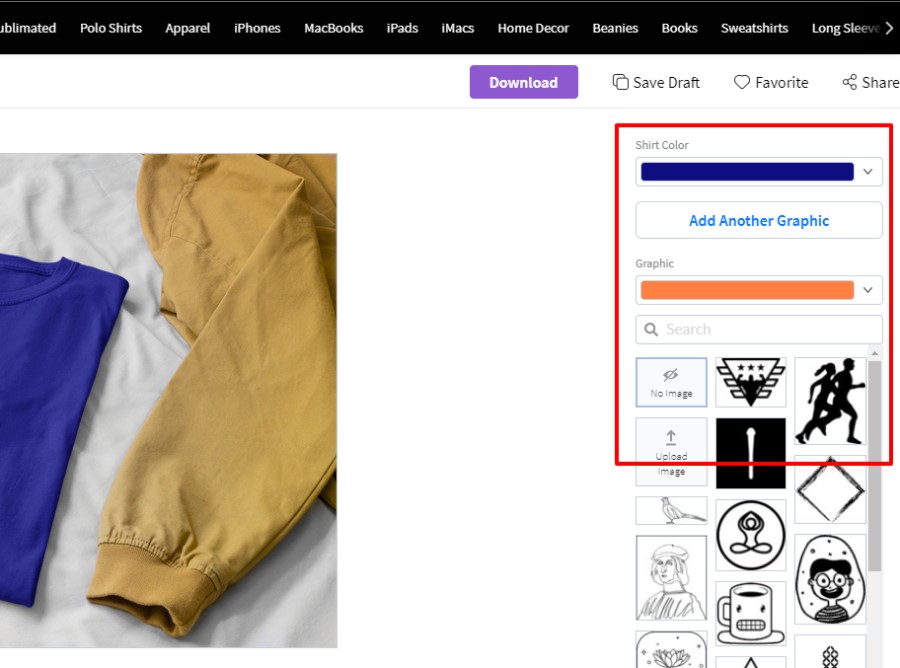 If you just want an image of a t-shirt with your design on it or a model wearing your design, all you will need to do is upload one design, choose the color of your product and you'll be done.
As an example, here's a t-shirt mockup we made with Placeit – it took us about 30 seconds: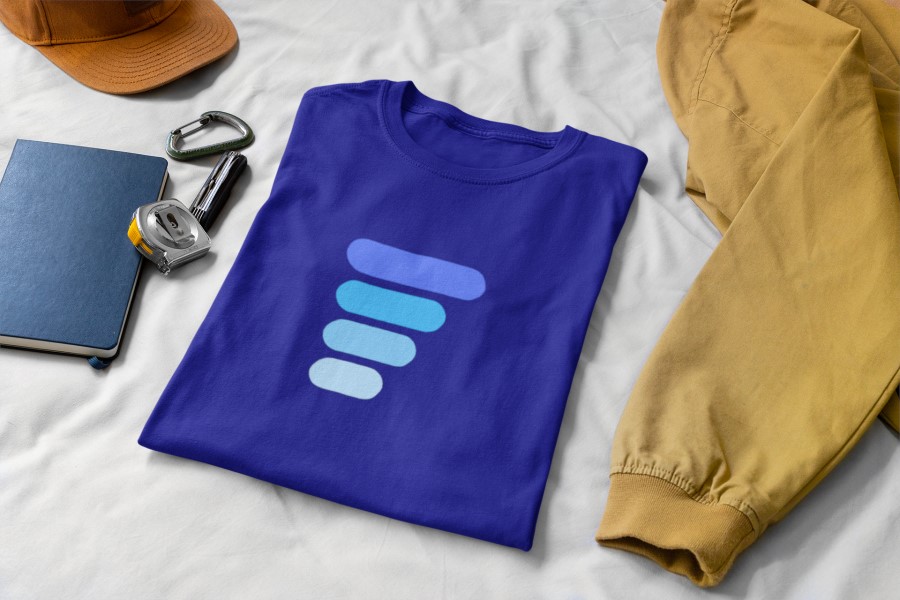 ---
#4 Creating t-shirt mockups at scale
If you want to see your design on lots of t-shirt mockups at the same time, and be able to download them instantly, then you're in luck. You can now do this on Placeit!
To get this feature you will need to be a paid subscriber.
Here's how it works. Go to Placeit's mockup section and choose the t-shirt category: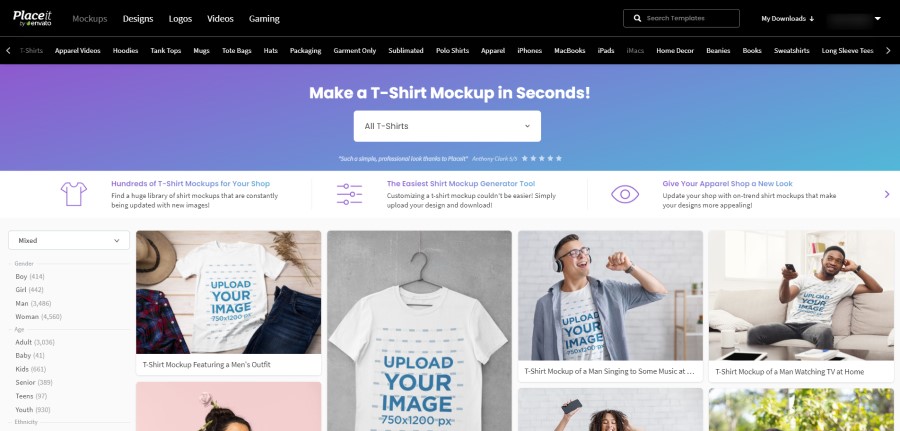 Then in the dropdown bar select one of the sub categories (e.g. 'Crew Neck'):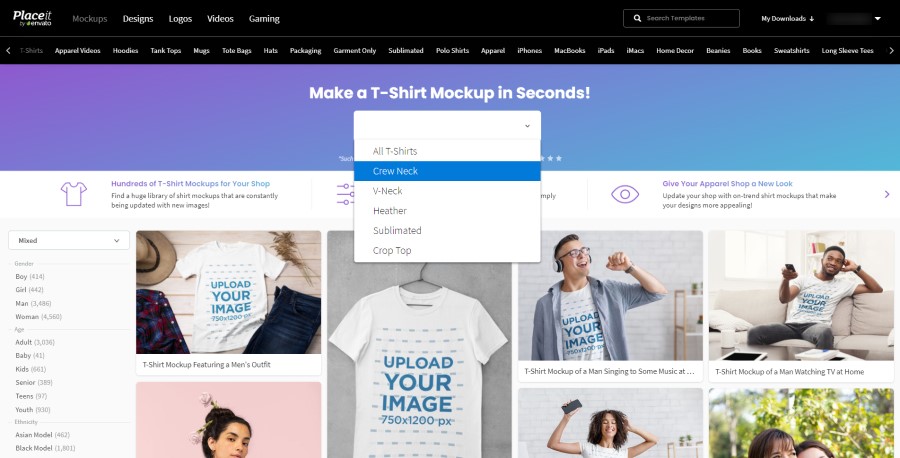 You'll then see that you have the option to choose the product color of all the mockup images on the page, and upload your design to appear on all the mockups: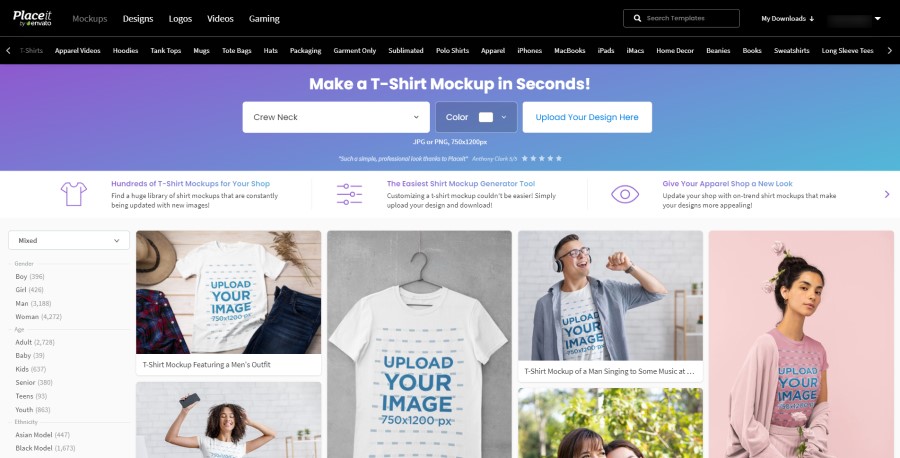 Once you upload your image and change the color you will get the option to download all the images directly from the templates page, rather than having to go into each template individually and download them one by one (what a time saver!)
For example, we uploaded our logo and changed all the product colors to black. You can see a blue arrow also appears on the bottom right of each image allows you to download it directly:
---
#5 Free t-shirt mockups
If you're on a tight budget you can find some 100% free t-shirt mockup templates on Placeit.
To access them, go to the t-shirt mockup section of then in the drop-down menu on the left-hand side select 'Free':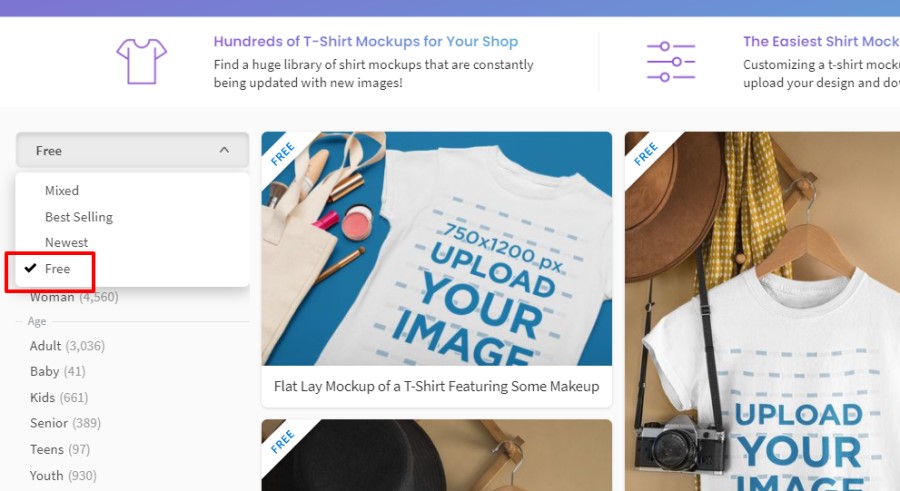 There are currently a decent amount of free t-shirt mockup templates (5 pages worth at the time of writing) and we're sure Placeit will continue to add more as time goes on.
Here are some of the free t-shirt mockup templates: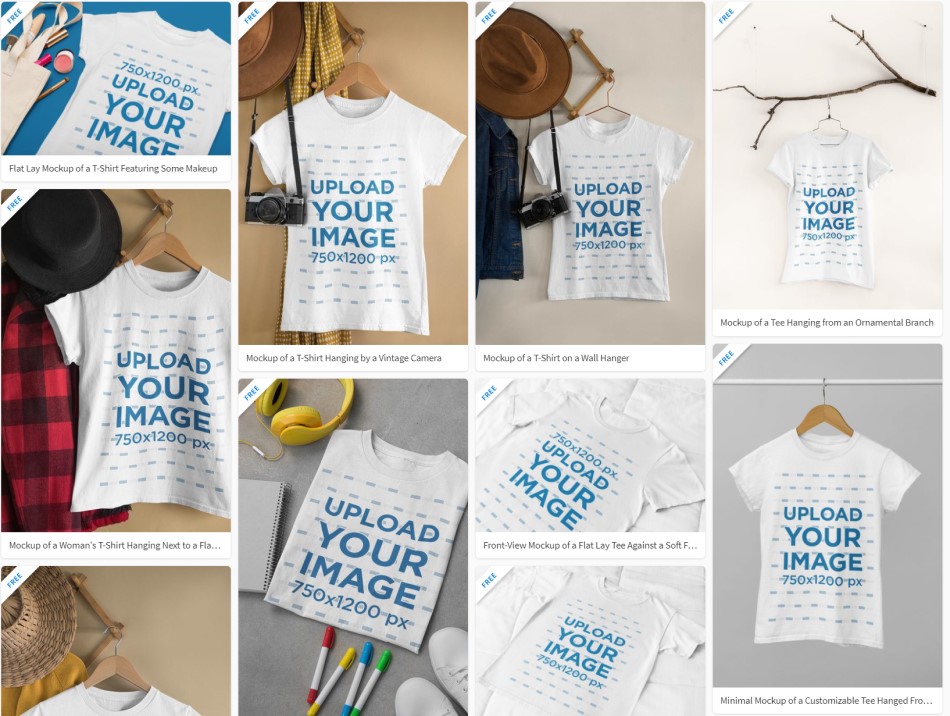 ---
#6 Pricing
On Placeit you can either buy templates individually or get them for 'free' if you get a paid Placeit subscription (which offers unlimited downloads of all templates on the site).
Here are the prices for the mockup templates:
100% free templates
Individual mockup template: $7.95
'Free' with a Placeit subscription (Unlimited downloads):

Monthly plan: $14.95
Annual plan: $89.69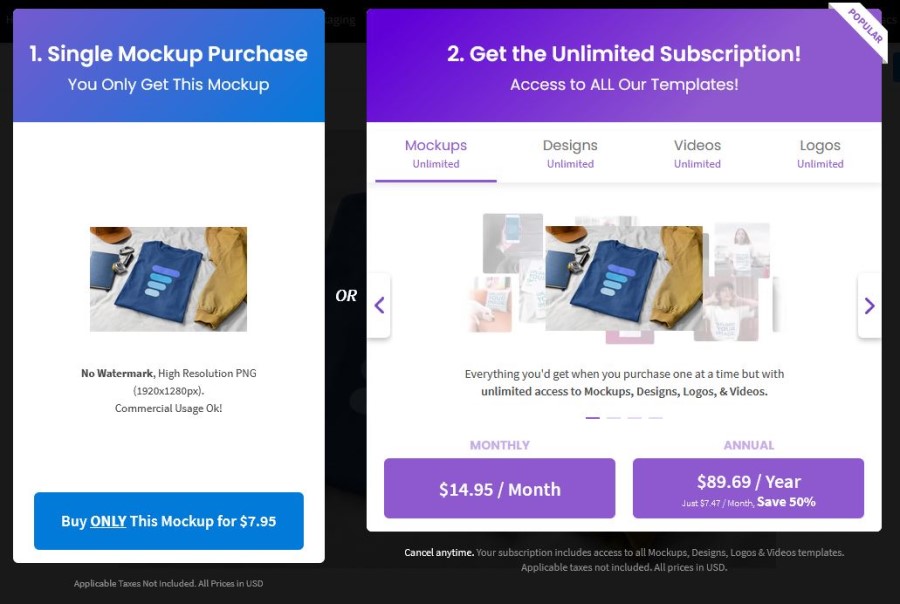 ---
#7 Licensing
Another great thing about creating t-shirt mockups on Placeit is that with their license, anything you create on the site you can use for commercial purposes.
That means you can use them in your store and in your advertising. Here's their human-readable summary of their license: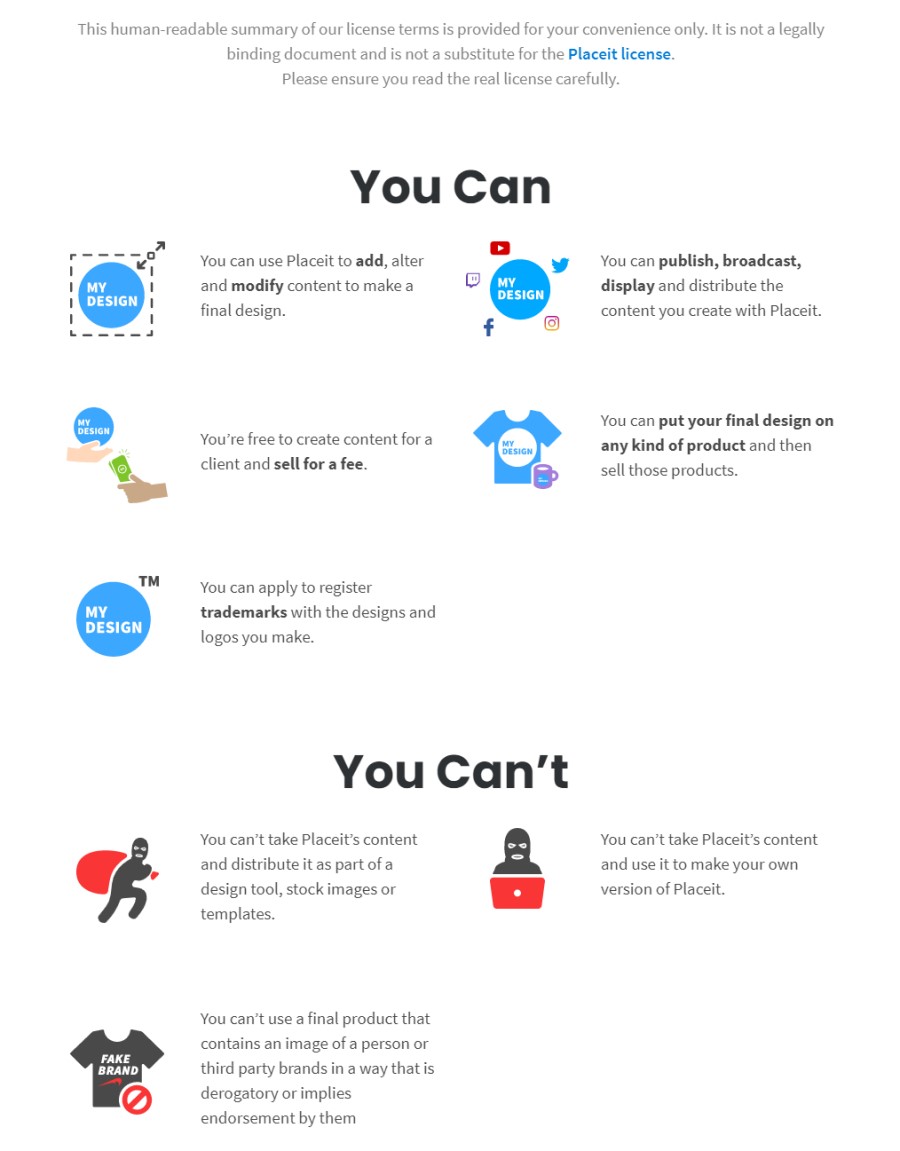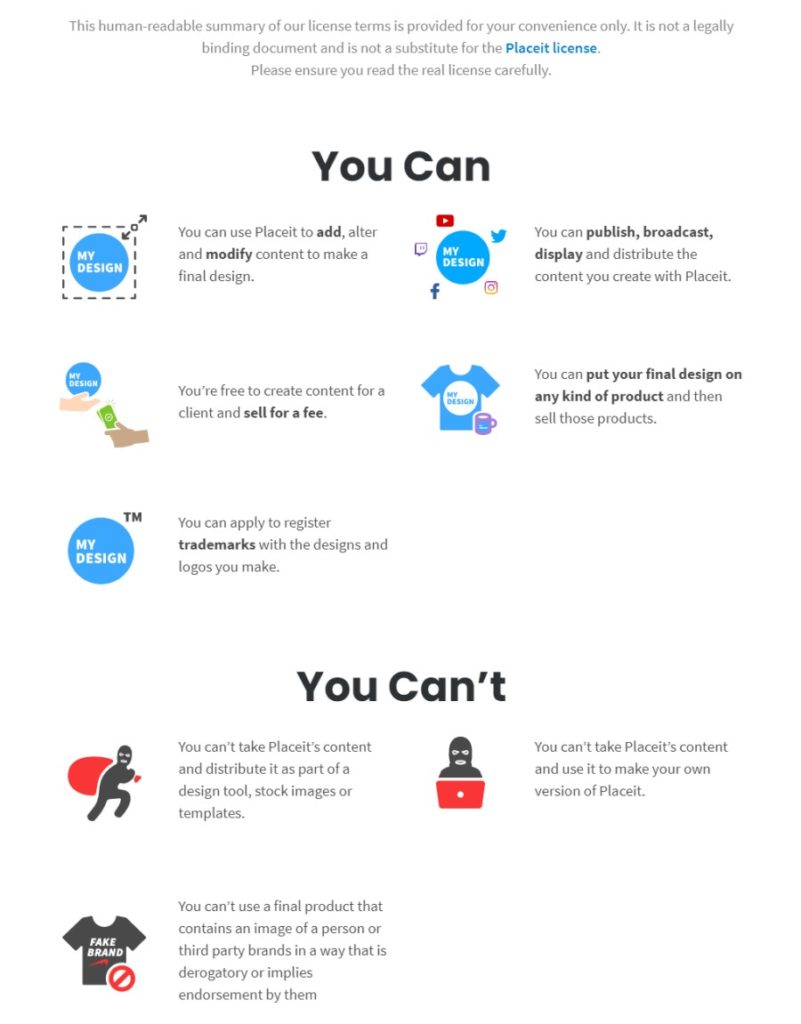 Check out the full details of the Placeit license here.
---
#8 How else you can use Placeit
If you're trying to create and promote a successful online apparel store then Placeit has so much more to offer you than simply the ability to create great looking t-shirt mockups.
Here's are a few other ways you could utilize Placeit:
Logos – Placeit has one of the most popular logo makers going, and this is something you could use to create an awesome logo for your online store. You can also use their logo templates as t-shirt designs.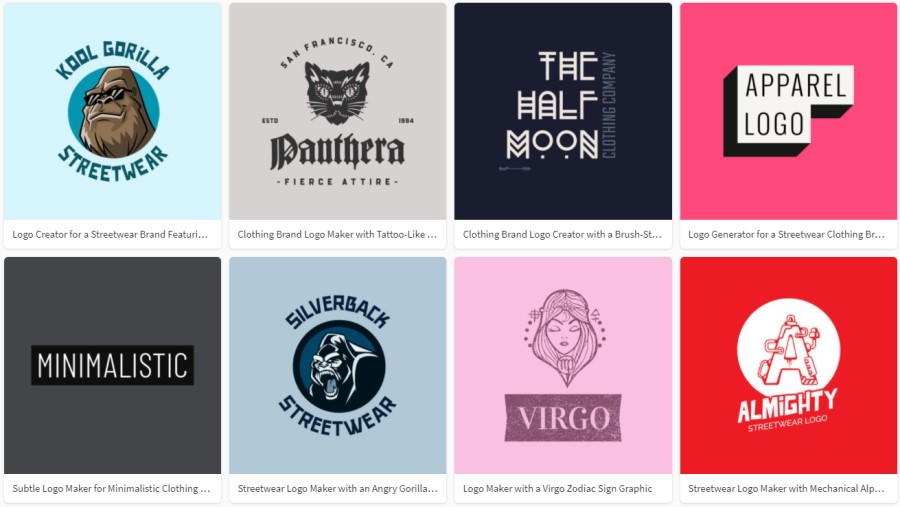 Apparel designs – if you need apparel designs for your print on demand store you can create these with Placeit too, and as mentioned their logo templates work for this purpose as well: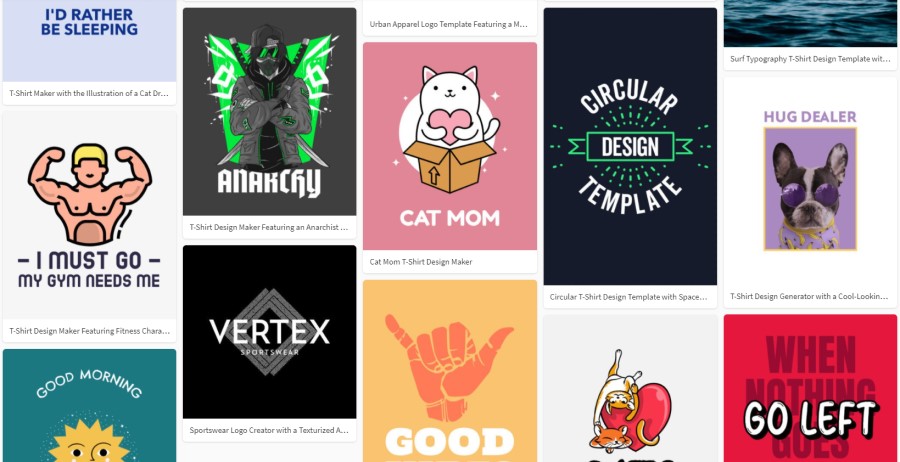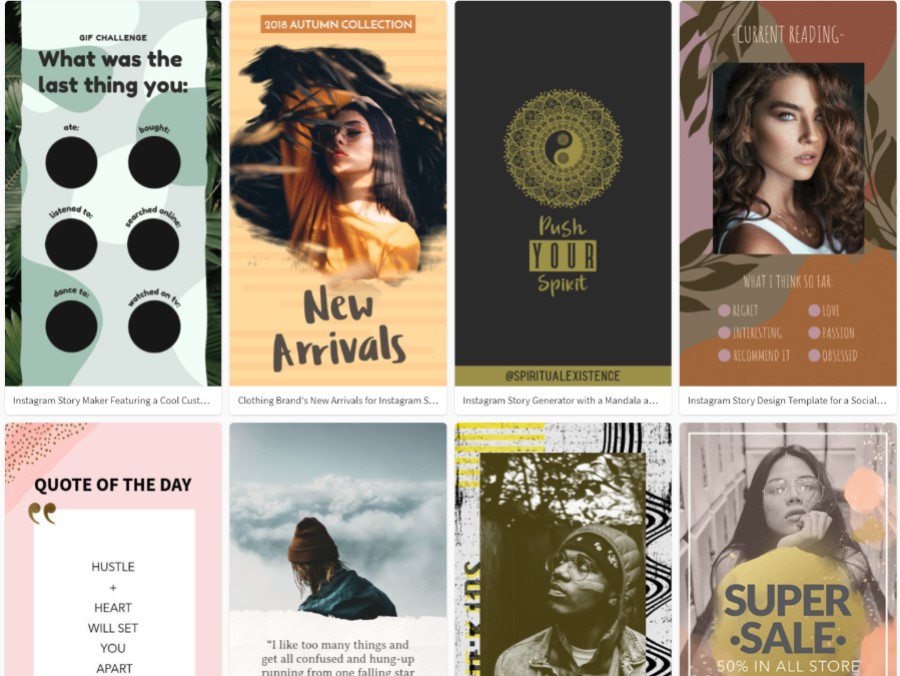 YouTube templates – If you plan to create a YouTube channel for your brand, then you can create many of the designs you'll need for that with Placeit too, including channel banners, thumbnails, intros, and more: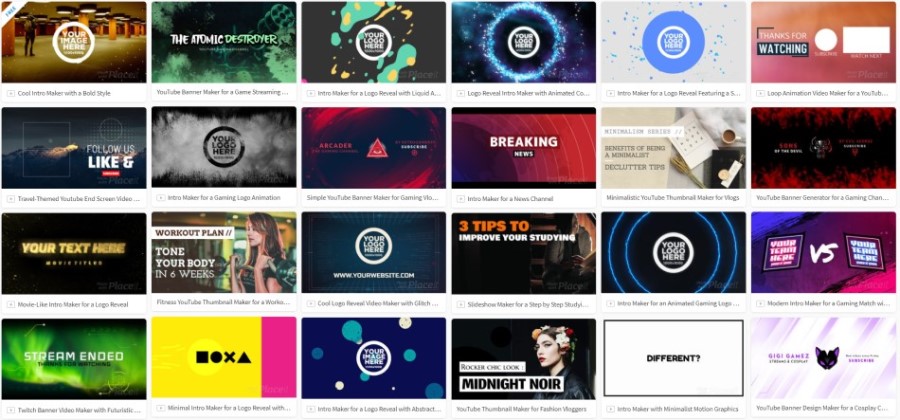 ---
#9 Alternative mockup generators
In our opinion, when it comes to easily creating images t-shirt mockups there isn't a tool out there that offers as much as Placeit.
However, there are a few other sites that do have a good range of t-shirt mockups available so if you want to see what else is out there we recommend checking out these tools:
Or check out our best t-shirt mockup generators article for more alternatives.
---
Final thoughts
So, there you have it. That's how you can easily and affordably create images of t-shirt mockups.
In our opinion, Placeit is the perfect tool for this and lets you create mockups without any effort or skill needed at all.
We hope this article helped you out. If you have any questions or comments leave them down below and we'll get back to you there.