If you're looking to build up your Twitch brand and also improve the viewer engagement on your Twitch streams a great way to do this is to have custom emotes for your channel.
If you don't know what makes a good Twitch emote, check out this video. For everyone else, we've put together a list of awesome resources to find (and get) the best Twitch emotes.
Here are some more Twitch emote size guidelines and tips to keep your right.
Use the links below to jump to a specific product:
Let's get to the list.
---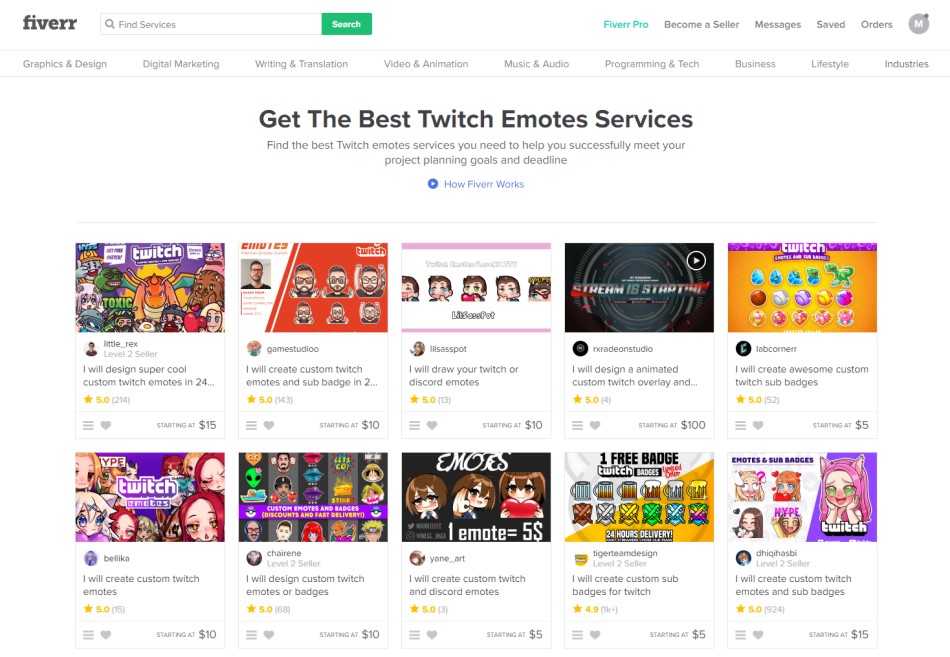 Unless you've been living under a rock, you will have heard of Fiverr. You can find people to do a whole variety of tasks there, including creating Twitch emotes (and other designs) for your stream.
If you want to check out what's on offer on Fiverr for Twitch emotes go to the Twitch emotes gig page, or just do a quick search for 'Twitch emotes' and you'll see there are a lot of Fiverr gigs to choose from.
Make sure to have a good scout around to see what the best value gigs are! Here are a few cool gigs we found:
Emote examples from Fiverr:

Pricing
Other cool stuff on Fiverr:
All the designs you would want (or need) for your stream
---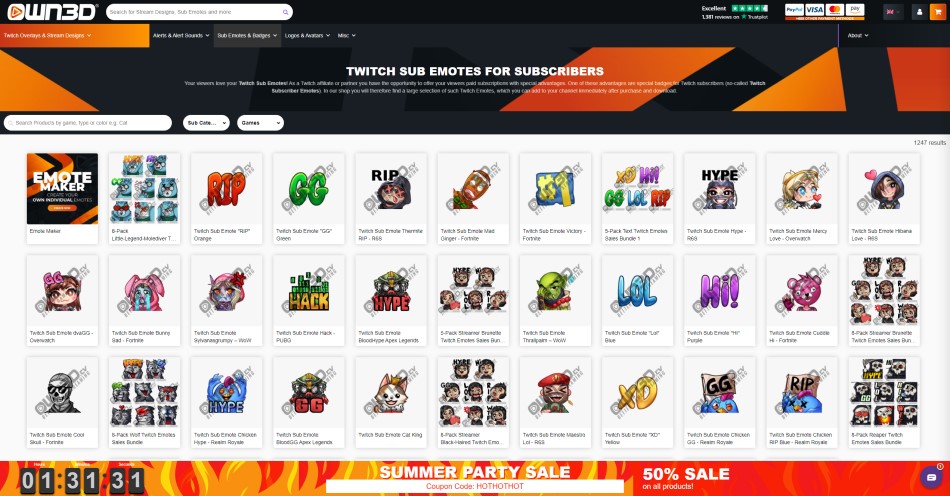 OWN3D is one of the top providers of stream designs online. They offer all kinds of templates and packs including Twitch emotes (and animated emote templates). So, if you're looking for some quality premade designs you should definitely check them out!
Their library of Twitch emotes (and emote packs) is large so there are plenty of different designs to browse through to find the style you're after. OWN3D also has a Twitch emote maker that lets you create your own emotes (mentioned in our Twitch emote makers guide)!
Emote examples from OWN3D: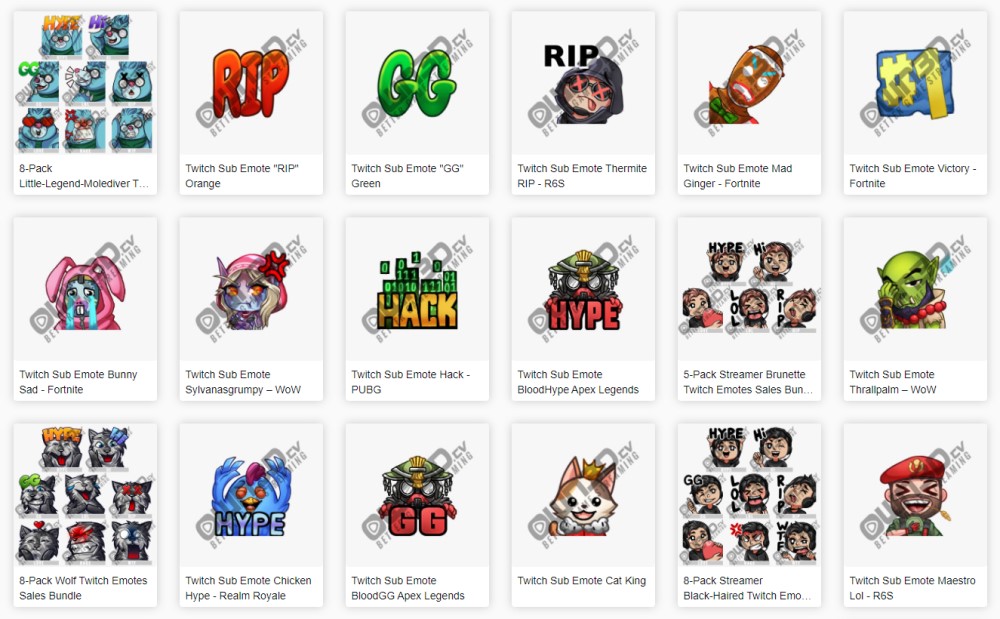 Pricing
Other cool stuff on OWN3D:
---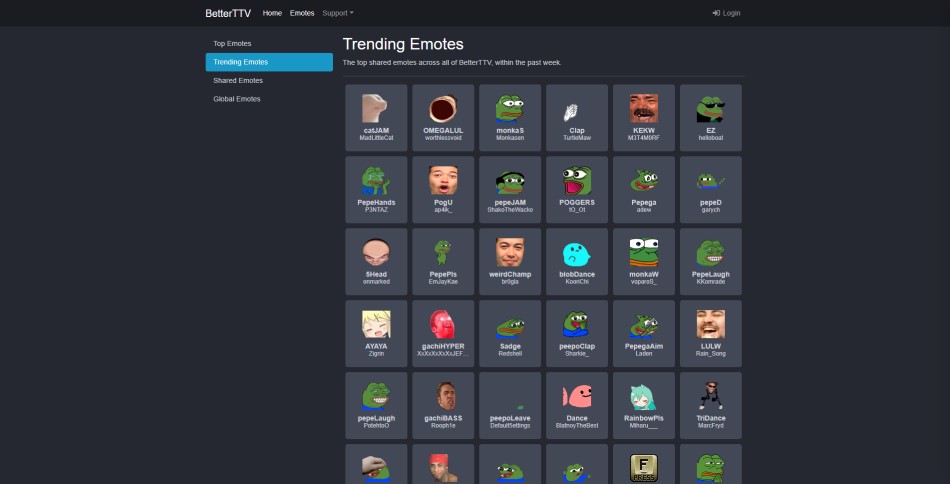 BTTV (Better Twitch TV) is a browser extension you can install for free which allows you to utilize their emote library on Twitch. When you add the BTTV browser extension you can also include the FrankerFacez emote library to add even more Emote options.
As a streamer, you can set which of the emotes from BTTV you want to allow for use on your Twitch channel (up to 15) so this is a great option to offer your channel viewers.
If you want to set this up for your channel, check out this video on YouTube which walks you through the process.
Related article: Free emotes for Twitch
Emote examples from BTTV: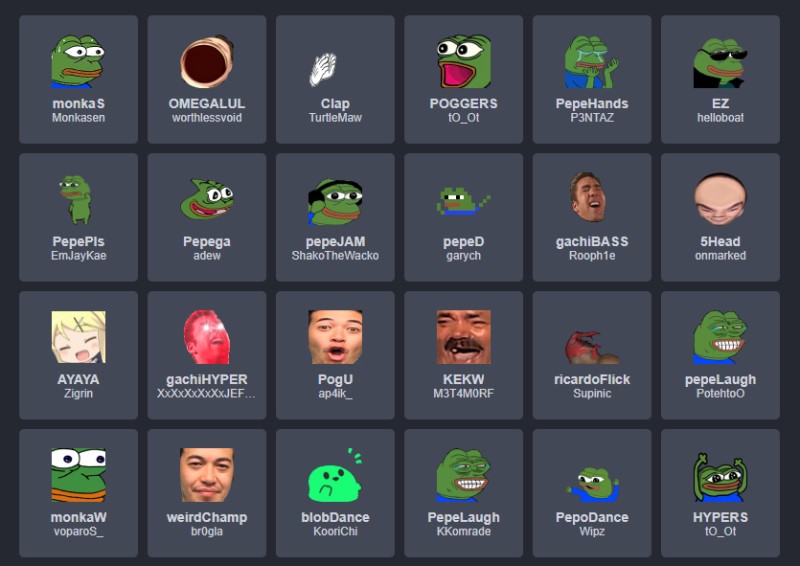 Pricing
Other cool stuff on BTTV:
You can add your own emotes to the app (up to 15)
Stream alerts (Static & Animated)
---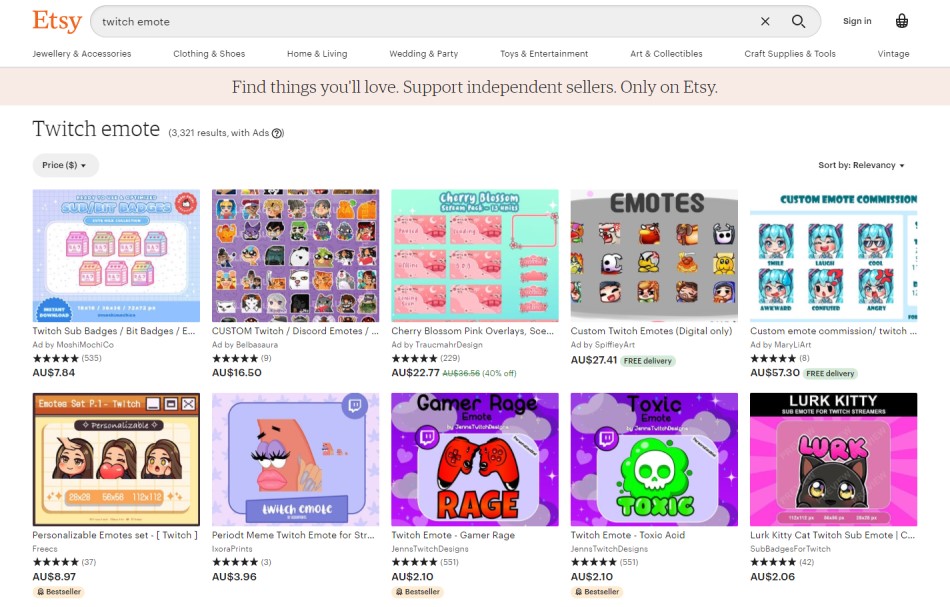 Etsy is in some ways a similar service to Fiverr in that there are a few 'gigs' on their platform where you can hire creatives to design various stream assets for you, including Twitch emotes.
Here's a cool gig we found on Etsy.
However, the majority of the stream designs on Etsy are pre-made designs and templates you can buy, and there is a decent amount to choose from!
The prices and quality ranges but you can find plenty of great stream designs (including Twitch panels) on the platform. Many of which are very affordable.
Emote examples from Etsy: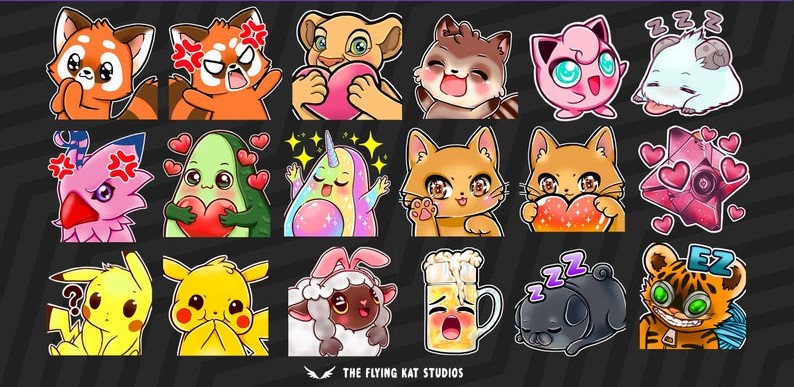 Pricing
Other cool stuff on Etsy:
---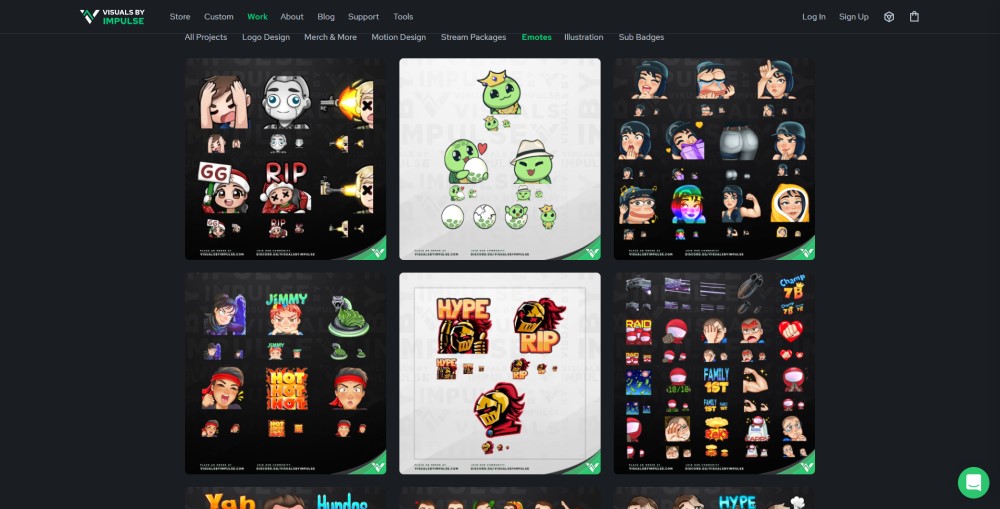 Visuals By Impulse is another awesome provider of Twitch designs and stream packs, and they also offer custom stream designs.
Their main offering is pre-made stream designs and packs but they currently don't offer premade Twitch emotes. However, if you're looking to have custom Twitch emotes they are a great option.
You can check out examples of their custom Twitch emote design here.
Emote examples from VBI: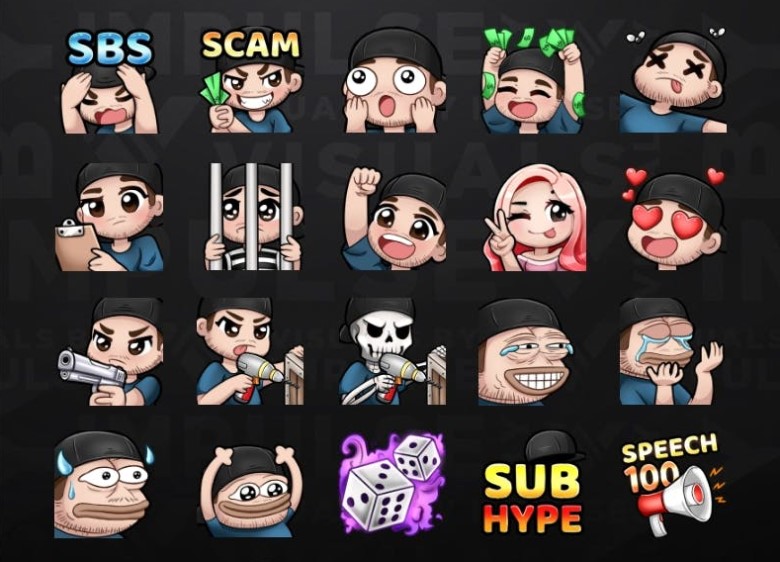 Other cool stuff on VBI:
---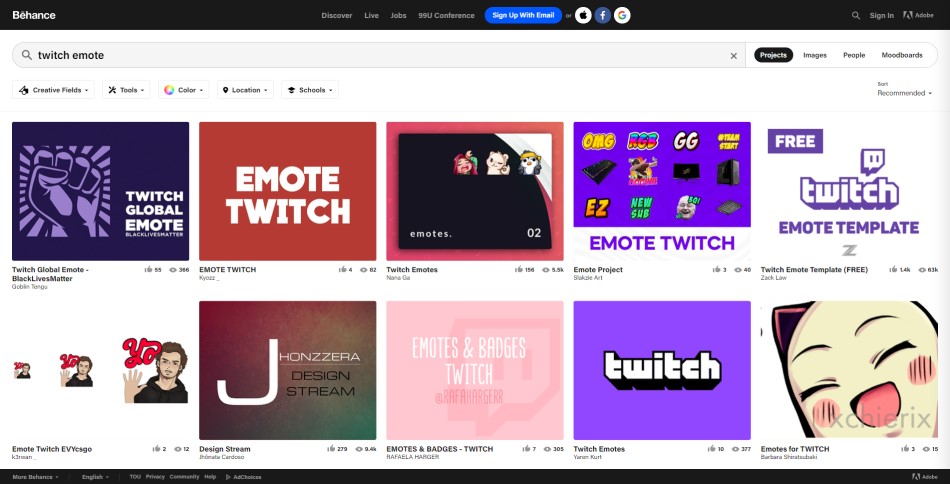 Behance is an online community and platform where designers and creatives showcase their creative work. It's a great place to find design inspiration and also to find incredible artists and designers to potentially work with.
If you do a quick search for "Twitch emotes" on Behance you'll find some great designs, and if see something you like you go to the profile of the creative and see if they are open to doing custom work. For example, we found this designer who has some great Twitch emote designs.
You can also search through Dribbble (which is a very similar site) to find some awesome designers!
Emote examples from Behance: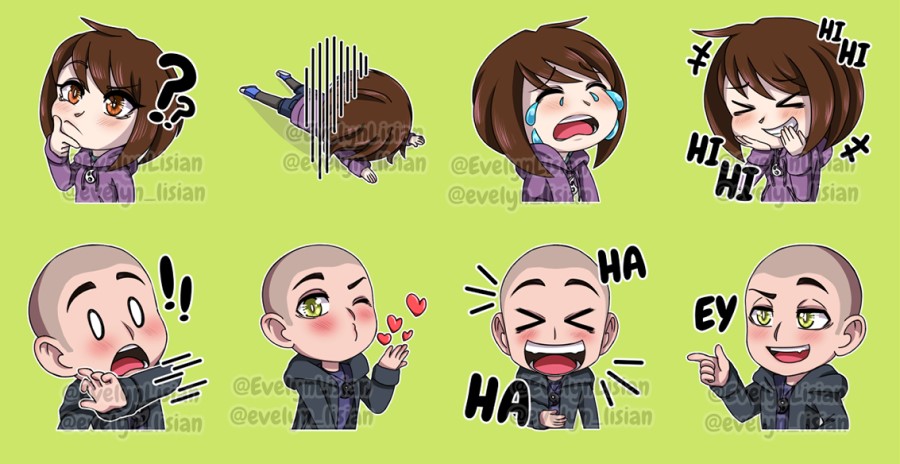 Other cool stuff on Behance:
---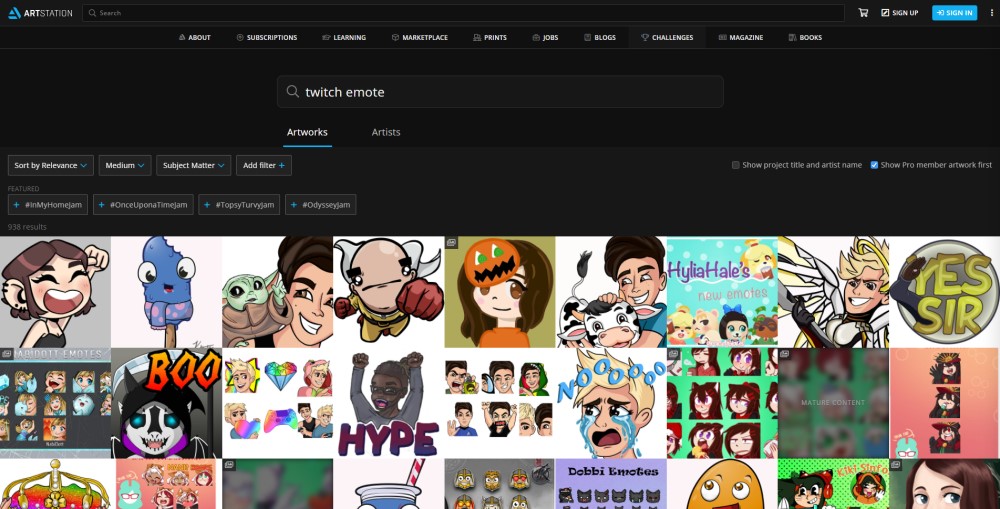 If you haven't heard of it before, ArtStation is a platform where (like Behance) artists can showcase their artwork. However, the creatives on ArtStation are typically interested in the games industry, film, and entertainment.
Like Behance, it's a great place to get inspiration for your own designs and also a pretty cool place to find designers and artists to work with to create your Twitch designs, including emotes.
A similar site that's also worth checking out is DeviantArt where you can also find tonnes of artwork from incredible artists and designers. Many of which you could commission for work.
Emote examples from ArtStation: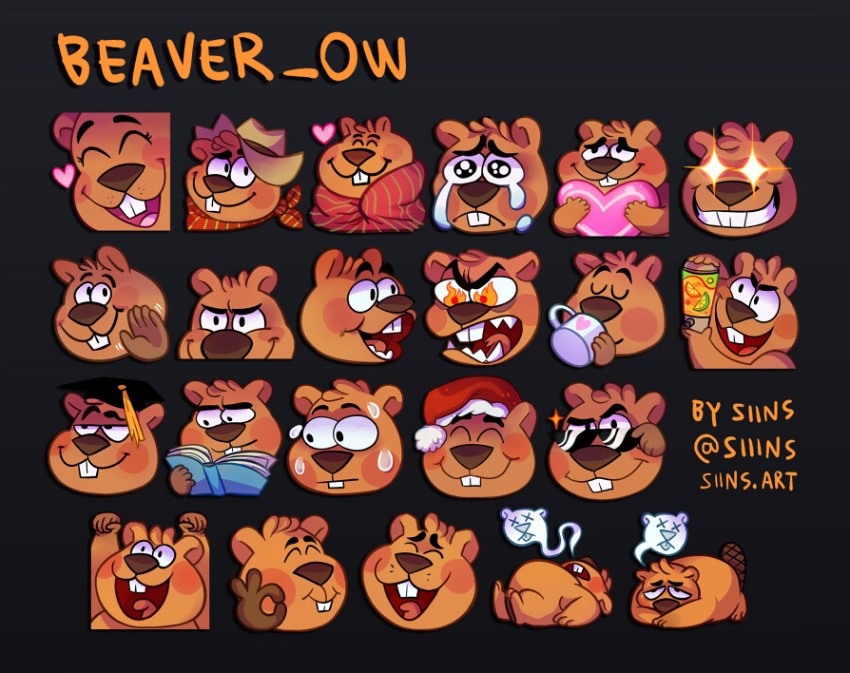 Other cool stuff on ArtStation:
---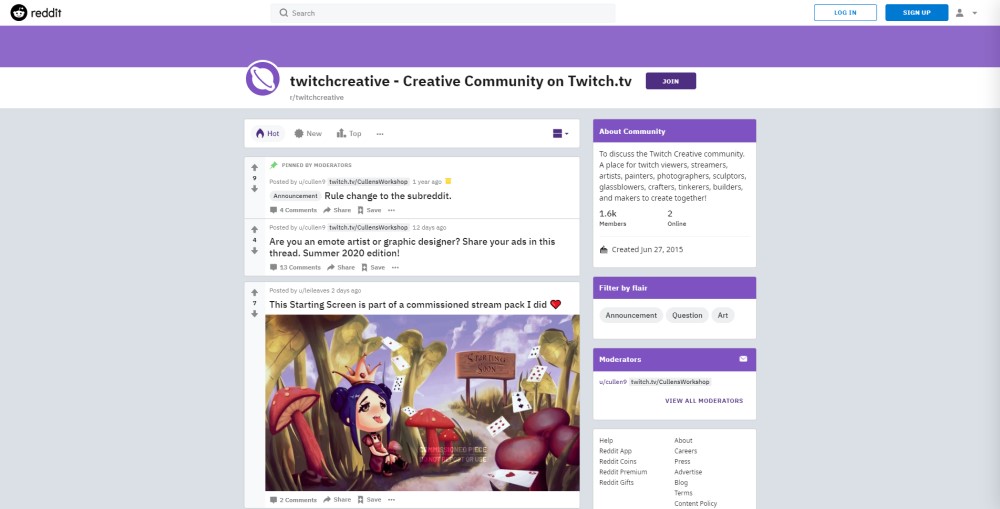 You'll almost certainly be aware of Reddit but what you maybe didn't know is that there is a Reddit for Twitch and there is even a Reddit for Twitch Creatives where people share their stream artwork and designs.
Some of the posts are from designs and they include information about their commissions, packages, etc. You can even create a thread asking for artists who can create work in the style you're after.
It' a great resource to tap into for Twitch emote design inspiration and to find artists too.
Emote examples from Twitch Creative Reddit:
Other cool stuff on Twitch Creative Reddit:
---
More sources of Twitch emotes: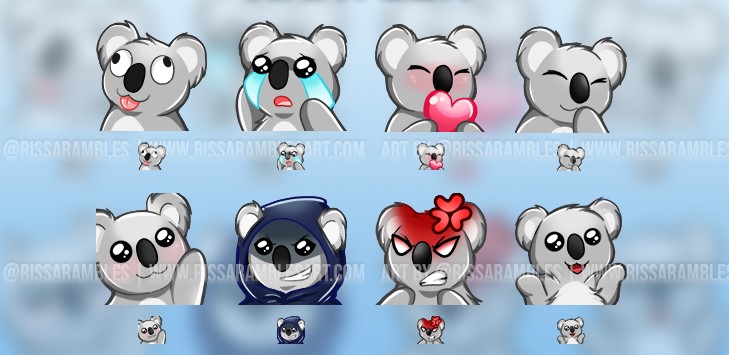 ---
To conclude…
So, there you have it, 8+ great sources of Twitch emote designs and inspiration. We're sure there's a source in there that will a design or a designer that can match the look and feel you're going for with your stream.
Enjoy making your stream awesome! Oh, and if you have any questions, comments, or have suggestions for other awesome sources of Twitch emotes, leave a comment below!