YouTube provides several different ways to encourage viewers to subscribe to your channel as the engage with your content. But one of these tools that's often overlooked by content creators is the video watermark.
The watermark is best used as either an additional call to action for viewers to subscribe or as another way to reinforce your channel brand. A well branded channel not only makes your content seem more professional but will increase brand awareness.
---
You can jump to a specific part of the article with the links below:
---
Overview
Traditionally, a watermark is a logo, text or a pattern that is layered over an image in order to make the original image difficult to be copied or used without permission.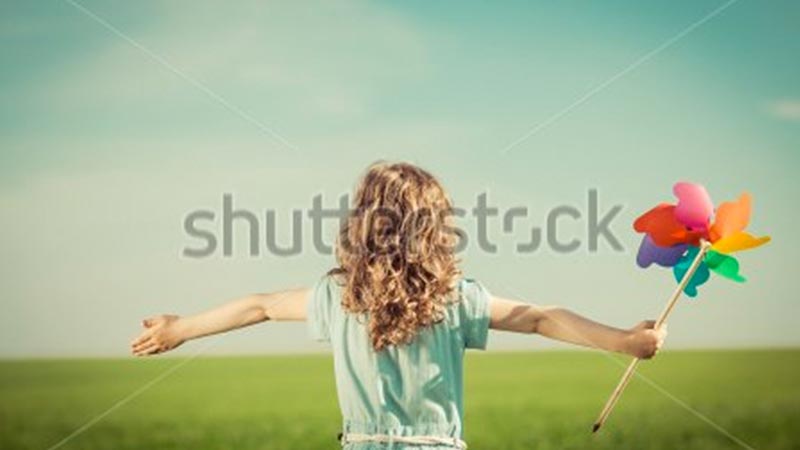 A video watermark follows the same principle. It's a still image that is placed over the top of a video as it's playing, generally in the top or bottom right hand corners. The video watermark is most commonly a logo but website URLs and custom text are also used.
Watermarking your video has become more important for two key reasons. The first is to avoid unauthorised copying and distribution of your content. It's not uncommon for videos from YouTube to be downloaded and shared on other platforms like Facebook, Twitter and Instagram without proper attribution and with the thief oftentimes monetising the stolen content.
Whilst a watermark won't prevent this, it will identify you as the true owner of the content and hopefully discourage people from attempting to misuse your work to begin with or make it easier for you to have stolen videos taken down.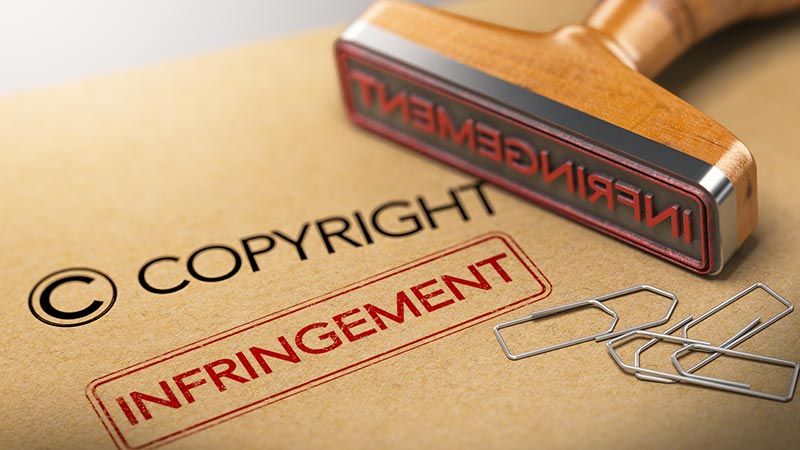 A more positive reason to watermark your video relates to brand recognition. By adding a logo watermark to your videos, viewers will more strongly associate your content to your overall brand. When this is coupled with strong channel art and consistent thumbnails, your video watermark becomes a small piece of your larger branding strategy.
If you decide not to directly embed a watermark on the video file, YouTube has a branding watermark feature that allows creators to add a small image, most commonly a logo, to all of the videos on their channel. This watermark overlay feature has the added bonus of being an on-video subscribe button which can dramatically increase subscribers to your YouTube channel.
---
Specifications
YouTube recommends the following specifications for your video watermark
Images in a square format with a minimum 150×150 pixels
Images must be less than 1MB in size
Images should only use one colored background.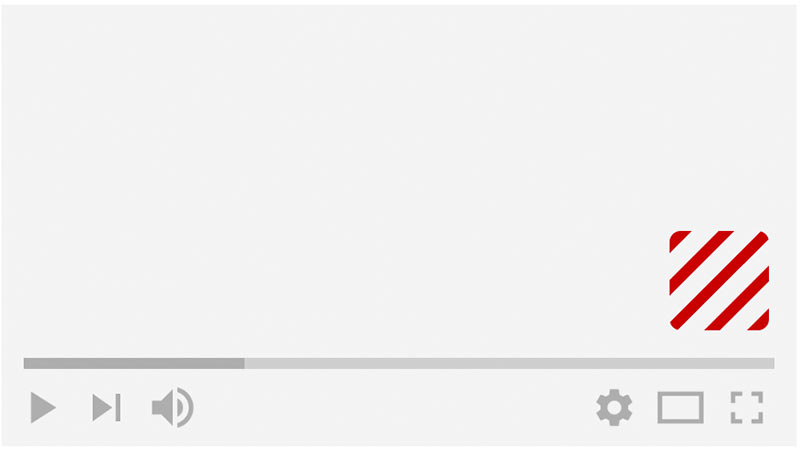 In addition to the upload specifications, YouTube also gives creators the opportunity to set the starting time for their watermark to appear.
Have it Appear at 0:00: This means the watermark will be visible the entire length of your video. The obvious advantage of this is that viewers will be able to easily subscribe to your channel at any time whilst watching your content. Arguably though, a downside of this is that the watermark could be a distraction during the opening 15 seconds of your video. A key time in which viewers decide to continue watching or leave your content.
Start After Your Intro: You can set a custom time for your watermark to appear. This means you can, if you choose, leave the crucial opening section of your video without the potential distraction that the watermark can bring. Two drawbacks to this are that when you set a time for the watermark to appear, it is channel wide and not specific to each video, so the watermark might pop up at an inopportune time on some videos. Also, the watermark simply pops onto the screen which can itself be slightly distracting.

Ultimately, it's your choice when to have your channels watermark visible on your videos, however here at design hub, we recommend having your watermark visible for the duration of your video. Why miss any opportunity to gain some new subscribers or compound your brand image?
---
What Image should you use?
There are two different types of image that YouTubers tend to use as their video thumbnail. Their brand/channel logo or a subscribe button. But which is the better option?
The best way to make this decision is to decide what your main goal is from your video watermark. If your number one goal is to increase your subscriber count, then it might be a better option to go with a watermark that recalls a youtube subscribe button.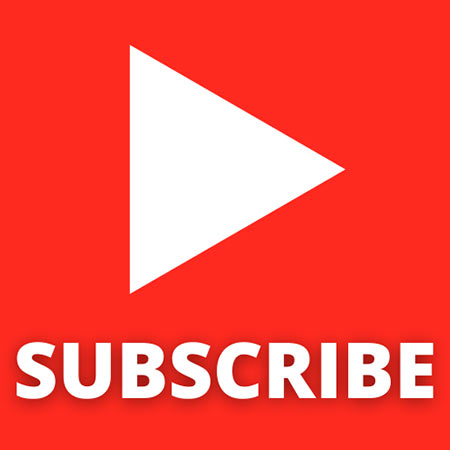 This makes it easy for viewers to know the purpose of the button and evidence shows that it also makes it more likely that they will subscribe via this route than if you opted for a logo watermark. YouTube tool and channel VidIQ reported a 500% increase in conversions through the watermark button when they changed the image from a logo to a subscribe watermark.
However, if you are less concerned about subscribers and more interested in developing a complete brand image, you may want to opt for the logo watermark opportunity. Another possible solution is to create your own custom subscribe button that exploits your own brand colours.
---
Creating your watermark
There are several options for creating your video watermark, whether you want to upload it directly to YouTube or if you'd rather 'bake' it in to an existing video. Here are our recommendations for each.
Creating a watermark for upload to YouTube
Whether you're simply exporting your logo with an alpha channel or if you're creating a brand aligned subscribe button, Canva is the ideal platform to create your design in. It's logo maker blank canvas is already square and you can upload your image or add text and make use of their library of shapes and colored backgrounds. You're then able to export your design at the 150x150px size that YouTube asks for.

If you'd like to add your logo as a watermark embedded in the video itself you have a couple options there too. You can firstly add the watermark during the editing process and then export your final video with the watermark embedded.
Or if you have exiting clips that you would like to add the watermark to, or if your editing software doesn't have the functions you need, you can always use invideo. Their free watermark tool lets you simply upload your clip an your watermarked image and the tool lets you download the video with the watermark attached.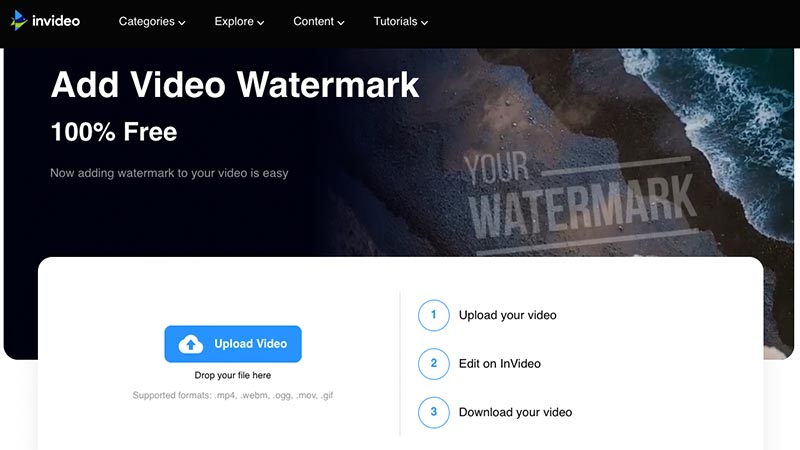 How and where to upload
If you decide to take advantage of YouTube's inbuilt video watermark feature, it's only a couple of clicks away and you'll have a watermark on all the videos on your channel.
Firstly log in to your YouTueb account and click the icon on the top right of the page with your channel logo visible. From there, navigate to YouTube Studio on the dropdown menu.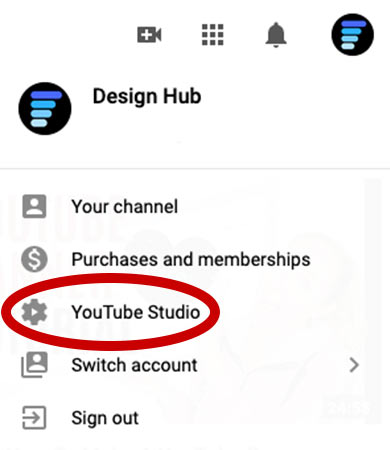 Next, click on the Customisation button, the second last option in the list of sections within the YouTube studio menu, look for the magic wand icon. At the top of the customisation page you will see three tabs. Click on the tab labelled Branding.
At the bottom of the branding page you will find the video watermark section. Simply click upload, navigate to your logo or subscribe button on your computer and hit open.

If necessary, use the crop tool to remove empty space and make sure your image is centred before clicking done. The options for when you want the watermark to display will now be visible next to the mockup image of the watermark. Select whichever option you want then hit publish at the top right of the screen.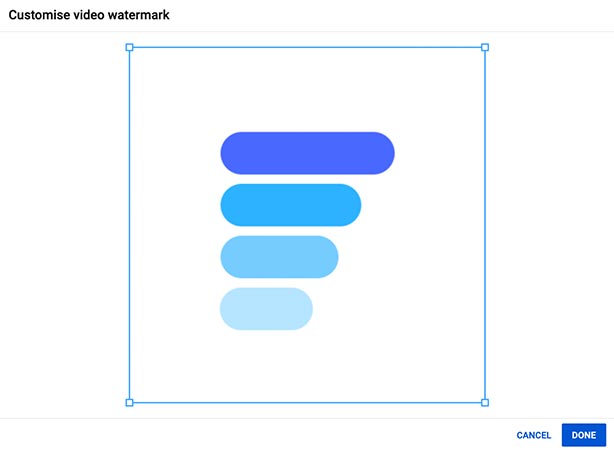 ---
Adding Video Watermarks In The Edit
If you decide to add a watermark that's embedded in your actual video file, instead of using YouTubes inbuilt watermark overlay feature then it depends on your editing software where and how you add and place the image. However as mentioned above, there's also invideo's free watermark tool which will add your custom watermark in 4 simple steps.
1. Upload: Simply upload your video from your computer or mobile device.
2. Add the content you want to watermark: Just add the text, caption, or the logo that you want to use as the watermark. Reshape, resize, or align it to the ideal fit and position.
3. Hit Create: By hitting the Create button, you are ready with your video watermark. The feature from InVideo is amazingly simple and fully free to use.
4. Download and share across all online channels in an instant.
---
FAQ
How can I tell if people are subscribing using my watermark?
In addition to all it's other video analytics tools, YouTube has a specific section that allows you to analyze your click-through rate with your watermark. The chart shows how many interactions the feature has had. If you take the time over a number of weeks to test different approaches, you can measure the success of different watermark styles and choose the one that works best for you.
---
Are watermarks available for any channel?
There are no barriers to adding a watermark to your youtube channel. The only caveat to this are videos marked as 'Made for Kids', your watermark won't be visible on these specific videos.
---
Can you Add a watermark to YouTube Shorts?
Yes! The watermarks will be added to any YouTube shorts videos added to your channel in addition to your traditional widescreen videos.
---
Final thoughts
There are a few different things to consider but now you're in the best place to create and use a watermark that works best for your videos and your channel.
We hope this article helped you out. If you have any questions or comments leave them down below and we'll get back to you there.