If you're looking to level up your Twitch stream but don't have a big budget you might have a few questions such as, where do I find free twitch panels? And are there actually any good free twitch panel templates?
No worries, we've got you covered. Below are the best sources of free twitch panels that you can use on your channel.
Use the links below to jump to a specific product:
Let's get to the list.
---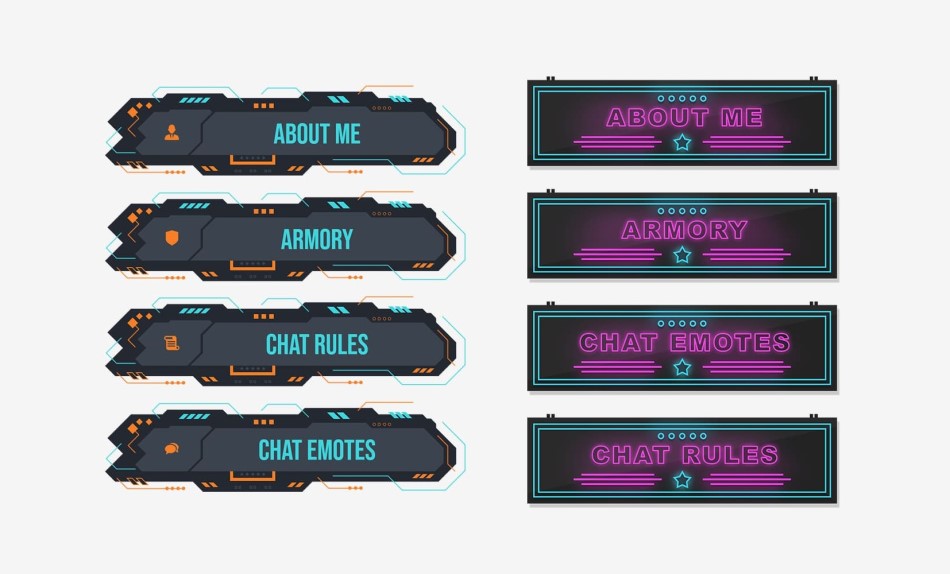 WDFlat is an incredible resource for people who are looking for some awesome free stream designs. The vast majority of templates (including Twitch panels) on the site are 100% free, and most of them are really good quality too.
They boast one of the largest collections of free stream graphics online including a lot of Twitch panels and stream bundles for users looking for a bargain. Well worth taking a look if you need some cool free templates!
Other free stuff from WDFlat:
---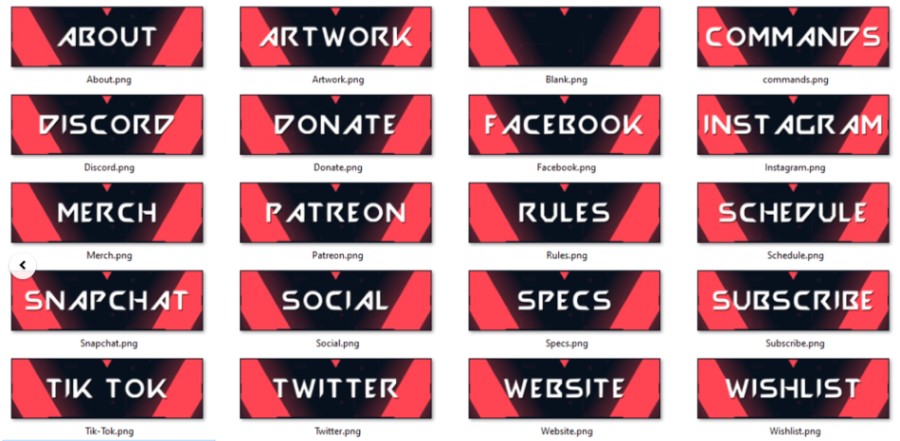 Graphic designer, streamer, and YouTuber Gael Level is on a mission to provide quality stream designs and graphics at incredibly affordable prices (many of them are free too!).
If you check out his shop on Gumroad you'll find super value for money stream templates and packs and also a good bunch of free templates too, including Twitch panel templates and stream packs. It's well worth seeing what he has to offer.
Other free stuff from Gael Level:
---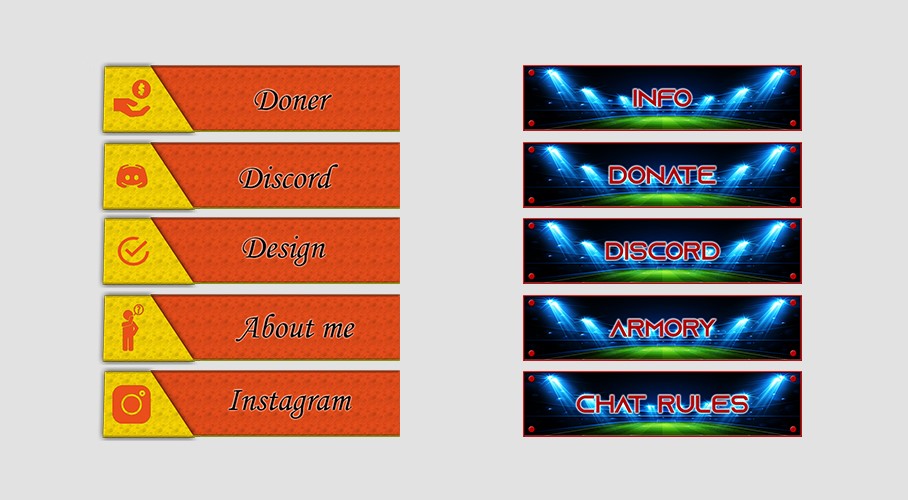 Twitch Overlay Template offer quite a lot of free stream design templates, including Twitch panels. They also offer some premium templates and stream packs, as well as custom design so if you've got a budget to spend on stream designs you could check out their premium offering.
The quality of the free designs it's pretty good, especially their free stream bundles which have most of the stream design elements a new streamer will need to get started.
Other free stuff from Twitch Overlay Template:
---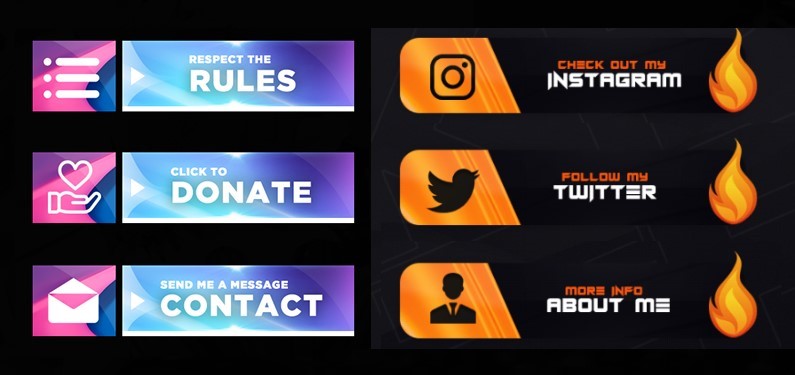 Mattovsky is a graphic designer, gamer, and YouTuber who creates awesome stream designs (many of which he gives away for free!).
On his website, you'll find some fantastic premium stream packs and templates, as well as some really cool free Twitch stream packs too which contain equally awesome Twitch panels. We recommend you check out what he's offering!
Other free stuff from Mattovsky:
---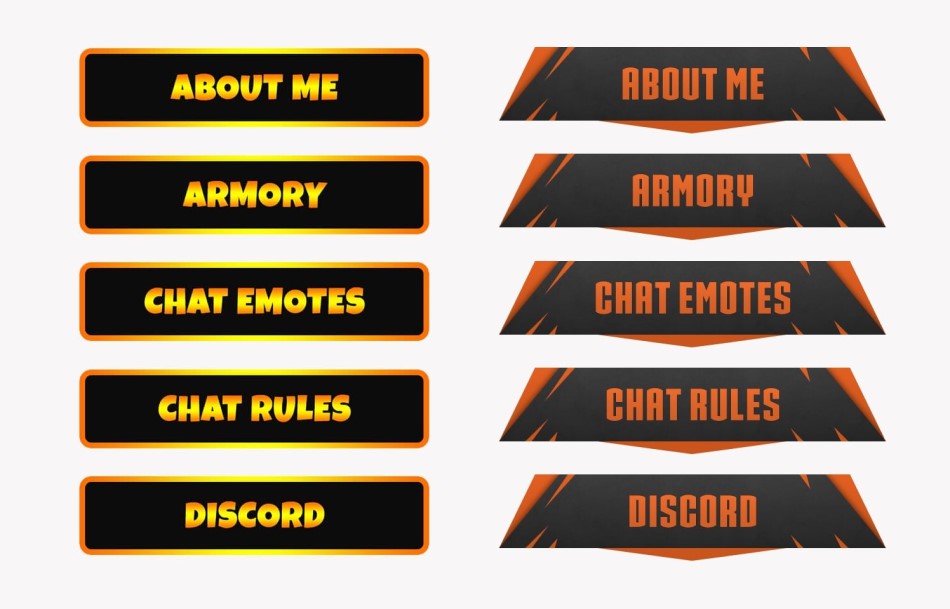 Stream Top is very similar to WDFlat in that the vast majority of templates and stream packs on the site are free! This includes many free Twitch panel templates too!
The Twitch panel designs aren't really elaborate but there some good quality ones. So, if you're after some simple and minimalistic panels for your channel they might just have what you're looking for.
Other free stuff from Stream Top:
---

If you want to get a bit creative, you could consider using an online design tool like Canva or Crello to create your own Twitch panels for free!
The panels you see above were all created for free using Canva and you can create similarly awesome looking designs for free on tools like Crello, Fotor, and Kapwing too.
Doing it this way also means you can really add your own personal touches to your designs too, to make them completely unique to your channel.
Other design tools to create free panels:
---

Behance is an awesome online platform where designers and creatives can showcase their creative work. So it's an incredible place to find design inspiration.
What you maybe didn't know is that it's also a great place to find free design templates (including free Twitch panels and stream packs).
If you got to Behance and do a quick search for "twitch designs" or "twitch panels" you're bound to find some great designs, and a good number of them will be free!
Other free stuff on Behance:
---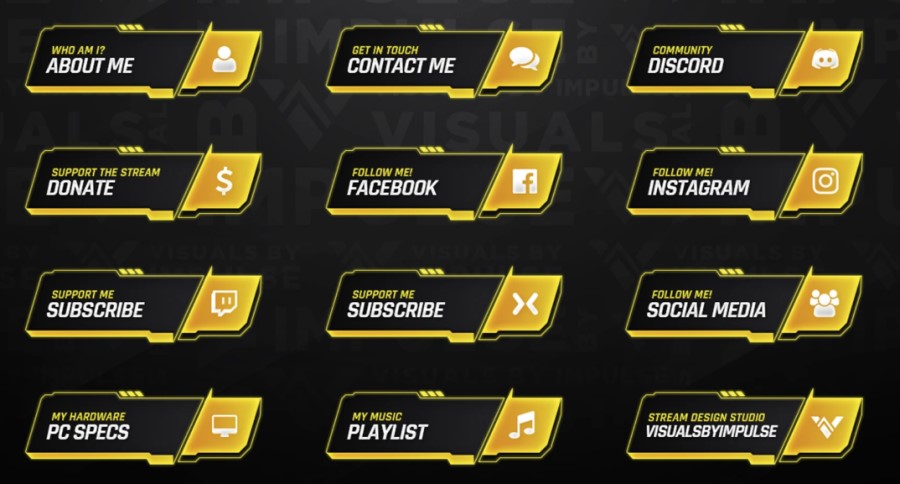 Visuals By Impulse (VBI) is one of the top providers of stream graphics. The quality of the templates and stream packs they offer is among the best around currently.
Luckily, they also offer some free templates including Twitch panel templates and full stream packs (they also have a 100% free panel maker).
Well worth taking a look if you're looking to keep your costs down but maintain design quality!
Other free stuff from Visuals By Impulse:
---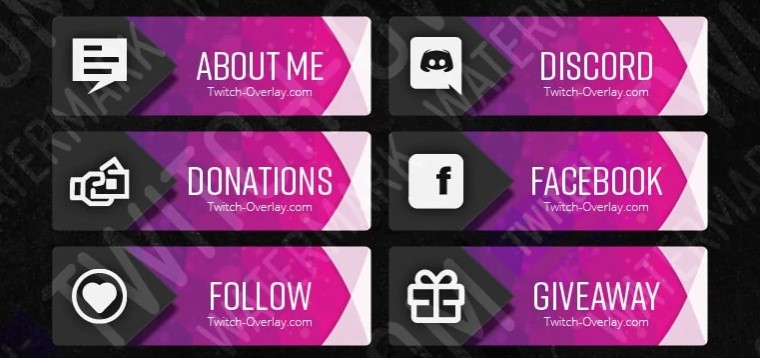 Twitch-Overlay is a stream design site that offers all the design elements you need for your stream.
They also have some Twitch panels templates that you can download for free. There are only a few available but what's there is good quality! Check them out.
Other free stuff from Twitch-Overlay:
---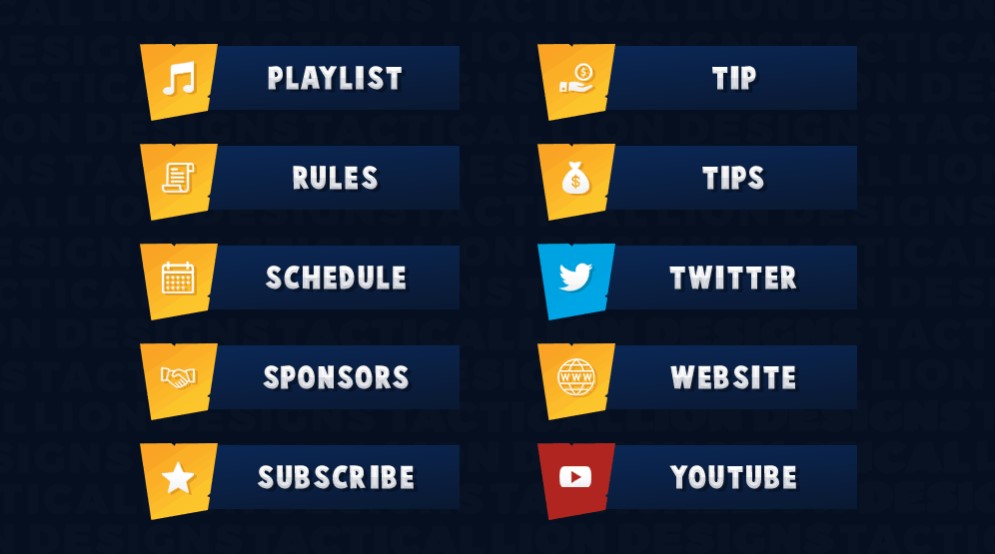 Tactical Lion Designs is a small design company that creates extremely high-quality stream design packs and templates.
They also offer a small batch of free templates that includes some Twitch panel templates that anyone can download for free and add to their stream.
Other free stuff from Tactical Lion Designs:
---

Another awesome site that is dedicated to providing 100% free streaming templates is Zerging. They offer a whole bunch of free items including Twitch panel templates and also full stream packs.
The quality of the templates is good but probably not outstanding. However, everything on the site is 100% free so if you're on a budget and looking to improve the look of your stream, Zerging could be a great option.
Other free stuff from Zerging:
---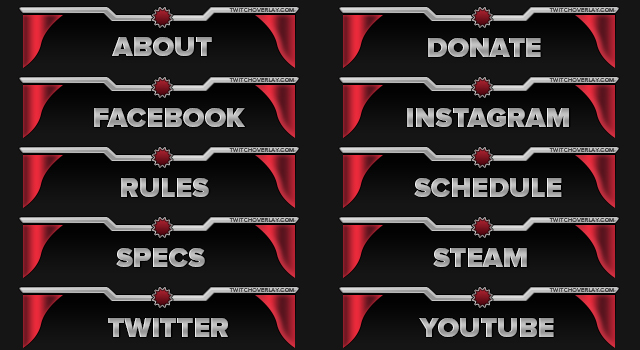 Twitch Overlay unsurprisingly sells many twitch overlay templates and packs, many of which are really good quality.
They also happen to offer a decent number of 100% free stream graphics and packs, including several Twitch panels and stream packs.
Other free stuff from Twitch Overlay:
---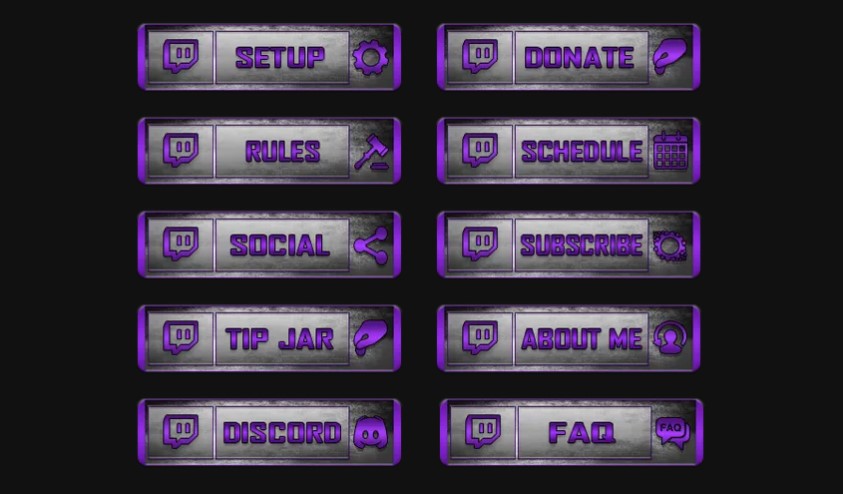 Small streamers is a platform for small streamers who are happy to promote each other in order for everyone to grow and build their audience (they seem to be quite picky about who they add to their team though).
They also happen to offer some cool looking Twitch panel templates on their site which you can download for free.
Other free stuff from Small Streamers:
---
More sources of free Twitch panels: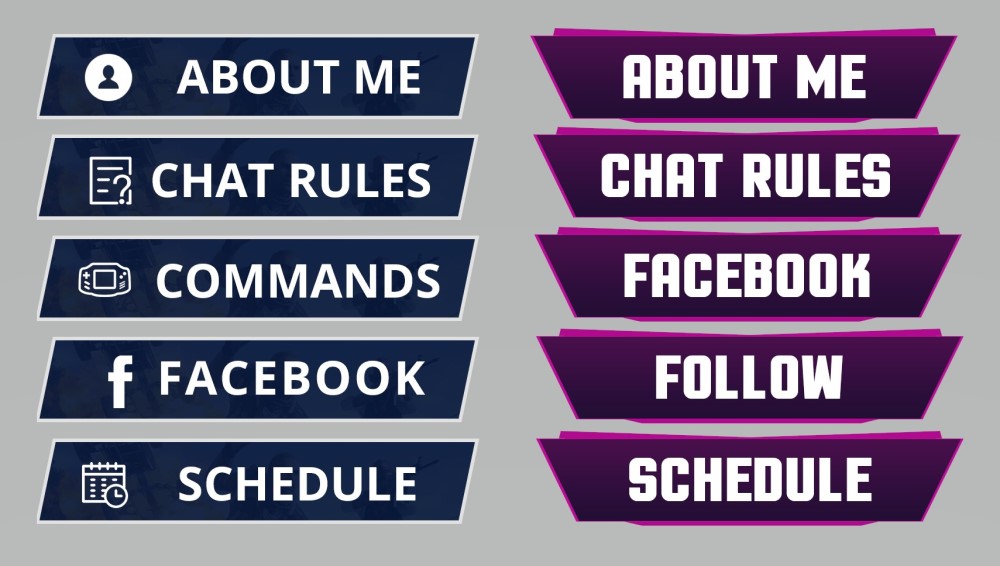 ---
To conclude…
If you really want your stream to stand out, we recommend paying for designs that will set you apart from everyone else online and establish your own unique brand.
However, we know that not everyone can afford to splash out, and luckily for you, there are quite a few sources of great looking free Twitch panels as you saw in this list.
We hope you enjoy creating and wish you the best of luck with your stream! Oh, and if you have any questions, comments, or have suggestions for other awesome sources of free Twitch overlays, leave a comment below!