Video marketing has now become a must-have strategy for every business that aims to cut through the noise and stay ahead of the content curve. With well-crafted and well-optimized videos, you can engage your target audience and generate more sales.
Another good thing about video marketing is that you can craft your own videos, optimize them, and even host them yourself. Thanks to the rapid growth of technology.
In this post, we'll break down some of the best video marketing tools so that you can run a high-performing video marketing campaign straightaway in a budget-friendly way.
Let's dive in!
---
Use the links below to jump to a specific tool:
Video Content Research Tools
Video Editing Tools
Video Optimization Tools
Video Hosting Platforms
---
Video Content Research Tools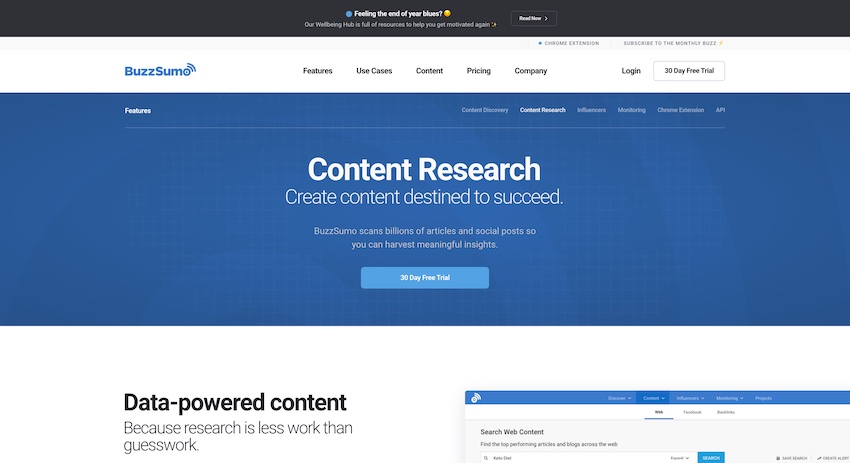 BuzzSumo allows you to search for trending content in your industry, along with the type of video to develop. You can search by keyword or topic and then browse through related videos to get an idea of what resonates well on social media based on metrics like views, comments, shares, etc.
You can also use this tool to analyze competitor websites' best-performing posts/videos. Overall, this tool makes sure that you pick the right content for your video, so it brings you the result you want.
Here's an article that covers 6 ways you can use Buzzsumo for video content.
Key Features:
Analyze popular content and video in your niche
Find viral posts/videos for your niche for references
Competitor research
Answer questions your target audiences have through video
Insights into the formats that work and the ideal length of videos that get the views
Pricing:
Free: 10 free searches a month
Pro: $99/month
Plus: $179/month
Large: $299/month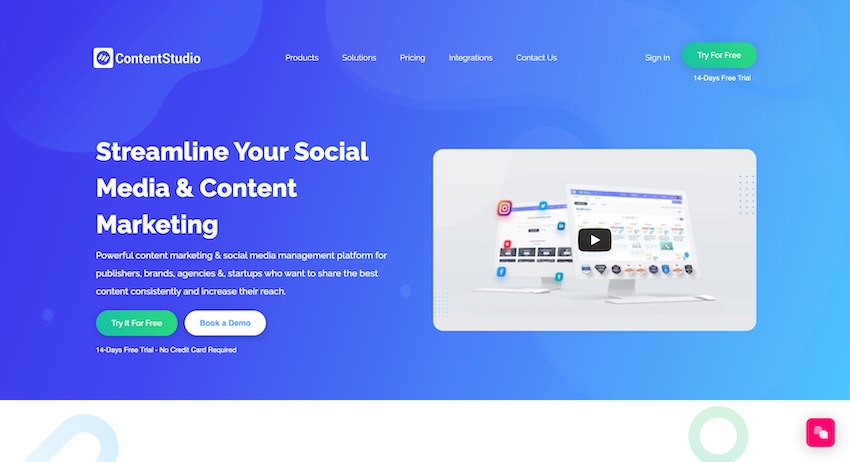 At its very core, ContentStudio is a content creation and social media management tool that helps you create content.
If it's not creating topic ideas or headlines or researching your competitors for video marketing, then it might be curating from vetted sources and channels to ensure that only the best content gets into your pipeline for distribution in-house.
ContentStudio also includes advanced social media publishing. At the same time, it's a complete and manageable workflow to track every piece of video content you publish and where each one went out into the world.
Key Features:
Discover, plan, compose your video content
Topic generator – automatically generate video titles based on keywords
Topic editor – build custom titles, descriptions, and tags for your videos
Social media monitoring
Pricing:
Pro: $49/month (1 user)
Small: $99/month (5 users)
Medium: $199/month (10 users)
Large: $299/month (20 users)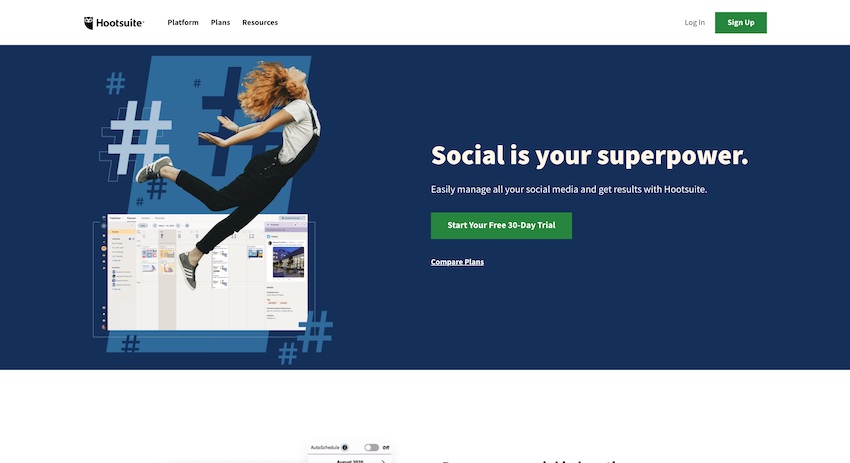 Not only is HootSuite a great tool to use when you're starting a business and trying to build a social presence but it makes it much easier for you to plan new content for your videos with ease so that you won't run out of topics to share through video marketing.
When you create videos– specifically for social media, this tool allows you to discover what topics are most relevant to your audience and industry. With this tool alone, you can monitor over 35 social networks including Facebook, Twitter, Google+, YouTube, LinkedIn, and many more.
Key Features:
Content curation – you can curate content from anywhere for your social media channels
A cloud-based library that allows you to share video content with your team in real-time
Team collaboration – includes content calendar so that everyone on the team knows what's going on with whole video content creation at a certain time
Pricing:
Free (1 user)
Professional: $29/month
Team: $129/month
Business: $99/month
Video Editing Tools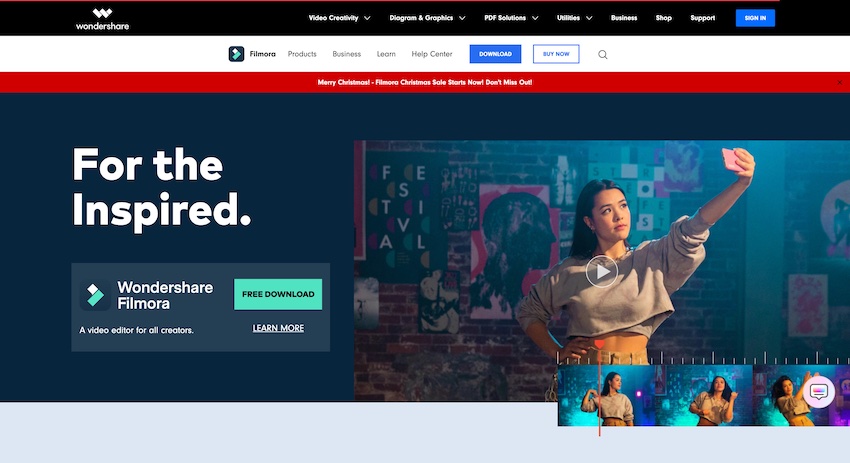 Filmora is a robust online editor that lets you upload and edit your videos without having to download any software.
For those just getting started with video editing, this tool is a great option to start with. It has an intuitive interface that's easy to use, whatever your level of experience. It has all the basic editing features you need in a simple video editor, such as rotate, trim, crop, split, etc.
Key Features:
Over 800+ video effects
4K support
Built-in titles
Audio equalizer
Layer multiple video clips
Video stabilization
Pricing:
Free (with watermarks)
Individual Plan: $7.99/month
Business Plan: $155.88/month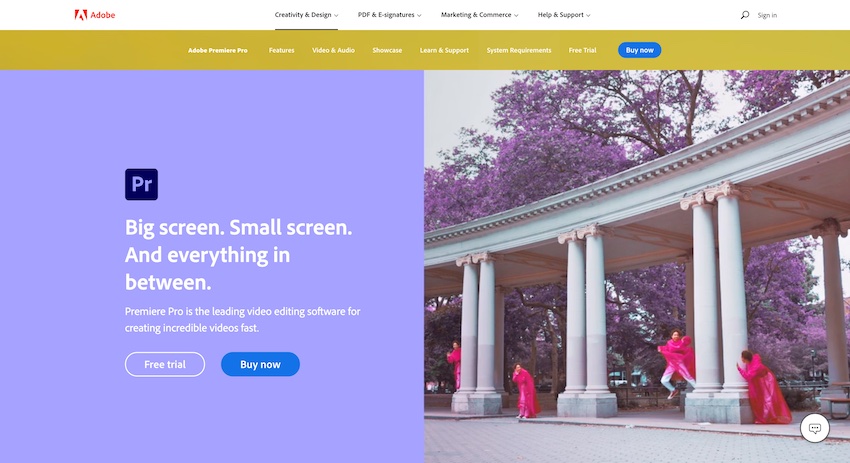 Adobe Premiere Pro is probably the most popular video editor on the market. It's not only used by professionals but also beginners as it has an intuitive interface that anyone can understand and use quickly.
Even though the interface is easy-to-navigate even for beginners, this tool is more suitable for pros as it offers more advanced features for editing more professional-looking marketing videos.
Key Features:
More than 50 transitions
Create titles with built-in motion graphics templates
High-quality video editing support– up to 8K
Faster video encoding (H.264)
Export to YouTube, Vimeo, and Facebook
Pricing:
Monthly plan: $20.99/month
Annual plan, paid monthly: $20.99/month
Annual plan, prepaid: $239.88/year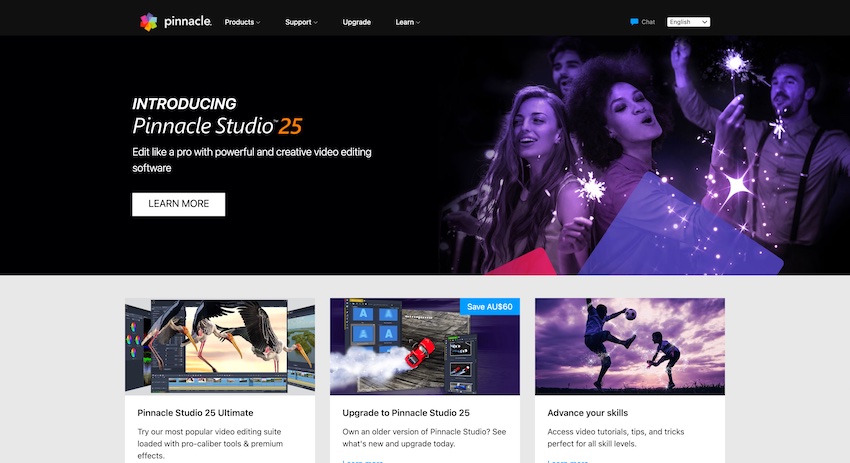 Pinnacle Studio will help you get your video marketing campaign off to a flying start with more than 500 customizable effects and transitions.
This is an easy-to-use tool that even novices can learn quickly, but it doesn't offer more advanced features for professionals who want to edit their videos in a professional way. So, when you're new to video editing and want to perform simple editing for social videos, this tool can come in handy.
Key Features:
500+ special effects and transitions
Easy-to-use interface for novice users
Multi-camera capture and editing
Color controls
Stop motion animation
Pricing:
Entry-level: $59.95
Plus: $99.95
Ultimate : $129.95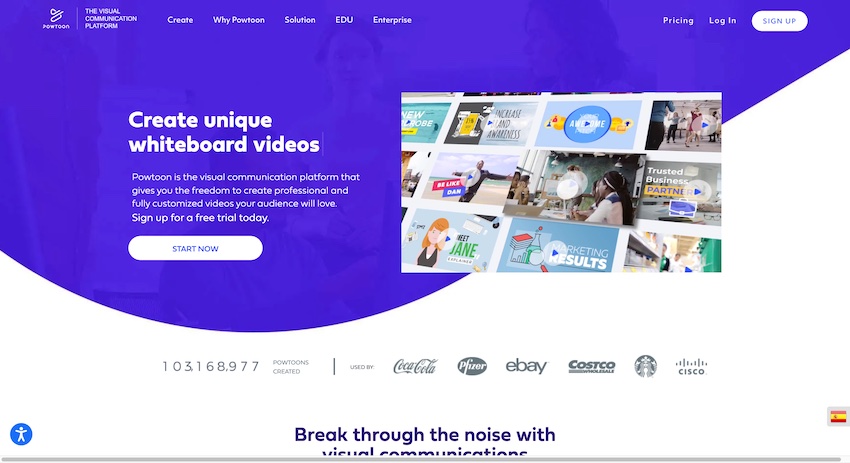 If you need a powerful tool to create animated marketing videos, Powtoon is definitely one of the best choices. With this tool, you can create great videos with animated characters by simply dragging and dropping different images on a timeline.
This DIY animation tool helps you to fully customize marketing videos even when you don't have basic design skills.
Key Features:
Over 100 ready-to-use templates for all types of marketing content
A vast library of animated characters, props, GIF, and image file implementation
Over 30 ready-to-use background music tracks for all types of marketing videos
No design skills are required to use it, short learning curve, and intuitive interface
Pricing:
Pro: $19/month
Pro+: $59/month
Agency: $99/month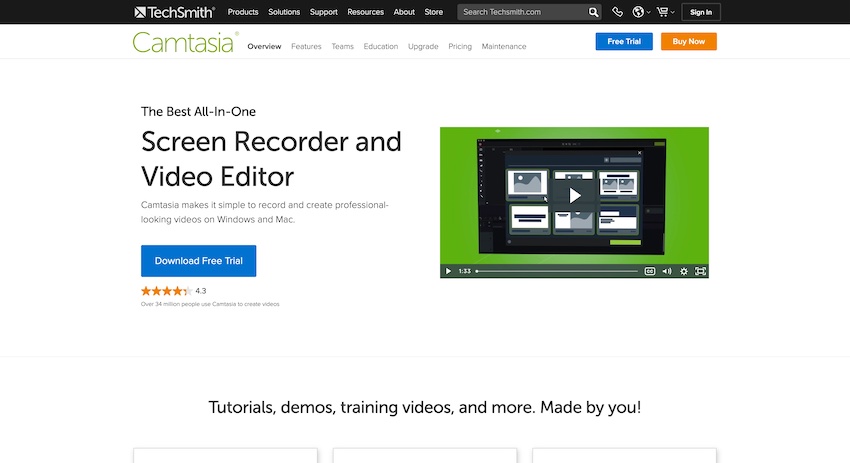 Camtasia allows you to create screencast videos from your computer to showcase tutorials, demos, and even promotional videos.
It will record your screen along with the movement of your mouse and keystrokes. This tool is accessible for both desktop and mobile devices.
Key Features:
Record a screen video from PC or Mac with an overlay of webcam video footage or still images.
Record external audio sources such as microphone sound, camera zoom sounds, mouse clicks, and typing effects.
Edit recordings, add effects, notes, annotations– such as arrows, captions, and highlights.
Pricing:
Starts at $249.00 per feature as a one-time payment.
Video Optimization Tools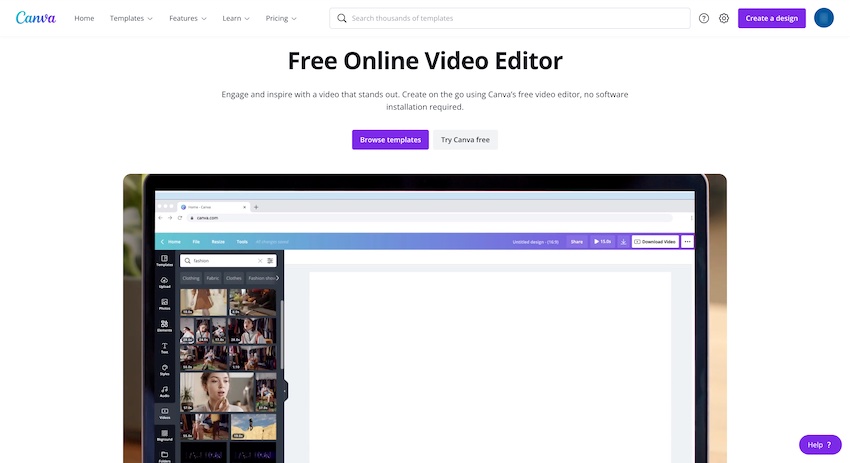 You need engaging, high-quality thumbnails for your videos to help you attract more eyeballs. The Canva video editor can help you with that.
This graphic tool offers a wide range of layouts and features to create beautiful, custom-designed thumbnail videos.
There are quite a few similar sites like Canva but none quite as good at the moment.
Key Features:
Drag & drop images from your computer or the web for easy editing.
A vast library of customizable templates
Add text with more than one million fonts (you can also add your own text) and access to stock photos online.
Pricing:
Free plan
Pro plan: $12.99/month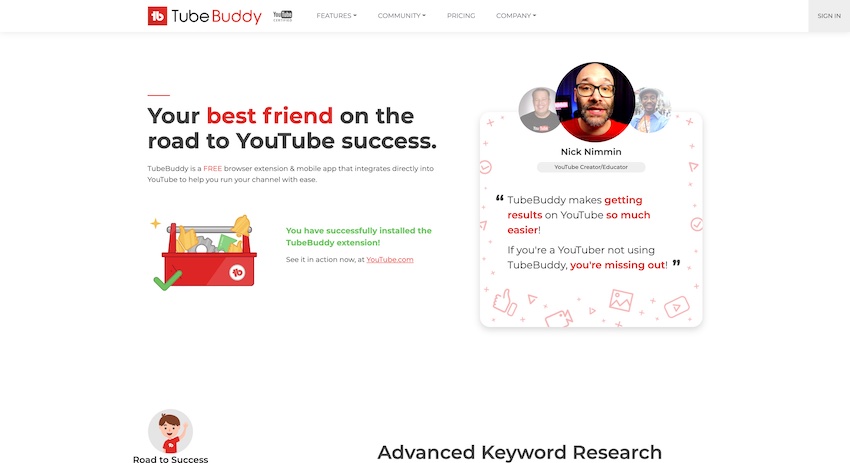 When you rely on YouTube as a channel for your video marketing campaign, you'll need to use TubeBuddy to make sure that the videos you upload look their best.
This tool allows you to optimize YouTube channels and videos by helping you with video SEO, generating thumbnails, adding end-screens, video syndication, and more.
Key Features:
Auto translator
Best practice audit
Keyword explorer
SEO studio
Pricing:
Pro: $7.20/month
Star: $15.20/month
Legend: $39.20/month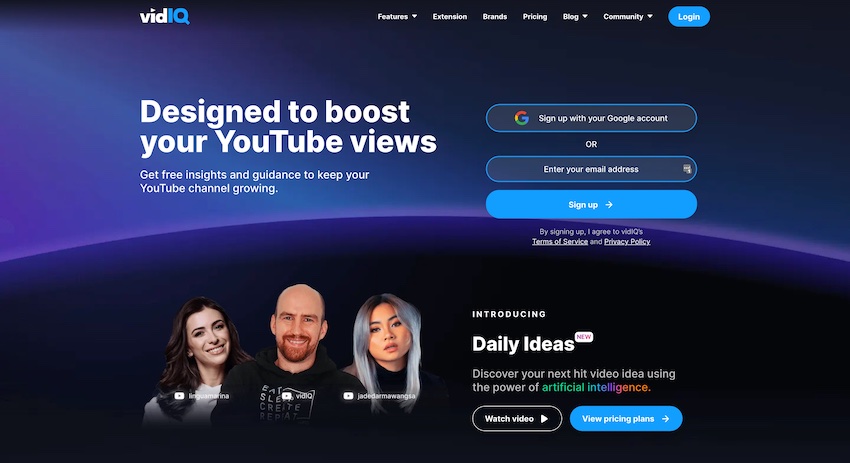 vidIQ is another YouTube video optimization tool that helps you boost your channel and video content by providing actionable insights into competitors' views, top keywords, tags, and other search metrics directly from your browser.
You can also find out who's watching your videos so that you can understand more in-depth about your audiences and create more relevant video content in the future.
Key Features:
Audience retention reports
Video SEO reports
Competitor tracking
Competitive video rankings reports
Trends alert
Pricing:
Basic: Free
Pro: $7.50/month
Boost: $39/month
Boost+: $415/month
Video Hosting Platforms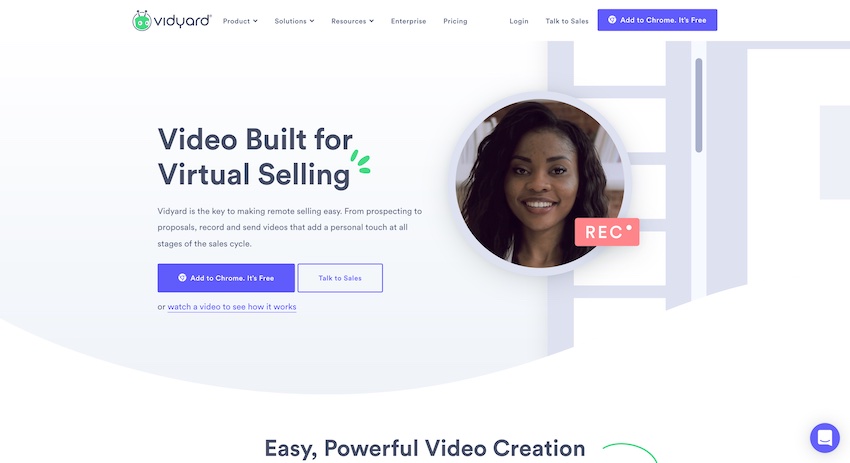 Vidyard provides you with a platform to host, analyze, and share your marketing videos. It also enables you to seamlessly embed video into an email for a more personal approach by using Vidyard's marketing automation tools.
Key Features:
Video SEO and marketing reports
Lead generation and email capture tools to help you turn videos into leads or sales
Customizable player skins to match your brand colors, fonts, and logo
Integration with Salesforce Marketing Cloud for easy lead-generation directly from your video
Customizable analytics and metrics to help you grow a responsive audience, find out which videos are working best for you, and discover what's resonating with your viewers to drive conversions.
Pricing:
Individual free plan
Individual pro plan: $15/month
Team plan: $300/month
Business plan: $1250/month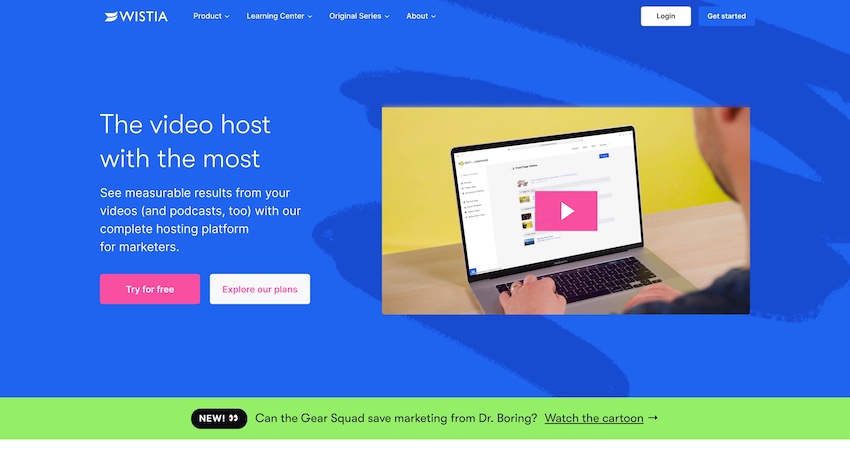 If you run a video marketing campaign to generate more qualified leads, Wistia is a top contender. It has a clean and modern interface with a wide range of analytics so that you can see exactly how your visitors are interacting with the video.
Key Features:
Turnstiles feature allows you to gate video content
Heat map to track where each video's viewers drop off
Video player customization
A/B testing
Audience growth with Reach and Retarget tools
Pricing:
Free plan
Pro plan: $99 per month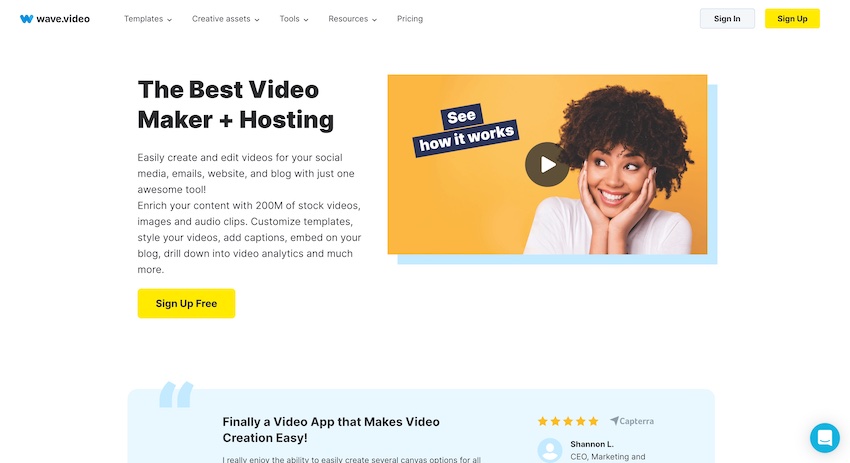 Wave.Video offers you a cloud-based video hosting solution that makes it much easier for you to publish, embed, and share your marketing videos on several digital platforms (i.e., websites, blogs, social media profiles, and emails) as soon as it is published.
Key Features:
Ad-free video hosting platform
Customize your video player to fit your brand's look and personality
Add subtitles, slideshows, or callouts directly
Auto-resizing for 30+ video formats to suit different platforms
Pricing:
Creator: $25/month
Business: $50/month
FAQs
What are video marketing tools?
A video marketing tool is software that allows you to create, share and manage videos. Remember that video marketing tools aren't limited to video editors. It also includes planning tools, hosting sites, and more.
After all, video marketing campaigns aren't all about video production– but it's also about making sure that the video you produce is working and bringing the maximum results.
What are the benefits of using video marketing tools?
Utilizing video marketing tools can save you a lot of time and energy– and some bucks too. You don't have to hire professionals to help you with the research, production, and analytics. Therefore, those tools help you be more proactive and efficient in your overall marketing campaigns.
How to pick the right video marketing tools?
It all depends on your business' needs, budgets, and preferences. The best way to find the right one for your business is to try a free version or trial first to see the pros and cons yourself.
What makes a great marketing video?
When it comes to marketing videos, less is more. So, make sure you create them concisely with a decent amount of editing and robust distribution.
Remember that it's not about the number of videos you have but rather how well they perform. If your video is getting a high amount of views, comments, and likes, then it's doing its job.
Most popular types of videos to create with video marketing tools?
You can use video marketing tools to create straightforward marketing videos, such as explainer videos, product demo videos, customer testimonials, and how-tos.
Those types of marketing videos are straightforward and perform much better than plain text or static images since they are doing a good job in illustrating complicated points in a way other content can't do.
Wrapping things up…
There you have it! You now have some names of video marketing tools that you can consider using to launch high-performing video marketing campaigns. It's time for you to start creating some well-tailored marketing videos and engage more audiences.
If you have any questions, comments, or have suggestions for other video marketing tools or resources, feel free to leave a comment below!